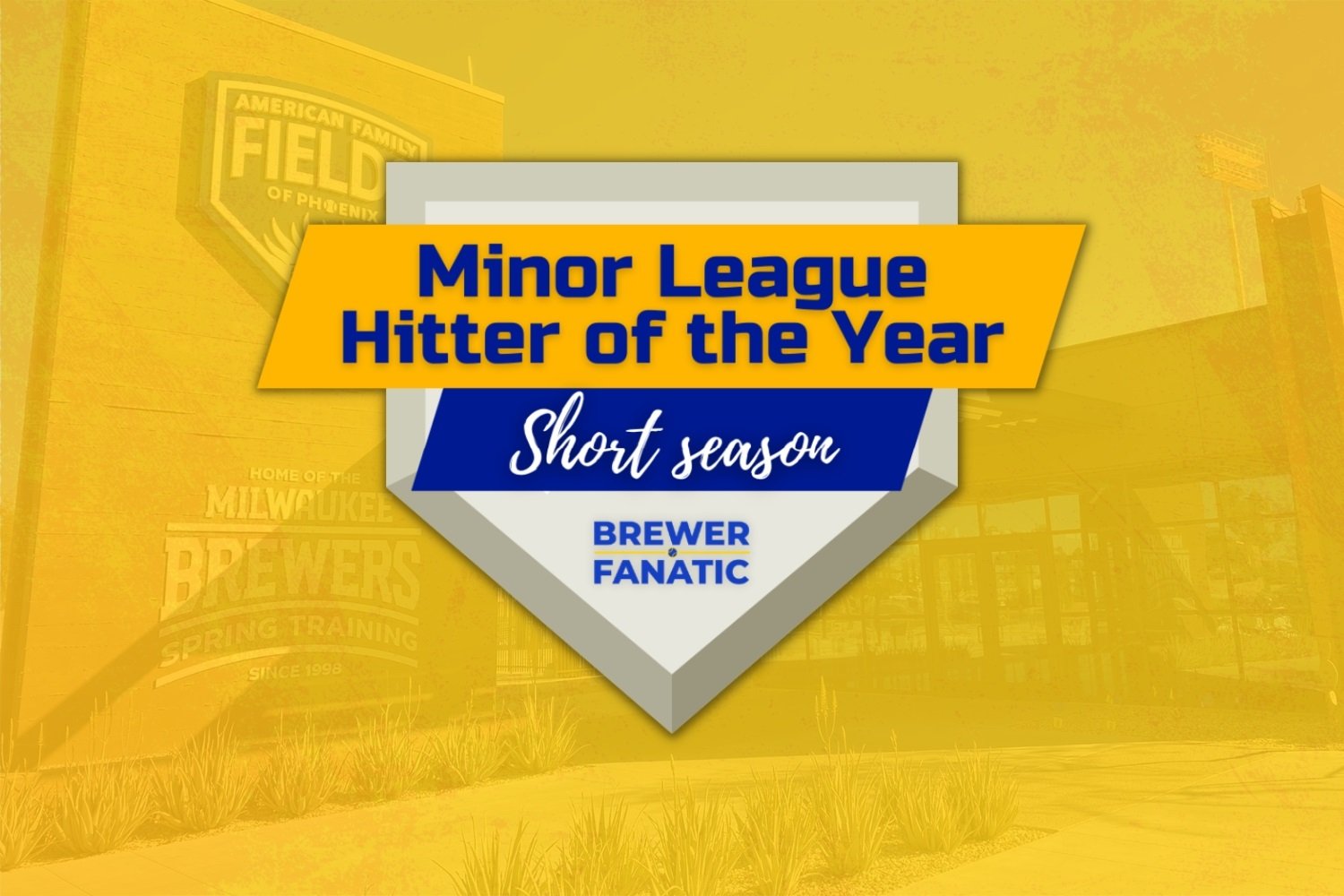 Milwaukee has three teams that compete in a short-season league: one in the Arizona Complex League, and two in the Dominican Summer League.
The ACL team, based in the Phoenix area, finished first in the Central Division with a 31-25 mark, then proceeded to beat the Diamondbacks Red team to win the ACL title. Three of the players on that team made the 'Top Hitters' list for teams in the Milwaukee short-season system: Juan Baez, Dylan O'Rae , and Satchell Norman.
The two teams in the DSL didn't fare that well but added a quintet of players to this elite list: Yophery Rodriguez and Brian Sanchez from DSL Brewers 1; and Demetrio Nadal, Pedro Ibarguen, and Filippo Di Turi from the DSL Brewers 2 squad.
The votes were tabulated from ballots cast by staff and contributors to Brewer Fanatic.
BREWERS SHORT-SEASON MINOR LEAGUE HITTER OF THE YEAR
Before getting to the top four, here are a few Honorable Mentions worthy of being recognized. 
Honorable Mention
C Satchell Norman, 21, ACL Brewers
Sarasota, FL
G: 30  H/AB: 28/91   Slash: .308/.425/.473   2B: 6  3B: 0  HR: 3  RBI: 20  SB: 8  BB/K: 19/26
Pos: C (19), DH (8)
Bats: R   Throws: R
OF Brian Sanchez, 19, DSL Brewers 1
Cumanacoa, Venezuela
G: 33  H/AB: 30/101  Slash: .297/.414/.446   2B: 7  3B: 4  HR: 0  RBI: 19   SB: 8  BB/K: 20/23
Pos: LF (15), RF (12), DH (4), CF (1)
Bats: L    Throws: R
OF-IF Pedro Ibarguen, 17, DSL Brewers 2
Miranda, Venezuela
G: 43  H/AB: 41/132  Slash: .311/.437/.447  2B: 7  3B: 1  HR: 3  RBI: 26   SB: 7  BB/K: 25/32
Pos: DH (16), CF (11), 2B (7), RF (3), 3B (2), LF (2)
Bats: R   Throws: R
IF Filippo Di Turi, 17, DSL Brewers 2
Valencia, Venezuela
G: 52  H/AB: 51/181  Slash: .282/.414/.354  2B: 9  3B: 2  HR: 0  RBI: 27  SB: 12  BB/K: 38/32
Pos: SS (31), 2B (12), DH (9)
Bats: B   Throws: R
Fourth Place
OF Yophery Rodriguez, 17, DSL Brewers 1
San Pedro de Macoris, Dominican Republic
G: 55  H/AB: 45/178  Slash: .253/.393/.449  2B: 13  3B: 2  HR: 6  RBI: 36  SB: 12  BB/K: 41/40
Pos: CF (36), RF (8), LF (5), DH (3)
Bats: L    Throws: L
Rodriguez signed for $1.5 million in January and had a nice rookie season as a 17-year-old. He is ranked 13th in the Brewers organization on MLB.com, and is seen as a center fielder, adding to the already full cupboard of middle gardeners in the system.
Flashing his skill, the 6-1, 185 pound Rodriguez led his team in runs, hits, doubles, homers, RBI, stolen bases, walks, slugging, and total bases.
Given the abundance of quality outfielders in the organization and the age of Rodriguez, there is no need to rush him through the system. His ETA in Milwaukee is 2028, during which he will be 22 years of age. With time to mature and improve his skills, he could arrive in Milwaukee with stardom written all over him, much like Jackson Chourio.

Third Place
IF-OF Demetrio Nadal, 19, DSL Brewers 2
San Pedro de Macoris, Dominican Republic
G: 40  H/AB: 41/120  Slash: .342/.478/.525  2B: 6  3B: 5  HR: 2  RBI: 20 SB: 33  BB/K: 24/19
Pos: 3B (15), LF (10), SS (5), 2B (4), DH (4), CF (1)
Bats: R   Throws: R
Nadal was signed to a minor league contract by Milwaukee in 2021, but didn't make his debut until the following year. At age 17, he struggled, hitting just .239, but he walked enough to post an impressive OBP of .375. He stole 17 bases and played decently at three infield spots.
In 2023, he upped his game, leading his DSL team in triples, stolen bases, batting, OBP, SLG, and OPS. If that wasn't enough, he also led the team in plunks (hit-by-pitch) with ten.
At 5-7, he weighs in only at 125 pounds but can fly, having pilfered 50 bases in 89 career minor league games. On defense, he is versatile enough to play five different positions, so he could be a speedier version of Owen Miller or Brian Anderson.
Nadal probably deserves a promotion to Carolina next year, so we'll get a better chance to see what he can do.
Second Place
IF-OF Dylan O'Rae, 19, ACL Brewers
Sarnia, Ontario (Canada)
G: 37  H/AB: 47/130  Slash: .362/.523/.408  2B: 4  3B: 1  HR: 0  RBI: 15  SB: 28  BB/K: 40/23
Pos: 2B (25), CF (6), SS (4), DH (2)
Bats: L    Throws: R

O'Rae was selected by the Brewers in the 3rd round of the 2022 draft (102nd overall) and received $597,000 in the process. The diminutive (5-7, 160#) speedster has little pop, but can draw a free pass and then steal a base, in essence giving him extra-base power.
The Canadian, who played for his country's Junior National team in 2022, moved up to Class A Carolina in mid-August and proved he could compete at the advanced level, slashing .330/.439/.375 in 107 PA for the Mudcats.
Sixty-eight games into his professional career, O'Rae has 48 steals and 63 base-on-balls, both impressive numbers for a teenager at the beginning of a promising career.
Ranked #19 in the organization by MLB.com, O'Rae has a 70 grade for speed, giving him a tool that can't be taught. If he can mix that with his ability to get on base, he could be a Pat Listach-type player (rookie season) for years to come.
Winner
IF Juan Baez, 18, ACL Brewers
Santiago, Dominican Republic
G: 48  H/AB: 71/192  Slash: .370/.395/.557  2B: 16  3B: 4  HR: 4  RBI: 42  SB: 17  BB/K: 8/23
Pos: SS (20), 3B (15), 2B (2), DH (11)
Bats: R   Throws: R
Baez was signed for a meager $10,000 bonus in 2022, but he looks to have been a huge steal for the Brewers. The 5-9, 175 pound infielder played 55 games for the DSL 2 team in 2022 and had a nice season, but nothing like this year. Baez led the 2023 ACL squad in hits, doubles, triples, homers, RBI, batting, slugging, OPS, and total bases.
The 24th-ranked prospect in the Brewers system according to MLB.com, Baez has a big league ETA of 2027. His weakness at this point appears to be in the field, having made a combined 18 errors in 140 total chances (.871) at three infield positions. MLB.com states, '…a lot of the errors have come on fixable mistakes…' The scouts seem to think his future lies at 3B, but he could also turn into a handyman utility player for the parent club.
Baez got a late-season call-up to Class A Carolina and performed well, considering he was three years younger than league average, slashing .233/.265/.333 in 34 plate appearances. If he can learn to draw a walk and repair his 'fixable mistakes' on defense, we might see him at American Family Field as early as 2026.
The Brewers have good, young talent in the bigs, and some upcoming stars in the mid- and high-minors. The list of top hitters in the short season add to the collection of potential future big leaguers that Brewers fans hope to see in Milwaukee in the next few years.
Congratulations to Juan Baez and the other players honored as Short Season Minor League Hitters of the Year.
1