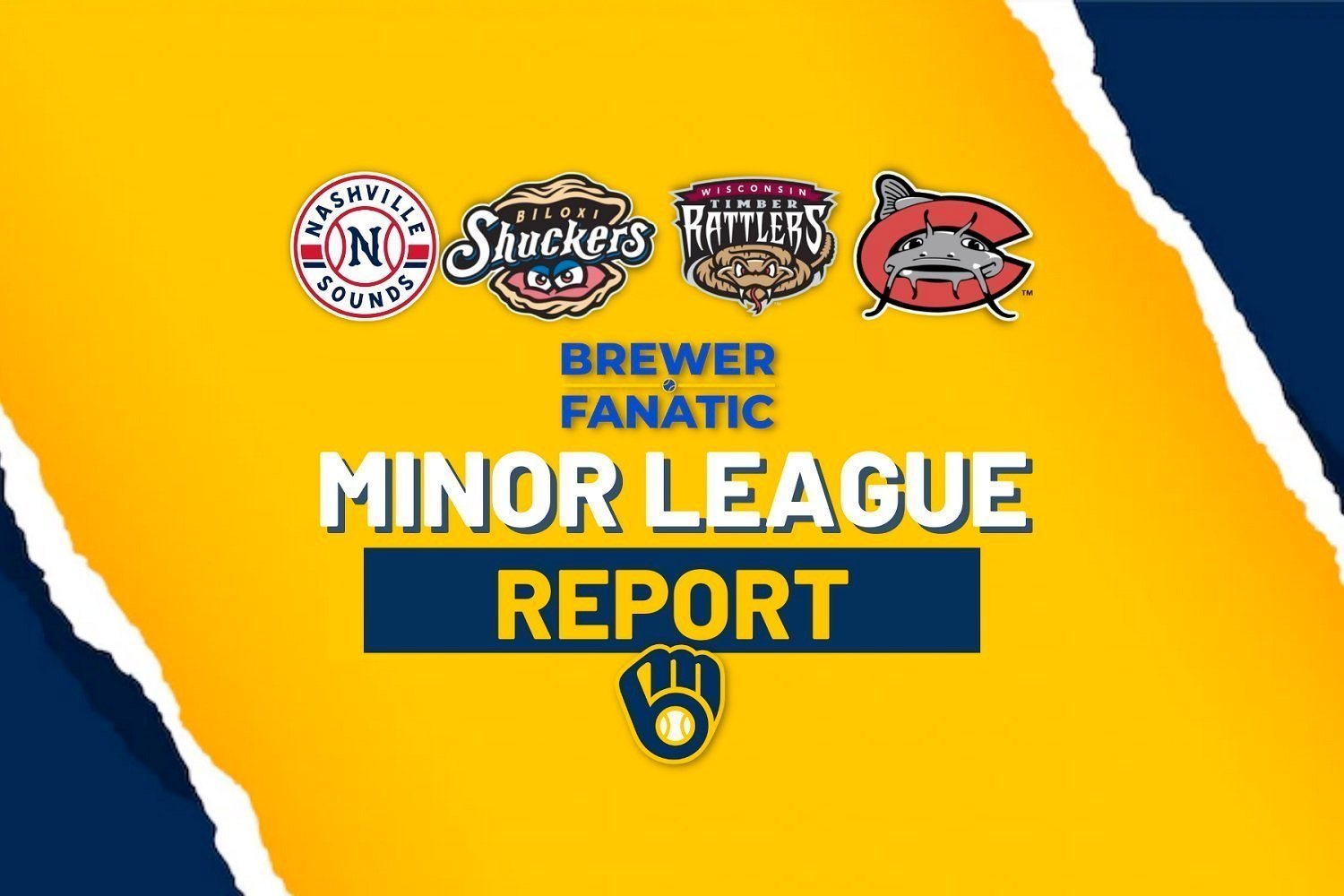 Image courtesy of Minor League Link Report
Forget the organizational prospect rankings and look at the standings:
AAA Nashville Sounds – 6-3 – 2nd place
AA Biloxi Shuckers – 6-0 – 1st place
High-A Wisconsin Timber Rattlers – 5-1 – 1st place
Low-A Carolina Mudcats – 4-2 – 2nd place
Aggregate: 21-6 – Best in the World
Thursday's minor league action saw a strong debut from LHP Russell Smith, a 4-4 Felix Valerio night (with a home run), a game-winning homer by C Darrien Miller, first blasts of the season for Joey Wiemer, Joe Gray Jr., Micah Bello, Alberis Ferrer, and Brent Diaz, a continued resurgence by David Dahl and welcome returns to full action by three players we were concerned about (Garrett Mitchell, Ashton McGee, Oswel Leones).
Transactions:
RHP Matt Hardy activated by AAA Nashville Sounds
RHP J.T. Hintzen transferred to AA Biloxi Shuckers from AAA Nashville Sounds, so he can finally get some playing time
RHP Justin Bullock placed on AA Biloxi Shuckers' 7-day disabled list retroactive to April 13th
On to the Game Action:

Final: Fredericksburg 7, Carolina 6
Box Score / Game Log
Via the Mudcats' website, game details, please review: House and FredNats Walk Off Mudcats 7-6
Despite their usual hot start, the Mudcats could not hold on to leads of 4-0 (5th inning) and 6-3 (7th inning), giving up three walks and a walk-off 2-run single with one out in the 9th to fall this time.
Rare off nights from Eduardo Garcia and Jheremy Vargas couldn't slow down the Mudcat offense, which started with an Albert Cipion 2-run single in the 3rd inning and Micah Bello 2-run homer in the 4th inning.
RHP Ryne Moore was dominant through 4 shutout innings before faltering to give up a solo shot in the 5th, two more runs in the 6th inning, and not retiring a batter in the 7th. The runs stained Moore's final line, but he exited with the lead, and the underlying metrics weren't too bad: 6.0 innings, five hits, five earned runs, one walk, two hit by pitches, two wild pitches, and five strikeouts.
An Alberis Ferrer 2-run homer had extended the lead to 6-3 in the 7th inning before Fredericksburg clawed back those two runs in the 7th to keep it tight at 6-5 Mudcats. RHP Christian Tripp covered two strong innings, yielding no runs (with one hit and three strikeouts) to set up RHP Trevor Tietz for the potential save.
Unfortunately, after striking out the opening batter in the bottom of the 9th inning, Tietz gave up three consecutive, excruciating full-count walks before a 2-run opposite-field single to right field by 18-year old Nats' prospect Brady House gave Fredericksburg the walk-off win and a 2-1 series lead against the Mudcats.
Performances of Note:
Micah Bello – 2-3, HR, walk, 2 RBIs
Hendry Mendez – 2-3, walk
Alberis Ferrer – 1-2, HR, 2 walks, 2 RBIs
Arbert Cipion – 1-3, walk, 2 RBIs, SB
Ryne Moore – 6.0 innings, 5 ER, 5 Ks
Christian Tripp – 2.0 innings, 0 ER, 3 Ks
Trevor Tietz (Loss) – 1/3 inning, 2 ER
Friday's outlook: Expect the tag team of RHP Brannon Jordan and RHP Carlos F. Rodriguez to stifle Frederickburg's bat to even the series at two games apiece.

***
First Game Final: Wisconsin 1, Beloit 0
Box Score / Game Log
Via the Timber Rattlers' website, game details, please review: Miller's Late Homer Drops Sky Carp in Game One
If you're a fan of exceptional pitching, this was the game for you, as Wisconsin's Russell Smith went toe-to-toe with Beloit's Pat Monteverde, neither yielding a run nor even blinking over the first 4+ innings. In all, six pitchers covered the seven innings for the two clubs, giving up a combined one run and six hits while striking out 16 batters.
Yes, the Rattler bats were a bit sleepy in this one, striking out ten times. However, the team still had solid chances, unable to convert bases loaded 2nd inning or leadoff 5th inning double (Darrien Miller) into runs before Miller took matters into his own hands in the top of the 7th and final inning.
With one down and a 2-0 count, Miller blasted his second home run of the season, this one to right field for the game's only run.
Have we told you before that this Timber Rattlers team is strong? Manager Joe Ayrault was undoubtedly spoiled for choice selecting between studs Cam Robinson, James Meeker, or Kent Hasler to close it out after an impressive 2-inning scoreless bridge provided by RHP Zach Mort in his first appearance of the young season. The call this time went to Meeker, who induced two groundouts and a fly ball to left to close out a clean save.
Performances of Note:
Darrien Miller – 2-2, HR, double, RBI
Ernesto Martinez – 1-3
Carlos D. Rodriguez – 1-3
Russell Smith – 4.0 innings, 0 ER, 4 Ks
Zach Mort (Win) – 2.0 innings, 0 ER, 2 Ks
James Meeker (Save) – 1.0 inning, 0 ER
***
Second Game Final: Wisconsin 7, Beloit 4
Box Score / Game Log
Via the Timber Rattlers' website, game details, please review: Gray Drives in Four for Wisconsin in Game Two Win at Beloit
Wisconsin's bats got an earlier start in this one, with Joe Gray Jr. breaking out of his early-season mini-slump in fine fashion. A Sal Frelick single drove in Ethan Murray in the 3rd inning before Gray's 2-run double opened up a nice lead. Oh, wait, Gray also scored on his own double due to a catcher error. Let's call it a little league homer. ? 4-0 Timber Rattlers' lead through 3 innings.
Starting pitcher, RHP Justin Jarvis cruised through the Beloit line-up the first time through 9-up and 9-down with four strikeouts. Unfortunately, things went a bit south for Jarvis, with two 4th inning walks and a single allowing Beloit to get back into the game at 4-2. This continued in the 5th inning, with a single and home run (by Marlins' prospect David Bradshaw) tying it up 4-4 and Jarvis giving way to RHP Cristian Sierra for his first action of the year.
Remember Joe Ayrault's bullpen? Yeah, good luck scoring on them. Sierra threw 1.2 innings, striking out 3 to keep it knotted up, entering the 7th and final inning and Joe Gray Jr.'s heroics.
Two strikeouts sandwiched a Yeison Coca single before Carlos D. Rodriguez reached on a well-timed (or ill-timed if you're Beloit) throwing error from short. Enter Gray: called strike, called strike, foul ball, foul ball, 3-run home run to left-center field. Woo hoo! 7-4 Rattlers.
Back to the bullpen, and RHP Cam Robinson got the call to close out this one, not allowing a ball out to leave the infield. That's Robinson's 2nd save of the year.
Performances of Note:
Joe Gray Jr. – 2-4, HR, double, 4 RBIs
Zavier Warren – 2-4
Yeison Coca – 1-2, walk, SB
Ethan Murray – 1-2, walk, SB
Sal Frelick – 1-3, walk, RBI
Ernesto Martinez – 1-3
Justin Jarvis – 4 1/3 innings, four earned runs, 5 Ks
Cristian Sierra (Win) – 1 2/3 innings, 0 ER, 3 Ks
Cam Robinson (Save) – 1.0 inning, 0 ER, 2 Ks
Friday's outlook: RHP Max Lazar makes his second start of the season and will not disappoint. Expect RHP fire-baller Kent Hasler to close it out if needed.

***
Final: Biloxi 8, Mississippi 1
Box Score / Game Log
Via the Shuckers' website, game details, please review: Biloxi Slugs Three Home Runs, Pitching Stifles M-Braves in 8-1 Victory
You've got to love a game where everything comes into place. From the relief of seeing CF Garrett Mitchell and 3B Ashton McGee healthy and back in the starting line-up, to knowing you've got always-dominant LHP Andy Otero on the mound and finally jumping out to a 4-0 lead by the 3rd inning.
Felix Valerio and Joey Wiemer got things started quickly for the Shuckers with a 2-run home run (his first of the year) scoring Valerio after his single. Brent Diaz then doubled in Cam Devanney in the 2nd inning and Thomas Dillard drilled a double to score Valerio in the 3rd inning to extend the lead to 4-0.
As for Otero, he cruised through four scoreless innings, not allowing any runner to reach 2nd base, before giving up two doubles and a run in the 5th inning.
Felix Valerio added his third hit of the night in the bottom of that frame, but the squad wasn't able to knock him in this time. Have no fear, a Gabe Holt single, Devanney double and Diaz homer extended the lead back to 7-1 in the 6th inning. Not quite content, Valerio decided to score himself by opening the 7th inning with a solo shot to left center for his 3rd home run of the year, giving us the final score of 8-1.
With Biloxi advancing to 6-0, could there be any downside on the day? Well yes, the Fort Myers Mighty Mussels were also winners, leaving the Shuckers and Mighty Mussels as the only undefeated teams in MLB or MILB. Of course, Brewers' affiliates won't be playing Fort Myers anytime this year, but something tells me our new cyber overloads (hail thee, hail thee) are keeping a close eye on the Twins' affiliate.

Via WXXV: Additional highlights:
Performances of Note:
Felix Valerio – 4-4, HR, RBI
Brent Diaz – 2-4, HR, double, 3 RBIs
Joey Wiemer – 1-3, HR, walk, 2 RBIs
Thomas Dillard – 1-3, double, walk, RBI
Cam Devanney – 1-4, double, RBI
Andy Otero (Win) – 5.0 innings, 1 ER, 4 Ks
Robbie Hitt – 2.0 innings, 0 ER, 2 Ks
J.T. Hintzen + Zach Vennaro – combined 2.0 innings, 0 ER, 3 Ks
Friday's outlook: With Justin Bullock injured, RHP Tyler Herb makes his first start of the year, as the Shuckers will extend their record to 7-0.

***
Final: Nashville 5, Gwinnett 4
Box Score / Game Log
Via the Sounds' website, game details, please review: Quick Start Leads Nashville to Another Win at Gwinnett
Exploding to a 4-run lead in the 1st inning, then keeping it a close contest into the 9th inning is not a bad way to entertain the fans, even if they're road fans and you're actually just tormenting them ?.
David Dahl knocked in the first run with a single, followed by Weston Wilson driving in another with a double, then a wild pitch and Corey Ray single extending the lead to 4-0. Undeterred, the Stripers answered back with a 2-run shot by Braves' AAAA RF Travis Demeritte in the bottom of the frame to set the affair at 4-2.
Sounds' RHP Jason Alexander and Gwinnett reliever then settled in for three scoreless innings apiece, before each team added a run in the 5th inning, with Weston Wilson driving in his second run of the night on a base hit and the Striper stringing two hits together to keep it close at 5-3.
A Pablo Reyes double in the 6th inning and Alex Jackson lead-off single in the 8th inning were not converted into runs, while the Sounds' middle inning relievers were formidable: no hits and only one walk given up by Connor Sadzeck, J.C. Mejia, Thomas Jankins.
Gwinnett nearly made the most of their final chance in the 9th inning, leading off with a Ryan Casteel homer, then coaxing a 1-out walk. But of course, RHP Pete Strzelecki responded to the pressure, with consecutive full-count strikeouts to end the game 5-4 for the Sounds' second consecutive close win.
Performances of Note:
Weston Wilson – 2-4, double, 2 RBIs
David Dahl – 2-4, RBI
Pablo Reyes – 1-4, double
Corey Ray – 1-4, RBI
Brice Turang – 1-4, walk
Jason Alexander (Win) – 5.0 innings, 3 ER, 3 Ks
Connor Sadzeck, JC Mejia, Thomas Jankins – combined 3.0 innings, 0 ER, 4 Ks
Pete Strzelecki (Save) – 1.0 inning, 1 ER, 2 Ks
Friday's outlook: RHP Josh Lindblom makes his second start of the year, as Manager Rick Sweet must again juggle his vast roster of early season players to win a 3rd straight game over Gwinnett.
Friday April 15th:
Organizational Scoreboard including starting pitcher info, game times, MiLB TV links, and box scores
Thank you all for reading my first-ever Brewers' Minor League Link Report in the new format. I'll try it again tomorrow, before handing it over to @Mass Haas for the weekend. Enjoy the games!
2