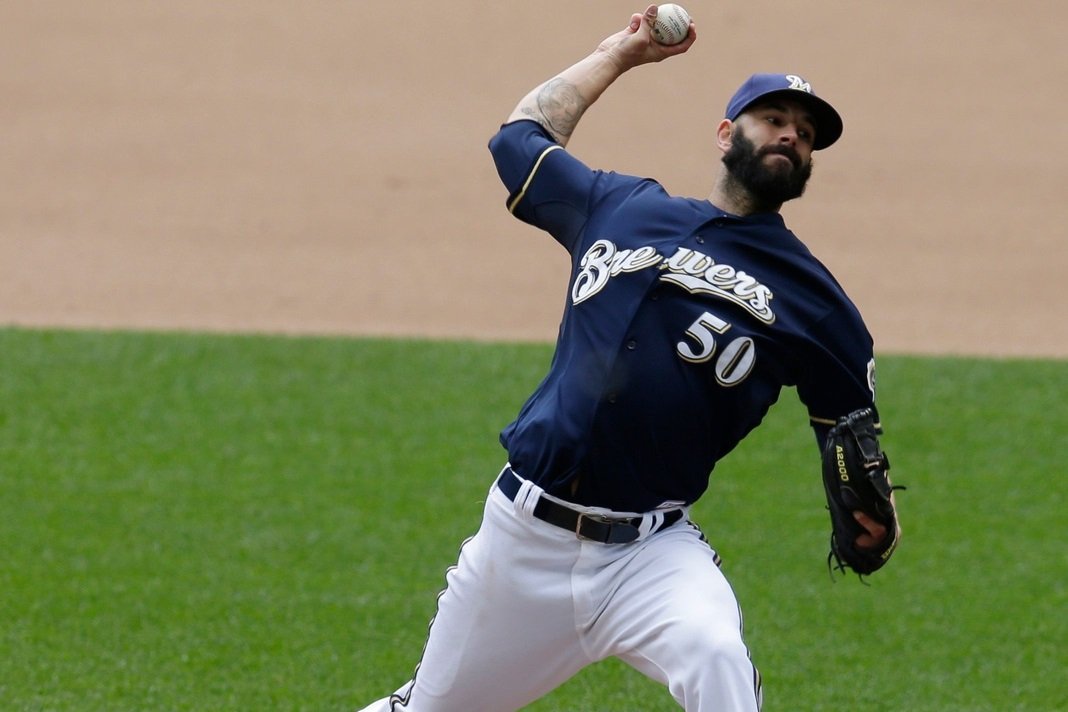 Image courtesy of © Milwaukee Journal Sentinel
With the MLB Draft starting on July 17th, we're looking back at the best players the Brewers have drafted, and the best that they failed to sign. Today we will take a look at players the Brewers drafted between rounds 21 and 30. Before you start, take a look at Wednesday's article, where I check out players drafted by the Brewers in Round 31 or later.
The rounds covered here, 21st to 30th will not be included in this year's edition of the MLB Amateur Draft, but there have been some great players selected by the Crew in the past. Most of these players have not signed, just like we've seen in the past. There are more players to choose from here, especially in players who have signed, but it is a little lighter than what we will see later on. Let's check it out.
Best Player Who Signed
Just like last time, there is one true option for the best player who actually signed. This time it is Mike Fiers. There is Craig Breslow, who was also considered, and Chris Sáenz, who will be getting another article in the future from me due to his incredibly interesting career, but Fiers surpasses both easily. 
Fiers was drafted by the Brewers with pick 676 in the 22nd round of the 2009 MLB Amateur Draft out of Nova Southeastern University based in Fort Lauderdale, Florida. He could be considered the best draft pick by the Brewers simply due to being the whistleblower for the Houston Astros' cheating during their World Series winning 2017, along with 2018, along with some other unconfirmed years, when they stole signs using a camera located in centerfield before relaying pitch type to the batter in some way. Despite this, Fiers would still be the best player who signed with the Brewers between rounds 21 and 30. Not only was he a great pitcher in his time with the Crew, his trade away brought fantastic players and he continued to perform. 
The major league debut of Smoky, a nickname he goes by, was a game-ending inning where he allowed no runs on two hits and a walk, striking out two batters in Milwaukee against the Rockies in 2011. He continued to pitch 11 total seasons, to an ERA of 4.07 across 1151.0 innings in 218 games, 199 of those started. He played his first five years in Milwaukee, to an ERA of 3.66 there in 71 games, starting 56.
He later spent time with the Houston Astros, where he won the 2017 World Series, as well as with the Detroit Tigers and Oakland Athletics. During this time, he pitched two no-hitters, one in 2015 with the Astros, and the other in 2019 with the Athletics. Fiers has earned 12.4 WAR thus far. His last major league appearance came in 2021, but he pitched in the Mexican League for the Leones de Yucatán in 2022 until June 29th when his contract was purchased by the Uni-President Lions who play in the Chinese Professional Baseball League.
Regardless of his impressive resumé, he helped set up the Brewers for their future in a transaction which sent him away from Milwaukee. On the 30th of July, 2015, Fiers, along with Carlos Gómez were sent in a package which yielded a return of Adrian Houser, Brett Phillips, Domingo Santana and Josh Hader . These players have combined 20.1 WAR in their time with Milwaukee (3.2 Adrian Houser, 1.3 Brett Phillips, 3.7 Domingo Santana, 12.1 Josh Hader). Fiers continues to add value to the Brewer Organization due to Houser and Hader remaining with the team.
Best Unsigned Player
There are two players who were not signed by the Brewers, after being initially drafted who have the most accolades in their careers. Despite this, neither of them are the best unsigned players in my opinion. Rather, a guy drafted with the 781st pick in the 26th Round during the 2015 draft out of American Heritage High School in Delray Beach, Florida by the name of Jonathan India earns the mark as best unsigned Brewer draft pick in this round range. 
He doesn't have the career history of the other players who will be considered honorable mentions, but India is, in my opinion, the superior player, and will only get better. After not signing with the Brewers, he spent three years playing for the University of Florida Gators before being selected by the Cincinnati Reds in the 2018 draft with the 5th pick in the 1st round. The 25-year-old second baseman made his MLB debut on April 1st, 2021 against the Cardinals, going 2-4 at the plate. In 2021, he batted .260 while blasting 21 home runs en route to winning N.L. Rookie of the Year Honors.
This year he has been struggling with injuries, playing in only 28 games, batting .211 with a WAR of -1.1. Even with his struggles this year, I fully expect him to be a fantastic player, and one that the Brewers will regret not signing. This is especially the case since they will see him often since he plays for a divisional opponent.
Honorable Mentions
If it were not for Jonathan India, I would say that Jake Arrieta is the best unsigned Brewer draft pick in rounds 21-30. Arrieta was drafted in the 26th round with pick number 775 in the 2005 draft. Previously, he was drafted by the Cincinnati Reds in the 31st round in 2004, but finally was signed by the Baltimore Orioles, when they drafted him with the 159th pick in round 5 of the 2007 MLB Draft. 
Arrieta made his MLB debut with the Orioles on June 10th, 2010 against the Yankees, earning the win after allowing three earned runs on four hits and four walks while striking out six in his quality start. The right-handed pitcher played for 12 seasons, last appearing in a game in 2021, for a career ERA of 3.98 across 285 games, 279 of which were starts.
He has played for the Phillies and the Padres in addition to the Orioles, but most (especially most Brewer fans) will remember him for his time with the Cubs, where he spent parts of six seasons, accumulating 19.2 of his 22.8 career WAR. In this time, he not only was part of the team which won the 2016 World Series, but he also was the 2015 N.L. CY Young Award winner, along with pitching a no-hitter in 2015 and then again in 2016, getting one All-Star Game nod in 2016. 
Another divisional foe lands in the honorable mentions, with right-handed pitcher Matt Morris not signing with the Brewers after getting picked 724th in the 26th round of the 1992 MLB Draft. Instead, he went to Seton Hall before getting drafted 12th overall in the first round of the 1995 MLB Draft by the St. Louis Cardinals. He debuted shortly thereafter, in 1997 against the Astros, getting a no decision in the five innings he pitched, allowing an earned run on seven hits, with a walk and a strikeout.
Morris pitched 11 years, not playing in 1999 due to Tommy John surgery, mostly with the Cardinals, though did spend parts of two years with the San Francisco Giants and the Pittsburgh Pirates, retiring on April 30th of 2008. Over his career, he started 276 of the 307 games played to an ERA of 3.98 across 1806 innings. As part of the Cardinals, he led all N.L. pitchers in wins in 2001 en route to an All-Star appearance, which he followed up with another in 2002. 
Thank you for reading and don't forget to check out the previous edition, where I go through rounds 31 and later! Be sure to let me know if you agree, especially with my choice of India!
Think you could write a story like this? Brewer Fanatic wants you to develop your voice, find an audience, and we'll pay you to do it. Just fill out this form.
MORE FROM BREWER FANATIC
— Latest Brewers coverage from our writers
— Recent Brewers discussion in our forums
— Follow Brewer Fanatic via Twitter, Facebook or email