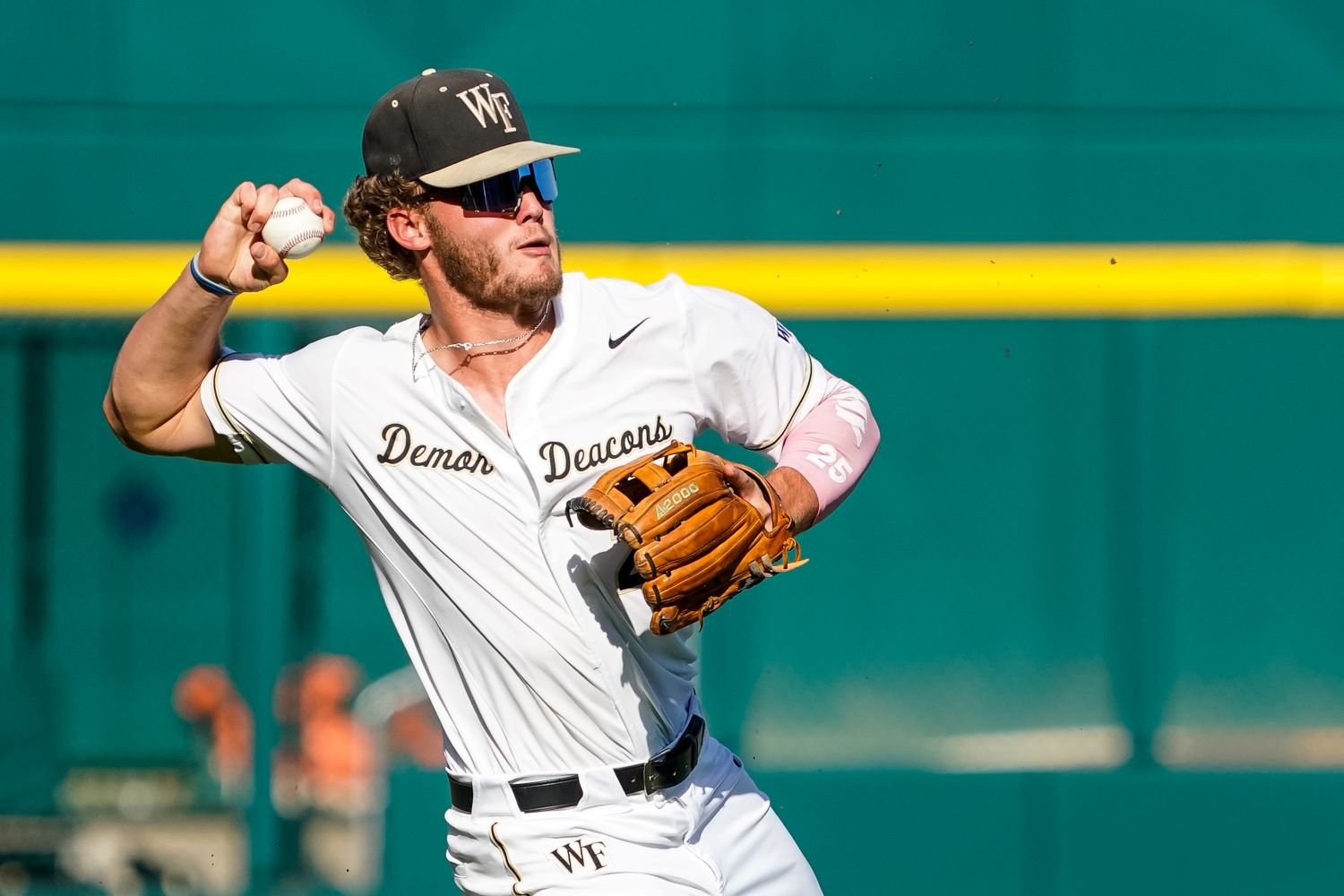 Image courtesy of Dylan Widger, USA Today Sports
Over the next two weeks, we're going to be providing you with profiles of 10 players the Brewers could take with the number 18 pick in the 2023 MLB Draft.
Who is He?
Brock Wilken is a power hitting third baseman whose stellar offensive 2023 season helped propel Wake Forest to a College World Series berth in 2023. Currently sitting at 23rd on the Consensus Board, Wilken was a top 500 prospect coming out of high school and has continued to cement his status as a top 30 prospect in a deep 2023 class. Wilken has taken significant steps forward offensively this season, in what was already an exceptional profile.
Why the Brewers Will Draft Him
Power is the carrying tool in Wilken's offensive profile. In his first two seasons at Wake, he mashed 40 home runs in 437 at bats. In 2023, he's at 30 and counting at the time of writing. Wilken has adjusted to a more selective approach at the plate this season, lowering his strikeouts from 28 K% to 22 K%. He's also increased his walk rate from 13 BB% to 29 BB%. There's an argument that he can be a little passive at the plate, but it's hard to argue with a .357/.517/.835 line in the ACC.
Wilken has improved his contact in 2023 and the power is legitimate. He has easy plus power, both raw and in game, to all fields. He has good bat speed and his 90th percentile exit velocity sits north of 108 mph. 
Why the Brewers Won't Draft Him
Defensively, Wilken is a mixed bag. He has an incredibly strong arm at third base and good enough defensive actions to stick at the position. Slow foot speed and acceleration will limit his range, though, and it's possible he moves to first base eventually, lowering his overall ceiling. He should at least begin his pro career at the hot corner. 
Wilken's increased patience at the plate has allowed pitchers to go after him with their better secondary offerings. This could be an area of his game that better pitching exposes. Ultimately, the hit tool will govern the ceiling. It's going to be fringy at best, but easy 30 home run power is likely to make him an effective contributor, regardless of his offensive position
What do you think of Brock Wilken as a prospect? How would you feel about him being the Brewers pick at 18 overall? Join the discussion in the comments.