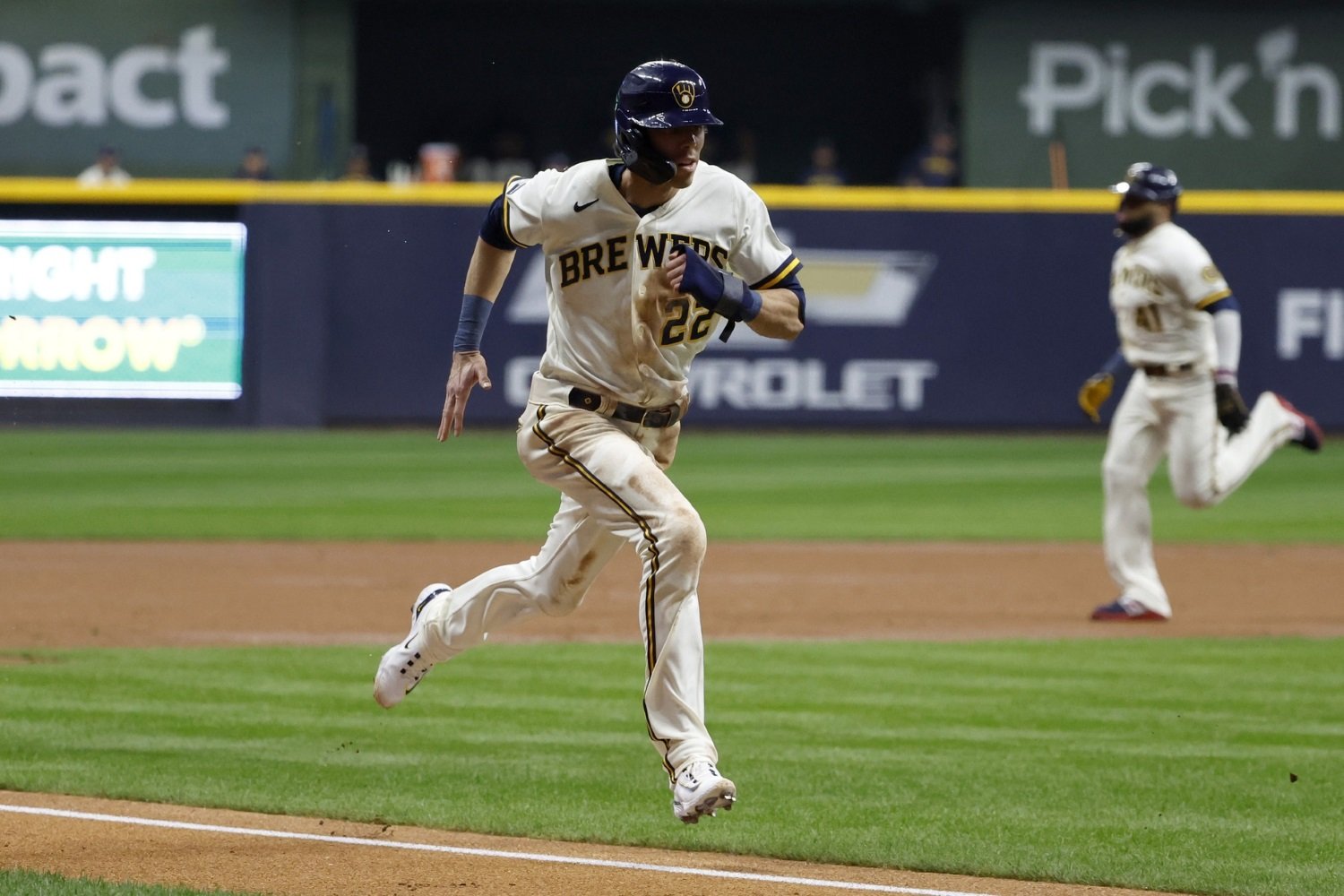 Image courtesy of © Kamil Krzaczynski-USA TODAY Sports
When your team gets "swept" (a sweep should be three or more games) in two contests at home to immediately nullify a 92-win division championship, it's hard to quickly think about the positives. They certainly existed, and it's essential to recognize all parts of the postseason competition, because losing in the playoffs is still better than never experiencing it at all. We'll get to the bad and ugly in upcoming pieces. Let's start with the good, while we all decompress a bit. Plus, one should always try to appreciate the positives that come in the midst of negativity.

Milwaukee's early scoring
The Brewers tallied at least one run in the first inning of each game, which usually leads to positive results. Scoring first and putting pressure on the opposing pitcher can quickly put teams in the driver's seat, particularly at home. The team that scores first typically wins about 70 percent of the time.

It was a terrific sign and the best way to play a postseason game: from in front. You expect the top of your order to produce, and it's a big boost when your ninth hitter goes deep, too. In both games, you sensed the hitters had a game plan (and a commitment to executing it), which they utilized to take the lead and get the crowd buzzing. 

Christian Yelich leading the way
You couldn't have asked for much more from the Brewers' leadoff man, especially knowing the microscope is always on him. He did his job exceptionally well, reaching base three times in each contest, including leading off Game One with a walk and Game Two with a single, then scoring a run in each opening frame. He was also the catalyst to Game Two's eighth-inning (doomed) rally, laying down a perfect bunt against the shift. 


Yelich finished the series with two walks, two runs, a double and a stolen base. He even kept the Brewers' season alive with a booming two-out double in the ninth inning to bring up William Contreras as the tying run. Yelich's slash line across the two games: .500/.600/.625.

Freddy Peralta's first five frames
The Brewers' Game Two starter was on fire from the mound early on--precisely what his teammates needed with their backs against the wall. Peralta fired four no-hit frames with five strikeouts and just one walk. With his offense stuck on two runs, Peralta battled command and velocity issues in the fifth to hold the lead. He finally gave up a two-out, solo home run to Alek Thomas on a fly ball with a .223 expected batting average (ugh).

Still, Peralta retired the next hitter to preserve the 2-1 lead. Unfortunately, manager Craig Counsell stayed with Peralta to open the sixth despite the clear signs of trouble. The reality was that Peralta sure looked "done" after just five innings, whether it was fatigue or something else. Instead, Counsell asked him to face three batters in the sixth, where a combo of luck and quality at-bats burned the Brewers and led to the tough loss.

Shutting down Arizona's running game
There was a lot of conversation about the Diamondbacks being able to run all over the Brewers before the series started. Arizona had the second-most steals in MLB, and William Contreras had issues throwing guys out all season. It was a non-issue. Arizona had two steals; one was a first-and-third, two-out situation where Milwaukee chose not to throw.

So, instead of the Snakes wreaking havoc on the bases, Contreras cut down Corbin Carroll (second in the NL with 54 stolen bases) on a strike-'em-out, throw-'em-out double play and nailed Geraldo Perdomo trying to swipe third base. The D-Backs didn't even attempt a steal in Game Two, which would have been more significant news had the Brewers won a game or two.

Willy Adames locked in at the plate
Adames scuffled offensively for much of the season and was among the most criticized hitters on the club. Yet, he carried a solid final two months of the regular season into this series, producing several valuable results. Adames had a .571/.625/.714 slash line in two games,with a walk and a double. He drove in the second run of Game Two, with a two-out single in the first inning off Zac Gallen--his first hit in 11 career at-bats off the righty.
He lives for this @willya02 X #BrewedForBattle pic.twitter.com/4v5i8NoZXZ

— Milwaukee Brewers (@Brewers) October 4, 2023
Overall, he had quality at-bats and looked more like his 2021 self. It was an encouraging showing for Adames, who came up one hit shy of making it a truly memorable series. His 101-MPH fielder's choice in the eighth inning skipped off the mound and into the glove of the perfectly positioned second baseman to end the bases loaded threat (ugh, again).

The Game Two crowd was fantastic
As my family waited for the contest to start, I wondered if there'd be more of a quiet tension in the air with elimination a possibility. Far from it. The fans were into it from the get-go, with most standing at many different points throughout the game, including the bottom of the first. I wasn't at Game One, but many others commented how much better Wednesday's crowd was, and the hope was that it would help the home nine fight to live another day. 

There were encouraging cheers, anticipatory standing and clapping and loud bursts of celebration with nearly every positive outcome. The eighth and ninth innings, especially, were incredible, as people truly believed something special could happen. Fans stood for almost the entirety of both frames, clinging to every inch of hope. It was an emotional, exhausting night that ultimately ended in disappointment, but the crowd did everything it could to will the club to victory.

Despite another early ouster from the postseason and fans left with heads in hands, there were good things to take away from another playoff appearance. Brewers fans are in a weird place, enjoying more regular-season success than most but not getting an end-of-year payoff. Personally, it was still incredibly fun to go through the tense, dramatic moments of playoff baseball, particularly inside the ballpark.

Unfortunately, for all the good, there was some obvious bad and ugly, too. Stay tuned for those breakdowns soon. In the meantime, what other positives did you take away from the series?
Think you could write a story like this? Brewer Fanatic wants you to develop your voice, find an audience, and we'll pay you to do it. Just fill out this form.
MORE FROM BREWER FANATIC
— Latest Brewers coverage from our writers
— Recent Brewers discussion in our forums
— Follow Brewer Fanatic via Twitter, Facebook or email