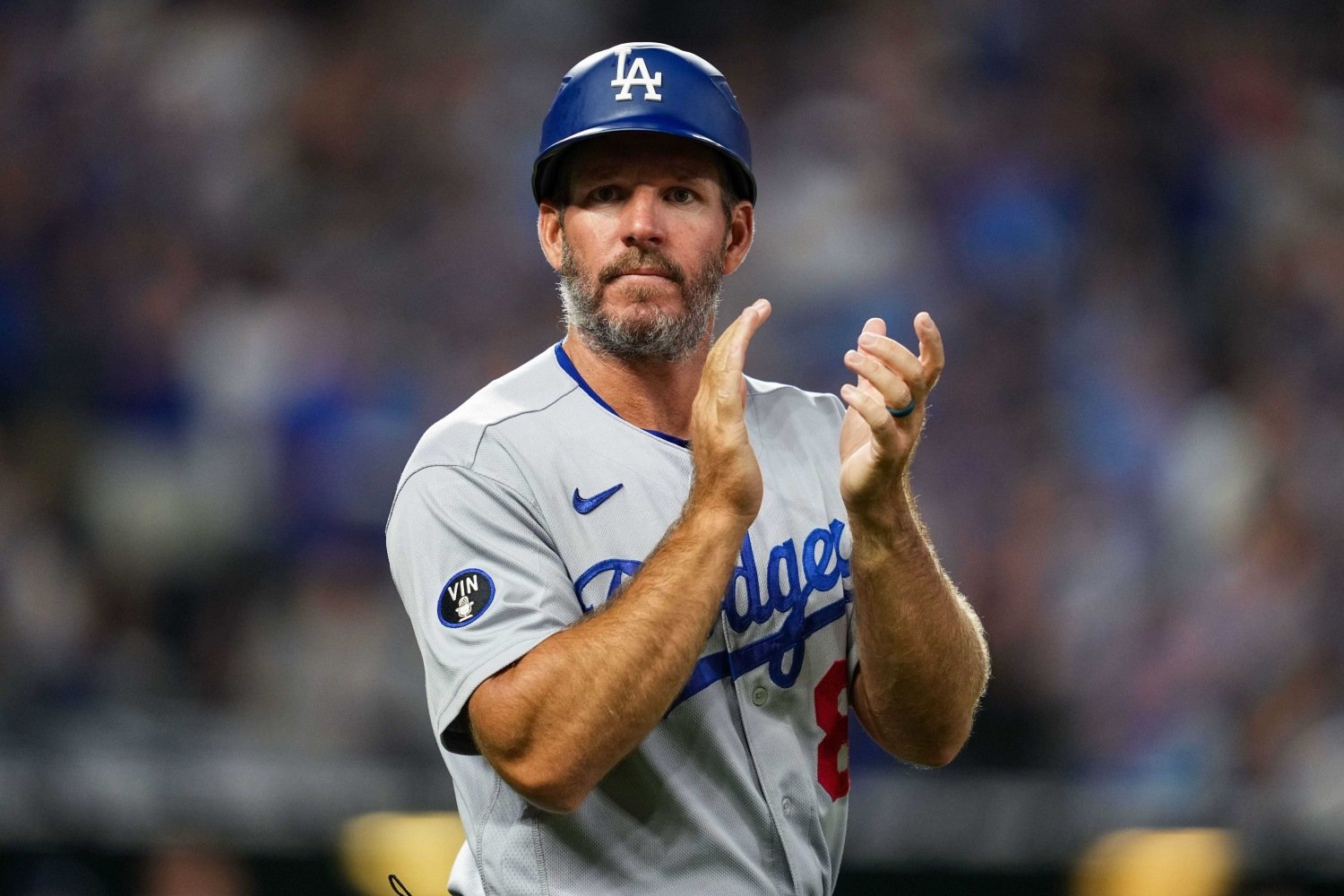 Image courtesy of © Jay Biggerstaff-USA TODAY Sports
The 2024 Milwaukee Brewers have an uncertain direction as the offseason opens up. Is it time to step back for a soft rebuild? Do you keep everyone you can and make one more run? Regardless of their strategy, GM Matt Arnold must think of the best skipper for the next three to five seasons, not just 2024. And with recent word that they are "open to moving virtually any player," there seems to be a lean toward the years beyond this one (although, I'd say the Brewers are always open to moving anybody).
Either way, there aren't any worthy veteran manager "splashes" to be made—at least not ones with real substance. Many of the skippers with previous MLB experience lack proven success with previous teams, are poor fits, or, realistically, are "too old" or have been out of the game too long.
It also feels like the perfect time to get a fresh perspective on the team. So, while there are some intriguing options with the Brewers' organization (e.g., Matt Erickson, Carlos Villanueva), there's almost too much of a connection to the previous decade. That's another reason to stay away from Craig Counsell's bench coach, Pat Murphy, for the change in leadership, even though he could be a "bridge" to whoever is next for the extended future. Still, it's best for the Brewers to look outside.
In searching for a young and hungry option with a clean set of eyes on the club, you still want some leadership experience. It would also be ideal to have a baseball mind that works in a similar way to the Milwaukee front office's and who comes from, at some point, a successful franchise. Without being able to do interviews or have personal knowledge of these potential candidates, there's still guesswork happening from a writer's perspective. However, this group is a good place to start, and it's up to Arnold and his staff to properly vet the best fit.

Benji Gil - Infield Coach, Los Angeles Angels
The 51-year-old Gil played eight seasons in MLB but has only spent two years at the big-league level as a coach. Before joining the Angels' staff, Gil managed in a pair of Mexican baseball leagues. He won three Mexican Pacific League (winter ball) championships as manager of Tomateros de Culiacan, including back-to-back titles in the 2019-20 and 2020-21 seasons.

Gil was also the skipper for the Mexico National Team at the 2020 Summer Olympics and this year's World Baseball Classic. Gil has not been shy about wanting a shot to manage an MLB club and interviewed for the San Diego Padres' opening. The president of Mexico has even endorsed him for the job. Gil would differ from the other candidates listed regarding varying experience and working with veterans versus younger players. He is also the oldest in this group--the only one in his 50s.

Rodney Linares - Bench Coach, Tampa Bay Rays
The Rays are the more successful, American League version of the Brewers. Linares has been with Tampa since 2019, after coming over from one of the top teams of the last 10 years, the Houston Astros. Both of those organizations are ideal in grooming a future manager and allowing him to find early success.

As a minor-league manager, Linares worked with guys like Jose Altuve, Alex Bregman and Carlos Correra as they came through the system. He also won a lot of games, going 334-226 (.596) in a four-year stretch and finishing 82-57 in his one season leading Houston's Triple-A squad in 2018. The 46-year-old Linares also managed the Dominican National Team in this year's World Baseball Classic.

George Lombard - Bench Coach, Detroit Tigers
After wrapping up his playing career in 2009, Lombard jumped into coaching in the minors with the Boston Red Sox and Atlanta Braves. Lombard managed a rookie-league team, was a roving outfield and baserunning instructor, and served as a minor-league field coordinator at various points during that time. He then joined the Los Angeles Dodgers from 2016-20 to be their first base coach in the middle of their NL West title streak, which included three NL pennants and one World Series crown.

Before the 2021 season, Lombard interviewed for the Detroit Tigers' managerial vacancy. He lost out to former Astros skipper A.J. Hinch but took the bench coach position in Detroit at Hinch's request. The 45-year-old Lombard has a reputation as a strong developer of young players, a student of the game, and well-versed in using analytical tools.

Tony Mansolino - Third Base Coach, Baltimore Orioles
His name has yet to come up much, but 41-year-old Tony Mansolino could be a dark-horse option. He was a hitting coach and then manager of multiple minor-league clubs with the Cleveland Guardians and earned the Carolina League Manager of the Year Award in 2017. Following the 2020 season, the Orioles hired Mansolino as their third base coach, where he remains.

Mansolino has a reputation for skillful teaching of fundamentals, and considering he's been working with a young and talented Orioles club, it would be a nice transition to Milwaukee. He might need more MLB seasoning before manning the helm, but for those who love having a Brewers connection, his dad, Doug, coached in Milwaukee in 1998-99.

Clayton McCullough - First Base Coach, Los Angeles Dodgers
McCullough has been with the Dodgers since 2015 as they have enjoyed their tremendous run of success. McCullough has been the organization's minor-league field coordinator, and he joined the Major League staff for the 2021 season. He has been known for working well with young talent.

The 43-year-old is a former minor-league catcher who managed in the Toronto Blue Jays' farm system from 2007-13, going 629-559 (.529). McCullough interviewed for the Cleveland Guardians' managerial opening last month, for the New York Mets' before the 2022 season, and for last offseason's Kansas City Royals vacancy.

Other candidates could fit the bill, such as Joe Espada (Astros bench coach), Troy Snitker (Astros hitting coach), and Craig Albernaz (San Francisco Giants bullpen and catching coach). It would make sense for the Astros to hire Espada for their manager's role, and Snitker could use more time in the big leagues to learn. The same could be said for Albernaz, who has not held another role with the Giants.

For the record, five first-year managers have won the World Series in their inaugural season, so hiring one of these guys shouldn't rule out a championship run. Do any of them stand out to you? Are you willing to take a chance with a first-year manager? Give us your thoughts on who should be next.