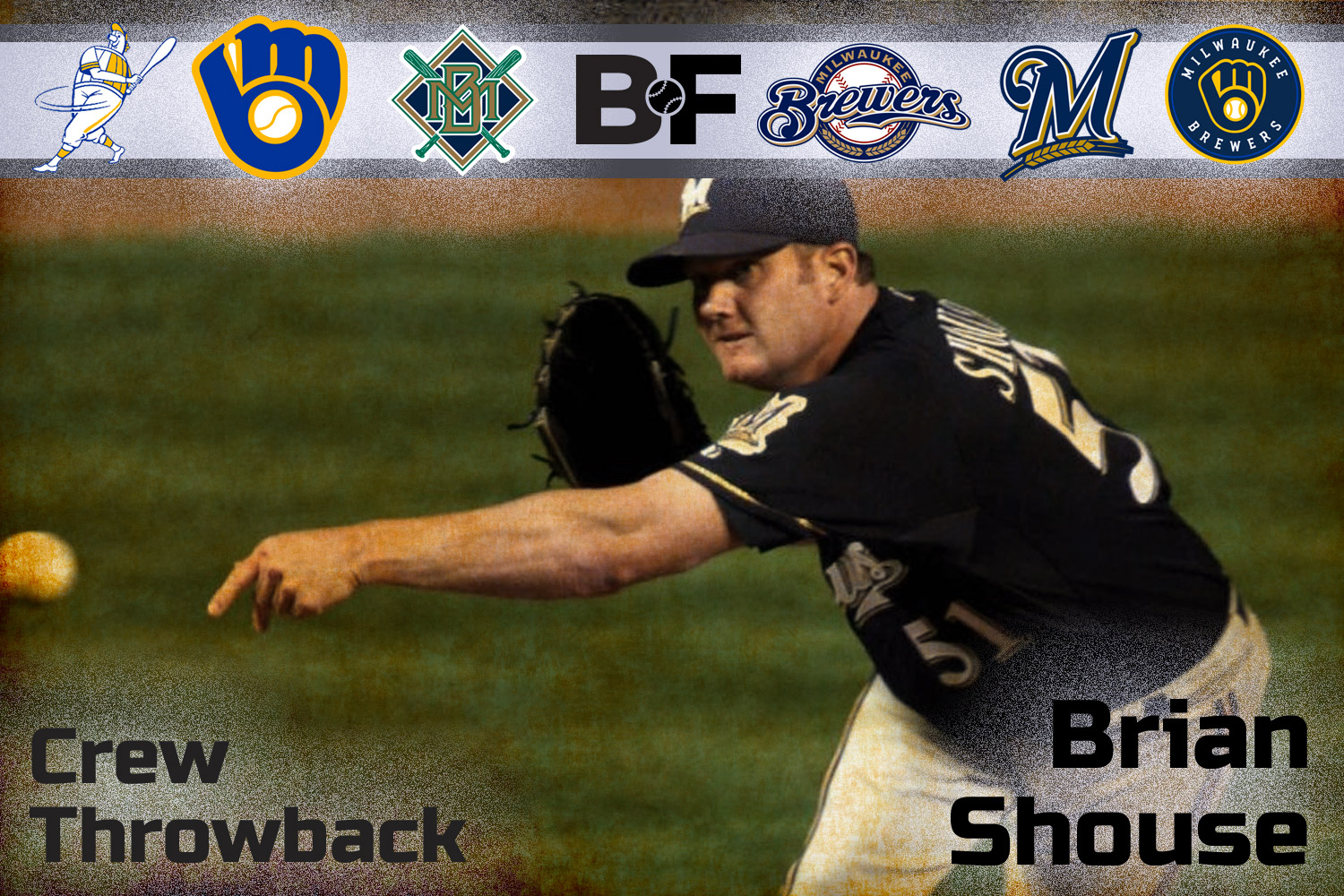 Image courtesy of Brewer Fanatic
Initially drafted by the Pittsburgh Pirates in the 13th round during the 1990 MLB draft, Brian Shouse worked his way through the minors and made his debut in 1993 at age 24. He pitched four innings in six games, racking up an ugly 9.00 ERA and a 2.25 WHIP.
After spending several years in the minor leagues of the Baltimore Orioles and Pittsburgh Pirates, he would only play in the major leagues once more after Boston Red Sox signed him in 1998. He pitched eight innings in seven games with a slightly improved 5.63 ERA and 1.63 WHIP.
After 1998, Shouse would again endure a protracted absence from the major leagues, moving between the minor league systems of the Arizona Diamondbacks, Baltimore Orioles, New York Mets, and Houston Astros. In 2002, Shouse would play in another MLB game for the Kansas City Royals, and he was here to stay this time.
The Texas Rangers signed Shouse as a free agent in 2003, and they would prove to be a good signing.  During his four-year stint in Texas, Shouse pitched 163 innings and struck out 112 batters while carrying a 3.59 ERA and 1.29 WHIP. He also earned 34 holds and one save. Shouse's performance on the mound caught the eye of the Milwaukee Brewers, who traded minor league infield prospect Enrique Cruz and cash for Shouse on May 13, 2006.
Now, the late 2000s were an awkward time for the Milwaukee Brewers. Sure, they had some rising stars like Prince Fielder and Ryan Braun, but the big league club struggled to win games. 
Pitching was a big question mark at this time, both in the starting rotation and the bullpen.
In 2006, when Milwaukee acquired Shouse, the team pitching staff held a 4.82 ERA. The offense drove in 730 runs, but the pitching staff gave up 833 runs.  Shouse proved himself to be effective in the Brewers bullpen as a left-handed specialist. He maintained a 1.50 WHIP in 34 innings pitched in 2006. In 2007, at the age of 38, Shouse was even better. He put up a WHIP of 1.26 in 47.2 innings pitched. It seemed that despite his age, he was reliable and unstoppable.
Rick Ankiel, infamously a pitcher-turned-outfielder for the St. Louis Cardinals, would later claim that Brian Shouse was the hardest pitcher he had ever faced in his career.
2008 would turn out to be Shouse's best year with Milwaukee. He struck out 33 batters, earning a WHIP of 1.17 and a 2.81 ERA. His command on the mound helped Milwaukee clinch their first appearance in the playoffs since 1982. 
Shouse would end his career with the Tampa Bay Rays in 2009 at 40. 
In recent years, Shouse spent time as a pitching coach for the Texas Rangers organization. In 2019, he was the pitching coach for the Nashville Sounds. However, he would be let go after one season in Nashville.
While not the flashiest player, Shouse deserves to be remembered as a reliable arm in a lackluster bullpen during an important time in Brewers' history. His arm brought badly-needed stability to an often unstable pitching staff.
Think you could write a story like this? Brewer Fanatic wants you to develop your voice, find an audience, and we'll pay you to do it. Just fill out this form.
MORE FROM BREWER FANATIC
— Latest Brewers coverage from our writers
— Recent Brewers discussion in our forums
— Follow Brewer Fanatic via Twitter, Facebook or email