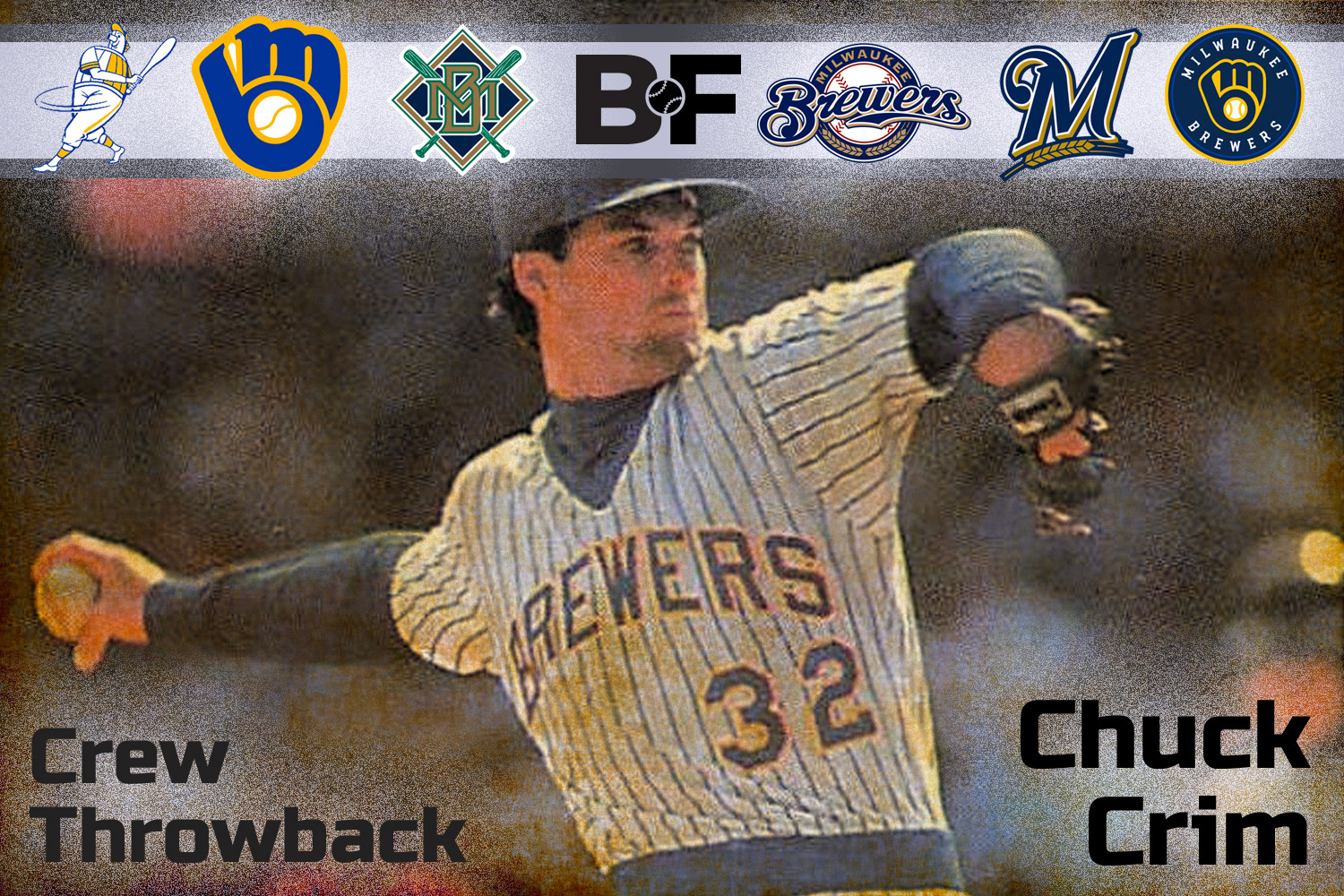 Image courtesy of Brewer Fanatic
The Brewers drafted Charles (Chuck) Robert Crim in the 17th round out of the University of Hawaii in 1982. After two years in the minors, he was moved to the bullpen, where he quickly found his niche.  
Despite being a non-roster player, Crim made the team in 1987 and quickly became a workhorse out of the pen. Over five years ('87-'91), he appeared in 332 games and threw 530 innings - an average of 66 games and an astounding 106 innings pitched per year. All but five of his appearances were in relief and he led the AL in appearances in 1988 and 1989.
Crim was excellent in his first few seasons, producing ERAs of 2.91 and 2.83 in 1988 and 1989, respectively. However, the heavy workload began to take a toll on Crim's arm, and his numbers began to fade in 1990. In 1991, his final season in Milwaukee, Crim's ERA rose to 4.63. The Brewers shipped out Crim after that season, sending him to the Angels for another reliever - Mike Fetters - a deal that turned out well for the Brewers. 
After struggling in 1992 and 1993, the Angels released Crim mid-season. He came back to have a solid 1994 with the Cubs, but after the player strike that year, Crim decided he had had enough of baseball and retired. 
After his retirement, Crim spent seven years as a professional fisherman, then returned to baseball, joining the Dodgers organization in 2006, working as a scout and coach. He was Los Angeles's bullpen coach from 2013-15.
After his stint in Los Angeles, Crim returned to his life as a fisherman.
Chuck Crim was not a physically imposing pitcher and didn't have stuff that jumped out at fans. He didn't strike out many batters, but he didn't walk many, either. He flashed a plus slider and sinker to go with a solid fastball. All of this allowed him to be one of the most effective setup men in baseball for several years. His first three seasons in Milwaukee were excellent - producing bWARs of 2.6, 1.7, and 2.7. 
Just to let you know, during his five years in Milwaukee, Crim made 332 appearances and tossed 530 innings. Also, he won 33 games, saved 42, and produced an ERA of 3.42. As a rookie, he won two of Milwaukee's games in their record 13-0 run to start the 1987 season. 
Players like Crim often need to be remembered due to having the unglamorous role of setup man. For a few years, Crim was really good at his job - making him an integral part of the Milwaukee Brewers team. As a result of his accomplishments, Crim was added to the Milwaukee Brewers Wall of Honor in 2014.
Please share your memories of former Brewer reliever Chuck Crim.
Think you could write a story like this? Brewer Fanatic wants you to develop your voice, find an audience, and we'll pay you to do it. Just fill out this form.
MORE FROM BREWER FANATIC
— Latest Brewers coverage from our writers
— Recent Brewers discussion in our forums
— Follow Brewer Fanatic via Twitter, Facebook or email