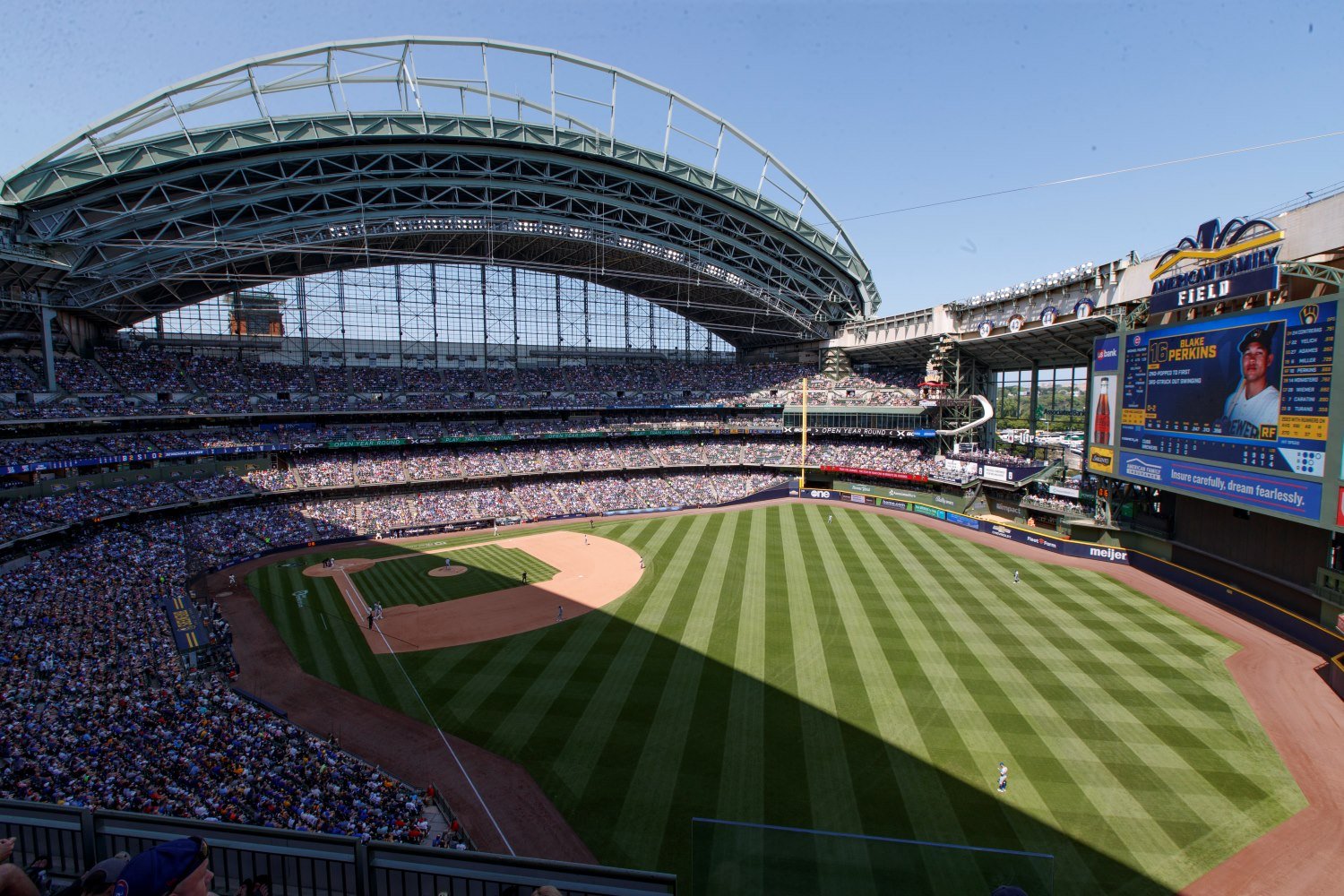 Image courtesy of © Jeff Hanisch-USA TODAY Sports
Our beloved Milwaukee Brewers are playing solid baseball lately. Entering Tuesday's Independence Day matinee against the Cubs, they were on their seventh winning streak of the season. Overall, after a brutal losing streak took the club back to .500 (at 34-34), the Brewers have gone on a 12-5 tear, While their runs scored and runs allowed produced during this stretch are not as dominant as the 114-win pace suggested by a 12-5 record, the underlying performance is quite strong, at around 91 expected wins in a 162-game season. In short: Milwaukee is back, with perhaps their best prolonged stretch of the season in which both the bats and the run-prevention unit are better than average. 
The trouble with the NL Central is twofold. First, like every other team in the division, the Brewers have played as a relatively middling club for the majority of 2023, and it's difficult to guess where the club might land with their generally uneven play as demonstrated throughout the year. Second, even if the Brewers play at their best, it's difficult to see the club (or any other winner coming from the NL Central) as anything more than a Wild Card-caliber club. Given the general outlook of the standings and underlying performances, I do not envy the Brewers front office, as this is a year that the club could benefit from a quick reset by trading away the few contracts that could net impact prospect potential in return, while still remaining competitive in the division. After all, there are quite solid odds that someone can win the NL Central with as few as 82 to 86 wins. 
Let's take a quick tour around the standings and see why this is the case! All of these statistics are for the true halfway mark of the season, or game 81.
Overall Actual Winner: Reds and Brewers tied, 86 Wins
The good news for Brewers fans is they don't print Runs Scored / Runs Allowed records on pennants. In terms of actual winning outcomes, Milwaukee has held pace against the surging Cincinnati Reds thanks to their own recent 17-game strong stretch. 
Overall Pythagorean (Runs Scored / Runs Allowed) Expected Winner: Cubs, 86 Wins
The poor Cubs wish that Pythagoras settled the divisional title: the Lakeview baseball club is riding a ridiculous 19-11 record in blowouts, according to Baseball Reference, producing a 199 RS / 148 RA record in those games. Why isn't the club's surface record as good? In one-run games, the Cubs are 7-11 (53 RS / 57 RA), meaning that in all other games they are 12-23 (129 RS / 154 RA). In short, when they are not involved in blow out wins or tight one-run contests, the Cubs are gravely underperforming their peripheral record. If you squint there's a competitive club in here, their timing is simply off.
Last 20 Games Trend Winner: Cubs, 92 Wins
This one surprised me: if you take each club's last 20 games Runs Scored / Runs Allowed and project that for their remaining games, the Cubs (92 wins) best the red-hot Reds (90 wins). Why does this occur? Even though the Reds' winning streak entering the mathematical midpoint was much better than the Cubs' actual streak (15-5 in their last 20 games, compared to 12-8 for the Cubs), the Reds had many more close wins than Chicago, and nearly as many bad losses. So one could argue the Reds' hot streak should be considered even better, because they were winning close games and playing more close games. Pythagoras doesn't necessarily like how that looks, but this category should probably be considered a fluke for that reason: the Reds are king in this category where it counts.
Daily Average Winner: Brewers, 89 Wins
Why do I review a club's daily average winning pace throughout the season? Because it's interesting to see how certain teams either trend hotter or colder than their actual wins record, and it's also fun to look at teams' variance throughout the year. Milwaukee leads in this category, because of their exceptional start to the season.
Daily Pythagorean Winner: Cubs, 94 Wins
See above. This is a compounded daily average of the Cubs' issues described above. This is a club that is far out of balance, with an actual daily winning pace around 79 wins, but a daily Pythagorean record around 94 wins. Bad timing!
Daily Average Last-20 Streaks Winner: Pirates, 80 Wins
Now this is a wild category. If you average out each NL Central club's "Last 20" streaks for the season, meaning that you prorate their remaining games by using their last 20 games' Runs Scored / Runs Allowed trend, there is not a single winning club in the division. Why is this? Regular, prolonged stretches of mediocrity for each club. 
Let's look at this closer: entering play Tuesday, every NL Central club except the Cubs had 66 games in which you could calculate a full 20-game trend from the previous 20 games played (ex., take Game 20 through Game 85, for example). The Brewers played 42 of 66 projected 20-game trends at a sub-.500 pace; the Pirates played 41 such days at a sub-.500 pace; the Reds, 43; the Cardinals, 46; and the Cubs, 33; basically, when you project out how each of these clubs has played in their last twenty games and use that as a potential marker for their remaining season, the vast majority of the time each of these clubs is on a below-.500 trend. Not good!
Blended Standings!
Now, for no scientific reason whatsoever, let's take the harmonic mean of actual wins and Pythagorean wins, to project the NL Central division winner:
Reds 81.9
Brewers 80.9
Cubs 80.9
Pirates 76.3
Cardinals 72.0
If you are Brewers General Manager Matt Arnold, is this the club (or division) that you're spending prospect capital to win? Are you staying put and holding everything steady? Or are you taking the chance to make some shrewd selling moves, gambling on winning 82 to 86 games and sneaking into the postseason anyway?
Think you could write a story like this? Brewer Fanatic wants you to develop your voice, find an audience, and we'll pay you to do it. Just fill out this form.
MORE FROM BREWER FANATIC
— Latest Brewers coverage from our writers
— Recent Brewers discussion in our forums
— Follow Brewer Fanatic via Twitter, Facebook or email