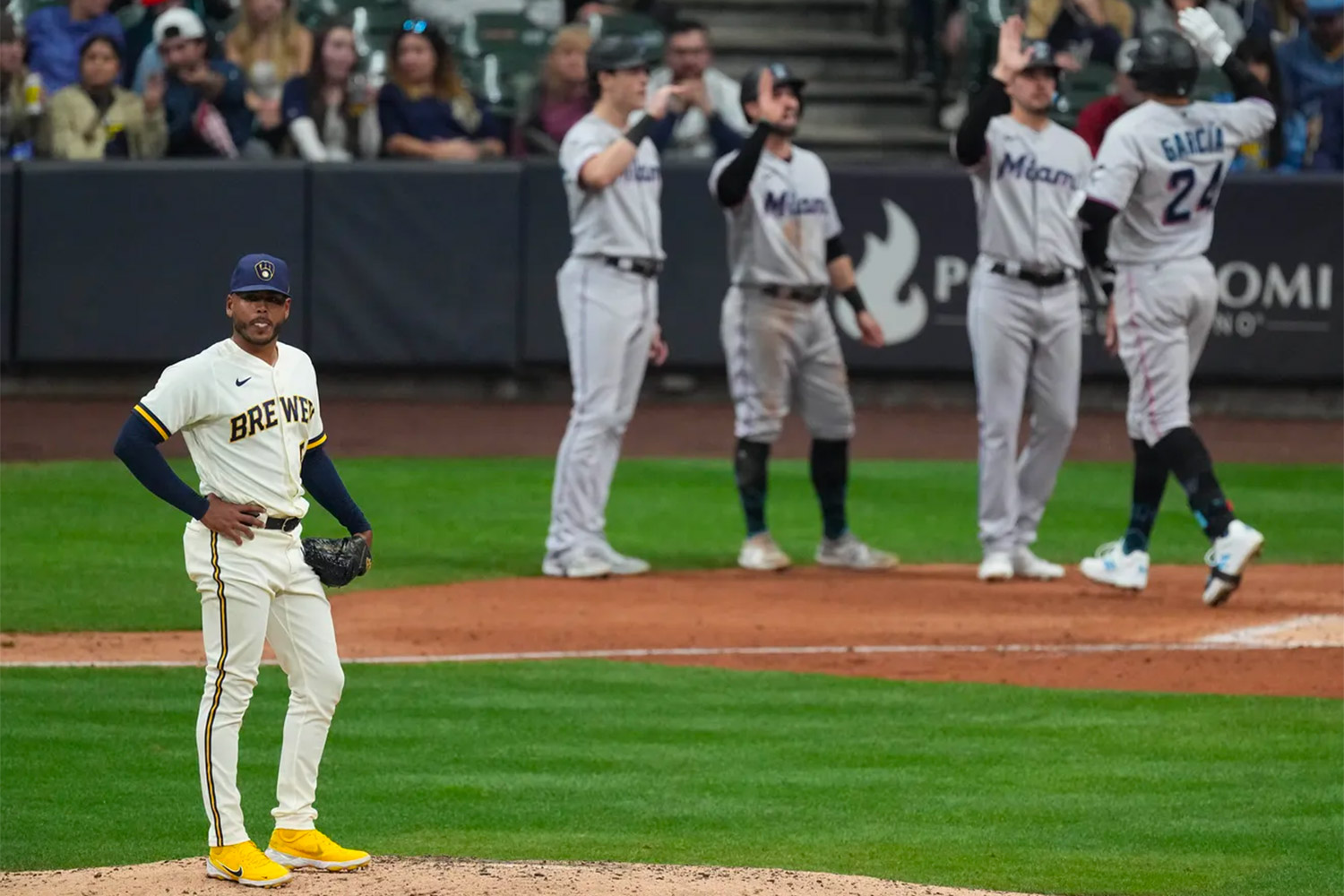 Image courtesy of © MARK HOFFMAN/MILWAUKEE JOURNAL SENTINEL / USA TODAY NETWORK
In a run environment far worse than last season (meaning runs are harder to score), Brewers' pitchers have dropped to the middle of the pack overall. One of their biggest culprits is the home run ball. Gopher balls, dingers, taters, tanks, moon shoots - whatever you call them, Milwaukee has allowed them.
The Brewers' staff has the fourth-highest home run percentage (HR%) in baseball Their 3.2 HR% is better than only the Washington Nationals, Chicago Cubs, and Cincinnati Reds. Those three clubs have combined for a .390 winning percentage this season. Last year, the Brewers owned the fifth-lowest HR% with dominant pitching leading to an NL Central title.
Despite the complaints about the offense, Brewers' pitching is what has held the team down this year. The homer plague has beat down both the rotation and the bullpen, making it a true team effort. Opponents have used the long ball off Milwaukee's hurlers to jump out to early leads, turn good starts ugly, and flip uplifting Brewers' wins into backbreaking losses. The late dingers, like the grand slam Freddy Peralta served up Thursday with a 2-0 lead, are the ones that hurt the most (and Milwaukee does it a lot).
The Brewers have allowed the most home runs (41) in high leverage situations this season (basically, the most important moments).

Milwaukee has given up the second-most homers (60) from the seventh to ninth innings.
There's losing, and then there is tortuous losing. Again, keep in mind it is much harder to score and hit home runs across the league this season. League average HR% last season was 3.3%. This year, just 2.9%. So the Brewers are getting burned by the long ball when the league isn't giving up near as many as a year ago.
The most surprising jump came from Corbin Burnes. Last year's NL Cy Young winner saw his home runs-per-nine innings rate (HR/9) jump from 0.4 in 2021 to 1.1 this season. That more than accounts for his rise in ERA from 2.43 to 3.11. Eric Lauer's HR/9 went from 1.2 to 1.6 this year, while Brandon Woodruff's moved slightly from 0.9 to 1.1 in 2022.
Especially with ace-type pitchers like Burnes and Woodruff, home runs are vital for teams to score off of them. Rarely can an offense string three or four hits together consistently against top hurlers. Giving up three singles leads to just one run. A walk, a single, and a three-run bomb puts three on the board in a hurry. That has certainly been the case against the Brewers this season.
Some of the returning relievers have had similar issues. Josh Hader, before getting traded, saw his HR/9 zoom up to 1.9 from 0.5 a year ago. Brent Suter's HR/9 saw a bump from 1.1 to 1.3 as well. To make matters worse, Milwaukee's two deadline-deal relief pitchers have had a terrible time keeping the ball in the park.
Taylor Rogers and Matt Bush have combined to give up 11 home runs in 42.2 innings with the Brewers. While Rogers was scuffling with the San Diego Padres, he had a 0.2 HR/9 before the trade. Since joining Milwaukee, that has ballooned to 2.5 HR/9. Not only has Rogers been serving up taters at a high clip, most of the homers have cost the Brewers leads and led to losses.
September 20: Enters seventh with a one-run lead. He walks the bases loaded and then gives up a grand slam to give the New York Mets a three-run edge. The brewers lose by one run.

September 16: Enters ninth inning with a one-run lead. He gives up a lead-off home run to tie the game. Brewers would come back to win.

September 6: Enters 10th inning with a one-run lead. After allowing a run-scoring double, Rogers gives up a three-run, walk-off homer.
Bush has had much the same problem. His 1.2 HR/9 jumped to 2.2 with the Brewers. That is the main reason he owns a 4.43 ERA since the trade, despite a 2.95 ERA with the Texas Rangers this season. Also, like Rogers, big home runs have happened too often - though less frequently recently (until Sunday).
September 25: Enters eighth inning of a tie game. He gives up a lead-off home run, and the Brewers lose 2-1.

August 30: Enters seventh inning with a one-run lead. He allows a two-out, solo homer to tie the game. Brewers would lose 4-2.

August 26: Enters seventh inning with a one-run lead. He gives up a two-run home run to put the Brewers behind 4-3, which would be the final score.

August 16: Enters seventh inning with a one-run lead. He allows a solo home run to tie the game. Milwaukee would eventually win the game 5-4.
Yes, most relievers have little margin for error, so the home runs they give up often have a greater impact. However, that is quite a disturbing number of significant homers from just a pair of pitchers in less than two months. Rogers and Bush aren't the only ones who have sunk Milwaukee's late-inning leads with home runs. Brewers' relief pitchers have allowed the fifth-most dingers in baseball this season.
What is the reason behind Milwaukee's homer-allowing trend? Tough to say. Some of it might just be random or bad luck, but that seems too "simple." It's not that pitches are consistently getting hammered, either. Brewers' hurlers allow the 4th-lowest average exit velocity in MLB. It could be something with Milwaukee's pitch selection or game-planning of hitters that aren't working.
It is definitely something the Brewers' coaching staff and organization will have to look into, especially with how Rogers and Bush suddenly got much worse in that department when joining the club. It will be a minor miracle if the dinger dilemma doesn't keep the Brewers out of the playoffs. If they do sneak in, homers will be the reason they sink or swim.
Think you could write a story like this? Brewer Fanatic wants you to develop your voice, find an audience, and we'll pay you to do it. Just fill out this form.
MORE FROM BREWER FANATIC
— Latest Brewers coverage from our writers
— Recent Brewers discussion in our forums
— Follow Brewer Fanatic via Twitter, Facebook or email