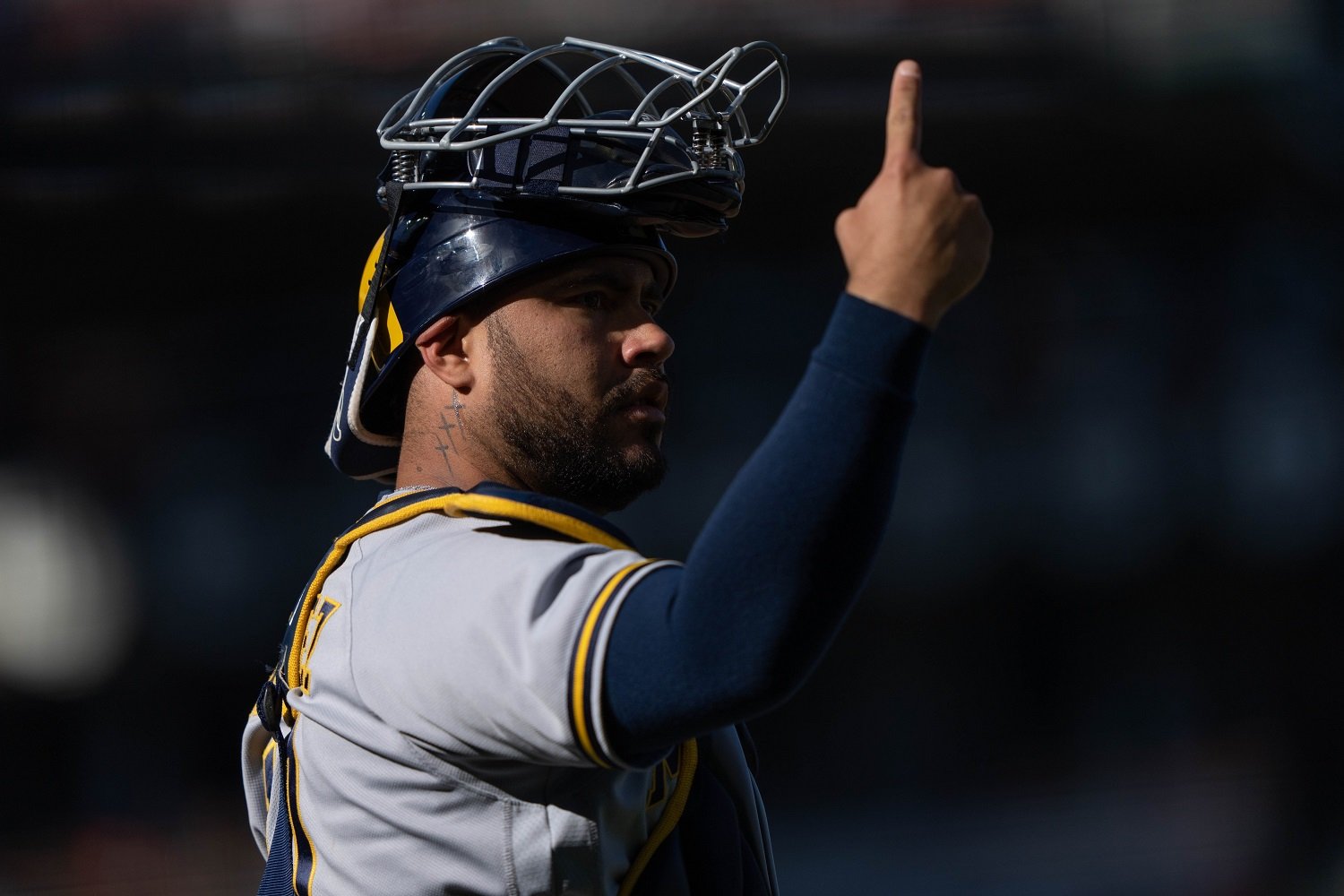 Image courtesy of © Stan Szeto-USA TODAY Sports
The MLB season has reached its halfway point. With the All-Star break and the festivities taking the full front of attention, it may be time to take a break from the fun and reflect on the first half of the season. Like a teacher handing out the dreaded report card, it's time to see how the Brewers fared in half number one. Check out our stories earlier this week if you would like to see the infielders and outfielders grades. 
Before jumping into the grading breakdown, it's important to lay some guidelines. Grading is based on the players performance through the first 93 games of the 2022 season. Listed with the given grades is the players slash line (AVG/OBP/SLG) as of July 18, and either their OAA (Outs Above Average) or percentile grades in pitch framing. The grades are also based on both the offensive and defensive value the players should have been reasonably expected to provide, and is completely subjective. The purpose of the grades are simply to reflect, and not to promote any distaste towards any certain player.
Omar Narváez * .236/.327/.356 * 83rd Percentile in Pitch Framing * Catcher
Grade: B-
Omar Narváez made his first All-Star team last year as the Brewers catcher, and in 2022, he hasn't had the encore fans may have hoped. Outside of one singular hot streak, Narváez has been below average at the plate, and hasn't produced much power. His defense remains good however, as Narváez deserves a large amount of credit for helping hold the Brewers staff together thus far.
Narváez should benefit from the All-Star break just as much as anyone else on the Crew, and hopefully he can ride a new hot streak to the end of the season. If not, his work with the staff should continue to be excellent.
Victor Caratini * .244/.362/.441 * 62nd Percentile in Pitch Framing * Backup Catcher
Grade: A-
A former division rival, Caratini is putting together a career year as part of Milwaukee's catching platoon. Caratini has arguably been the team's best offensive player, and arguably been the team's most clutch one as well. His defense, while worse than Narvaez's, is still above league average. If anyone has passed expectations this year, it's been Caratini.
The catching tandem in Milwaukee hasn't generated many complaints, and Caratini is a large part of that. Looking forward, it's hard to see things change, and fans should expect Caratini to continue to thrive in his new-found role.
Pedro Severino * .214/.313/.357 * Doesn't qualify for Pitch Framing * Third Catcher
Grade: F
Though the sample size is small, Severino has already shown he's practically wasting a roster spot. Suspended for the first half of the season due to PED's, Severino has returned to little fanfare. He's easily the worst of the three catchers defensively, as if he isn't going to hit, he has no place on the team, especially when bats like Hiura are stuck in AAA.
In all honesty, Severino's time as a Brewer should come to an end. Milwaukee needs to cut their losses with him, because right now, they can use his spot in much better ways.
Now it's your turn. Are the grades fair? Would you give extra credit or demerits to some of the players? If so, let's hear it in the comments below. 
Think you could write a story like this? Brewer Fanatic wants you to develop your voice, find an audience, and we'll pay you to do it. Just fill out this form.
MORE FROM BREWER FANATIC
— Latest Brewers coverage from our writers
— Recent Brewers discussion in our forums
— Follow Brewer Fanatic via Twitter, Facebook or email
1