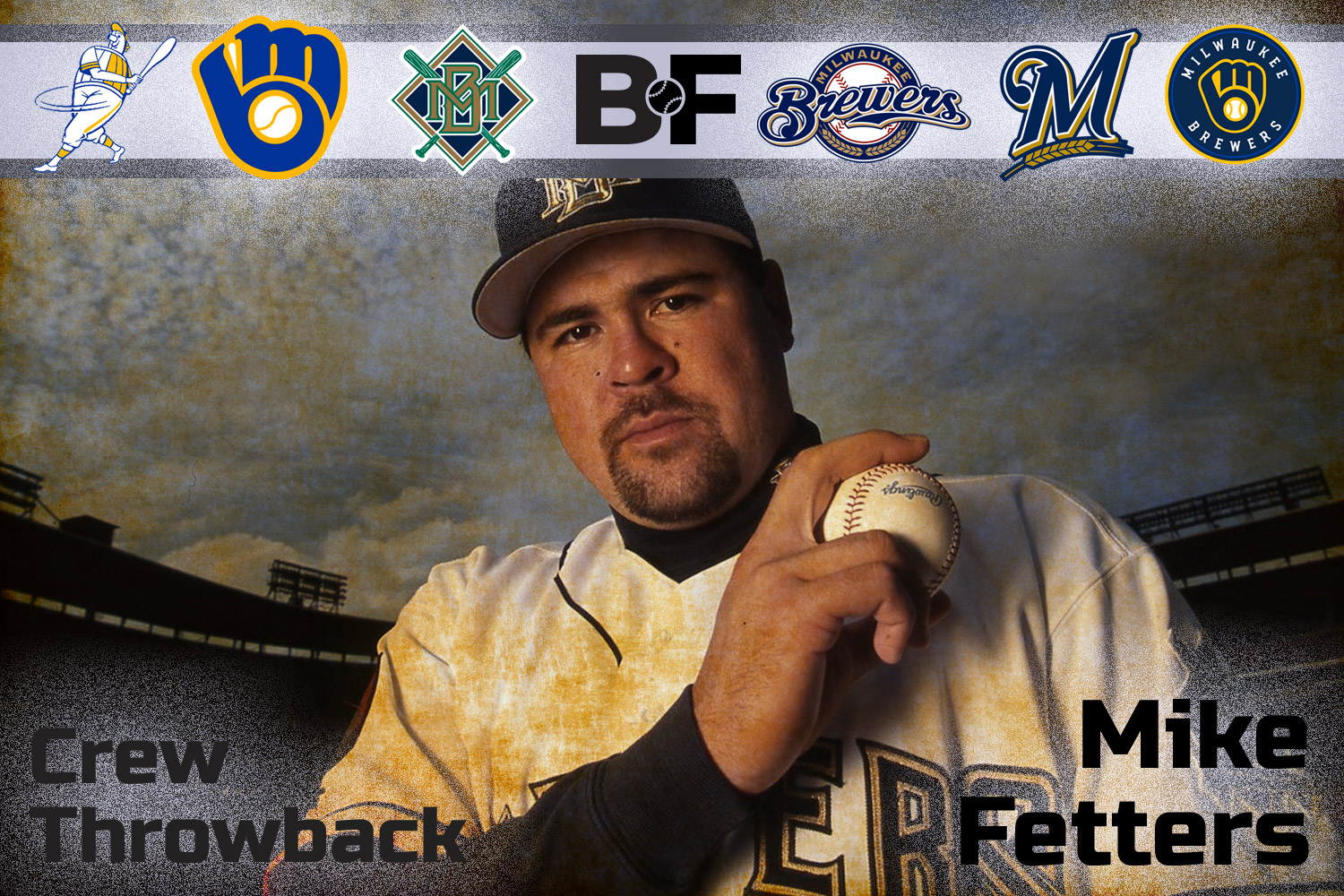 Image courtesy of Brewer Fanatic
Mike Fetters was a stocky player with a goatee and mullet. He had some pitching quirks, including a narrow-eyed scowl. It all gave him the appearance of a bulldog - which was not an inaccurate description of Fetters - one of the best relievers for the franchise in the 1990s.
Mike Fetters was born in 1964 in Van Nuys, California, but grew up in Hawaii. He attended Pepperdine University and was drafted by the California Angels in the 1st round (27th overall) of the 1986 draft. A big, right-handed pitcher, Fetters moved steadily through the minors as a starter. He displayed good strikeout rates, but he also walked too many batters. He got a one-game call to the majors in 1989, then spent most of 1990 and 1991 with the Angels, who used him primarily as a reliever. The results were mixed.
Then, in December of 1991, the Angels traded Fetters and minor leaguer Glenn Carter to the Brewers for workhorse reliever Chuck Crim. The 27-year-old Fetters was moved to the bullpen full-time by Milwaukee and proceeded to have his finest season, throwing 62.2 innings with a 1.87 ERA. Two years later, Fetters was given the closer's job and saved 17, 22, and 32 games between 1994 and 1996. Fetters landed on the DL early in 1997 and surrendered the closer's role to Doug Jones that season. 
During the 1993-97 seasons, Fetters was a good, not a great, player. He walked a few too many batters and gave up a few too many hits. But still, he was a quality contributor to the team from the bullpen. 
After the 1997 season, the Brewers dealt Fetters Ben McDonald and Ron Villone to the Cleveland Indians for Marquis Grissom and Jeff Juden. The reason for the trade was that Fetters was due nearly $2.5M the next season, and with Doug Jones occupying the closer's role, that was a bit expensive for the front office. 
Fetters' 6-year stint with Milwaukee was - without question - the highlight of his career. Once out of Milwaukee, he bounced around the league for seven more years, playing for seven different teams. He had Tommy John surgery in 2003 and retired before the 2005 season. He was 39 years old.
During his time in Milwaukee, Mike Fetters was a good reliever. He produced a 2.99 ERA over six years and tossed 334 innings. He walked 152 batters and struck out 245. His 79 career saves ranks sixth all-time for the Brewers, and his 32 saves in 1996 was a team record (it has been broken many times since). 
For his career, Fetters played in 16 different seasons for eight different teams. He appeared in 620 games, had 100 saves, won 31 games, lost 41, and had an ERA of 3.58. He never made an all-star game during his career. 
After his playing days, Fetters worked in radio and TV for the Arizona Diamondbacks and moved into coaching. He is currently the Diamondbacks bullpen coach.
On the mound, Fetters was known for his head movement. Before pitching, he took a deep breath and quickly moved his head 90 degrees to the left. He claimed he did this because of the stress of pitching. He was also known for having a good sense of humor, making him popular with his teammates and the media. 
Please share your memories of former Brewer reliever Mike Fetters.
Think you could write a story like this? Brewer Fanatic wants you to develop your voice, find an audience, and we'll pay you to do it. Just fill out this form.
MORE FROM BREWER FANATIC
— Latest Brewers coverage from our writers
— Recent Brewers discussion in our forums
— Follow Brewer Fanatic via Twitter, Facebook or email