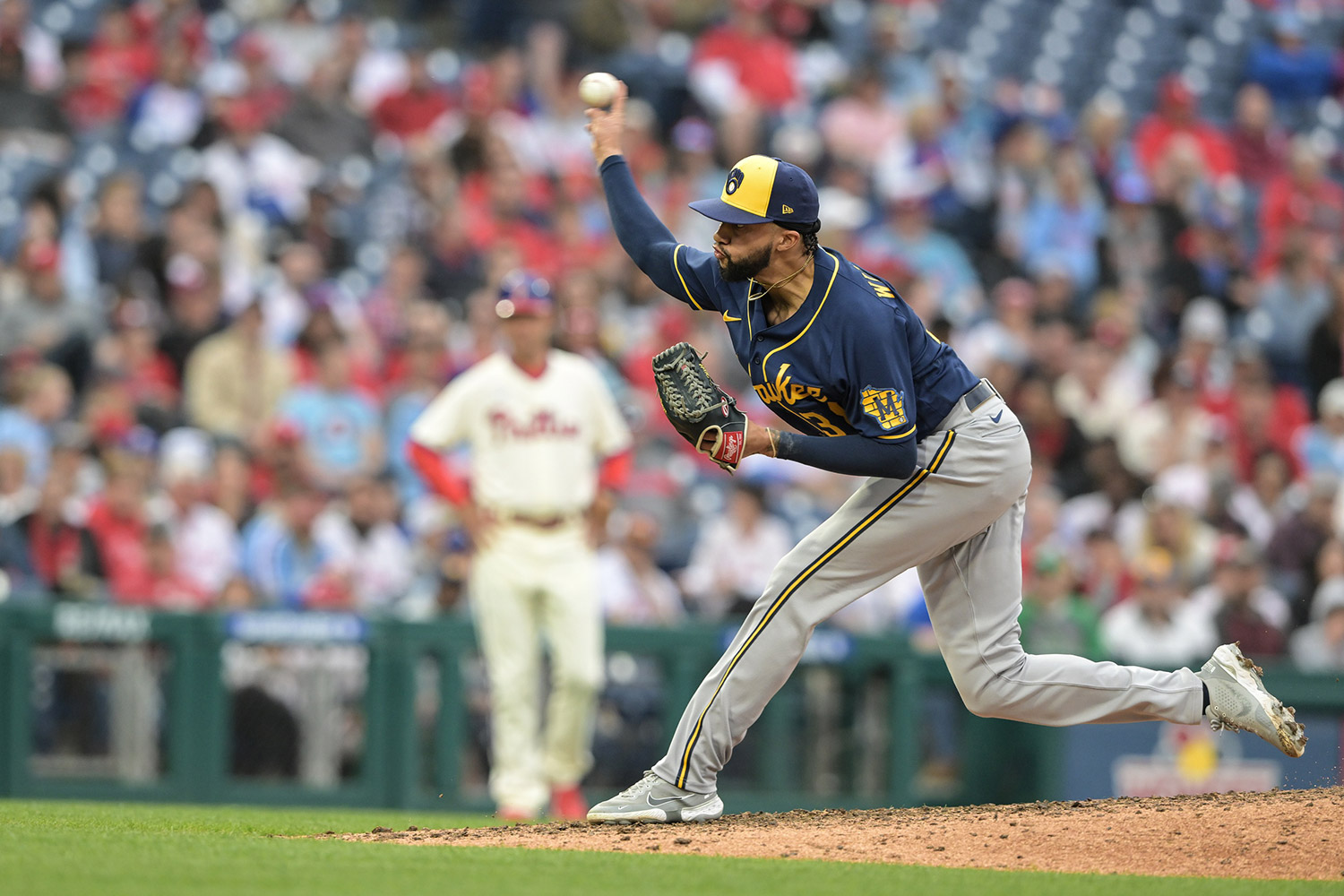 Image courtesy of © John Geliebter-USA TODAY Sports
Who knows how entertaining the Milwaukee Brewers will be in 2023; however, based on the ZIPS projections, some guys could ramp up the excitement this year. Baseball fans and experts have always been obsessed with comparing players from different eras. That is different from the goal of ZIPS projections, but its analytical computations for the coming season also spit out player comps by age. Specifically, "Top Near-Age Comps." Only some of the comps are compelling because of a player's quality. There are multiple reasons players' comps could be fun or fascinating. Let's take a look at the best Brewers ZIPS Player Comps.
Honorable Mention
Mike Brosseau (Infielder)
Three former Brewers made Brosseau's top-three comp list, though they all played less than 120 games with the Crew: Junior Spivey, Joe Dillion, and Kurt Bevacqua. Dillon and Bevacqua are footnotes in Brewers' history who combined for a 0.1 bWAR in parts of four seasons.
Spivey came to Milwaukee as part of enormous trade with the Arizona Diamondbacks in 2003. The Brewers sent two-time All-Star slugger Richie Sexson (and others) to Arizona for Spivey, Chris Capuano, Chad Moeller, Lyle Overbay, Jorge De La Rosa, and current Brewers manager Craig Counsell. Spivey was serviceable, but Overbay and Capuano gave the Brewers much more production from that trade. As for the comps to Brosseau, he should outperform them if used properly.
Alex Jackson (Catcher)
One of Jackson's comps is Bruce Bochy, which would be more interesting if it meant Jackson could be as successful as a manager. As a catcher - meh. But that comp pales in comparison to another on the list.
Long-time Brewers' broadcaster Bill Schroeder is also a comp for Jackson. Does this mean that Jackson will be just the second catcher to be part of a single-pitcher no-hitter for the franchise (and remind us weekly)? No one expects Jackson to play a significant role in the 2023 season, but the club would be happy with one of Schroeder's seasons. In 1987, Schroeder posted a .332/.379/.548/.927 slash line with a 139 OPS+ and 14 HR in 270 plate appearances. That would work for a backup backstop.
Top Five Brewers Player Comps
5 - Devin Williams (Relief Pitcher)
Not surprisingly, Williams' comps feature a few dominant relievers, two with shorter bursts of success and one all-timer. First up, Scott Williamson, who burst onto the scene with the Cincinnati Reds by winning Rookie of the Year and earning an All-Star bid in his age-23 season. He had an ERA+ of 144 or better in three of his first four seasons (injured in 2001) and had a 136 ERA+ for his career.
As a second comp, Tommy Kahnle's career ERA+ of 116 is nice, but his age-26 and 27 seasons featured a 155 and 171 ERA+, respectively. He was lights out in 2017 with a 13.8 K/9 and just 17 walks allowed in 62.2 innings. Longevity of value and output would be the concern with the first two comps.
But Williams' most fascinating comp is Francisco (K-Rod) Rodriguez. The 16-year veteran is on the Hall of Fame ballot for the first time in 2023, and deservedly so:
MLB record for saves in a season (62)

Fourth all-time in saves (437)

Led the league in saves three times

Six-time All-Star

Three top-four finishes in Cy Young Award voting
The Brewers would be thrilled to get these long-term shutdown performances from Williams for the next decade. Of course, K-Rod pitched parts of five seasons in Milwaukee as well, as a valuable set-up man for John Axford, then back in the closer's role. Rodriguez is fifth in franchise history with 95 saves for the Crew.
4 - Willy Adames (Shortstop)
The first thing that stands out about Adames' comps is that only some of the three guys played shortstop. Instead, two were exclusively third basemen, and the third played most games at the hot corner (then second base mostly).
After a cup of coffee as a 21-year-old in 1930, Pinky Higgins played from 1933-1946 (he missed 1945 serving in the military). He played in three All-Star games, earned MVP votes in five seasons, and drove in 106 runs in his age 28 and 29 seasons each. Overall a solid player with a 107 OPS+ and a .370 OBP in his career. Comp number two, Jim Morrison, played thrice in more than 100 games in his 12 MLB seasons in the '70s and '80s. He had a few years with a 119 OPS+ or better, though some had limited playing time.
But Adames' best comp to watch is Scott Rolen, who is also on the Hall of Fame ballot this year. Rolen received 63.2% of votes last year (75% gets you in the Hall), and some think he will get enough votes in 2023. Rolen's career accolades are among the best, as he consistently performed for 17 seasons. He should be considered an all-time top-ten third baseman in MLB history.
Rookie of the Year Award

Eight-time Gold Glove winner at third base

Seven-time All-Star

Silver Slugger Award

20+ HR in 10 seasons
Any player would be honored to compare himself to Rolen. As Adames enters his age-27 season, Brewers' fans would love to see him mimic Rolen's same-age campaign. That season, Rolen won the Gold Glove and Silver Slugger Award, earned an All-Star berth, and hit 31 HR with 110 RBI. He also had an .860 OPS (129 OPS+) and a 6.5 fWAR, good for ninth in baseball that year. Adames' career-best fWAR is 4.7 (last season).
3 - Brandon Woodruff
Three hurlers with some terrific peak seasons land on Woodruff's comp list, including two active starters. Camilo Pascual is likely the least known of the three, but a quality arm to have by your side. Pascual led the league in strikeouts for three straight seasons while with the Minnesota Twins. Across 18 years, between 1954-1971, Pascual was a seven-time All-Star and garnered MVP votes in two of those years. From '59-'64, he had a 128 ERA+ (3.04 ERA).
Carlos Carrasco also had a few strong peak seasons with the Cleveland Guardians, finishing fourth in Cy Young voting in his age-30 season (which Woodruff is entering). From 2014-2018, Carrasco posted a 133 ERA+ and tossed at least 183 innings three times. When he struggled in 2019 and sought a medical opinion, he found it he had cancer. He bounced back last season for the New York Mets with a 3.97 ERA over 152 innings.
Saving Woodruff's best comp for last, it's Stephen Strasburg. The hyped-up phenom has put up some big numbers, leading the league in strikeouts in 2014 (242), earning four All-Star berths, and finishing in the top five in Cy Young twice. They have the same K/9 ratio in their careers (10.5), but Woodruff has a better ERA+ (132 to 129). There's no reason to think Woody couldn't have a better age-30 season than Strasburg, who posted a 135 ERA+ in 2019. The biggest thing Woodruff would like to take as his own from that year was Strasburg winning a World Series, which started with the Washington National beating the Brewers in the Wild Card game.
2 - Rowdy Tellez
The big lefty first baseman has three recognizable names as his comps, with two of them popular fan-favorites with the Twins.
The lone non-Twins player, Tino Martinez, had a couple of OPS seasons over .900, including 44 homers in 1997 with the New York Yankees to finish second in MVP voting. That was his age-28 season, just as Tellez turns 28 this March. Martinez had 12 seasons with 20+ HR and eight years with an OPS+ of 108 or better between the Seattle Mariners and Yankees.
Kent Hrbek played all 14 MLB seasons in Minnesota with a career .848 OPS (128 OPS+). Hrbek was second in MVP honors in 1984, but his best year was 1987, with a career-high 34 HR and .934 OPS. He was a consistent hitter who showed solid plate discipline and boasted a .367 OBP to go with his .481 SLG. Hrbek seemed to have a little mean streak and dirty side to him, something that doesn't come across in Tellez.
Hrbek's fellow Twins' first baseman, Justin Morneau, is the top comp for Tellez. He played 11 seasons with the Twins (14 overall), with the five-year stretch from 2006-2010 the best of his career. During that time, Morneau averaged 34 doubles, 27 HR, and 105 RBI with a slash line of .298/.372/.528/.900 (138 OPS+). He won the MVP in 2006, took second in voting in 2008, earned two Silver Slugger Awards, and had four All-Star appearances. In his MVP season, Morneau blasted 34 homers with 130 RBI, 37 doubles, 97 runs scored, and a .934 OPS (140 OPS+). 
As for Morneau's age-28 season, Brewers' fans would love to see a reboot of that slash line with Tellez: .274/.363/.516/.878 (130 OPS+)
1 - Corbin Burnes
One would expect some elite comps here, and they don't disappoint. It shows how amazing Burnes has pitched and the heights he could reach.
Let's start with the one retired pitcher: Hall-of-Famer Don Drysdale. The Los Angeles Dodgers legend was a nine-time All-Star, three-time World Series champion, and won the 1962 Cy Young Award. Pitching in the '50s and '60s was a different beast as Drysdale logged more than 300 innings in four straight seasons and 239-plus frames nine times. Drysdale owned a 2.95 ERA (121 ERA+) in more than 3,400 career innings and led the league in strikeouts three times.
Gerrit Cole is also on the comp list, and when Burnes hits free agency, Cole's contract will undoubtedly be used as a gauge as well. Cole has yet to win a Cy Young Award like Burnes, but he's posted some disgusting seasons where he has twice finished second and top-five in three other seasons. Cole led his league in strikeouts twice, including last season in the American League (257), while Burnes led the National League (243). Cole is a five-time All-Star and remains one of the best pitchers in baseball. It would be phenomenal if Burnes, in 2023, could copy Cole's age-28 season. Cole went 20-5 with a 2.50 ERA, 326 strikeouts, and a ridiculous 185 ERA+ (all the best in the league).
One of the few active starters to top Cole would be Burnes' last comp, Justin Verlander. His Hall of Fame plaque is already waiting in Cooperstown. It feels like people forget how good Verlander has always been and continues to be, despite his age and mileage on his right arm. Regardless, his elite resume is beautiful:
Rookie of the Year Award

MVP Award

Three Cy Young Awards

Two-time ERA title winner

Nine-time All-Star

Two-time World Series champ
Last season, at age 39, Verlander went 18-4 with a 1.75 ERA in 175 innings. Just stupid. He has led his league in strikeouts five times, and he punched out 300 batters in 2019. Verlander has had an ERA+ of at least 120 in 13 of his 17 seasons, topping a 150 ERA+ on six occasions. Just an unreal career that will continue with the Mets in 2023.
So for kicks, with Burnes prepping for his age-28 season, what did Verlander's numbers look like at that age? All he did was lead the league in all the categories below:
24-5 record

2.40 ERA and 172 ERA+

250 strikeouts 

0.920 WHIP

6.2 hits per nine innings

251 innings
In case you were wondering, Verlander not only won the Cy Young that season but was also named the American League MVP in 2011. Does somebody want to relay this information to Burnes?
For the record, I'm not making any predictions for the 2023 Brewers based on their ZIPS projections or their comps. At the same time, if one or two of these guys could reach the levels of their MLB brethren, that would be quite incredible.
Think you could write a story like this? Brewer Fanatic wants you to develop your voice, find an audience, and we'll pay you to do it. Just fill out this form.
MORE FROM BREWER FANATIC
— Latest Brewers coverage from our writers
— Recent Brewers discussion in our forums
— Follow Brewer Fanatic via Twitter, Facebook or email