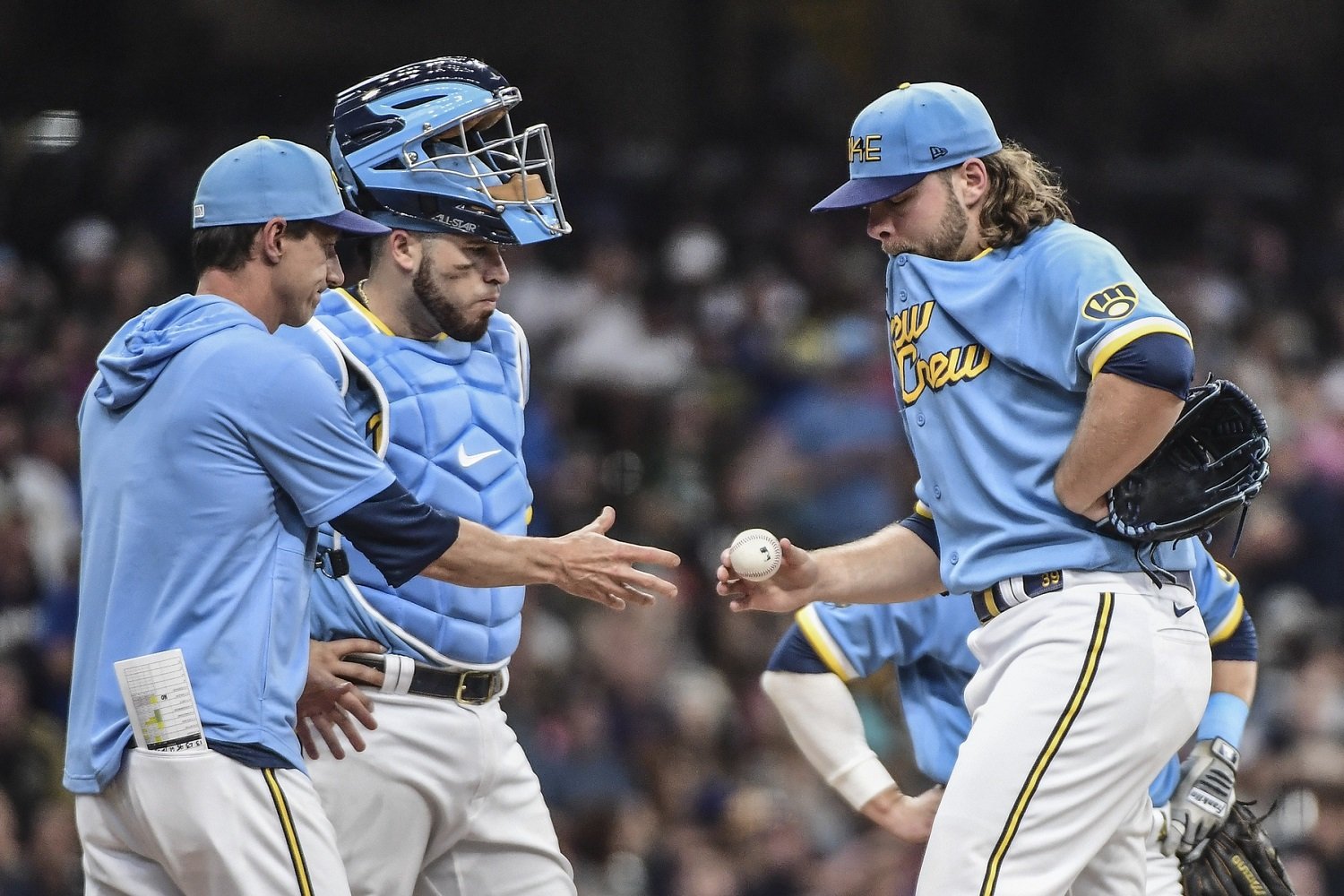 Image courtesy of © Benny Sieu-USA TODAY Sports
I start this week's column with a clear proposition: the Milwaukee Brewers have a talented pitching staff. I do not want this to be in any way misunderstood.
The rotation still has long-term upside: Corbin Burnes is not yet a finished product (imagine that!), while Brandon Woodruff and Freddy Peralta are still working to sort out how to best navigate lineups deep into contests. Adrian Houser has a ceiling as a decent #2, solid #3, advantageous #4 pitcher in a rotation, but hasn't been able to put all the pieces together yet. 
---
The Weekly Dispatch is a column on the Brewers. 'On' may do heavier lifting on some weeks than others.
---
The key players out of the bullpen are also solid to exceptional. Newly-extended Aaron Ashby remains a work in progress, but the Brewers' faith in his ability to become a consistent force and enter the rotation in the future is not unjustified. Brad Boxberger, while obscenely overused in 2022, remains reliable out of the bullpen. Devin Williams has been given center stage after Josh Hader was inexplicably traded to the Padres for damaged goods and prospects.
If it wasn't obvious before that the Brewers' front office assumed 2022 would be a facsimile of an all-time franchise best 2021, it is now. Assuming a lack of injury, that the league wouldn't in some ways catch up to their formidable starters and bullpen, that run prevention would be as effective as it has been, that the stuff would be as crisp as ever, was folly. Not bolstering the offense beyond adding Hunter Renfroe in the offseason, or getting an impact bat or two at any time before the trade deadline only added pressure to a staff that had more than contributed their share to the club's unprecedented fourth-consecutive postseason appearance.
David Stearns and Matt Arnold tried to get blood from turnips, and their patience ran out as evidenced by the Hader trade. And, in some ways, they may have signaled a fatalist approach to a meat grinder 31 games in 31 days.
The Brewers' pitching staff entering play Saturday is second in the National League in hits allowed (864) and third in strikeouts (1043), but tenth in walks and 11th in home runs (365, 126). This talented, vaunted corps musters only a 106 adjusted ERA, falling well short of the 120 achievement from last year's franchise-best staff. Yes, part of that is missing Peralta and Houser for stretches, Ethan Small's struggles and needing to rely on Chi Chi Gonzalez to provide meaningful, productive innings, but injuries and regression are both parts of baseball life and it's exceptionally difficult to meet historic bests in consecutive years.
I projected out how this pitching staff may finish the season based on numbers through Friday night: 1456 strikeouts, 1422 hits, 530 walks, 186 home runs and a consistent 106 ERA+.
No team in the expansion era has met or exceeded those counting numbers except the 2019 Boston Red Sox. They finished 84-78, third in the American League Central and had the luxury of an offensive core featuring Mookie Betts, Xander Bogaerts and Rafael Devers. Their adjusted ERA? 104.
It should come as no surprise that all the talk from the team about a World Series before and after the All-Star break has abruptly stopped. 
Further, while the eye test indicates defensive regression, ERA to FIP is relatively flat (3.84, 3.90), while it should also be noted that the SIERA-to-ERA contrast suggests defensive lapses have been a little more impactful (3.65) while being somewhat counterbalanced and perhaps disguised by the gaudy strikeout totals.
It's also possible that the Brewers' philosophy with their starting pitchers is to actually emphasize pitch to contact, leaning too much on run prevention and the strikeouts are more a reflection of the era, or more bug than feature. The problem is that the Brewers' three major starters and Ashby are strikeout guys, and asking them to nibble around the edges to induce contact is not the best way to utilize their respective repertoires. This could potentially explain the two-strike struggles Ashby has, as diagnosed excellently earlier this weekend here by Tim Muma, while also generally providing insight as to why impact strikeout guys aren't getting efficient Ks, triggering shorter starts and overextending the Brewers' beleaguered, triaged middle relief.  
Whatever happened to the wipeout pitch?
Between an offense that generally struggles with run support and opponents' seeming knack for driving balls in 2022 they weren't in '21, while also outlasting Brewer pitchers with walks and base knocks, the pitching has no margin for error. Asking for excellence and effort is one thing, asking for perfection – while apparently being content with a deficient, bordering on broken offense – is another.
Like getting blood from a turnip.
Stathead and Fangraphs were used in informing this article.
Think you could write a story like this? Brewer Fanatic wants you to develop your voice, find an audience, and we'll pay you to do it. Just fill out this form.
MORE FROM BREWER FANATIC
— Latest Brewers coverage from our writers
— Recent Brewers discussion in our forums
— Follow Brewer Fanatic via Twitter, Facebook or email