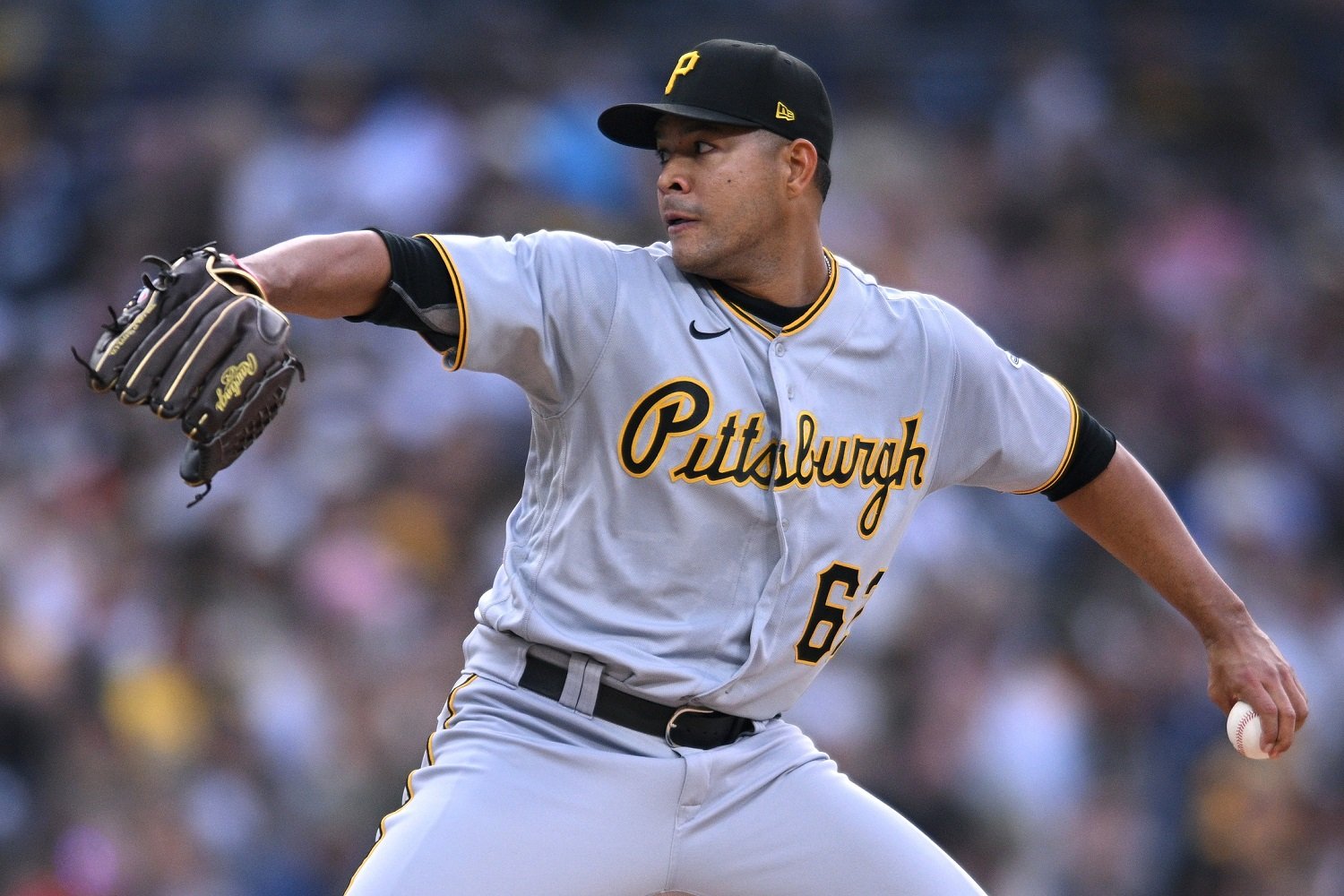 Image courtesy of © Orlando Ramirez-USA TODAY Sports
The rollercoaster continues for Milwaukee who seem to consistently develop momentum going into series with mediocre or bad teams only to see them as lost or split campaigns. That frustrating reality has been the case for the previous two series: they split against the Pirates and the Cubs managed to win two of three.  Leapfrogging the Cubs series, Milwaukee once more faces the all-too-familiar Bucs in a three game home series that is sandwiched by days off. Can the Crew seize on the opportunity to feast on a statistically lesser team, or is their time atop the NL Central in peril? Let's check out the match-ups.
Friday July 8th
JT Brubaker (2-7 4.28 ERA)
Aaron Ashby (1-6 4.60 ERA)
Brubaker was the victor over the Brewers in his last start, but it was more of a product of Brewers mediocrity than Pirates excellence. Giving up four runs in six innings should ostensibly be something the run-preventing Brewers can turn into a win, but alas the plucky Pirates got to Brent Suter and snagged the W. 
Ashby has been a frustrating watch as of late. As if it were written, his hype picked up just in time for the implosion to begin. His ability to pitch late into a game has diminished, collecting 12.2 innings while surrendering 14 runs over that time. The still promising young pitcher is clearly not a DFA candidate, but it's inarguable that those numbers are not sustainable for a rotation in pursuit of the postseason.
Saturday July 9th
Zach Thompson (3-6 4.42 ERA)
Brandon Woodruff (7-3 3.95 ERA)
Zach Thompson is merely a service arm for the Pirates. At 29 years old it seems unlikely that there is some measure of transcendence he is likely to achieve other than being a middling starter in the majors, which is still a freakish measure of talent by general human standards. Still, Thompson has been sharp enough as of late, not going deep into games but not surrendering a ton of runs either. 
There have been few things more relieving for fans of Brewers baseball than to see Brandon Woodruff returning from the IL and pitching like the ace he'd established himself to be. It's a small but dominant window, and the Pirates are as good a team as any to see it continue. 
Sunday July 10th
Jose Quintana (2-4 3.33 ERA)
Eric Lauer (3.84 ERA)
On a one-year $2M contract, the 33-year-old Quintana was quite possibly the best value signing of the offseason. In his most recent start the veteran lefty pitched five solid innings against the behemoth Yankees. What was already a strong trade stock became all the richer, and it feels quite possible that he may not even be in a Pirates uniform come Sunday. 
Lauer returned to form in his last start against the Cubs, fanning nine and giving up only one run. That run was, fittingly, a home run for the 1.8/9 HR having Lauer, who enjoyed a tempering of some alarming trends in his performance as of late. 
Players To Watch
Jack Suwinski : The numbers aren't eye-popping but considering that the production we're talking about is coming from a 23-year-old rookie, it's worth keeping an eye on a promising bat from an upstart division rival. The highlight of his young career is capping a three-home-run game with a walk off in a very Pirates-y 4-3 victory over the Giants back in June.
Bryan Reynolds : One of the better players in Pittsburgh. With the Pirates creeping up on a decade without postseason relevance it will be interesting to see if their controllable but increasingly expensive players get traded at their peak value, or extended in hopes of future glory. 
Aaron Ashby: The decline in Ashby's ability to stay in games has been steep enough that I feel like each of his next few starts are make-or-break for how long he stays in the rotation. If he can't handle the likes of the Pittsburgh Pirates, it may be very difficult to justify his position as a starter for the remainder of the season.
Predictions
I haven't exactly been Nostradamus with my predictions so far because the Brewers haven't exactly been predictable. Operating on logic and the Brewers rotation, I'll say the series goes 2-1 in favor of Milwaukee. 
Think you could write a story like this? Brewer Fanatic wants you to develop your voice, find an audience, and we'll pay you to do it. Just fill out this form.
MORE FROM BREWER FANATIC
— Latest Brewers coverage from our writers
— Recent Brewers discussion in our forums
— Follow Brewer Fanatic via Twitter, Facebook or email