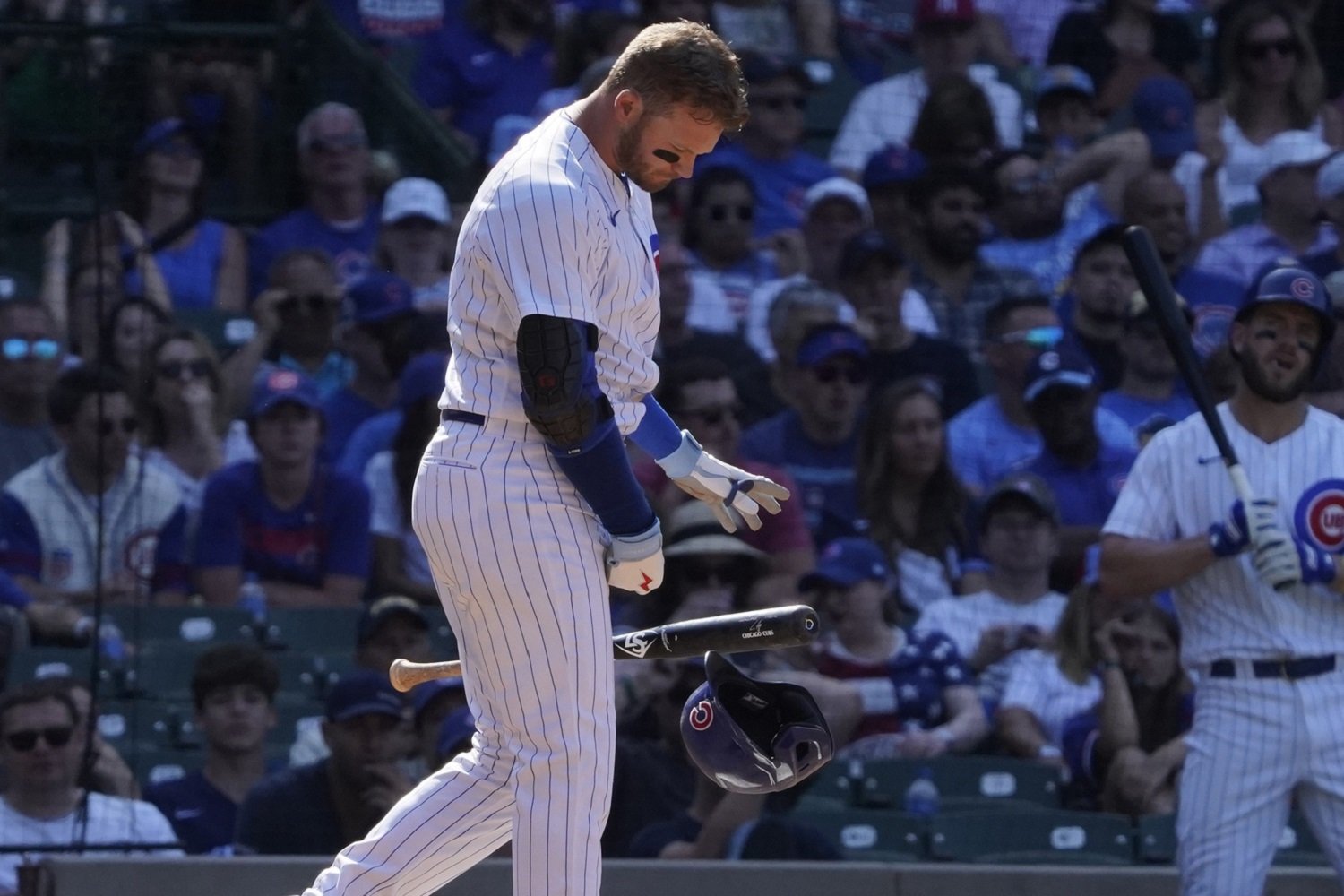 Image courtesy of © David Banks-USA TODAY Sports
Baseball is a sport for the romantic. It's historic, it's passionate, its narrative is peppered with triumphant crests and problematic troughs. In a contemporary frame, there are few scenarios more emblematic of its capacity to charm the heart of the spectator than a Fourth of July day game at home against a division rival in a win-now season. Brewers fans will be given that gift on Monday when the Cubs come to town. Let's look at the match-ups.
Monday July 4th
Eric Lauer (6-3 4.02 ERA)
Justin Steele (3-5 4.39 ERA)
What is there to say about Justin Steele that can't be said about the Cubs season at large? In his last start he pitched five innings and gave up one run against the Reds in a win for Chicago. In the game prior to that he went longer, going 5.2 innings but was knocked around for five runs in what would ultimately be an L for the Cubbies. In a narrative that feels intentionally tedious, there are more losses than wins and a very middling ERA in the sophomore season of a young pitcher who's still figuring himself out in the league. 
Eric Lauer's season feels far more complicated. The lefty entered June with an ERA approaching the ones, but in the last seven games he's averaging fewer than 5.2 innings a game with an ERA of 6.14. The major curse for Lauer has been keeping the ball in the park, giving up nearly 2 dongs per every nine innings. The crux of his situation has major implications. If the numbers improve he can look like an ace, but if they continue to degrade he realistically can't be relied on to continue starting. 
Tuesday July 5th
TBD
Kyle Hendricks (4-6 4.76 ERA)
The Crew is still licking their wounds and navigating a rotation that's been wracked with pesky injuries and have been forced to bounce around a cast of unusual suspects to make ends meet. The results have been mixed, from an auspicious beginning to Jason Alexander's career to a desperation waiver claim of Chi Chi Gonzalez. Whoever the Brewers throw on the mound on Tuesday will have to match wits with the surgical and underrated Kyle Hendricks. 
Hendricks' mastery may have faded a bit in the last couple of years but as one of the last remaining cast members of their unforgettable 2016 roster, the veteran is still capable of flairs of dominance, as demonstrated by his opening day performance where he held the Brewers to one run over 5.1 innings. 
Wednesday July 6th 
Corbin Burnes (7-4 2.36)
Adrian Sampson (0-0 3.38)
Simply stated, Corbin Burnes is must watch pitching. The numbers over his last 15 games are all hovering around statistics resembling his Cy Young campaign last year. He's authored wins in his last 4 consecutive starts, including this past week's 19-2 annihilation of the Pittsburgh Pirates; a team that despite that embarrassing loss managed to split the four game series.
Adrian Sampson has been in the majors since 2016 but with just over 200 career innings pitched it goes without saying that he's yet to break through to solidify himself in any rotation. The 30-year-old righty has bounced around from Texas to Seattle to Chicago through a series of non-tenders, waiver claims and DFA's. The numbers speak to a role player who's meant to eat innings on a struggling team, and he's doing just that.
Players To Watch
Kyle Hendricks and Willson Contreras : both players for the same reason. The Cubs aren't going anywhere this season and barring some all-in free agency frenzy, probably not in 2023 either. The young team on Chicago's north side doesn't have a lot of practical veteran trade capital, but Contereras and his 153 OPS+ are one of the most enticing commodities in the entire league.
Hendriks has less glitz attached to his name, but the storied vet has a hate-to-love-you persona for anyone who really loves the game. This series quite possibly presents the last chance to see both players in Cubbie blue. 
Christopher Morel : While the Cubs have some outgoing players, they also have some newcomers who look poised to haunt the Crew for seasons to come. The young bat of Morel has been going off since he's entered the show. Morel is 23 years and 10 days old and has mustered almost one win since debuting on May 17th. Eight home runs and an OPS of .839 indicates an intimidating measure of confidence for such a young bat. 
Narvaez: After nearly two months without hitting a home run Narvaez nearly crushed one into the Allegheny river off of Zach Thompson on Sunday, serving as the sole offensive output for the Brewers in their victory over the Bucs. The power outage for the 2021 All Star seems like it's overstayed its welcome for far too long, and it might be worth keeping an eye to see if that home run portends an offensive jumpstart for the Brewers backstop.  
Predictions
It's hard to look at a split series against the lowly Pirates as something other than a tiny step back for the Crew, who'd been more competent at the end of June than they did in the beginning of the month. I think the pitching matchups are decent enough that the Crew manages to win the series.
Think you could write a story like this? Brewer Fanatic wants you to develop your voice, find an audience, and we'll pay you to do it. Just fill out this form.
MORE FROM BREWER FANATIC
— Latest Brewers coverage from our writers
— Recent Brewers discussion in our forums
— Follow Brewer Fanatic via Twitter, Facebook or email