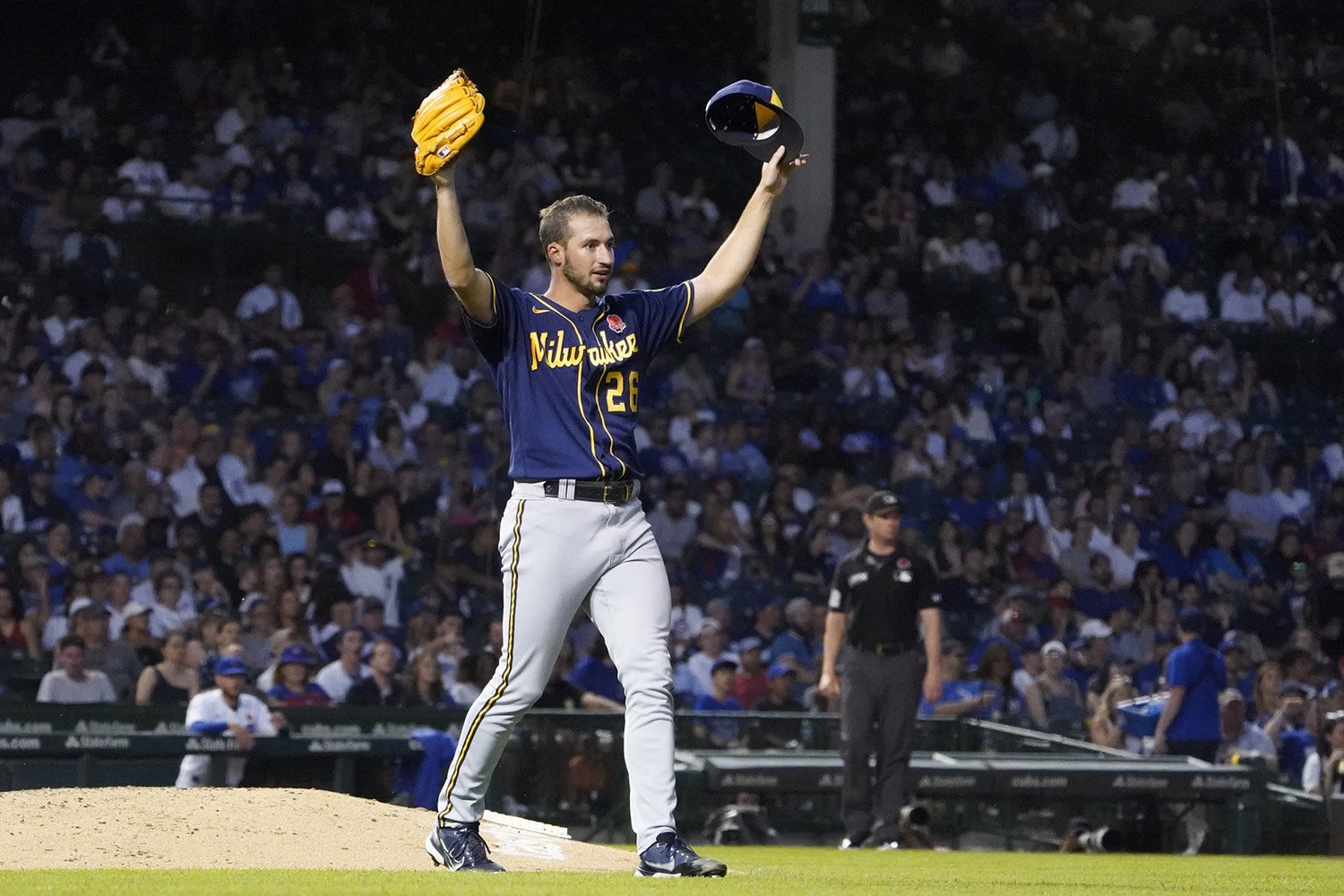 Image courtesy of © David Banks-USA TODAY Sports
As the MLB trade deadline looms, rumors of Brewer acquisitions have been few and far between but on Saturday they surprised with the announcement of a contract extension for Aaron Ashby with only $20.5m in guaranteed money.
The guaranteed portion of the contract locks up Ashby through his final team-controlled season in 2027: a $1m signing bonus and then a gradually-rising salary that ultimately peaks at $7.5m guaranteed in 2027 for a total of $19.5m through five seasons.
Should Milwaukee decline Ashby's 2028 $9m team option, they will owe him an additional $1m buyout but if they retain his services, they have another team option available in 2029 for $13m.
On top of the option years, a significant portion of the contract is in performance-based escalators: up to $1.5m could be added to the 2028 option if Ashby averages 150 or more innings from 2025-2027 and up to another $1.5m if he finishes in the top ten for the National League Cy Young Award in those years. There are similar escalators built into the 2029 option as well.
It's hard to imagine these terms being more team-friendly for the Brewers. The innings pitched escalators don't begin to kick in until Ashby averages 150 innings pitched over three seasons. To show how significant this number is in modern baseball, only 55 pitchers pitched 150 innings in the 2021 season. In a game where starters are routinely pulled after two turns through the order, even reaching 150 innings in a season is a significant feat that occurs fewer than two times per MLB team.
The escalators top out when Ashby averages 180 innings over three seasons. Only 20 pitchers threw 180 innings in the 2021 season. Unfortunately, the Covid-shortened 2020 season makes it hard to count the number of pitchers who could have averaged 180 innings over the past three seasons, but the number can probably be counted on one hand.
The escalators become moot if Ashby is converted into a late-inning relief option, which may be his most likely outcome. Moving to a relief role takes $6m of escalators out of the contract entirely, bringing the uppermost limit to $40m through seven seasons.
Ashby's surface numbers aren't that appealing, as he has only a 4.43 ERA through his first 107 innings, good for a 93 ERA+ (100 is average so slightly below average once adjusted for league and park). If you dig into his underlying numbers, you see why the Brewers were eager to lock him up into his early 30s: Ashby has a much better-looking 3.76 FIP (Fielding Independent Pitching) and a 27.9% strikeout rate. While neither of those numbers are elite, they're both above league average for a starter and show the potential still untapped in that 24-year-old arm.
Should Ashby falter as a starter, Milwaukee can easily convert his 96mph fastball to the bullpen, where it could go from mid-90s to high-90s overnight. Coupled with a slider and change, his fallback plan still profiles as a good late-inning reliever.
The obvious comparison to this contract extension is Freddy Peralta, whom the Brewers signed to a five-year extension in the weeks preceding the Covid shutdown in Spring Training of 2020. Entering that season, Peralta was in a similar position to Ashby today: roughly 150 innings pitched over two split seasons with an ungainly 4.79 ERA, but a well above average 11.9 strikeouts per nine innings and a sub-4.00 FIP.
Since signing that contract, Peralta has been dynamite in the Milwaukee rotation, pitching 212 innings with a 3.26 ERA and 12.4 strikeouts per nine innings. According to FanGraphs, Peralta has been worth 5.3 Wins Above Replacement which in itself is worth far more than the $15.5m Peralta was guaranteed through the end of the 2024 season.
The Peralta contract is something approaching a best-case outcome for Ashby but it illustrates how a contract of this size can pay for itself in one or two seasons.
According to SportTrac, the 2022 Milwaukee Brewers will pay roughly $133m in player contracts. Should that payroll number remain static - and generally speaking, payroll only rises over time - the most the team will commit to Aaron Ashby in a guaranteed contract year is roughly 5.5% of payroll in the 2027 season.
Given the upside found in the left arm of Aaron Ashby, every team in MLB should be willing to take that risk without a moment's hesitation. Short of a career-ending injury, this contract is going look very good for the Brewers in years to come, just as the Peralta contract has over the past three seasons.
Think you could write a story like this? Brewer Fanatic wants you to develop your voice, find an audience, and we'll pay you to do it. Just fill out this form.
MORE FROM BREWER FANATIC
— Latest Brewers coverage from our writers
— Recent Brewers discussion in our forums
— Follow Brewer Fanatic via Twitter, Facebook or email