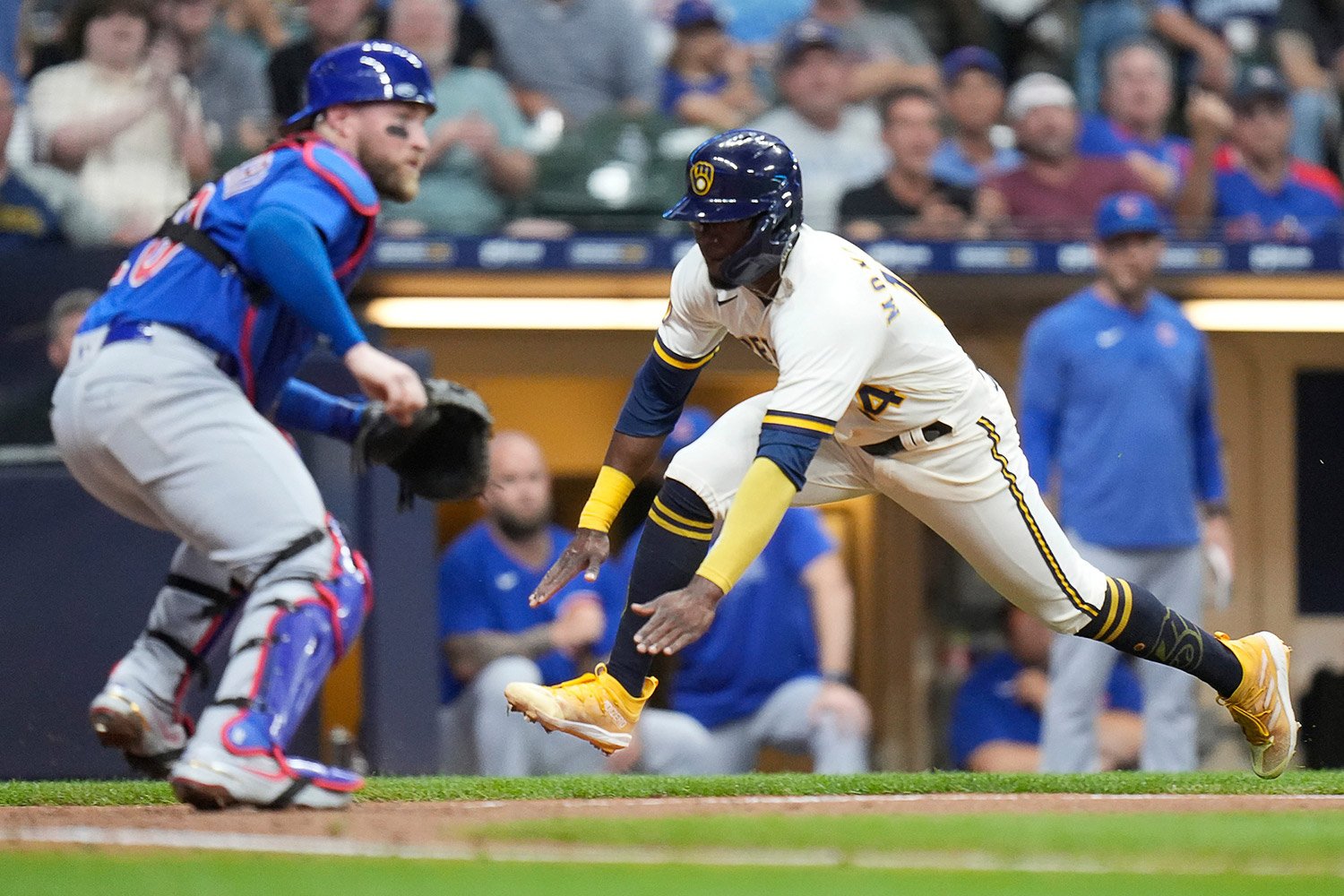 Image courtesy of © Jovanny Hernandez / Milwaukee Journal Sentinel / USA TODAY NETWORK
It's mid-August, which means the pennant races are heating up in Major League Baseball. As of this writing, there are seven weeks left in baseball's regular season, with the final day falling on Sunday, October 1st. As it stands, the Brewers are in first place in the National League Central, with a 3.5-game lead on the Cubs and Reds, who are tied for second place. Every series they play from here on out will matter, but some will be bigger than others. Here are five of the Brewers' most important series from now until the end of the season.
---
5. Three Games at the Texas Rangers, August 18-20
This series will be big for Milwaukee for a few reasons. The first is that it will be a nice measuring stick. In order to have playoff success, the Brewers will have to beat good teams. The Texas Rangers are 70-48 as of this writing and have the second-best record in the American League. If the Brewers can take two out of three on the road in Arlington, that could give them enough confidence to spur a winning streak. There's also the fact that the Cubs will be playing the lowly Kansas City Royals during this stretch, so the Brewers will likely have to notch multiple wins to keep pace with Chicago.
---
4. Three Games at the Chicago Cubs, August 28-30
National League series typically don't get bigger than this. The Brewers and Cubs will play three crucial games at Wrigley, spanning from Monday, August 28th through Wednesday, August 30th. It's quite possible that both teams could be nearly tied for the division lead by that point, and each club would be able to pick up a game on the other during this series. It's worth noting that Cincinnati will be playing three games in San Francisco during this series, and that could be tough for them as the Giants are 63-55 with a +18 run differential this season. The Brewers won't play Cincinnati for the rest of the year, but they will play the Cubs in one more series after this one.
---
3. Three Games at Home vs. the Philadelphia Phillies, September 1-3
This series is critical for the Brewers on multiple fronts. First, if Milwaukee were to falter in their previous series against the Cubs, they would desperately need these games at home against the Phillies to stay in the hunt. Philadelphia currently sits atop the National League wild-card standings with a record of 65-54 and a run differential of +33 on the season. This series will also be crucial for Milwaukee because the Cubs and Reds are scheduled to play each other four times in three days spanning Friday, September 1st through Sunday, September 3rd. That's a double-edged sword because the Brewers will have one of those teams losing every day, but of course, one team will be winning each day as well. The doubleheader scheduled for Friday, September 1st, between the Cubs and Reds, could have major playoff implications, and that's why Milwaukee must put on a good showing in their three-game set against Philly that same weekend.
---
2. Three Games at the Miami Marlins, September 22-24
This series will occur during crunch time. The Brewers will only have six games on their schedule remaining after this series, which is why it's imperative they take at least two out of three from a Marlins team that is 62-57 and currently occupies the third wild-card spot in the National League. Making things more stressful for Milwaukee is the fact that the Cubs and Reds will both be facing softer competition. During this weekend, Chicago will have three games at home against the 45-73 Colorado Rockies, and Cincinnati will be hosting the 53-65 Pittsburgh Pirates in a three-game set. If Milwaukee loses multiple games in this series, it's quite possible their grip on the National League Central could slip. The Brewers need to hit and pitch well during the stretch run of the season if they want to claim their first division crown since 2021.
---
1. Three Games at Home vs. the Chicago Cubs, September 29-October 1
This series could very well decide the National League Central division. As it stands now the Cubs are 3.5 games back of the Brewers for the division, and Chicago is a half-game out of the final wild-card spot behind the Miami Marlins. There's no way to know who will be up and by how many games by the end of the season, but even if one club has it locked up, there will almost certainly be wild card implications in this pivotal three-game set. 
---
It's also worth mentioning that the Reds are scheduled to play the last-place Cardinals during this series, so they could potentially lurk if one of the Brewers or Cubs stumble here. 162 games wasn't enough to decide the division between the Brewers and Cubs in 2018, and they played a tie-breaker game for the division title on October 1st. The NL Central may again be decided on that same date exactly five years later when the Brewers and Cubs square off on the last day of the 2023 MLB season. Such a finale would be almost poetic in its symmetry. 
Think you could write a story like this? Brewer Fanatic wants you to develop your voice, find an audience, and we'll pay you to do it. Just fill out this form.
MORE FROM BREWER FANATIC
— Latest Brewers coverage from our writers
— Recent Brewers discussion in our forums
— Follow Brewer Fanatic via Twitter, Facebook or email