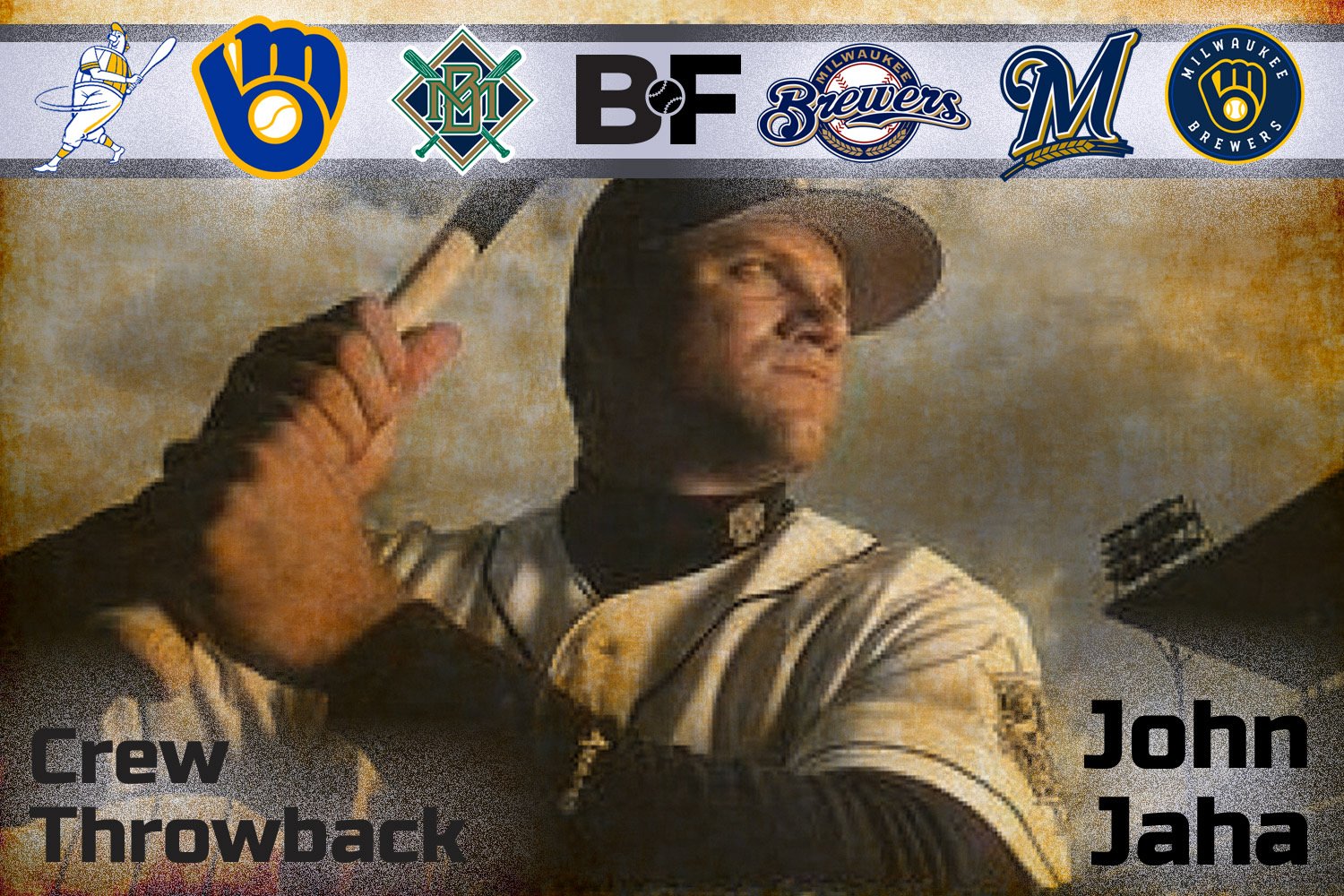 Let's set the stage as I often like to do. In 1992 what was John Jaha doing to occupy his free time? What were the top songs, movies and TV shows of that year?
When it came to the music of 1992, John Jaha was likely getting his groove on to "Jump" by Kris Kross. There are unsubstantiated rumors that "I'm Too Sexy" by Right Said Fred was written with Jaha in mind. I suspect that Jaha was a closet fan of Mr. Big, likely getting himself hyped up for games by singing "To Be With You".
It is not known if John Jaha was a movie buff, but if he was, there were plenty of good movies to choose from in 1992. He probably  enjoyed such classics as "Wayne's World", "Basic Instinct", "White Men Can't Jump" and "Reservoir Dogs" After seeing "A Few Good Men" he likely polished his Jack Nicholson impression in front of the mirror, right before busting out some Mr. Big. 
We do know, thanks to the back of his 1994 Studio Baseball Card that Jaha's favorite TV show was Cheers. We don't know if he preferred Diane over Rebecca or Coach over Woody. Another thing we can reasonably assume is that John Jaha wasn't complaining about gas prices in 1992 as gas came in at $1.13 per gallon.
Shifting back to the baseball side of things (this is after all a baseball site), Jaha's MLB debut came against the Kansas City Royals and was pretty uneventful as he ended up going 0-3. His first hit came in the following game as he went 3-4 at the plate against the Royals. His first home run came on July 28, 1992 off of Cleveland pitcher Rod Nichols. 
Jaha began his career in a transition period for the Brewers as team legends Paul Molitor and Robin Yount were on their way out. He proved to be a solid contributor for the Crew in a career that was limited by a player's strike and injuries. Jaha hit 105 home runs in seven seasons with the Crew including 34 in 1996 while hitting .300 and driving in 118. Jaha's legions of fans felt he was deserving of an All-Star appearance that year but it was not to be.
After an injury plagued season, Jaha signed with the A's in 1999. He was not expected to make the team but he would not be denied. He went on to make an All Star appearance and was named the American League's Comeback Player of the Year.
These days Jaha runs a Baseball Academy in Oregon. From what I can tell he pretty much stays out of the public eye. I'd like to think on weekends he busts out a little "Take On Me" as part of his A-ha cover band, JA-ha. 
Jaha took his rightful place in the Brewers Wall of Honor in 2014, so whether it's 30 years, 40 years or 50 years there will be a plaque outside of Am Fam Field for all of you Jaha-Maniacs to flock to. When you're there, admiring the almighty Jaha, do yourselves a favor and bust out some Mr Big. Why? Because that's what John Jaha would do. (I think.)
 
Think you could write a story like this? Brewer Fanatic wants you to develop your voice, find an audience, and we'll pay you to do it. Just fill out this form.
MORE FROM BREWER FANATIC
— Latest Brewers coverage from our writers
— Recent Brewers discussion in our forums
— Follow Brewer Fanatic via Twitter, Facebook or email
2