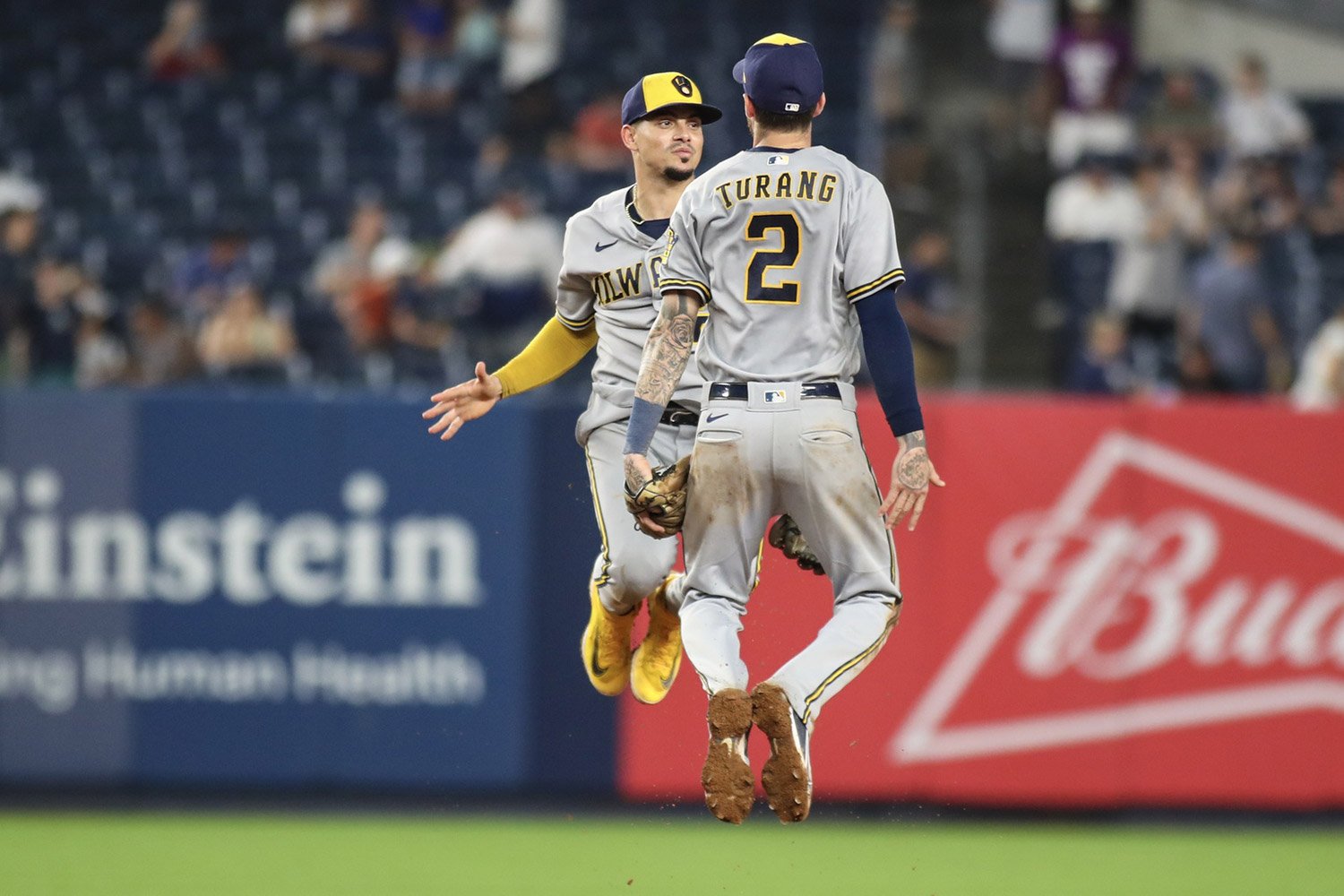 Image courtesy of © Wendell Cruz-USA TODAY Sports
Weekly Snapshot
Record Last Week: 3-3 (79-63)
Runs Scored: 33
Runs Surrendered: 20
Standing: 1st in NL Central (3.0 GA)
***
Game 137 | PIT 4, MIL 2
Game 138 | MIL 7, PIT 3
Game 139 | PIT 5, MIL 4
Game 140 | MIL 8, NYY 2
Game 141 | MIL 9, NYY 2
Game 142 | NYY 4, MIL 3
NEWS AND NOTES
The Brewers have maintained their steady lead in the NL Central but suffered a few painful losses last week. The offense has struggled in games they've lost, with their runs coming in bunches last week. Particularly, the Brewers could not score through 9 innings while the pitching staff did more than their part, holding the Yankees hitless into the 11th inning. The Brewers would end up losing that game 4-3.
The recent acquisition of Josh Donaldson is likely weighing on the Brewers' minds, and his call-up seems imminent with the inconsistent offense. Don't be surprised if Donaldson debuts for the Brewers sometime next week. Here's the list of the other transactions last week:
HIGHLIGHTS
Corbin Burnes, Devin Williams, and Abner Uribe combined for ten no-hit innings in the loss to the Yankees on Sunday. It was the first time a Brewers pitching staff had recorded more than nine innings of no-hit baseball.
The Brewers offense, while inconsistent, recorded 16 hits in the victory over the Yankees on Friday. It was the third time they've recorded that many hits in a single game this season.
Willy Adames had the chance to meet his childhood idol, Derek Jeter, when the Brewers were in New York. He then proceeded to record a little league home run later in the day. Who said you shouldn't meet your idols?
TRENDING STORYLINE/LOOKING AHEAD
The Brewers will continue to face teams with worse records than they boast the rest of the season, and with a three-game lead in the division, the playoff hopes remain solely in their hands. 
MONDAY 9/11: MARLINS @ BREWERS: LHP Jesus Luzardo vs. RHP Brandon Woodruff
TUESDAY 9/12: MARLINS @ BREWERS: TBD vs. RHP Freddy Peralta
WEDNESDAY 9/13: MARLINS @ BREWERS: LHP Braxton Garrett vs. TBD
THURSDAY 9/14: MARLINS @ BREWERS: TBD vs. TBD
FRIDAY 9/15: NATIONALS @ BREWERS: TBD vs. TBD
SATURDAY 9/16: NATIONALS @ BREWERS: TBD vs. TBD
SUNDAY 9/17: NATIONALS @ BREWERS: TBD vs. TBD