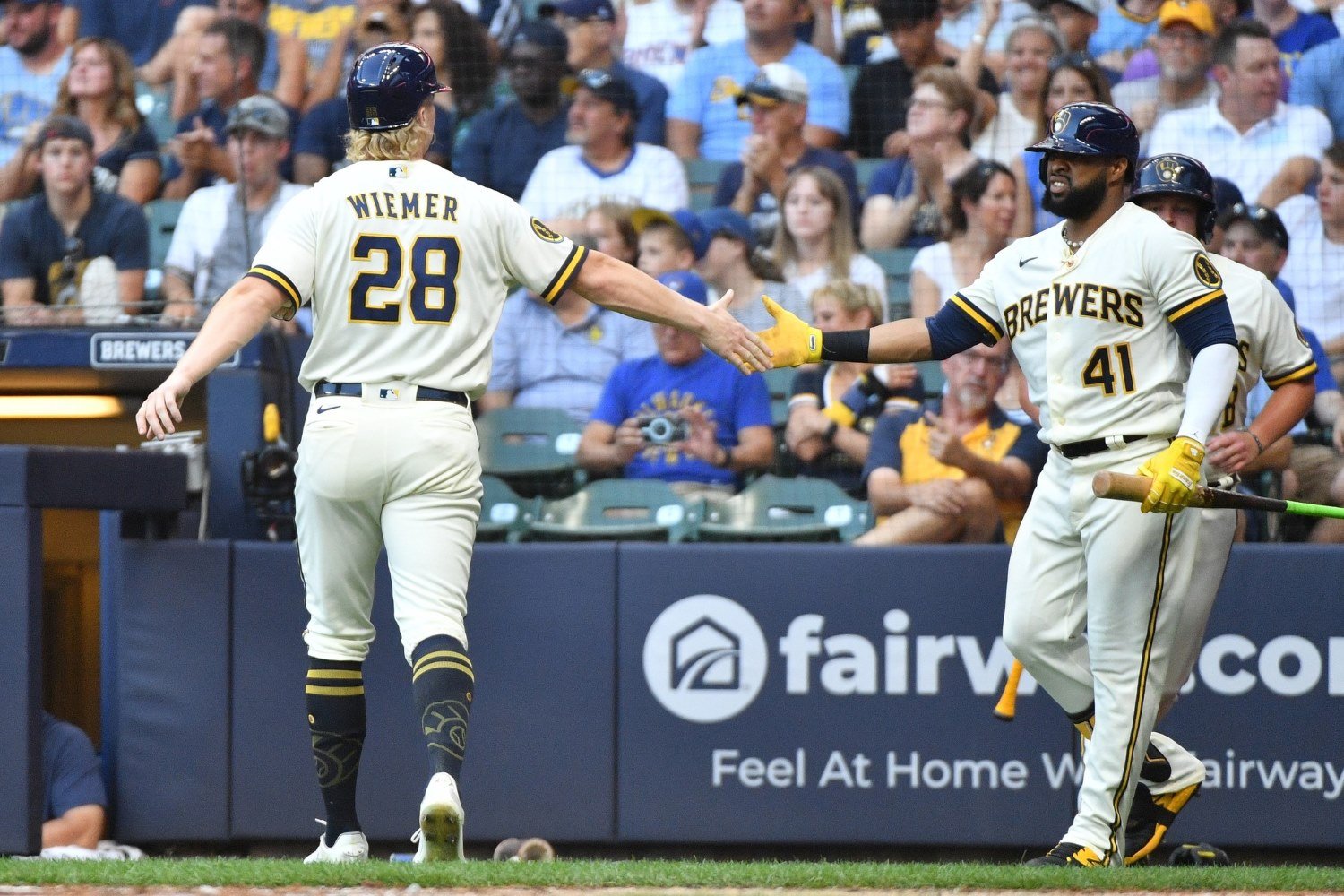 Image courtesy of © Michael McLoone-USA TODAY Sports
We all know the best way to score runs (in the modern game, anyway) is to hit homers. Just ask the Atlanta Braves about the relationship between having the best record in baseball and 33 more dingers than the club with the second-most taters. The Braves' 206 home runs dwarf the Brewers' 113, which is disappointingly 22nd in baseball. Milwaukee also ranks 27th in doubles, leading to a pathetic .375 SLG (28th in MLB). For comparison's sake, the 2022 Brewers ranked third in home runs and ninth in SLG, so you can see their enormous dip in this area. Even their trade deadline acquisitions do little to address the power outage.
What does this mean? They should start utilizing a batting order that prioritizes guys getting on base above all other factors. The basic premise of offense is making outs as infrequently as possible. You only get three outs per inning and 27 per game. They're precious, non-renewable resources; treat them that way. This would mean platooning players to optimize their advantages and constructing a batting order that (mostly) goes in descending order of OBP. Yes, batting order matters on some level.
There are challenges to finding the right balance of players for each pitcher's handedness. Even looking at OBP itself, you need to evaluate multiple scenarios for each player:
Overall career OBP
Overall OBP in the current season
Career OBP versus lefties and righties
Current season OBP versus lefties and righties
There is plenty of subjectivity in which categories you value more. For the Brewers, especially, you have the "rookie factor" as well, where their current OBP numbers are their career stats--unless you consider their minor-league production. Manager Craig Counsell would also have to ponder the defensive impact, since the optimal OBP offense could sacrifice run prevention. (Insert something about "desperate times" here.)
Of course, while it would be nice to have a set lineup 90 percent of the time against right-handers and southpaws, there will always be occasions to adjust the starting nine based on starting pitching, player fatigue, injuries and other factors. With that in mind, here's what an on-base-focused lineup could look like (stats as of Wednesday morning).
vs. Right-Handed Pitchers (RHP)
1 - Mark Canha (DH): Career .359 OBP vs. RHP (.339 this year) 
2 - Christian Yelich (LF): .397 OBP vs. RHP this season (.388 career)
3 - Brian Anderson (RF): Career. 345 OBP vs. RHP (.322 this year)
4 - Carlos Santana (1B): Career .348 OBP vs. RHP (.317 this year)
5 - Sal Frelick (CF): .400 OBP vs. RHP this season (small sample, but Thursday night was huge)
6 - William Contreras (C): .327 OBP vs. RHP this season (.320 career)
7 - Willy Adames (SS): .277 OBP vs. RHP this season (.324 career)
8 - Andrew Monasterio (3B): .330 OBP vs. RHP this season
9 - Brice Turang (2B): .291 OBP vs. RHP this season
There were some decisions to be made in comparing career versus current season stats. This lineup does keep the lefties all separated, a key factor for late-game pinch-hitting opportunities. Frelick still has the great OBP, but he was hitless in his last 18 plate appearances (four walks) entering Thursday, before erupting out of that mini-slump. Wiemer lands on the bench against righties with his .277 OBP. Victor Caratini could have snuck in there, too, but you can't start both catchers in each lineup every night.
vs. Left-Handed Pitchers (LHP)
1 - Monasterio (2B): .487 OBP vs. LHP this season
2 - Contreras (DH): .407 OBP vs. LHP this season (.403 career)
3 - Yelich (LF): Career .344 OBP vs. LHP (.288 this year)
4 - Santana (1B): Career .375 OBP vs. LHP (.343 this year)
5 - Canha (RF): .348 OBP vs. LHP this season (.328 career)
6 - Wiemer (CF): .319 OBP vs. LHP this year
7 - Caratini (C): .340 OBP vs. LHP this season (.327 career)
8 - Adames (SS): .333 OBP vs. LHP this year (.303 career)
9 - Anderson (3B): Career .314 OBP vs. LHP (.317 this year)
Yelich was tricky because he's been such a good hitter all season and typically handles southpaws just fine. His .288 OBP against lefties this season is slightly concerning, but he has to be near the top. Wiemer gets bumped up despite a lower OBP than some, because he's slugging .607 versus left-handers. That's a significant enough number to trump the slightly better OBPs.
It might look and feel a bit wonky or unorthodox, but all that matters is production. Counsell would likely have to have a heart-to-heart with Adames if he moved him down to seventh and eighth in the lineup, but how can Willy argue against a change?
With both lineups, it would be on Counsell to plot out when a pinch-hitter makes the most sense and when it's time to put in the "defensive unit." That would include getting Turang on the infield and Blake Perkins or Tyrone Taylor into the outfield. It could also mean moving Anderson to third base or taking out Canha. These two starting nines would be offense first, defense late, old-school philosophy.
Maybe the "real world" wouldn't allow the Brewers to shake things up like this. That could be true, but no one actually knows. What everyone does know is that what the Brewers have done offensively through 110 games is not working. A different approach could spark a more consistent level of production.
Think you could write a story like this? Brewer Fanatic wants you to develop your voice, find an audience, and we'll pay you to do it. Just fill out this form.
MORE FROM BREWER FANATIC
— Latest Brewers coverage from our writers
— Recent Brewers discussion in our forums
— Follow Brewer Fanatic via Twitter, Facebook or email