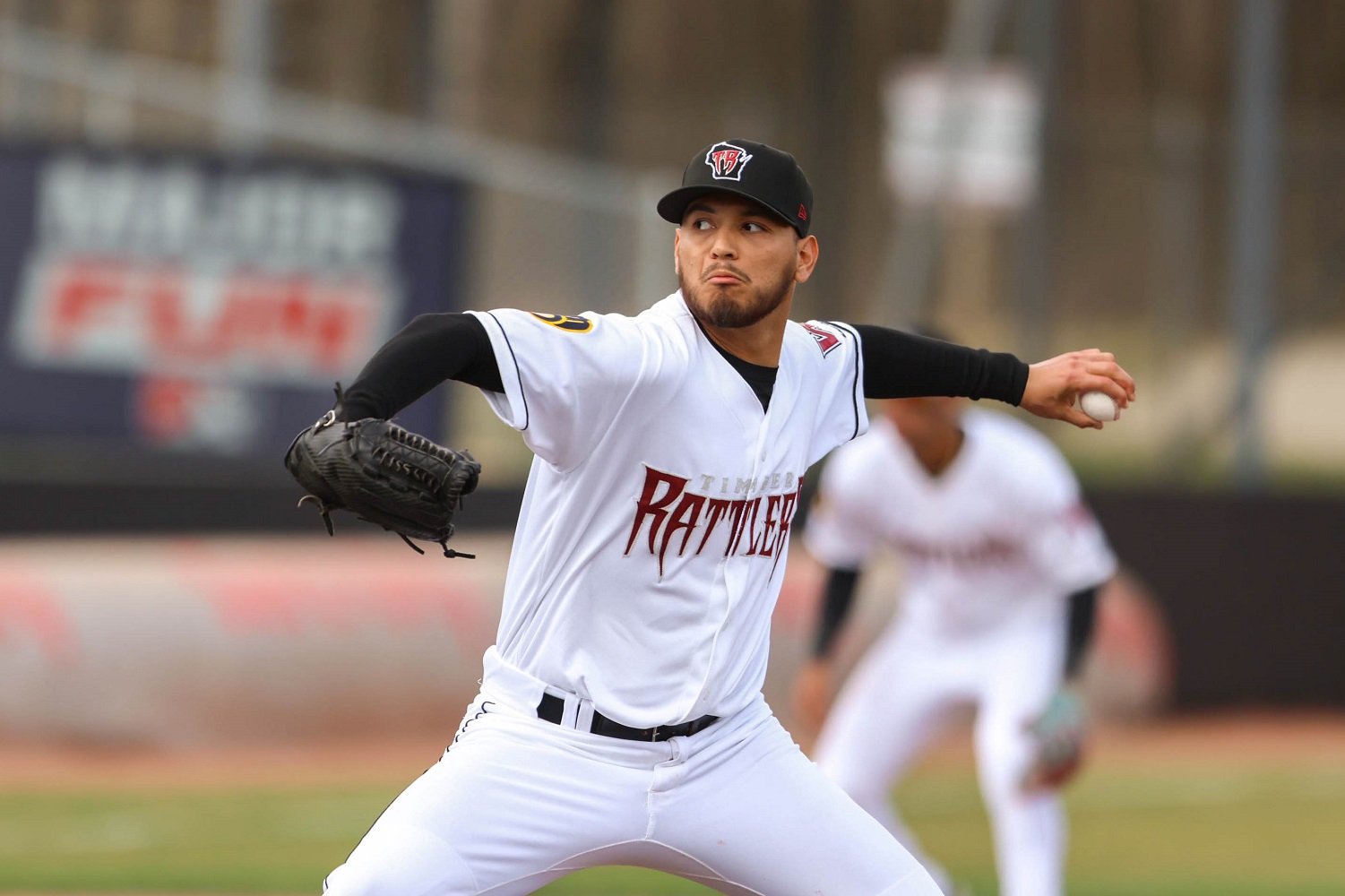 Image courtesy of Wisconsin Timber Rattlers
There were several contenders over the offseason. Lucas Erceg was traded to Oakland, where he's struggled as a MLB reliever, and Pablo Garabitos is also gone, released after a stint on the 60-day injured list. Let's look at how they have fared. All stats are as of August 5.
Right-Handed Relief Pitchers
Michele Vassalotti, Wisconsin Timber Rattlers (A+)
0-0, 6.83 ERA, 0 saves, 29 innings pitched, 26 walks, 37 strikeouts

Vassalotti has had a 2023 to forget, but is still striking out almost four batters every three innings. His walk rate went up this year, and he added six hit batters to the mix and uncorked seven wild pitches. He will be looking to rebound after a rough season
James Meeker, Biloxi Shuckers (AA)
6-3. 3.31 ERA, 1 save, 65.1 innings pitched, 7 walks, 57 strikeouts

Meeker might be 28 years old, but he has had a major breakout in Biloxi, and this was after a superb 2022 run. He moved to the rotation earlier this year after injuries to starting pitchers Brandon Knarr and Adam Seminaris and has locked it down. It could be an interesting offseason as the Brewers decide whether to keep him in the rotation, or to return him to a shut-down relief option.
Jeison Pena, Carolina Mudcats (A)
4-2, 6.75 ERA, 1 save, 38.2 innings pitched, 21 walks, 41 strikeouts

Pena has still been racking up the strikeouts, but he has given up four homers in just under 39 innings, which has hit his ERA hard. He's also been pretty wild on the mound, with nine hit batters and seven wild pitches. He's only 20, though, and there is plenty of time for him to develop.
Quinton Low, Carolina Mudcats (A) - Two-Way Player
1-3, 4.26 ERA, 0 saves, 31.2 innings pitched, 26 walks, 46 strikeouts
.207/.324/.345 in 29 AB with 1 double, 1 home run, 5 walks, 11 strikeouts

Like Meeker, Low is making a move to the rotation – at least for now. Low has been hard to hit for the most part, allowing only 5.4 hits per nine innings, and punching out nearly three batters every two innings. The big issue is when pitches get away from him – he's uncorked 12 wild pitches and hit four batters. He also is a potential force at the plate, but has only had 29 at-bats. The Brewers always can use relievers, but how rare is it to have one who would also be a credible option at first base or designated hitter?
Overview
The going has been rough for some of the right-handed prospects, while others are seeing time in the starting rotation. Meeker and Low both have potential to dominate – Meeker with outstanding control and Low with sheer stuff, while Vassalotti and Pena will look to turn things around in 2024.
Left-Handed Relievers
Clayton Andrews, Nashville Sounds (AAA)/Milwaukee Brewers (MLB)
3-1, 3.59 ERA, 4 saves, 42.2 innings pitched, 26 walks, 56 strikeouts

2018 17th-round pick Andrews has taken his spot on the Nashville-Milwaukee shuffle, completing a comeback after struggling with injuries in 2021 and 2022. Pre-pandemic, he not only appeared to be a poor man's Josh Hader, but even saw time in center field for 16 games.
Karlos Morales, Wisconsin Timber Rattlers (A+)
4-4, 4.71 ERA, 2 saves, 42 innings pitched, 34 walks, 46 strikeouts

Morales has had some struggles adjusting, but still has been quite solid, striking out more than a batter an inning. Control is an issue, with 34 walks and eight wild pitches hurting his cause on the mound. He's given up only three home runs, though, and gives up just under seven hits per nine innings pitched.
Darrell Thompson, Biloxi Shuckers (AA)/Nashville Sounds (AAA) - New
3-4, 4.60 ERA, 1 save, 43 innings pitched, 17 walks, 60 strikeouts

Another older prospect, Thompson broke out in Biloxi earlier this year, and while he's come down to earth somewhat in Nashville, he's still racking up some good numbers overall, and could be a credible option in 2024.
Justin King, Wisconsin Timber Rattlers (A+) - New
1-1, 3.22 ERA, 0 saves, 22.1 innings pitched, 14 walks, 42 strikeouts

King is a bit old for High-A ball, but the numbers are not lying. He's been punching out hitters and emerging as a legit prospect, like James Meeker has. While he's giving up nine hits every ten innings, part of that is due to an absurdly high .452 BABIP. If those are numbers when he's unlucky, just imagine when things regress to the norm,
Overview
Andrews has become another late-round hit for the Brewers, while King and Morales both are flashing potential. Thompson could be the left-handed equivalent to James Meeker for the Crew.
Edited by Robocaller