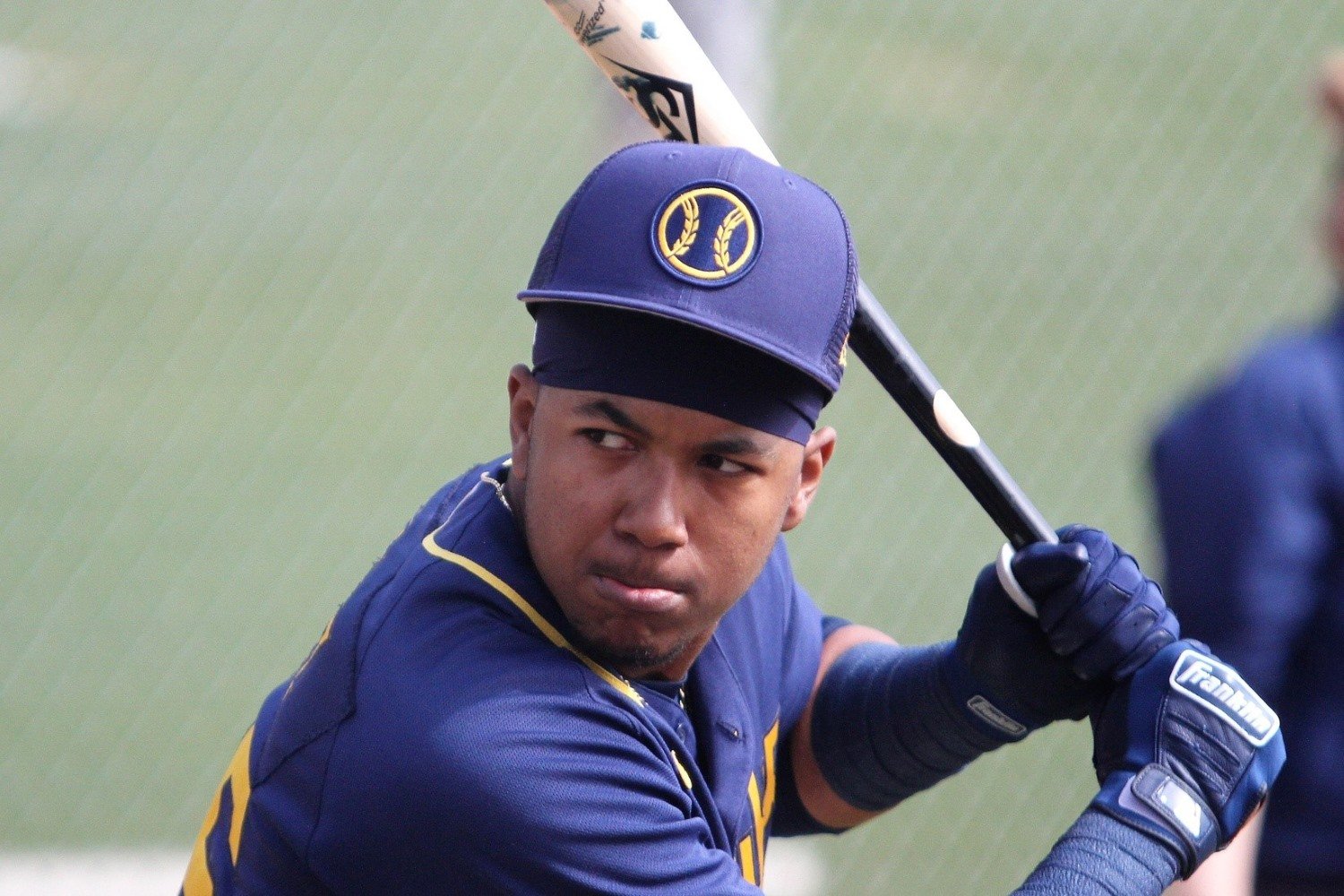 Image courtesy of Curt Hogg / Milwaukee Journal Sentinel / USA TODAY NETWORK
The fact is, several of these prospects could still emerge as major-league players, or provide valuable sweeteners in a deal to improve the Crew over the offseason. Let's run them down.
All stats are as of August 5.
Left Field
Tristen Lutz, Biloxi Shuckers (AA)
.227/.352/.387 in 150 at-bats with 6 doubles, 6 home runs, 26 walks and 62 strikeouts

Lutz, once a premier prospect, has settled in as a solid one with a "three true outcomes" bat. He's been bypassed by Jackson Chourio and Joey Wiemer in the system and was released August 9, but that doesn't mean he is washed up, being only 24 years old.
Noah Campbell, Biloxi Shuckers (AA)/Nashville Sounds (AAA)
.258/.384/.429 in 233 at-bats with 10 doubles, 8 home runs, 44 walks and 67 strikeouts

Campbell has quietly emerged as a low-wattage prospect for the Brewers. He's played all over the diamond, is a switch-hitter, and shows signs of Andruw Monasterio-esque offensive ability. His ceiling isn't that of Chourio or Tyler Black, but it isn't going to be an embarrassment, either.
Brian Sanchez, DSL Brewers 1 (Rookie)
.326/.440/.500 in 86 at-bats with 7 doubles, no home runs, 18 walks and 21 strikeouts

Yophery Rodriguez is getting the hype, flashing an offensive skillset like Chourio's. However, Sanchez has emerged as a credible prospect himself in the DSL. He's shown speed (4 triples and 8 stolen bases) during his tenure in left field. Further development could see some doubles and triples end up as home runs.
Overview
Lutz has had some struggles since the pandemic, but is not a bad prospect. Campbell is making a strong case for a 40-man roster spot, and to be in the mix for a 2024 roster spot in Milwaukee as a bench asset. Sanchez has an exciting bat and OBP skills, and could force his way into the Brewers outfield picture in a few years.
Center Field
Joe Gray, Wisconsin Timber Rattlers (A+)/Biloxi Shuckers (AA)
.225/.284/.360 in 356 at-bats with 13 doubles, 11 home runs, 23 walks, and 103 strikeouts

Like Lutz, Gray was a heralded prospect who has been forgotten due to the rise of talents like Chourio and Wiemer. Gray's best tools are his defense and power, and at the age of 23, he still has a lot of baseball left in him. To get to the big leagues, though, he'll obviously need to cut down his strikeout rate and get on base more consistently.
Right Field
Hedbert Perez, Carolina Mudcats (A)
.216/.288/.345 in 232 at-bats with 10 doubles, 6 home runs, 22 walks and 68 strikeouts

Perez has gone backward, but still has time to get back on track if his skills can catch up to his tools. The OBP skills have taken another tick upward, and the strikeouts have gone down a little from 2022 for the 20-year-old, who is developing a bit slower than some other prospects have.
Luis Castillo, Arizona Complex League Brewers (R)/Carolina Mudcats (A)
.272/.357/.383 in 81 at-bats with 6 doubles, 1 home run, 13 walks and 27 strikeouts

Castillo is just 19 years old, and he hasn't been on the field much, but the OBP skills and some power have still been there. He's posting solid numbers, and would not be a bad prospect in most cases… but it's hard to be a nugget when there are so many gems.
Hendry Mendez, Arizona Complex League Brewers (R), Wisconsin Timber Rattlers (A+)
.244/.306/.348 in 135 at-bats with 6 doubles, 2 home runs, 12 walks and 20 strikeouts

Mendez has missed time with injury this season. He's still flashing solid OBP skills when healthy, and he is only 19 years old. The real question will center around if he can fix his swing and take advantage of his physique.
Overview
The 2023 season has been rough for Castillo and Mendez, but Perez is on a good trend with the walks and strikeouts, and there is a chance he could put things together in 2024. None are old enough to have a post-game beer, so there is plenty of baseball left in them.
Next: Starting Pitching