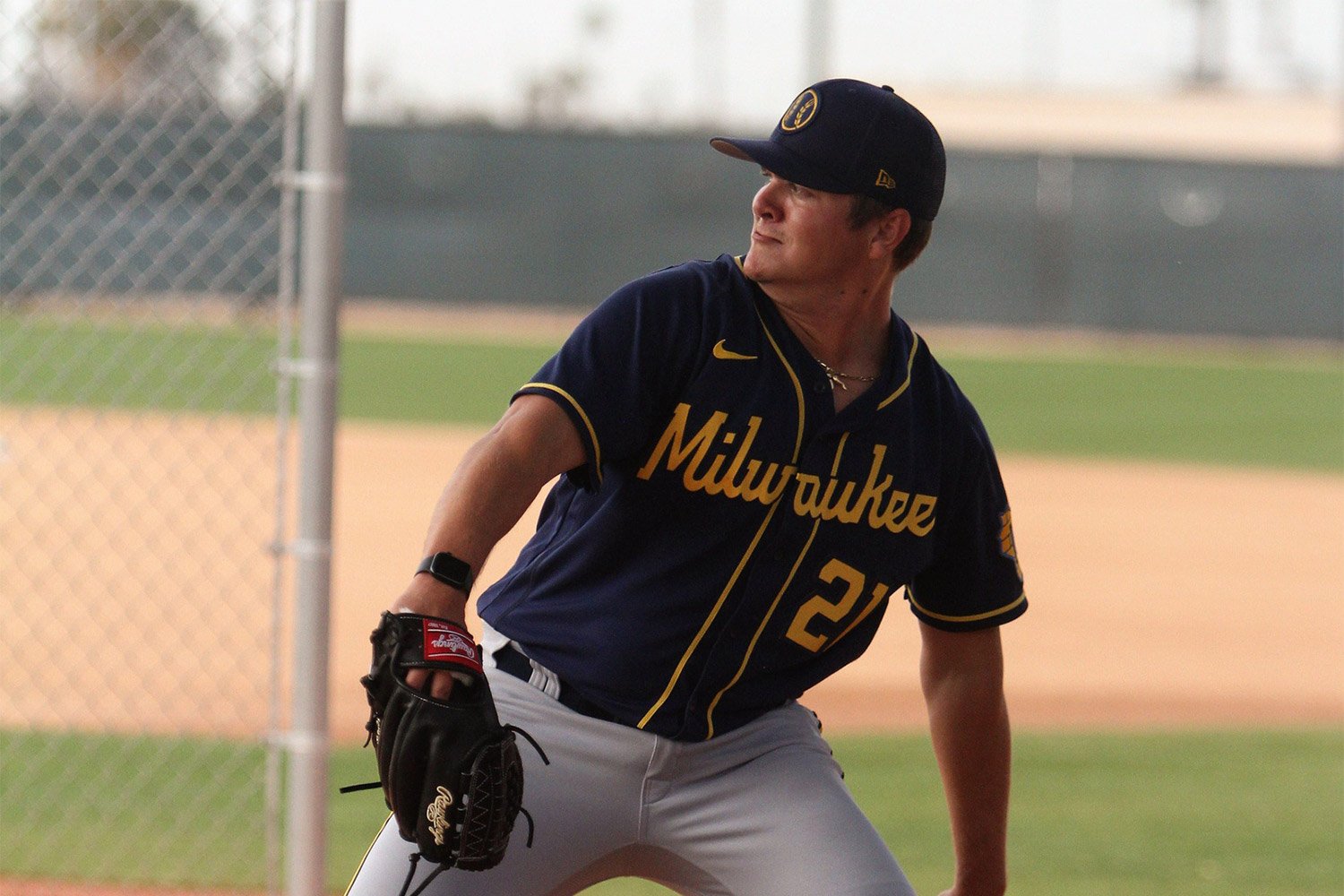 Image courtesy of © Curt Hogg / Milwaukee Journal Sentinel / USA TODAY NETWORK - Justin Yeager Pictured
Game Results
Monday, 11/6 | None
Tuesday, 11/7 | Surprise 8, Glendale 5
Wednesday, 11/8 | Surprise 4, Mesa 8
Thursday, 11/9 | Glendale 4, Surprise 6
Friday, 11/10 | None
Saturday, 10/11 | Peoria 5, Surprise 6
In the final three games of the regular season, Eric Brown Jr. stood out from the crowd, collecting three extra-base hits while Justin King remained lights out.
2B Eric Brown Jr. 
Week: 3-for-8, 2 2B, HR, RBI, 2 K (2 games)
Eric Brown Jr. had an excellent finish to the regular season. After hitting a double in a loss against the Mesa Solar Sox on 11/8, he hit another double and a home run in the following game against the Glendale Desert Dogs.
At just 22 years old, he's had an outstanding season in Arizona. Serving as a flexible middle infielder and splitting time evenly between the two positions, his fielding and hitting both showed excellent potential.
Despite not having the same power as teammates Wes Clarke and Damiano Palmegiani, he was a well-rounded player who came through when needed. Brown may return to the Timber Rattlers in High-A, but expect a promotion to Biloxi sooner rather than later.
His final slash line for the season was .297/.390/.462.
1B Wes Clarke
Week: 2-for-6, 2B, RBI, BB, 2 K (2 games)
Clarke also had a strong finish to his Fall League season, although his entire season could be described as strong. He collected two hits and a double in his final game against the Glendale Desert Dogs. 
This year, Wes Clarke was a superstar with the Saguaros, serving as a significant power and on-base threat. With his performance in this league and his .889 OPS across 503 plate appearances with the Biloxi Shuckers in AA, it wouldn't be surprising to see him make his AAA debut with the Nashville Sounds in 2024. Did I mention he was also the swaggiest player on the team?
In the championship game, Clarke hit a one-run double in the bottom of the sixth inning to give the Saguaros a 6-1 lead. This RBI would come in quite handy, given that the game ended with a score difference of just one run.
His final slash line for the season was .297/.435/.568.
OF Hendry Mendez 
Week: 0-for-4, 2 K (1 game)
Throughout the season, Mendez has shown glimpses of greatness here and there but still has a bit of work to do before competing in higher-level baseball. He's incredibly young, having just turned 20 on November 7th, and will likely return to High-A in 2024.
His final slash line for the season was .216/.326/.297. 
RHP Joseph Hernandez
Week: 4.0 IP, 4 H, 4 R, BB, 4 K, HR
In his final start of the season, Hernandez pitched against the Mesa Solar Sox and gave up four earned runs in four innings. He retired the first three batters in order but faced a little trouble in the second, conceding a single, a hit by pitch, and a wild pitch, ultimately escaping the inning unharmed. 
In the third inning, a walk, a double, a single, and a two-run home run were responsible for the handful of runs he gave up, but he finished strong, pitching a 1-2-3 inning in the fourth.
He threw 54 pitches, 38 of which were strikes (70.4%). Hernandez has potential as a starter but needs to iron out some of the kinks and maybe expand the zone before being promoted from High-A. 
His final ERA and WHIP were 9.45 and 2.18.
LHP Justin King
Week: 1.0 IP
King pitched a very low-key sixth inning in the final regular season game against the Desert Dogs, facing the minimum and relying on a baserunning gaffe and some soft contact to get his three outs. He threw ten pitches, four of which were strikes (40.0%).
He also appeared in the championship game, coming in the ninth inning with one out and the bases loaded. Protecting a 6-1 lead, King gave up a walk and a single before getting the second out of the inning and being pulled for fellow Brewers prospect Justin Yeager.
King showed an ability to compete against higher competition, and after posting a 2.93 ERA over 30 ⅔ innings in High-A last year, expect him to be promoted to Double-A sooner rather than later.
His final ERA and WHIP were 4.26 and 1.11.
LHP Adam Seminaris
Week: 2.1 IP, 3 H, 4 R, BB, 2 K, L
Seminaris came in to pitch after Joseph Hernandez's start and pitched 2 ⅓ innings against the Mesa Solar Sox. After retiring six batters in a row, he conceded a walk, three singles, and a wild pitch, giving up four runs. He threw 50 pitches, 29 of which were strikes (58.0%).
Seminaris spent time in rookie ball, Double-A, and Triple-A to mixed results. He's got some work to do but has flexibility as a starter or long reliever. He pitched the most innings with the Biloxi Shuckers, posting a 5.70 ERA across 53 ⅔ innings, so he might spend another year before advancing further.
His final ERA and WHIP were 5.87 and 1.37.
RHP Justin Yeager
Week: 1.0 IP, H, 2 R, 2 BB, K
Yeager pitched the final inning of the week's first game against the Desert Dogs. His two earned runs came after back-to-back walks, a single, and a force out at second base. He threw 29 pitches, 15 of which were strikes (51.7%). 
Although his regular season may not have ended the way he wanted, his appearance in the championship game was emphatic. After inheriting runners on first and second and tasked with protecting a one-run lead, Yeager struck out Tyler Locklear on three pitches and secured the victory for the Surprise Saguaros.
Regularly used in higher leverage situations, Yeager showed flashes of his potential as a closer. After all, what's higher leverage than securing the final out of the championship game? He didn't pitch much in 2023, accumulating just 2 ⅓ innings in Biloxi before being sidelined by injury, so he'll likely return to Double-A in 2024.
His final ERA and WHIP were 6.23 and 1.50, respectively.
Think you could write a story like this? Brewer Fanatic wants you to develop your voice, find an audience, and we'll pay you to do it. Just fill out this form.
MORE FROM BREWER FANATIC
— Latest Brewers coverage from our writers
— Recent Brewers discussion in our forums
— Follow Brewer Fanatic via Twitter, Facebook or email