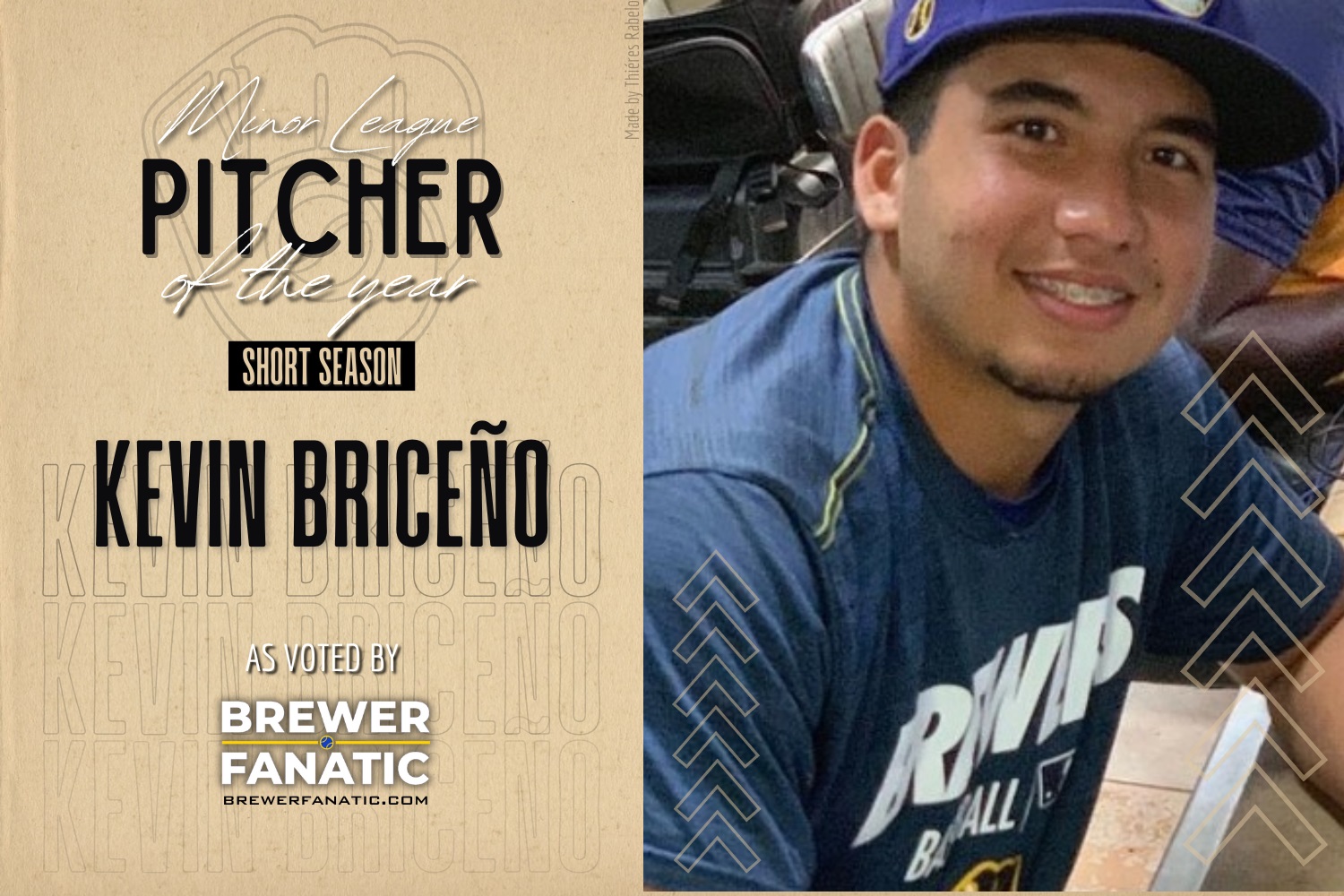 With the Dominican Summer League and Arizona Complex League only operating from June 6th through August 23rd, the window to impress coaches, Fanatics, and Brewers' brass was quite narrow for short-season squad players, but RHP Kevin Briceno built on a solid foundation laid in 2021 to garner this award with consistent excellence in 2022.

Pitcher of the Year: Kevin Briceno 
DSL/ACL Stats (12 G): 4-3 record, 2.02 ERA, 0.98 WHIP, 48 K, 14 BB, 49 IP
The 19-year-old Venezuelan started the season opener for DSL-Brewers1, ultimately making six starts for the club over five weeks and never conceding more than one earned run in any DSL start.

In his 28 innings of DSL work, Briceno led all Brewers' pitchers with a 1.29 ERA, although RHP Jeral Vizcaino (1.46) and LHP Anfernny Reyes (1.54) were also strong in this regard. More impressive was his 0.75 WHIP, which again led Brewer DSL pitchers and placed him in a tie for 9th overall in the entire 49-team league.
On the back of a similarly successful 2021 season (3.12 ERA, 1.00 WHIP in 26 innings), Briceno's promotion state-side to ACL Brewers Gold was overdue and finally came on July 15th.

Not surprisingly, his first start in Arizona was a bit rough (4 ER in 3 1/3 IP against ACL Brewers Blue), but Briceno quickly adjusted and only conceded three earned runs over his final five appearances (17 2/3 IP).

Briceno's solid work in Arizona placed him second in ERA amongst all Brewer ACL pitchers (3.00 vs. LHP Leoni De La Cruz's leading 2.33 figure) and third in WHIP (1.29 vs. RHP Arielbi Gonzalez' 1.16 and De La Cruz's 1.24).

Signed in January 2021 as part of an international class that was headlined by Jackson Chourio, Kevin Briceno has quickly established himself as the leading pitching prospect of that class alongside RHP Alexander Vallecillo.

Listed at a height of 6'1", Briceno may not overwhelm hitters with a power arm, but his control and consistency should serve him well as he enters his age 20 season and beyond. We look forward to watching him perform at Low-A Carolina (hopefully commencing at that level) next season.
Runner-Up: Osbriel Mogollon, LHP
DSL Stats (12 G): 2-3 record, 2.74 ERA, 1.00 WHIP, 57 K, 24 BB, 46 IP

Signed from Venezuela in June 2022 just days before the season commenced, 18-year-old Mogollon was on the mound for DSL-Brewers1 by June 9th and moved into a starting role by June 21st. Despite slight concerns over walks, his star burned very brightly over the first two months (1.03 ERA and 37 Ks over initial 26 1/3 innings pitched), before something of an August fade (5.03 ERA and 20 Ks over final 19 2/3 innings).

All in all, it was an exceptional debut season for the lefty power arm, who will not turn 19 until April 2023. Given the relatively young age, I'd expect that we'll see Mogollon commence in Arizona next season, so we're unlikely to see him again until June 2023.
Second Runner-Up: Arielbi Gonzalez, RHP
ACL Stats (11 G): 1-1 record, 3.22 ERA, 1.16 WHIP, 47 K, 14 BB, 44 2/3 IP

Signed from the Dominican Republic in mid-2021, Gonzalez put together a second straight excellent season with 11 appearances for ACL Brewers Blue followed by a late-season cup of coffee at Low-A Carolina. In addition to leading the Brewers' Arizona pitchers in WHIP, he had the third-best ERA amongst the Brewers' Arizona qualifiers. This was on the back of a similarly impressive 2021 season in the DSL (2.08 ERA in 43 1/3 innings).

Still just 19 years old, Gonzalez unsurprisingly struggled in nine Low-A innings (8.00 ERA), so will look to adjust and dominate at that level in 2023, alongside the likes of Briceno, Vallecillo and Yujanyer Herrera.
Honorable Mentions:
Anfernny Reyes, LHP (DSL): 2-0 record, 1.54 ERA, 1.48 WHIP, 48 K, 24 BB, 46 2/3 IP
Signed from the Dominican Republic in August 2021, Reyes made his debut with DSL-Brewers2 in June this year and started all 11 games in which he pitched, a clear sign of how the organization ranks his prospect status. Just 18 years old, Reyes only conceded earned runs in four of his starts and posted a very encouraging 1.51 ground-outs to air-outs ratio.
Yujanyer Herrera, RHP (ACL): 2-3 record, 5.36 ERA, 1.33 WHIP, 46 K, 10 BB, 43 2/3 IP
Signed from Venezuela in August 2019, Herrera wasn't able to debut until July 2021, somewhat aggressively being placed directly in the ACL and predictably struggling. After some similar challenges in June 2022, Herrera's potential started shining through with ACL Brewers Blue in July and August (3.57 ERA in 35 1/3 IP) before the Brewers promoted him to Low-A Carolina for his final four appearances of the season. He turned 19 in August.
Jeral Vizcaino, RHP (DSL): 5-1 record, 1.46 ERA, 1.03 WHIP, 38 K, 13 BB, 37 IP
Similar to Mogollon above, Jeral Vizcaino was signed days before the 2022 season commenced and put to work immediately, debuting for DSL-Brewers2 on June 7th and eventually getting his first start on July 4th. A slightly older prospect (20 years old) from the Dominican Republic, Vizcaino's off-season and 2023 spring training work may determine whether he starts next season in Arizona or makes a direct jump to Low-A Carolina.
Note: LHP Leoni De La Cruz is a relief pitcher who threw more innings in Low-A ball (21 1/3 IP) than in short-season ball (19 1/3 IP in the ACL), so wasn't included here.
Which of the Brewers' short-season pitching prospects are you most excited about? Would you have ranked the players differently? Your comments are welcome!
Think you could write a story like this? Brewer Fanatic wants you to develop your voice, find an audience, and we'll pay you to do it. Just fill out this form.
MORE FROM BREWER FANATIC
— Latest Brewers coverage from our writers
— Recent Brewers discussion in our forums
— Follow Brewer Fanatic via Twitter, Facebook or email
1