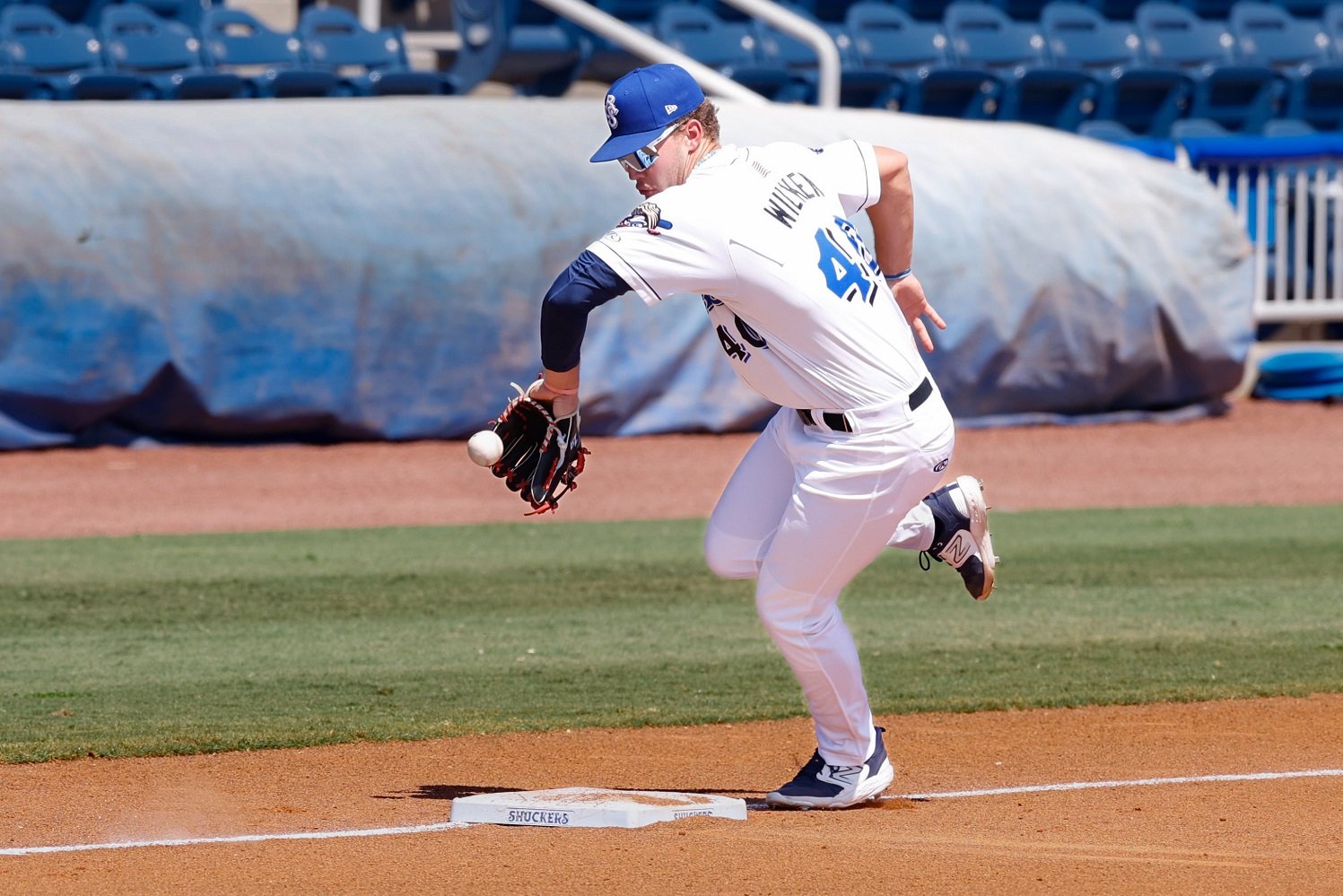 Image courtesy of Carlos Hurtado, Biloxi Shuckers
#6 3B Brock Wilken (ACL Brewers, Wisconsin Timber Rattlers, Biloxi Shuckers)
Wilken, the Brewer's first-round selection in the most recent 2023 draft, had an extremely successful career at Wake Forest. The career home run leader for the Atlantic Coast Conference (ACC) with 71, Wilken set that record over the course of only three seasons as a Demon Deacon. 
What to Like:
As one might gather, based on the home run record mentioned above, Wilken possesses a ton of raw power. At Wake Forest, he posted multiple exit velocities over 115 MPH and carried a 90th percentile exit velocity of over 108 in his final season. His 71 career home runs were topped off with 31 in his draft year, which was second in the country behind potential top-five pick in 2024, Jac Caglionne of Florida. Power carries the profile in many evaluators' eyes, but the hit tool also looks like it could be at least average. He makes fantastic swing decisions, and while it's only an average contact rate, he has been posting plus exit velocities and barrel rates in his first 203 professional plate appearances. On the defensive side, Wilken has a plus throwing arm and decent enough hands to handle third base. He had some issues with errors during his time in Appleton and Biloxi, but they were largely the product of fixable mistakes with his footwork. Wilken has below-average speed overall, but he shows signs of being a smart baserunner. He had a couple of good dirt ball reads in Appleton, where he could advance a base on a ball most players with his speed wouldn't have been able to. He also took advantage of pitchers being predictable with their timing when the opportunity would arise, going four for four on stolen base attempts.
 What to Work On:
When it comes to the offensive side of the ball, there aren't many concerns. One that may pop up the higher he climbs is a propensity for taking hittable pitches early in counts. During his time at Wake Forest, Wilken became much more patient. Patience is good, to be sure, but at times, that patience would turn to passivity and cause himself to get buried in pitcher counts. When he does that, he puts himself in a situation where he will see the pitcher's best secondary offerings and already has his back up against the wall. We will need to keep an eye on the strikeout numbers, as they did climb during his short stint at Double-A. It was far too small a sample to jump to any conclusions because of, but it will be something to monitor in 2024. On defense, while he has the arm and the hands for third base, there is a definite lack of range. In particular, he struggled to go to his backhand in his pro debut. He appears to get better reads on balls hit to his left. Perhaps the Brewers will have him play closer to the third baseline to counteract that.
What's next:
Wilken is well developed already, being drafted out of a school with as many, if not more, resources as some MLB organizations. He will likely begin 2024 back in Biloxi, but the bat could push him to Triple-A quickly, and it would be hard to rule out an MLB debut during the 2024 season. Wilken has middle-of-the-order potential at one of the two corner infield spots. It's something the Brewers have been struggling to find at first base since Prince Fielder and at third base since Aramis Ramirez. Wilken could be the guy to hold down one of those spots for the next 6-7 years.
What are your thoughts on Brock Wilken? What are you hoping to see from him in 2024? Let us know in the comments!
Think you could write a story like this? Brewer Fanatic wants you to develop your voice, find an audience, and we'll pay you to do it. Just fill out this form.
MORE FROM BREWER FANATIC
— Latest Brewers coverage from our writers
— Recent Brewers discussion in our forums
— Follow Brewer Fanatic via Twitter, Facebook or email
1