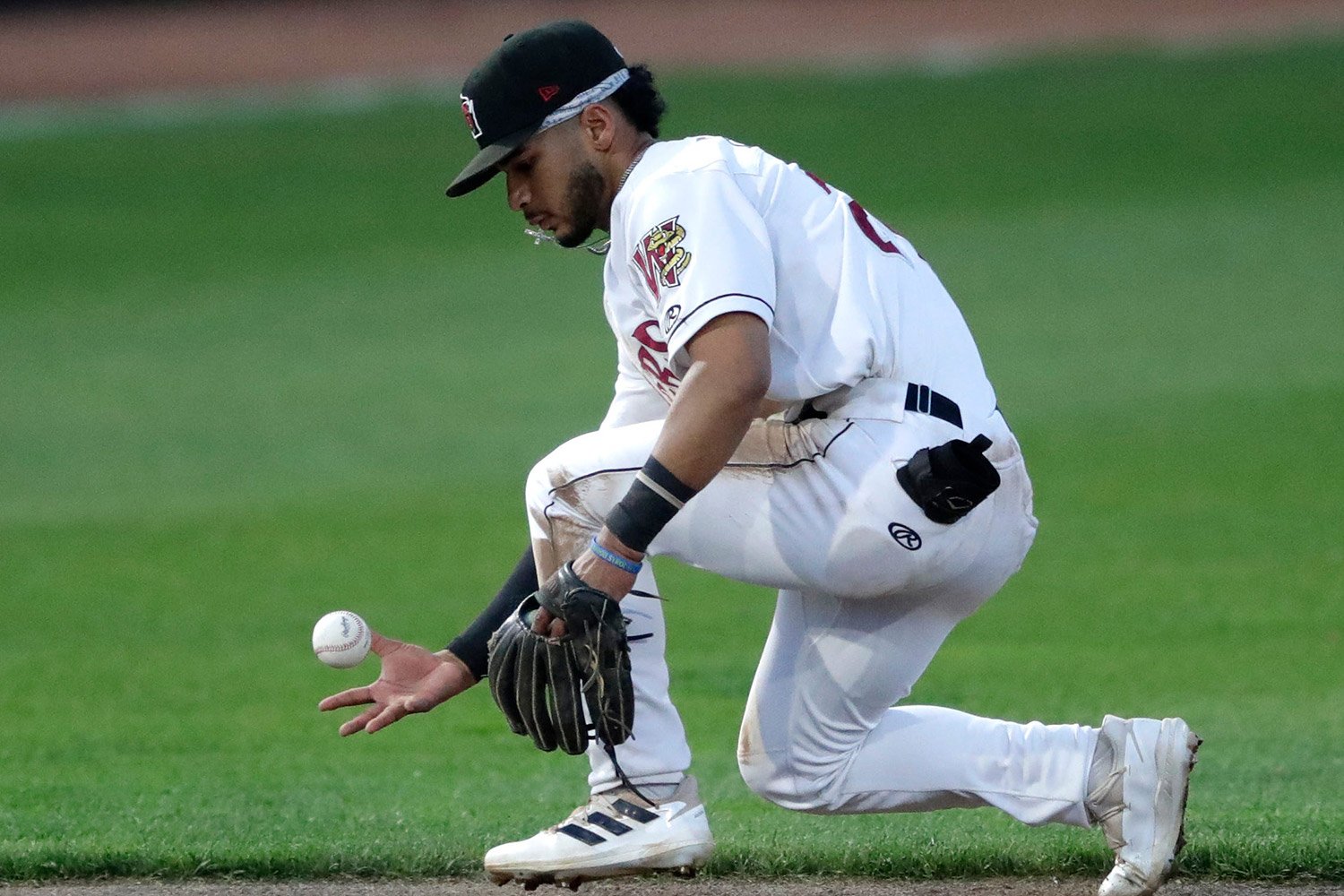 Image courtesy of © Dan Powers/USA TODAY NETWORK-Wisconsin / USA TODAY NETWORK
Game Results
Monday, 10/30 | Scottsdale 3, Surprise 5
Tuesday, 10/31 | None
Wednesday, 11/1 | Glendale 11, Surprise 2
Thursday, 11/2 | Mesa 2, Surprise 5
Friday, 11/3 | Salt River 2, Surprise 5
Saturday, 11/4 | None
It was a relatively short week of games with the AFL Home Run Derby and Fall-Stars game taking place. Nonetheless, Brewers prospects got some important work done and the pitching prospects made significant improvements. Wes Clarke also had a chance to compete in the Home Run Derby.
2B Eric Brown Jr. 
Week: 1-for-9, HR, 2 RBI, 2 BB, 2 K (3 games)
Eric Brown has shown off so many great skills thus far, such as hitting for average, plate discipline, and the ability to steal bases. The last piece was power, and he finally checked that box too, hitting his first home run in the Saguaros' only loss of the week against the Glendale Desert Dogs. He hit another home run in the Fall Stars game, pulling off a pretty swaggy bat flip in the process.
Brown's consistency has been on display for five weeks, with his season slash line at .289/.392/.410. In addition to the offensive production, he's had a few chances to show off his glove as well.
1B Wes Clarke
Week: 2-for-10, HR, RBI, 2BB, 4 K (3 games)
Despite striking out four times, Clarke still found a way to do damage, hitting his fifth home run of the season against the Mesa Solar Sox on 11/2, a solo shot to center field in the bottom of the eighth inning.
It was the only RBI he recorded in three games but he still managed to post a .833 OPS for the week. His season OPS of 1.009 is the second-highest on the Saguaros and he leads the team in home runs.
OF Hendry Mendez 
Week: 1-for-3, K (1 game)
Still seeing limited usage, Mendez appeared in the 11-2 loss to the Glendale Desert Dogs, playing right field. His lone hit was a single to center field to lead off the eighth inning.
Partially due to his relatively small amount of at-bats, Mendez actually has the highest OPS on the Surprise Saguaros over the past two weeks, slashing .500/.571/.667 for a total OPS of 1.238. 
RHP Joseph Hernandez
Week: 4.0 IP, H, R, 2 BB, 4 K, W
Hernandez finally had the week he wanted, making a four-inning start against the Scottsdale Scorpions in the first game of the week. He retired the opposing batters in order in the first and fourth innings and faced the minimum in the third inning, helped by a double play by fellow Brewers prospect Eric Brown Jr. He also notched his first win of the season.
He threw a total of 63 pitches, 39 of which were strikes (61.9%). With this stellar outing, he reduced his ERA to 9.64 ERA and his WHIP to 2.57. He's still got a long way to go but his potential is undeniably there.
LHP Justin King
Week: 1.0 IP, H, 2 R, BB, 2 K
King stepped in to pitch the final inning of the game against the Desert Dogs in a non-save situation. With his team already down 9-2, there wasn't much he could do at that point aside from focus on his own performance. After a walk and an instance of catcher's interference, he allowed a two-run double to Kala'i Rosario.
He threw 30 pitches, 17 of which were strikes (56.7%). His ERA and WHIP are currently 5.06 and 1.31 respectively.
LHP Adam Seminaris
Week: 3.0 IP, H, 2 R, 2 HB, 2 BB, 2 K
Seminaris spread out his three innings of work over two games, pitching two innings in the first game of the week against the Scottsdale Scorpions and one inning against the Salt River Rafters. His control against the Scorpions was slightly shaky, hitting two batters and recording a wild pitch, but he seemed to have no issues in his second appearance.
Seminaris improved his ERA and WHIP slightly to 4.15 and 1.31.
RHP Justin Yeager
Week: 1.0 IP, 0 H, 0 R, BB, K
Yeager had a good week, following Seminaris in the team's game against the Salt River Rafters and pitching the eighth inning. He faced just four batters in a tranquil outing and used an efficient 16 pitches, 9 of which were strikes (56.3%)
Yeager's season ERA and WHIP now stand at 4.70 and 1.30.