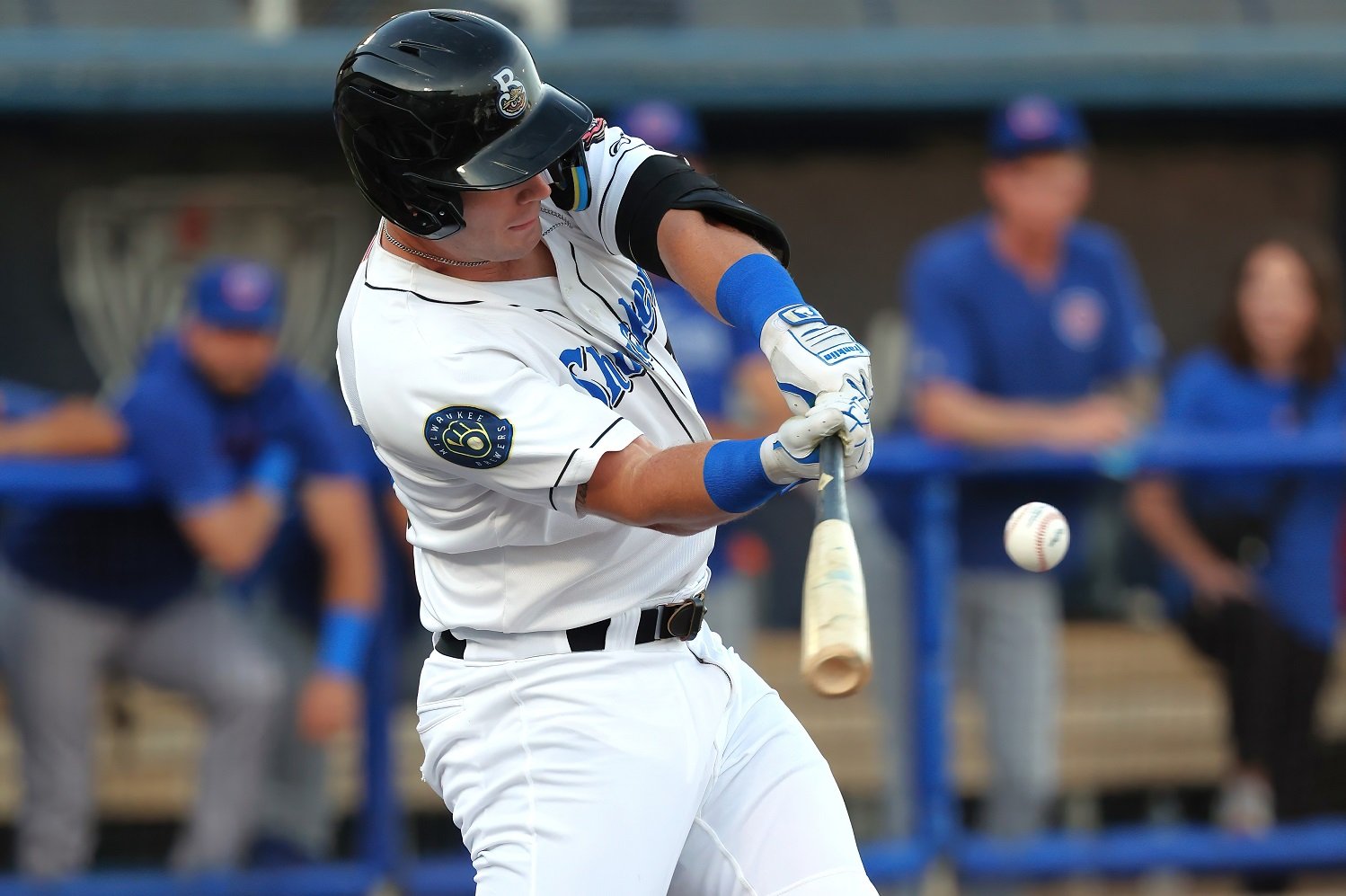 Image courtesy of Mike Krebs, Biloxi Shuckers
Game Results
Monday, 10/23 | Peoria 7, Surprise 11
Tuesday, 10/24 | Salt River 10, Surprise 12
Wednesday, 10/25 | None
Thursday, 10/26 | Surprise 6, Peoria 5
Friday, 10/27 | Peoria 9, Surprise 5
Saturday, 10/28 | Scottsdale 2, Surprise 4
The Surprise Saguaros jumped to first place with an outstanding record of 14-9, thanks in no small part to a handful of scrappy Milwaukee prospects. The team went 4-1 on the week, losing just one game to the Peoria Javelinas. In addition to being atop the leaderboard, they have the highest run differential at +38.
2B Eric Brown Jr. 
Week: 4-for-17, 2B, BB, RBI, 2 K (5 games)
Eric Brown had a bit of a slower week, slashing just .235/.278/.235 for an OPS of .513, quite a bit lower than his season average of .805. His lone RBI came against the Peoria Javelinas in the week's first game on 10/23. In the bottom of the fifth inning, Brown hit a single to score Peyton Wilson and move Dasan Brown to third base.
Despite his slower week, he saw use in every game and has been a reliable middle infield piece for the Saguaros. He's appeared in 20 games this season, the most of any player on the team. He also has 74 at-bats thus far, second to only Jacob Hurtubise.
---
1B Wes Clarke
Week: 4-for-11, 2B, 2 BB, 2 RBI, 3 K (3 games)
Wes Clarke saw a big improvement over the prior week, cutting down on his strikeouts and improving his plate discipline and average. He posted a slash line of .364/.462/.455 for the week, slightly lower than his 1.038 OPS average for the season. This was diminished by a lack of power and extra-base hits, but his on-base abilities were much appreciated nonetheless.
Clarke was pivotal in the Saguaros' narrow win over the Peoria Javelinas on 10/26. He tied the game at 1-1 in the third inning with an RBI single that scored fellow Brewer prospect Hendry Mendez. He hit another clutch RBI single in the top of the seventh to bring the game within one run.
Although he didn't appear in the same number of games or receive as many at-bats as some of his teammates, he made his presence known and has been focused on quality over quantity. Of all qualified players on the Saguaros, Clarke's season slugging percentage of .586 is the highest. 
---
OF Hendry Mendez 
Week: 2-for-3, 2B, BB, 0 K (1 game)
After patiently waiting for his turn in the spotlight, Hendry Mendez had a great showing on 10/26 against the Javelinas. Batting ninth, he scored three of his team's runs, all three needed to beat Peoria 6-5 eventually.
With plenty of outfielders to choose from, Mendez has struggled to find consistent playing time, accumulating just 30 at-bats over the season, but he's shown signs of improvement week after week.
---
RHP Joseph Hernandez
Week: 1.1 IP, 8 H, 4 R, BB, 2 K
Like the previous week, Hernandez pitched in just the first game of the week. Also, like the previous week, he didn't have the greatest time on the mound. While he didn't give up any home runs, he gave up three doubles and five singles, conceding four earned runs to the Peoria Javelinas. On the bright side, he escaped a bases-loaded situation in the sixth inning by striking out Christian Cairo. He threw 49 pitches, 26 of which were strikes (53.1%).
Joseph Hernandez has a 15.19 ERA and a 3.94 WHIP over 5 ⅓ innings this season.
---
LHP Justin King
Week: 1.0 IP, 0 H, 0 R, 0 K
King had a quiet appearance against the Javelinas on 10/27. Entering the game in the seventh inning, he quickly got a lineout, a groundout, and a force out. The only trouble King faced was an instance of catcher's interference and a stolen base, but he kept it cool and avoided any damage or real concern. He threw 14 pitches, eight of which were strikes (57.1%).
Justin King brought his ERA down to 4.15 and his WHIP to 1.15 over the 4 ⅓ innings he's pitched thus far.
---
LHP Adam Seminaris
Week: 4.0 IP, 6 H, 3 R, BB, K, W
Seminaris notched his second win of the season, making a four-inning start against the Javelinas on 10/23. All three of his earned runs came in the second inning, after which he could recover and limit traffic. He had a slick pickoff of Ryan Bliss on second base to end the third inning and relied on soft contact to get his outs. He threw 68 pitches, 41 of which were strikes (60.3%).
Adam Seminaris has a 4.50 ERA and a 1.40 WHIP over ten innings this season.
---
RHP Justin Yeager
Week: 1.2 IP, 0 H, 0 R, 0 BB, 2 HB, K, S
Yeager had a few control issues, hitting a batter in each of the two games he appeared in this week. Nonetheless, he got the job done without conceding a single run and even managed to notch his first save of the season, a two-out showing against the Salt River Rafters on 10/24. He threw 11 pitches, seven of which were strikes (63.6%).
Justin Yeager has a 5.40 ERA and 1.35 WHIP over 6 ⅔ innings.