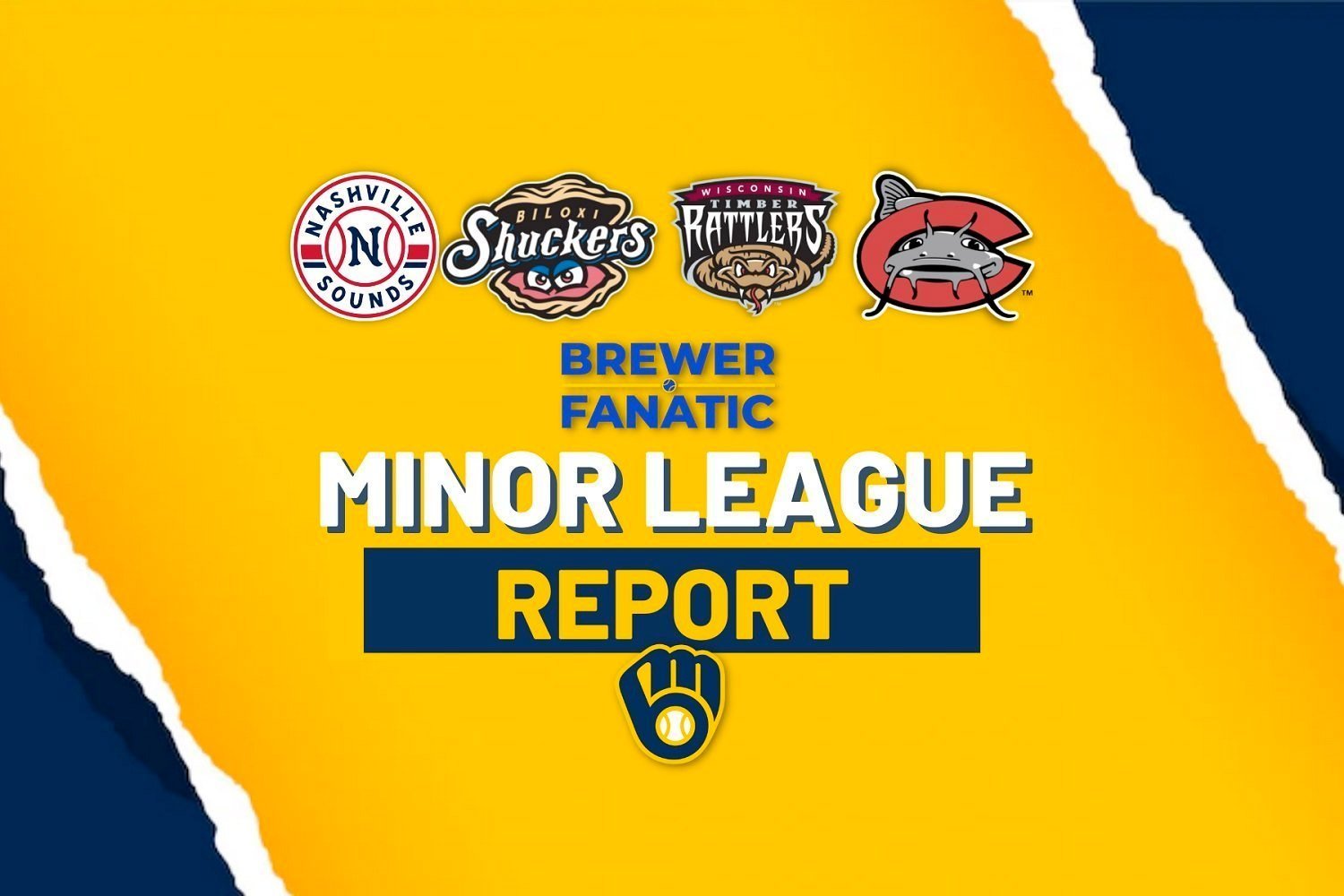 Image courtesy of our new Minor League Link Report logo!
Subscribers can go the 01:11:15 hour/minute mark from Sunday evening's Biloxi/Pensacola match up and you'll catch a brief and scary glimpse of that pinky as Noah Campbell beat out an infield single but dove into first base when doing so. Our forum poster ARobsBrewCrew with the injury update - 
Noah Campbell suffered a compound fracture of his pinky finger (glove hand).  Will miss some time but shouldn't be an extended absence.
Campbell was brought up to provide corner infield depth because there's been no word on the status of Ashton McGee's injury upon his awkward dive into home plate on Friday night, video of which was provided in that night's report. Thomas Dillard entered the game Sunday to replace Campbell at first base while Cam Devanney was the starting third baseman in the contest. 
Now let's "dive" into Sunday's game action - be safe, guys.
Transactions: None for Sunday as we await any moves regarding McGee/Campbell.
Subscribers to The Athletic will see that Brewers beat writer Will Sammon did follow-up on my ask for an Alec Bettinger update. First of all, please find a way to take advantage of the many subscription offers The Athletic provides, if nothing else, for Will's tremendous work. We won't post Will's full paragraph on the situation, but hopefully we can at least refer to this brief note - "the expectation is (Bettinger) will join the (Nashville) rotation by the end of the month. He's healthy."
***
Nashville Pre-Game Media Notes
Final: Nashville 4, Durham (Rays) 3
Box Score / Game Log
Via the Sounds' site, game details, please review:
Seventh Inning Rally Pushes Sounds Past Durham - Turang Hits Go-Ahead Double in Nashville's 4-3 Series Finale Win
We wouldn't worry about a three-inning, 65-pitch outing for LHP Ethan Small, there are lots of pitchers on this staff who need work - 2 H, 1 R, 2 BB, 5 K. Small's not always going to be pitch-efficient. RHP Luke Barker to the rescue again, stranding LHP Angel Perdomo's three walks. Heck, in a combined 1.2 IP within the 4th and 5th frames, RHP J.C. Mejia and Perdomo walked six and thanks to Barker, only one run scored.
Speaking of Perdomo's. RHP Luis Perdomo struck out the side in order to end things. We swear that the out-of-left-field big league acquisition of RHP Jose Urena while leaving Luis Perdomo in AAA will be having us all question our "In Stearns We Trust" mantras soon.
OF Garrett Whitley, DH'ing here, was on base three times, and had one of the three Sounds stolen bases (no caught stealing).
Here's Adam McCalvy with brief notes on Brice Turang's CF debut.
Quick hits:
Is MLB still going with a small Covid taxi squad for road games? Otherwise, whither Pablo Reyes?
So where will the Brewers' AAA club be a few years from now? Here's ESPN's Buster Olney:
So I own the family farm or part of the family farm that I grew up on. I would bet the family farm that within 10 years you will have Major League Baseball being played in Nashville. It's the site that everybody talks about I think more than others that are going to be considered, whether it's Portland or whether it's Charlotte. The fact that the Titans have had so much success, the Predators have had so much success that when people talk about atmosphere in an arena, they always refer to the Predators. I know Major League Baseball officials who've gone to Nashville to go watch those games because of what they hear. Major League Baseball has two franchises that are very troubled with their ballpark situations the Tampa Bay Rays and the Oakland Athletics. Now that this next labor deal has been signed, their ballpark situations are next on the docket. Once baseball gets that resolved, I have no doubt that the owners will say, OK, we're going to be ready for two expansion teams. And I would bet the family farm that the Nashville will get one of those two teams.
***
Biloxi Pre-Game Media Notes
Final: Biloxi 3, Pensacola (Marlins) 1
Box Score / Game Log
Via the Shuckers' site, game details, please review:
Shuckers' Pitching Fuels Opening Weekend Series - RHP Tyler Herb Stars in Bullpen Appearance
On an otherwise drab day at the plate for the boys (0-for-5, 4 K's for Garrett Mitchell), CF Joey Wiemer - yes, it's CF day here at the Report - was 3-for-3 with a walk and is well on his way to being a national treasure. OK, let's temper that enthusiasm, but we're all going to enjoy this ride. The line for Pensacola starter Brian Hoeing - 5.2 IP, 7 H, 0 ER, 1 BB, 10 K. 
RHP Tyler Herb's Baseball Reference page will allow you to see the soon-to-be 30-year-old's organizational journey. Yay on RHP Victor Castaneda's AA debut (though he appeared in three games - two starts) with AAA Nashville in 2021, and you'll learn we love stranding inherited runners here, so kudos on your one-third of an inning, RHP Zach Vennaro.
Credit where it's due for the former Brewers farmhand -
***
Wisconsin Pre-Game Media Notes via their all-encompassing Virtual Press Box
Final, Game One: Peoria (Cardinals) 1, Wisconsin 0 (seven-inning game)
Box Score / Game Log
Via the Timber Rattlers' site, game details, please review:
Chiefs Top Timber Rattlers 1-0 in Game One 
LHP Brandon Knarr and RHP Kent Hasler deserved a better fate.
Final, Game Two: Wisconsin 3, Peoria 2 (seven-inning game)
Box Score / Game Log
Rattlers Rally for Walkoff Win in Game Two - Tyler Black's two-run single in the bottom of the seventh beats Peoria
They're back! - AUDIO via the Rattler Radio Soundcloud: "The Timber Rattlers split a chilly twinbill with the Peoria Chiefs with a 1-0 loss in game one and a 3-2 walkoff win in game two. Chris Mehring and Kyle Lobner are back after a long hiatus to talk about the exciting weekend of Timber Rattlers baseball. Then there are clubhouse comments from manager Joe Ayrault and Tyler Black."
Both games spotlighted here -
***
Carolina Pre-Game Media Notes"
Final: Carolina 11, Down East (Rangers) 9
Box Score / Game Log
Via the Mudcats' site, game details, please review:
Mudcats Finish Sweep With 11-9 Finale Victory - The Mudcats scored seven runs in the sixth to seal their sweep clinching victory
As always and especially when there's 20 combined runs scored in a game, consult that game summary, thanks!
Yesterday we spoke about David Phelps trade lottery ticket RHP Brandon Ramey, well hello to one of his swap partners, RHP Israel Puello!
When poring over Low-A box scores, sometimes you can become numb to all the crooked numbers. Fortunately, enough are falling on the offensive side of the Mudcats' ledger. Even after just three games, there's some deja-vu to 2021 in Zebulon.
***
Enjoy your Sunday bus rides, prospects! Remember, Monday's off, so this is for:
Tuesday 4/12:
Organizational Scoreboard including starting pitcher info, game times, MiLB TV links, and box scores
3