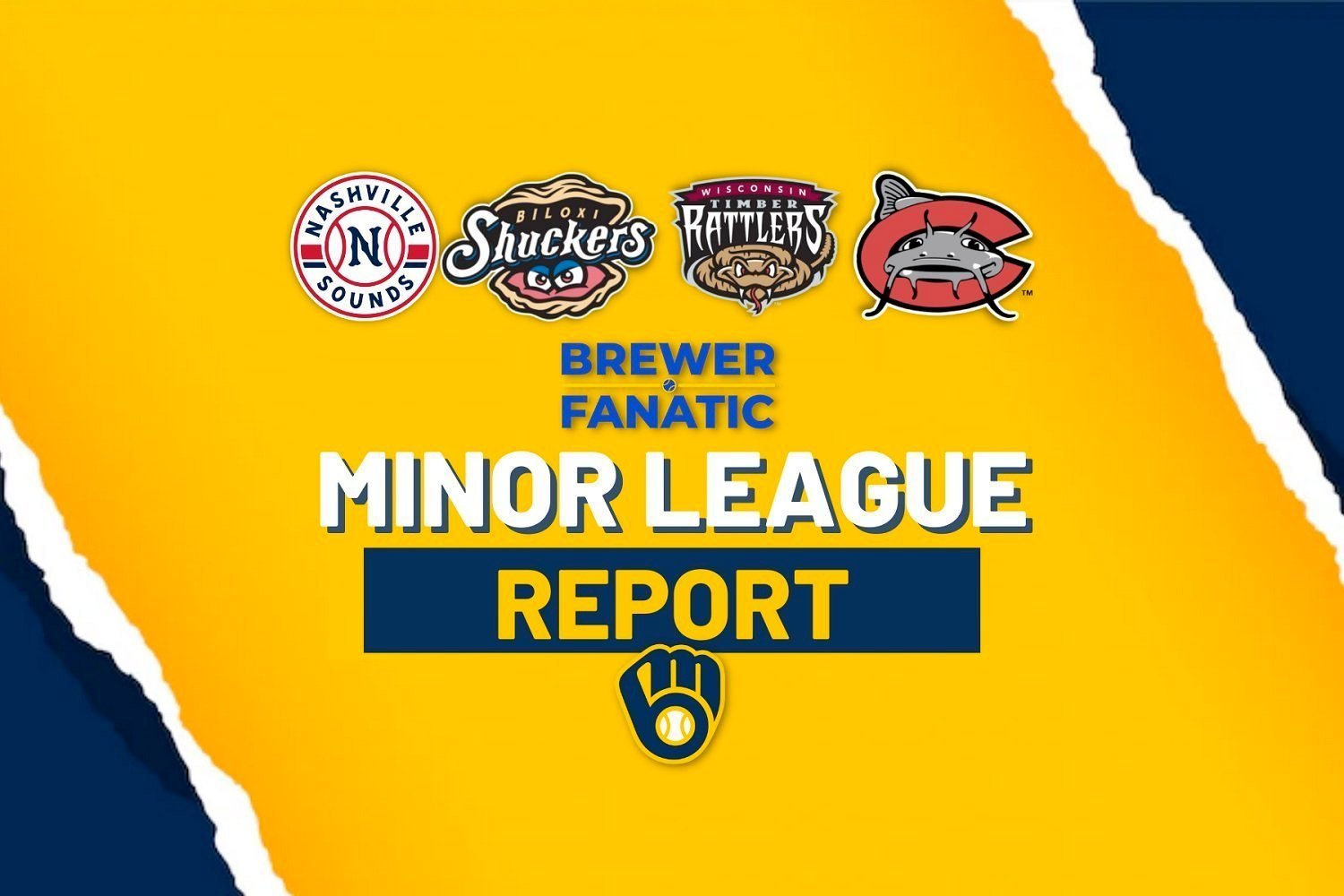 Image courtesy of Minor League Link Report
Jim Goulart's incredible work over 20-plus years of minor league reports is, perhaps, considered the real eighth wonder of the world in some dugout corners. It became clear in his absurdly detailed, well-written, meticulously edited, and incredibly informative output(s) of early-season reports: he needed a little more relief to fulfill his duties and start every one of his scheduled tasks outings this season. To that end, I will be your middle relief. In 2022, I will cover your Tuesday and Wednesday slate of minor league games for the Brewers organization and you, the fans. After all, this is why we do this: for you…the 'also obsessed.' Without further ado, here is your report for Tuesday, April 12th, 2022.
***
A Brief Note: Because I spend the majority of my own Brewers baseball viewing and 'studying' in the Lower Levels, Low-A, High-A, and Double-A, I am going to mix the delivery of this report up a bit. I will begin by tossing a sidearm knuckler and start us at the proverbial back of the alphabet of the minor leagues - each post will start at our Low-A affiliate in Carolina while I work our way up to the Triple-A and Major League-extended roster down in Nashville. 
***
Transactions: Nashville's Angel Perdomo (LHP) is placed on the 7-Day IL, and Moises Gomez (RHP) is assigned to ACL Brewers Blue from Nashville (likely a roster-crunch paper move of sorts)

Both RHP Caden Lemons and LHP Jackson Gillis placed on Low-A Carolina's 60-day injured list, as each underwent Tommy John surgery in the summer of 2021.
*** 
Carolina Pre-Game Media Notes
Final: Fredericksburg 6, Carolina 2
Box Score / Game Log
Via the Mudcats' website, game details, please review:
Early Rally Not Enough in 6-2 Loss in Fredericksburg - Garcia, Leones, and Quero combined for three straight hits and two runs to start Tuesday's series-opening loss
Boy, did they ever. If you tuned into inning one, you would have thought the Mudcats were in for a 4-6 spot: 3 men up and three straight hits. The young men were swinging early in the count and finding great success. However, that early rally fizzled, and only two runs crossed the plate, and that was all the runs they would see for the rest of the contest.
Where the Nats' starter, Caceres, calmed down and hammered the zone with a nice steady mix of heat and off-speed (striking out 8 in his five IP), the Mudcats' Cornielle struggled his entire outing finding the zone. Making his first appearance in 2022, after two less than ideal outings in his late call up to Carolina last September from a highly successful stint in Arizona, Alexander struggled with what Fangraphs (see write-ups in the lower section titled 'Youngins') considers to be his best pitch: "...a plus-plus movement slider". It simply was not finding the zone and left him searching. This forced the youngster to fall back on his fastball. And although it was hopping and had respectable velocity, it was struggling to find the zone. This led to falling behind hitters and elevated pitch counts. Ultimately, it resulted in five hits surrendered with three walks given in 3 2/3 innings pitched. The young man battled - something you like to see in a young prospect, and we did see this tonight even if he didn't have his best stuff. If Jesus Chirinos doesn't botch a routine high pop-up first base side in the fourth inning, the outcome may have been quite different, and he isn't jettisoned from the game on this bomb from the Nat's CF Jeremy De La Rosa:
Simultaneously, if Jesus can corral that pop-up, Mudcats, and Brewers fans are not subjected to that home run call: "Shave my legs with a roll of Dollar Store duct tape!!! Let's. Get. Ripped!!!!" I don't even know what to say to that. It hurt just as much in replay as it did live. Some errors hurt more than others.
Final Viewing Notes:
For a 19-year-old catcher, Jeferson Quero plays the part of a precocious pitch framer. He also looks quite advanced at the plate. This is an exciting young prospect.
Hats off to Oswel Leones, getting his first start of the young season in left field while grabbing his first hit and knocking in a run with a first-inning triple.
Luis Silva (3B) and Eduardo Garcia had a few web gems in the early innings. Garcia, in particular, plays the part of an up-and-coming young prospect. I, for one, am excited to watch him develop.
Hedbert Perez continues to struggle at the plate. He looks out of sync at the moment. I would gather to guess he isn't comfortable with where his swing is. A disappointing start to the young season for a highly-touted prospect.
Brandon Ramey continued his strong start with two innings pitched and three strikeouts. He has been a pleasant surprise and a steadying presence out of the bullpen early.
The same can not be said for late call-up Jakob Brustoski who continues to wrestle as he finds his Low A footing: two hits, a walk, and a run earned in an inning tonight to go along with two strikeouts.
***
Wisconsin Pre-Game Media Notes are coming via the always worth-mentioning treasure trove of their Virtual Press Box.
Final: Wisconsin 6, Beloit 3
Box Score / Game Log
Via the Timber Rattlers website, game details, please review:
Rattlers Spoil Sky Carp's Home-Opener with 6-3 win  - Martínez & Miller homer while four pitchers combine for 16 strikeouts
And nine strikeouts of which come via one of my favorite young prospects in the Brewers system in LHP Antoine Kelly. If you've never seen this young man pitch, and you live in the Appleton or Paper Valley region of Wisconsin, get out and watch this young man throw the baseball. You will not regret it. In his first game for the High A club this season, he set his career-high in strikeouts and gave up a mere two runs on a looping bloop of double to right-center. His pitch count elevated in the low 80s after a walk following two strikeouts in the fourth; the youngster gave way to the bullpen, who allowed a mere one run over the remaining 5 2/3 innings.
Final Non-Viewing Notes:
It was a real bummer looking forward to logging in to MiLB.TV to watch Antoine Kelly's first start...and, realizing upon several scrolls of the game docket, there was no game to be viewed. A sigh was felt through my little mountain valley as I grieved a lost chance to see the youngster pitch. 
Congratulations are to Ernesto Martinez and Darrien Miller, each collecting their first home runs of the young season! Darrien had scuffled early at the plate, but he had quite the outing tonight, tacking on the double to boot. 

Video evidence of the opposite field, "Ernesto Bomb," at the tail end of this Beloit TV news report (1:00 minute mark). It was a two-run shot, not three as announced here.
 
Congratulations are also in order for the bullpen: Miguel Guerrero, promoted from Low A Carolina for this season, notches the 'W' in three innings of  work. Additionally, we see 2 1/3 innings of scoreless work from 27-year-old Robbie Baker and 22-year-old hurler Cam Robinson to close out the contest.
Something tells me we are in for a fun season at the top of the Timber Rattlers batting order: Sal Frelick and Carlos Rodriguez are quite the duo to watch atop that order. My one hope for Carlos, this season, is he can elevate that OPS north of .750. 

Features from earlier Tuesday -
***

Biloxi Pre-Game Media Notes
Final: Biloxi 6, Mississippi 4
Box Score / Game Log
Via the Shuckers website, game details, please review:
Bennett and the Jets Help Shuckers' Improve to 4-0 - Kahle Records Three Hits, Wiemer Drives In Three
Lots to unpack in this one, folks. One of which, as Brewer Fanatics self-proclaimed #1 Joey Weimer fan, I have to admit is the continued evolution of Joey Weimer. I've watched every Shucker game to date in this young season, and I can honestly say outside his first at-bat in Pensacola where he was a wee amped up and outside himself, he has put together one professional at-bat after the next. He continues to evolve and reach new levels. He is unfazed and unafraid when he is down in the count. He fights off pitches to stay alive. He lays off pitches out of the zone when he is down in the count. He is becoming one of the toughest outs in the minors in the early going. Ohhhh, and he is currently batting a cool .500 with a 1.217 OPS. More four game runs like these, please, Mr. Weimer! Joey does not have a HR yet, nor does he have the flowing blonde locks of a Greek God (sigh), but he is hitting the leather off the ball. The velocity is there on nearly every hit. Case and point tonight, in the bottom of the eighth after nearly missing a three run bomb over the wall in left field by a mere 8-12 feet, he calmly collected himself and knocked an opposite field single to right on the very next pitch:
Toolsy. That was a savvy insurance RBI poke to right field off the adrenaline high of a near-missed first home run of 2022. There is so much to be excited about with this young man. 
"Who is Kahle?" you might ask. Well, in his first action (more on that after the clip) he absolutely delivered:
Nick did appear to misplay a deep fly ball to and off the wall in left-center, perhaps jumping a tad early and fearing the wall. Would Mitchell have made that play? I am unsure. But Mitchell was out of the game at that point as he had begrudgingly taken his third ball off his right arm in less than a week when Felix Valerio smoked an absolute dart foul down the third base line. Garrett came back to complete the inning defensively but that was his night. Was it precautionary? Will he get a few days rest? We'll have to stay tuned.

Video highlights here, including a great look (well, not so great in terms of pain factor) of Garrett Mitchell getting smoked on the shoulder.
Before I give you my 'Final Viewing Thoughts', let's look at a defensive web gem candidate in this scoop and toss double play from Felix Valerio (who, miraculously, went hitless on the night) and Freddy Zamora with the savvy scoop by Thomas Dillard :
Final Viewing Thoughts:
I don't know what is going on with Freddy Zamora, but after plain air mailing three throws to First in Pensacola he followed with a couple questionable throws to first this fine evening. He pulled Dillard off the bag in one and one-hopped a routine throw on another. This is something to monitor in the early going as we help usher any and all thoughts of 'The<Coughs>' out of the ballpark and out of that young arm. I would personally suggest this is what Freddy needs to shore up in the early going. He is making good contact. The hits will come.
Nick Bennett was quite impressive overall. He has added a splitter to his now four-pitch repertoire and he is working it into his pitch flow. Other than one mistake hanging fastball over the plate to known Shucker nemesis Drew Lugbauer (nine home runs vs Biloxi in 2021) for a two-run home run, Nick had a very workmanlike and effective five innings pitched with a mere 1.00 WHIP. That will play in 70 pitches. Lots to like as we follow his progress through the rest of the season.
We still haven't heard what is actually going on with Ashton McGee, and given what we saw in his brief stint pre-injury we sure hope he returns soon, but you have to tip the proverbial cap to Cam Devanney filling in at the Hot Corner. His bat has yet to develop from his pedestrian 2021 in AA, but I love me some defense. And, Devanney can throw an absolute accurate dart to first base and he is making very difficult plays look effortless. A true joy to watch.
Abner Uribe and Lucas Erceg is quite the 1-2 punch in the bullpen. Abner looked absolutely dialed and the evolution of his breaking pitches, as we saw tonight, is what will help his 100 mph heat play at the Major League level. He had several pitches of the 99-100 mph high heat, but it was his off-speed stuff getting the swings and misses. Of the two, Lucas has more work to do at this point, and understandably so. In the two outings I have seen, I can tell he is still learning the nuance and the finer points of how he wants to use and execute his stuff. His progress and evolution this season is one of the highlights of the minor league year for me.  
***
Nashville Pre-Game Media Notes
Final: Gwinnett 4, Nashville 3
Box Score / Game Log
Via the Sounds website, game details, please review:
Nashville Rally Falls Short, Sounds Drop Road Trip Opener - Team Leaves 12 Runners on Base in Loss
That pretty much sums it up. It was quite the rally too...and, men were also left on base. 
Non-Viewing FInal Notes:
The Sounds are going to want and need more from Caleb Boushley (pronounced 'Bozzlee') if he wants to have an extended stay on their roster. Coming off a rough close to his 2021 season in the PCL, getting tagged for seven hits and a walk in 4 2/3 innings pitched isn't quite cutting it. In his two outings to date, opposing hitters are hitting a ripe 0.316 while he is sporting a 1.67 WHIP.
Brice Turang is going to get a call up if he continues to play like this. The young man is collecting clutch hits while continuing to play his typical steady defense.
John Singleton. Three words: big league hitter. 
Welcome back to playing Pablo Reyes! A 'Brewer Fan' favorite in his late season call-ups during the 2021 season filling in for the injured Willy Adames in a utility role. It was nice to see him get his first run. It was even nicer to see him get a key hit late to keep the rally going.
***
With these contests and reports finished it's on to the next! What is on the docket for tomorrow's contests? 
Wednesday April 13th:
Organizational Scoreboard including starting pitcher info, game times, MiLB TV links, and box scores
Let's hope Carlos Luna keeps Biloxi rolling and undefeated as he looks to build on his stellar 2021 where he pitched to a combined 7.4 K:BB ratio between Wisconsin and Biloxi. The 25-year-old takes the mound for the first time in 2022. As the kids like to say: "I'm excite!"
2