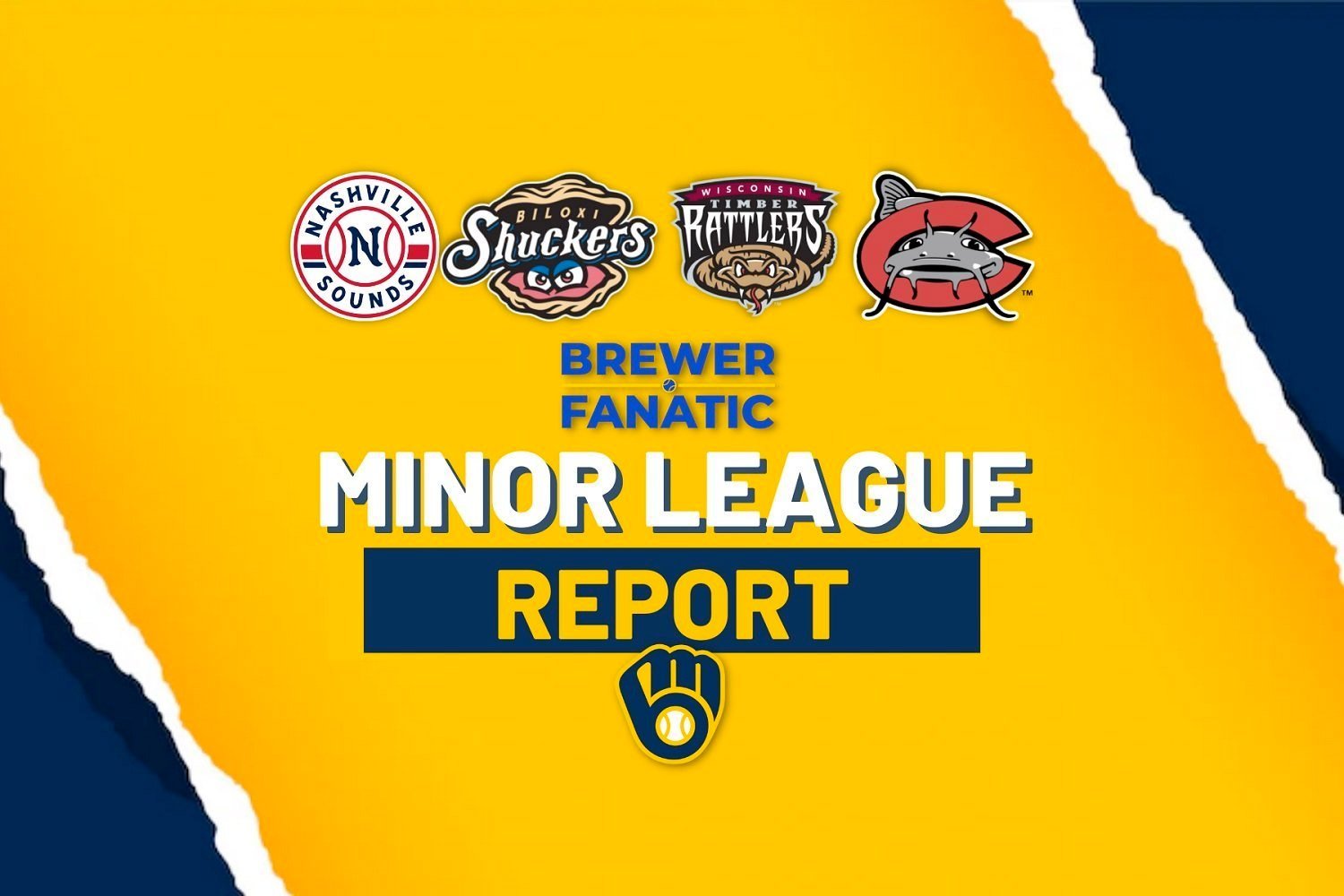 Image courtesy of BrewerFanatic
TRANSACTIONS:

- C Brent Diaz activated by AAA Nashville from Development List - the recently-turned 27-year-old has seen minimal action at the AAA level the past two years (five games), with 113 games at AA Biloxi. Diaz, in his 7th year (29th round, 2017, Louisiana Tech) qualifies for minor league free agency at season's end.
 
---

Final: Norfolk (Orioles) 11, Nashville 8

Via the Sounds' site, game details, and we encourage readers to review each of the affiliate write-ups as part of your season-long Link Report routine:
Frelick's Miraculous Catch, Three Homers Overshadow Sounds Loss - Nashville outfielder, prospect makes gravity-defying grab to rob extra bases in the third inning

Pre-Game Media Notes / Additional Stat Tidbits via the "Sounds Bytes" Blog 
Box Score / Game Log

OK, how many of you read that headline and thought oh my, Sal Frelick hit three home runs? No, not the case, in fact, Frelick was scheduled for a rest/regroup day and only entered in the 3rd inning. RF Tyler Naquin was hit by a pitch in the 1st and remained in the game until being pulled at that juncture. Frelick was 0-for-2 with a walk and his OPS sits at just .528 after 48 AB's (five walks, just six K's). Those balls in play will start to self-correct things soon, no doubt. As always, plenty of tidbits in the affiliate game summaries we can't possibly always detail here, including Frelick's catcher interference instances as of late, be sure to click above.
Note to the Sounds' production crew - the volume on the Twitter posts has been unusually low as of late, maybe an adjustment needed...
And thank you for the correction to my baseball math!

Yes, RHP Caleb Boushley was pitching on three days' rest, but he didn't make it out of the first inning last time out. Rough patch for the pride of Hortonville and UW-La Crosse.
---

Final: Pensacola (Marlins) 7, Biloxi 1

Via the Shuckers' site:
Shuckers Fall to Blue Wahoos, 7-1 - Biloxi starter Carlos Rodriguez continues good form, Shuckers held to one hit in loss
Tyler Black hit a line drive single in the 4th for the lone Shuckers' hit.

Pitching has ruled in the eight-team Southern League thus far, as those Biloxi box score averages aren't inspiring through just eight games. The sortable league batting figures will reflect that.

RHP Carlos Rodriguez continues to impress.
 
---

Final: Wisconsin 6, Peoria (Cardinals) 3

Via the Timber Rattlers' site:
Early Lead Paces Wisconsin Past Peoria - Rattlers top Chiefs 6-3
Pre-Game Media Notes (Download Link) via the team's Virtual Press Box
Here's what Curt Hogg of the Milwaukee Journal Sentinel wrote about the Brewers' international signing class back in January:
By signing four more players from Nicaragua, the Brewers are up to 10 Nicaraguan prospects from the international market, a figure that Brewers manager of international scouting and player personnel James Armstrong estimated might be the most ever rostered at the same time by an organization.
All 10 of them are pitchers, too. It's a group headlined by right-hander Stiven Cruz, a 2019 signee who pitched well after a promotion to Class High-A last season. While the Brewers aren't deliberately targeting talented arms in Nicaragua, identifying pitching is natural for Salvador Ayestas, the team's head scout in the country.
This year's Nicaraguan signees: Right-handed pitchers Saul Sánchez, Nestor Mena, Melvin Hernández and Enniel Cortez.

I would quibble with Curt (who's fantsatic) in that he overlooked the Brewers' Minor League Pitcher of the Year in Carlos Rodriguez as the "headliner", who would go on to impress in a big start for his country in the WBC a couple of months after the article was written. Similar to focusing on Venezuela over the past decade when many organizations pulled back from that country, any advantage the Crew can get by targeting under-appreciated areas will be key. Are Rodriguez and Stiven Cruz the most talented Nicaraguan arms in all of MiLB currently? It's quite possible.

Joe Gray, Jr. and Ben Metzinger on base thrice more apiece, continuing hot starts.
 
---

Final, Game One: Carolina 6, Salem (Red Sox) 2
Final, Game Two: Salem 5, Carolina 2

Via the Mudcats' site:
Carolina Splits Saturday Doubleheader - The Mudcats took game one of Saturday's doubleheader while winning their first home game of the season
Game One Box Score / Game One Game Log

Game Two Box Score / Game Two Game Log

Big thanks to Voice of the Mudcats Greg Young, Jr. as that doubleheader summary is absolutely packed with useful information. 

In Game One, that was a tough spot to pull RHP Yujanyer Herrera, one out shy of qualifying for the win after retiring the first two men in the 5th. A hard pitch count limit was likely 70 or 75, as the 19-year-old Herrera sat at 72 in hopes of garnering his first win above the Maryvale level.

Third baseman Luke Adams doesn't turn 19 years old until next week, This is Tayden Hall's age 20 season. Beyond them both being 6'4", 210 lb. athletes, the sentiment is we'll be reading a TON about their exploits in 2023.
---

Here's to a Sunday - Funday, everyone!

Organizational Scoreboard including starting pitcher info, game times, MiLB TV links, and box scores
Current Milwaukee Brewers Organization Batting Stats and Depth
Current Milwaukee Brewers Organization Pitching Stats and Depth
Think you could write a story like this? Brewer Fanatic wants you to develop your voice, find an audience, and we'll pay you to do it. Just fill out this form.
MORE FROM BREWER FANATIC
— Latest Brewers coverage from our writers
— Recent Brewers discussion in our forums
— Follow Brewer Fanatic via Twitter, Facebook or email
1