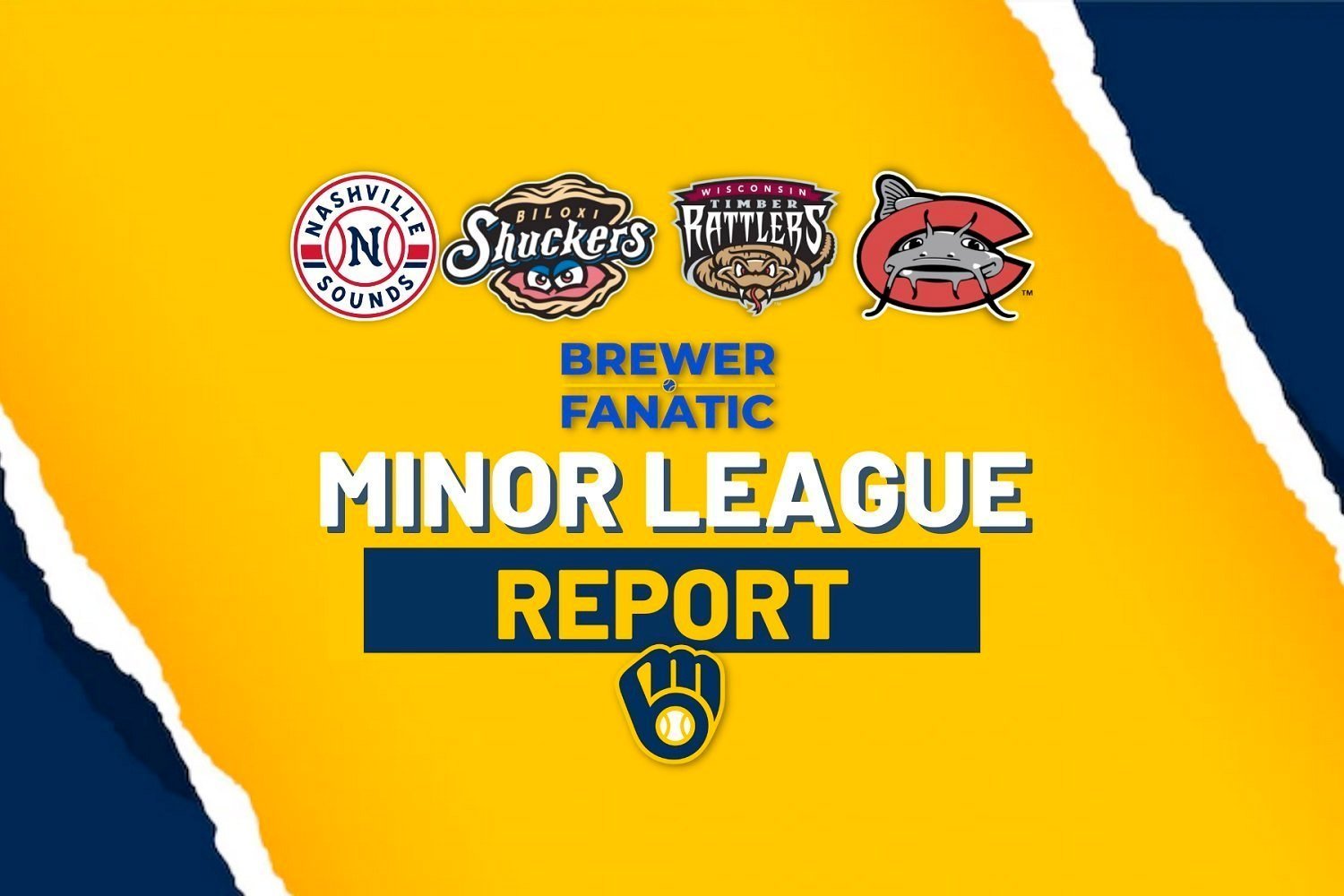 Image courtesy of our new Link Report header
We're going to return to including some additional links at the tail end of each day's report.
It'll look like this (the first link has been in place for the 2022 season and will continue):
Organizational Scoreboard including starting pitcher info, game times, MiLB TV links, and box scores
Standings and sortable stat pages
That's a convenient link to tune in to the fine play-by-play work we are treated to at all four locales.
The final link includes both the individual player stats as well as the league stats so you can tell how each affiliate compares to their league peers via the sortable columns. Of course, the numbers will mean more in that regard as we get deeper into the season, but we already know --
Nashville is tied for 17th in the 20-team International League with just seven HR's through 11 games. On the flip side, the Sounds pace the league in ERA at 3.15.
Through eight games, Biloxi also is the ERA leader in the eight-team Southern League at 2.94. The Shuckers despite the glamorous 7-1 start are middle-of-the-pack in most offensive categories.
Despite having the 3rd lowest batting average in the 12-team Midwest League at .173 through eight games, Wisconsin batters have fanned the fewest times at 65. And oh yes, your Milwaukee Brewers have three affiliates leading their league in ERA (T-Rats at 2.52).
A recent rough patch has the Carolina team ERA at 6.19, 11th in the 12-team Carolina League. Batting .258, Carolina batters are 2nd in the league with that mark.
We hope the convenience of having these links readily available to you each day adds to the overall value the Link Report provides.
Now on to the Saturday game action, which was rather non-descript save for the men sitting highest in the organizational food chain.
No transactions on Saturday.
***
Nashville Pre-Game Media Notes

Final: Nashville 10, Gwinnett (Braves) 0
Box Score / Game Log
Via the Sounds' site, game details, and we encourage readers to review each of the affiliate write-ups as part of their Link Report routine:
Small, Sounds Cruise Past Gwinnett - Nashville Dominates Stripers to Take Command of Series
It's becoming pretty clear that the Brewers did just fine for themselves with the 28th overall pick of the 2019 draft.
Because of his injury-impacted extended Mississippi State career, Ethan Small is already 25 and will be in his prime years with the Crew before any thoughts of free agency arrives. Isn't it awkward small-market fans need to consider such things? But we do, and yes, we're getting ahead of ourselves, but it sure appears that Small is lining himself up for a fantastic big league run. It is hard for long-time fans of this organization to wrap our collective heads around the pitching development machine we are following these days. So this is what it felt like to be a Braves or Dodgers fan the past few decades.
Burnes - Woodruff - Peralta - Houser- Lauer all under Milwaukee team control through 2024. Aaron Ashby on hand, My goodness, how fascinating is it going to be to see what position player gold David Stearns and Matt Arnold will be able to net by spinning off the overflow of pitching riches.
Why do I see things like Luke Barker coming for in Luis Perdomo with one out in the 9th after Perdomo had retired the last only batters he faced, and think something is up? Did Barker need the work, as he had Thursday and Friday off. It was a ten-run lead after all. Why not have Barker start the 9th? This is how my mind works, and I am not the better for it!
Every batter but Corey Ray (0-for-5) contributed. Unfortunately when you are the only player not to have a night, you may get that sort of mention. This is Ray's last option year, does anyone see him sticking in Milwaukee to stay as of next April? Man, that first round of the 2016 MLB draft is going to go down in history as pretty much a mess league-wide with its lack of anything approaching superstar talent. That doesn't make Ray's career path any less disappointing.
Weston Wilson's box score line sure is pretty. Wilson finally earns minor league free agency after this season if he is not added to the 40-man roster sometime in 2022. Wilson matches up nearly exactly with the responsibilities and talents of the Crew's Mike Brosseau, and hopefully he gets his chance in that role at the MLB level by next spring if not sooner.
Yay for David Dahl heating up.
As for a "missing" player like Sounds OF Jonathan Davis, who played a prominent role to begin the season but last saw action on Saturday the 9th - by no means am I saying this is what it is, but it would be surprising if we were notified every time a minor leaguer was impacted by Covid protocol, and I don't believe I've read anywhere how the MiLB testing precautions now compare to MLB's. Just keep that in mind but don't make formal assumptions.
***

Final: Mississippi (Braves) 4, Biloxi 0, game called with one out in the top of the 6th in this home game
Box Score / Game Log

Via the Shuckers' site, game details, please review:

M-Braves Hand Shuckers First Loss Of Season In Rain-Shortened Game - Biloxi's Perfect Start To Year Ends In Five-Inning Contest
Crappy way to have the undefeated streak end, but the Shuckers were not doing anything against Stripers' LHP Jared Shuster - this will be one of the more dominant opposition pitching lines we se all season: 5 IP, 2 H, 0 R, 1 BB, 12 K, just 80 pitches.
Shuster is a Wake Forest product, but in my world, is better known for being out of New Bedford, MA, the former whaling capital of the world and my hometown. Shuster was taken by Atlanta five picks after Milwaukee drafted OF Garrett Mitchell in the first round of the 2020 draft. Let's see how that all works out when comparing the two careers down the road. For those who are aware of my Brewefan efforts from the start, I apologize for my fandom obsession with 2000-2001 big league Brewers RHP Allen Levrault who was from a neighboring town. If Shuster had been drafted by the Brewers, my fanboy nature on our forums would have to be corralled for sure. 
RHP Victor Castaneda was solid in his own effort and was still on the mound into the 6th.
***
Wisconsin Pre-Game Media Notes via their all-encompassing Virtual Press Box
Final: Beloit (Marlins) 4, Wisconsin 3
Box Score / Game Log

Via the Timber Rattlers' site, game details, please review:
Sky Carp Rally Late to Beat Wisconsin - Beloit celebrates first win of season with 4-3, walkoff win over Rattlers
Years of experience yes, but the venerable Chris Mehring sure is a master of detailing a game's events and timeline.
5 - 2 - 4 - 10 - 4 - 9 - 3 - 2
That's the number of hits the Timber Rattlers have had in their eight games thus far. We wait for the weather (and the bats) to warm up, 44 degrees for Saturday night's game. And yet the T-Rat arms have the club at 6-2 despite this loss.
This is the highlight, boy I hope you have your Athletic subscription:
You know what, good for the Sky Carp and their fans...now let's get 'em Sunday!
***
Carolina Pre-Game Media Notes

Final: Fredericksburg (Nationals) 8, Carolina 3
Box Score / Game Log

Via the Mudcats' site, game details, please review:
Mudcats Drop Third Straight 8-3 in Fredericksburg - Jesus Chirinos went 3-for-4 with a first inning RBI double in the loss
The "How Long can Micah Bello Keep Up His .500 Average Watch" continues.
Jesus Chirinos hasn't been behind the plate since one game in 2019 (20 games in 2018), so he's going to have to put up big numbers if he's limited to first base moving forward. This season is his first taste of full-season ball.
***
As promised, here's your setup for Sunday. For those of you who celebrate Easter, may it be filled with joy, love, family, and of course, baseball!
Organizational Scoreboard including starting pitcher info, game times, MiLB TV links, and box scores