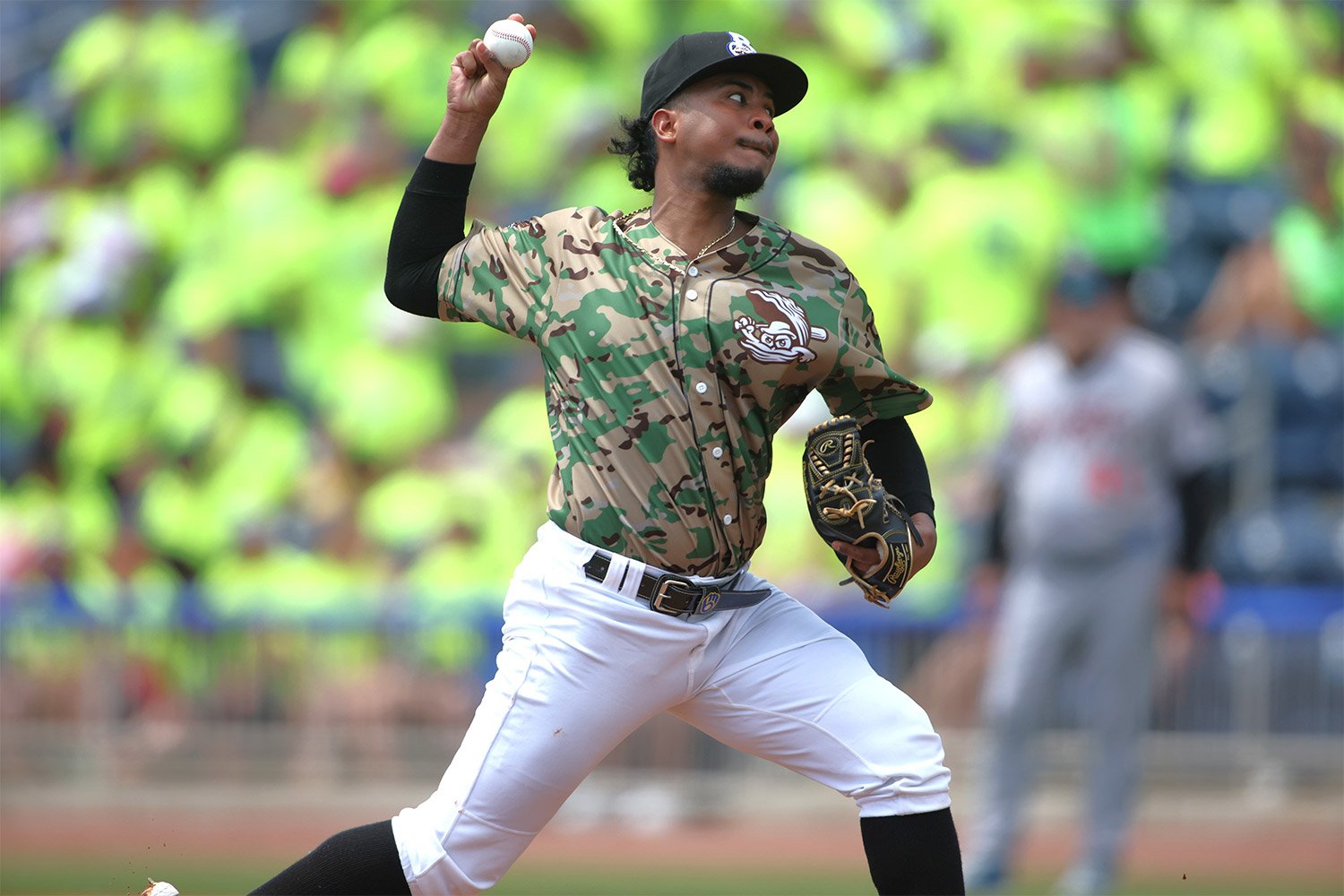 Image courtesy of Biloxi Shuckers - Carlos F Rodriguez
Game Balls: We're going with RHP Carlos F. Rodriguez for another fantastic outing on the hill. We're going with INF Eric Brown Jr. who absolutely crushed his first home run at High-A Wisconsin:
We're going with INF Tyler Black and his continued showcase of his full offensive arsenal with a right field rocket off the scoreboard: 
And, we're going to honor the ongoing on base streaks of INF Daniel Guilarte and INF Abraham Toro - they extended their on base streaks to 24 and 28 games, respectively. Sorry Big Jon, I am only afforded five Game Balls - the budget is tight - but I know you extended to 27 games as well. A heck of an achievement!
Transactions:
C/1B Tayden Hall was placed back onto the 7-Day IL by the Carolina Mudcats after removing himself late during last night's game
RHP Abner Uribe was placed on the 7-Day IL by the Biloxi Shuckers
---
Game Notes 

Via the Sounds' site, game details, please visit and review:
RHP Janson Junk had not surrendered more than two runs in a single outing with the Sounds when he took the hill on a beautiful low-70's evening in Nashville. He was not particularly sharp on the evening, however, and though he pitched into the sixth frame he still surrendered seven hits and three free passes. He was also done in by the rough relief work from his stablemate, RHP Lucas Erceg (more below), as Junk still managed to leave the game with a 3-3 game verus the Braves #1 ranked prospect, LHP Jared Shuster.
Three Quick Strikes:
1) It's nice to see RHP Ryan Middendorf continue to rise to the challenge of Triple-A after some up-and-down outings in Biloxi. The personnel staff clearly sees what I see: a young hurler who has a fantastic array of pitches that travel all around the zone. Aside from a first batter free pass, he was very sharp tonight in changing his speeds; his offerings; and his locations. He certainly looks like he belongs and my continued hope is with more comfort he will continue to improve and fine-tune his already tasty arsenal. He finished 1 2/3 IP of 0 H, 1 BB, 2 K, 0 ER ball. More of that, please!
2) C Brian Navarreto didn't help his struggling pitcher in Lucas Erceg when he was called for catcher interference but make no mistake he continues to be a menace for runners trying to swipe bases. He threw out another would be base stealer in the middle innings and he improved to 9-for-19 on the season. That is far and away atop the International League leaderboard. It is just a dangerous proposition for opposing teams to risk advancing a runner even with the more favorable rule changes:
3) RHP Lucas Erceg continued his volatile up-and-down season when he came aboard with a runner on second base and one down in relief of RHP Janson Junk in the sixth inning. The game was tied 3-3 at that juncture. He immediately walked his first batter on five pitches. He gave up a weak liner to the grass in left field. He gave up a hard hit liner to right field on a 2-0 count. He was done in by a misplay from a charging Cam Devanney at shortstop and he was also done in by clear catcher interference on C Brian Navarreto. But, if we're speaking objectively, the tone was set when he once again came to the hill lacking location with his off-speed arsenal. It's a fine line and most definitely a game of inches and if Erceg can't locate his off-speed stuff he will continue to struggle. He left his outing after a bases clearing grand slam on a mistake heater directly over the heart of the plate. Suddenly, it was a nine-run frame. Suddenly, Erceg's foothold in the Nashville bullpen felt precarious.
---
Game Notes 

Via the Shuckers' site, game details, please visit and review:
Three First-Inning Homers, Rodriguez on the Mound Powers Shuckers to 6-2 Win
RHP Carlos F. Rodriguez continues to show he is every bit the Ace the Brewers organization needs him to be. Coming fresh off a five inning ten strikeout display in Montgomery, he took his exploits and talents to Rocket City. He continued to absolutely deal those winning hands. When his day was over he had tied his career-high of 6 IP and he had held the Trash Pandas to a mere 1 H (a relatively harmless solo home run), 2 BB, 1 ER, with 6 K. His season ERA is now resting at a ripe 1.88 through six starts with a 0.98 WHIP and 0.147 BAA. Let the superlatives rain down upon this young man's pitching hand. What he is doing in early 2023 gives us all hopes of a rotational stalwart for years to come.
** A Quick Reminder to Stay Tuned-In to Javik Blake's Ongoing Pre-Game Interviews: HERE
Three Quick Strikes:
1) It all started with a six-run explosion in the very first inning. And, naturally, it began with bourgeoning power hitter INF Tyler Black crushing a long ball off the scoreboard in right field. I alluded to his comments in the off-season: he said tapping into his power was a focus coming into this season. He's already demonstrated he has incredible discipline and bat-to-ball skills at the dish. Now we get to watch this on a semi-regular basis:
2) I had shared in the daily game thread I wished for OF Joe Gray Jr. to experience some success at the plate considering this was his first game in his hometown of Hattiesburg, Mississippi in over 2,000 days. Unfortunately, for Gray Jr. his ongoing Double-A mega-slump remained and remains in full effect. He added another 0-for-4 result to his ongoing tab. Throw in two more strikeouts and he now has 12 punch outs in just 26 AB's. Granted, this is a six game sample so let's keep that in mind. But, if OF Jackson Chourio is struggling with the off-speed deliveries in Double-A rest assured the talented Gray Jr. is most likely going to struggle with the same given his swing-and-miss proclivities in High-A. 
3) I think it's fair to say, RHP Cam Robinson enjoys the comforts of the Double-A Southern League. Dating back to last season, he has shown he is a dominant reliever at this level of affiliated ball. He added another scoreless frame today and, dating back to last season's work for Biloxi he now has an even more impressive resume of 17 GP, 19 IP, 10 H, 9 BB, 25 K, 2 ER. I, for one, am curious about a couple of things. Are the Brewers wanting even more dominance at Double-A before he earns another Triple-A opportunity? And, regardless of when he returns to Nashville, can he use this work and success as a springboard to an attacking mindset in the International League? Only time will tell. To date, Triple-A has been too formidable a challenge to the talented young hurler.
---
Game Notes 

Via the Timber Rattlers' site, game details, please visit and review:
Wisconsin Clubs Three Homers in 10-6 Loss to South Bend
The Timber Rattlers got off to a glorious early start screaming to a 6-2 lead on the backs of several home runs. I even had my hopes up, dare I say. 
And, yet, like a fine vintage 2023 T-Rats wine the team found a way to let the Cubbies claw right back to even the score by the fourth inning on the backs of hits, walks, and errors. It's like this, my friends. And, yet, we stay thirsty. The T-Rats ultimately fall late off a rare off-outing from RHP Ryan Brady who takes the loss after 3 IP, 7 H, 4 ER, 0 BB, and 3 K. 
Full Game Highlights:
The Famed T-Rats Post-Game Podcast: 
Three Quick Strikes:
1) It was RHP Stiven Cruz's second rough outing in a row. There's not much more to say. And, these days, if you're not close to perfect on the mound the T-Rats defense (or their offense) will likely let you down - two costly errors saw a 6-3 game turn to 6-6 and the young Cruz couldn't make it through his fourth and final frame. Cruz ended his day with an unsightly 3 2/3 IP, 9 H, 2 BB, 3 K, 6 R, 3 ER.
2) I imagine the dugout was roaring with confidence after consecutive three run innings in the early going. Three home runs off the bats of OF Je'Von Ward (above), 3B Ben Metzinger, and INF Eric Brown Jr. saw the T-Rats sitting on an all too elusive lead of late. I have to think Metzinger and INF Robert Moore, in particular, are lamenting their costly misplays in the rough fourth inning. Unfortunately, the bats just never found success again as the game progressed. Unfortunately, this is turning into an early season extended bout of finding ways to lose.
3) RHP Taylor Floyd continues to be a bright spot in the T-Rats bullpen. He pitched another scoreless competitive 1 1/3 IP tonight with nary a hit or walk while striking out a batter to boot. Floyd continues to bring intensity, fire, and execution to a team sorely needing it. A tip of the cap to the young hurler is definitely in order. Hopefully, he can continue throwing this effectively as he builds on his resurgence late last year. Let's remember: just two years ago now, Floyd was considered a bullpen gem in the system.
---
Final: Fredericksburg (Nationals) 8, Carolina 3  
Box Score / Game Log
Game Notes
Via the Mudcats' site, game details, please visit and review:
RHP Patricio Aquino did his work with his savvy blend of breaking balls and off-speed surrounding his low-90's heat. A 5 IP, 3 H, 1 BB, 2 ER, 5 K evening is going to give your team chances nearly every time you take the mound. He left the contest with the game knotted at 2-2. Unfortunately, the bullpen let the lead slip away from there.
Three Quick Strikes:
1) Two consecutive nights and two consecutive tough plays from relief pitchers - fielding challenging weakly hit dribblers - went awry for the Mudcats. Last night it was RHP Tyler Wehrle's throw to third base that ultimately cost the Mudcats the game - it was the right play but the throw simply sailed wide right. Tonight, RHP Shane Smith tried to clean-up the failed barehanded scoop from INF Daniel Guilarte and, with no play at first base, he turned and misfired to home plate allowing the runner to score. Credit simply goes to the FredNats as they are capitalizing on the close plays in what has been a very competitive series despite tonight's final score.
2) FredNats 19-year-old Dominican RHP Jarlin Susana may lack refinement to his pitching tools but this young man has a very intriguing package. He is an imposing bulldog of a presence on the mound at 6'6" and 235 pounds. - he looks the part of a grown man despite his young age. And, then he can blow 99-100 mph on the radar gun. You pair that with, at times, a quite nasty slider and you can see a floor here as a plus bullpen arm. He may be one of the more unheralded components of last season's OF Juan Soto (and, yes, 1B Josh Bell) trade, but if I were a Nationals fan I'd be quite pleased to have him as an unknown but intriguing lottery pick.
3) He ended his evening 0-for-3 and saw his BA dip back below the Mendoza line. But, INF Gregory Barrios had one of the more professional AB's of the entire evening when he managed to smash an 0-2 pitch to the deep part of right field advancing Luis Lara from second base and scoring Guilarte from third base. It was the first run of the Mudcats early comeback effort. And, Lara scored on a wild pitch the ensuing AB. It's small plays, detailed plays, like these that are typically the difference between winning and losing baseball. 
---
At the time of publish, we know we'll see RHP Justin Jarvis and LHP Adam Seminaris in the Rocket City double-header. We'll also see the T-Rats best chance at victory this week when RHP Tyler Woessner takes the hill - let's hope he continues to bring his best stuff. In Nashville and in Carolina, we are still looking at a 'TBD' on the hill. Stay tuned. As always, thanks for reading and thanks for supporting Brewers Minor League baseball.
Organizational Scoreboard including starting pitcher info, game times, MiLB TV links, and box scores
Current Milwaukee Brewers Organization Batting Stats and Depth
Current Milwaukee Brewers Organization Pitching Stats and Depth
Think you could write a story like this? Brewer Fanatic wants you to develop your voice, find an audience, and we'll pay you to do it. Just fill out this form.
MORE FROM BREWER FANATIC
— Latest Brewers coverage from our writers
— Recent Brewers discussion in our forums
— Follow Brewer Fanatic via Twitter, Facebook or email