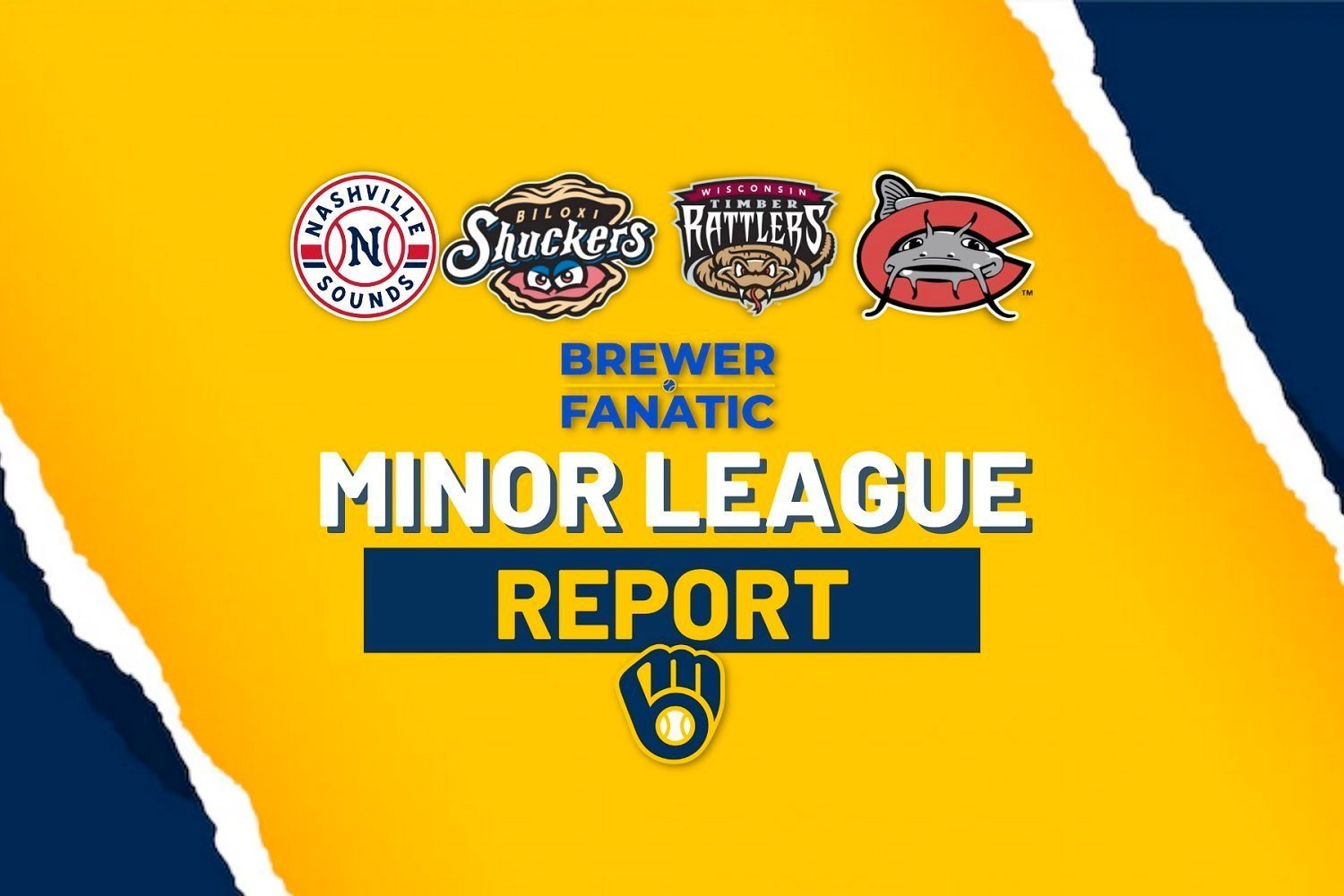 Image courtesy of BrewerFanatic
As Biloxi and Carolina were rained out, the organization was a combined 3-and-3 on a busy Thursday, with Nashville splitting its home doubleheader.
Transactions:
Game Action:

Nashville Pre-Game Media Notes
Game One Final: Nashville 7, Norfolk 1 (in 7 innings)
Box Score / Game Log

Game Two Final: Norfolk 3, Nashville 0 (in 7 innings)
Box Score / Game Log

Via the Sounds' website, game details, and we encourage readers to review the affiliate write-up as part of their Link Report routine: Sounds, Tides Battle to Doubleheader Split

The evening in Nashville started well, with LHP Thomas Pannone (6 2/3 IP, 1 R, 5 H, 2 BB, 10 Ks) striking out the first two hitters and left fielder Keston Hiura (1-for-4, HR, 2 RBIs) homering in his first at-bat in AAA ball since May 12. 
From there, Pannone didn't need any more assistance, exiting at 98 pitches, one out shy of a complete-game (7-inning) victory. 
Unfortunately, the night cap was another matter entirely, with LHP Ethan Small (2 IP, 2 R (1 ER), 3 H, 2 BB, 0 Ks) making a spot start, the team falling behind 3-0 by the 3rd inning and the Sounds' offense having only one hitter reach base over the final four innings.
Sounds' Extras:
Friday's outlook: RHP Janson Junk (4.23 ERA, 1.33 WHIP, 5.7 K/9 in 61 2/3 IP) is the scheduled starter, as the Sounds seek a win to even the series 2-2.
Biloxi Pre-Game Media Notes

Via the Shuckers' website, rainout details: Shuckers-Lookouts Postponed on Thursday Due to Rain

The Shuckers and Lookouts will immediately make up for the rainout with a Friday doubleheader, starting at 5:05pm Central Time.

Friday's outlook: Expect RHPs Justin Jarvis (3.32 ERA in 65 IP) and Tobias Myers (5.43 ERA in 59 2/3 IP) to lead Biloxi as they aim to double their 2-0 series lead.
Wisconsin Pre-Game Media Notes
Final: Lansing 4, Wisconsin 3
Box Score / Game Log

Via the Rattlers' website, game details: Rattlers End First Half with a Close Loss to Lansing

We are absolutely spoiled for content when Wisconsin plays at home:
The Timber Rattlers led 2-0 after one inning and 3-2 by the 4th inning, but weren't able to muster any offense thereafter, falling behind 2-1 in this week's home series.

That said, the 4,649 fans in attendance had to be excited to see 2022 first round pick SS Eric Brown Jr. (0-for-2, 2 walks, SB) back atop the lineup after a thumb injury. The sparkplug walked, stole his 23rd base and scored on a DH/C Darrien Miller (2-for-4, double, 2 RBIs) two-run double in the 1st inning, then walked again in the 2nd inning but was picked off.
Timber Rattlers' Extras:
Friday's outlook: 23-year old RHP Tyler Woessner (2.52 ERA, 1.24 WHIP, 8.8 K/9 in 60 2/3 IP) is another Rattler who may get a shot in AA ball at some point in the second half of the season, after the Southern League stops using those extra tacky baseballs of course. For now, he'll try to even the series 2-2 on Friday evening.
Carolina Pre-Game Media Notes (N/A)

Via the Mudcats' website, rainout details: Mudcats & Hillcats Cancelled Thursday

With the Carolina League season's first half officially ending on Thursday, this game will not be made up.

Friday's outlook: Don't be surprised if RHPs Alexander Vallecillo and Will Rudy tag-team Friday's game, looking to cover the entire nine innings, as the Mudcats need a victory to avoid a 3-0 series deficit.
Arizona Complex League Action

Final: ACL Athletics 2, ACL Brewers 0
Box Score / Game Log

Pitching dominated this game, with the teams combining to strike out 25 hitters while only conceding two doubles, five singles and three walks.

Unfortunately for the Brewers, four Athletics reached in the top of the 1st inning off of starting RHP Daniel Corniel (4 IP, 2 R, 3 H, 2 BB, 7 Ks), as they grabbed the 2-0 lead which held up over the remainder of the game, dropping the ACL Brewers record to 8-4.

ACL Brewers' Extras:
Dominican Summer League Action

Final: DSL Brewers #2 Squad 14, DSL Guardians Blue 2
Box Score / Game Log

Our DSL Dos squad led 3-1 after two innings, 6-1 by the 5th inning and then poured in another eight runs thereafter to improve their record to 7-6. They outhit the Guardians Blue team 14-to-5 and stole five bases while conceding none.

We'll have to start asking why the organization has been largely hiding 17-year old, 6'4" right fielder Christopher Vasquez (2-for-4, HR, double, walk, 3 RBIs), who now has 2 HRs, 3 doubles and 5 RBIs in just 12 career at-bats.

Still looking at the offense, each of left fielder Demetrio Nadal (3-for-4, triple, two doubles, walk, 4 RBIs) and SS Filippo Di Turi (3-for-5, double, walk, 3 RBIs) collected three hits, while combining to knock in seven runs. This was Nadal's first career game in the outfield after 47 starts at shortstop, third base or second base.

On the mound, starting RHP Melvin Hernandez (4 IP, 1 R (0 ER), 3 H, 0 BB, 1 HBP, 3 Ks) and 18-year old Carlos Maurera (3 IP, 0 R, 1 H, 0 BB, 2 Ks) were both impressive in reducing their season ERAs to 1.80 and 1.42, respectively.
Final: DSL Brewers #1 Squad 7, DSL Guardians Red 4
Box Score / Game Log

The DSL Uno game started as a pitching duel, 17-year old fireballer RHP Eric Prado (5 IP, 0 R, 1 H, 0 BB, 5 Ks matched the opposition through five scoreless innings.

The Brewers' bats didn't spur into action until they trailed 1-0 in the bottom of the 7th inning, with 1B/C Brayan Oropeza getting them started with a single, before big-time two-out singles from C Yannic Walther (2-for-5, 3 RBIs), OF/1B Argenis Aparicio and DH/OF Brian Sanchez (2-for-3, double, walk, 2 RBIs) put them ahead 5-1.

Key international signing center fielder Yophery Rodriguez (1-for-3, 2 walks, SB) also reached base three times.

We hope that you enjoy the Minor League Link Report. Good luck in Friday's 8-game MILB slate!

Organizational Scoreboard including starting pitcher info, game times, MiLB TV links, and box scores
Current Milwaukee Brewers Organization Batting Stats and Depth
Current Milwaukee Brewers Organization Pitching Stats and Depth
Think you could write a story like this? Brewer Fanatic wants you to develop your voice, find an audience, and we'll pay you to do it. Just fill out this form.
MORE FROM BREWER FANATIC
— Latest Brewers coverage from our writers
— Recent Brewers discussion in our forums
— Follow Brewer Fanatic via Twitter, Facebook or email
1