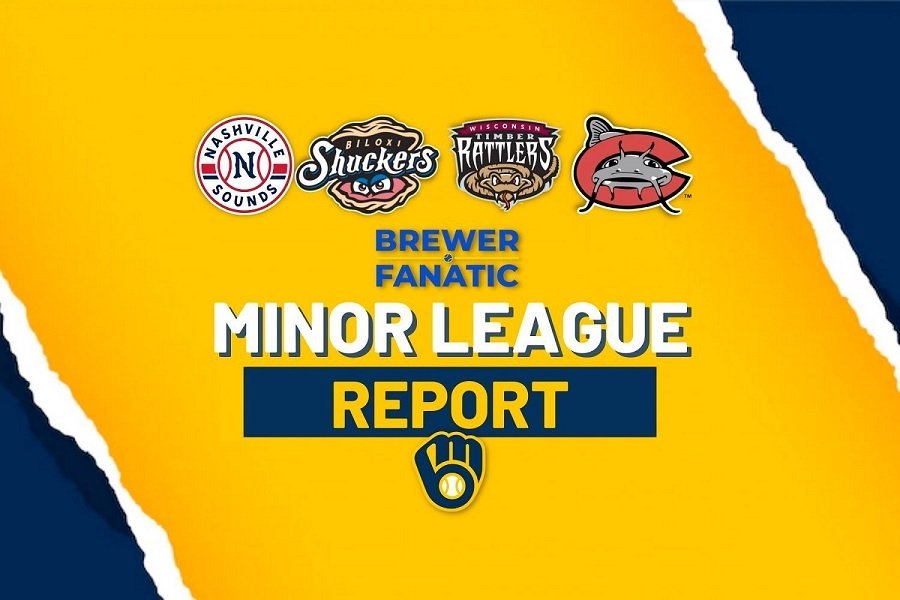 Image courtesy of BrewerFanatic
The Brewers' full season affiliates managed just one win in four games in spite of terrific starting pitching all around (Alexander Cornielle – 2 runs, 11 Ks; Brandon Woodruff – 1 run, 7 Ks; Victor Castaneda – 0 runs, 4 Ks; Caleb Boushley – 1 run; 3 Ks).

Offensively, the only clutch performers were catchers: Wisconsin's Darrien Miller (two-run homer) and Biloxi's Jakson Reetz (3-for-4, 2 RBIs).

The losses for Carolina and Biloxi unfortunately ended their hopes of capturing first half division titles.

In the short season leagues, the young men in Arizona and the Dominican Republic split their games, with two wins and two losses.

At the mid-point in the week, Carolina trails Down East 3-0, Wisconsin leads Quad Cities 2-1, Biloxi leads Pensacola 2-1 and Nashville is behind Gwinnett 2-1.

Thursday's Game Balls go to the aforementioned Cornielle, Boushley, Castaneda, Miller and Reetz.
Transactions:
INF Patrick Dorrian acquired from Baltimore in exchange for cash
OF Larry Ernesto reinstated from 7-day injured list and transferred to ACL Brewers Blue (but Ernesto unfortunately exited the game immediately after his first inning at-bat)
RHP Brandon Woodruff will make rehab start at High-A Wisconsin
Game Action:

Carolina Pre-Game Media Notes
Final: Down East 3, Carolina 2
Box Score / Game Log

Via the Mudcats' website, game details, and we encourage readers to review each of the affiliate write-ups as part of their Link Report routine: Cornielle Totals 11 Ks in 3-2 First Half Finale Loss

The surprising Mudcats needed a win to have any hope of carrying the first half division title, but instead lost a second consecutive one-run game at Down East. But don't blame starting RHP Alexander Cornielle, who pitched an exceptional game, giving up one run on three hits, while striking out eleven Wood Ducks and walking just one.

Carolina grabbed the initial 1-0 lead on two singles and two walks in the third inning, but Down East starter 24-year old Ryan Garcia escaped further damage via back-to-back strikeouts. A Wood Duck homer in the fifth inning, then RBI double in the sixth inning, put the Mudcats in a 2-1 deficit. The double came off of RHP Michele Vassalotti, who'd relieved Cornielle with two outs and a man on second base.

Leadoff eighth inning singles by Eduardo Garcia and Jackson Chourio had Carolina in great position to do damage, though Manager Victor Estevez may be asking himself whether the subsequent sacrifice bunt was worth it. Of course, the bunt served its intended purpose, moving the runners over so that the Mudcats tied the game 2-2 on a ground out, but it also removed one chance at a big inning.

Vassalotti and LHP Karlos Morales ably covered the 7th and 8th innings, but Morales ended up taking the tough loss by conceding a one-out walk-off home run in the bottom of the ninth inning for the Mudcats third consecutive loss at Down East.
Credit both defenses for registering zero errors or passed balls, but especially the Wood Ducks for throwing out both Mudcat attempted base stealers.
Performances of Note:
Eduardo Garcia – 2-4
Jackson Chourio – 1-3, walk, RBI
Jesus Chirinos – 1-3, walk
Alexander Cornielle – 5 2/3 IP, 2 R, 3 H, 1 BB, 11 Ks
Michele Vassalotti – 1 1/3 IP, 0 R, 1 H, 1 BB, 1 K
Karlos Morales (Loss) – 1 1/3 IP, 1 R, 2 H, 0 BB, 1 HBP, 2 Ks
Friday's outlook: RHP Jefferson Figueroa (6.39 ERA, 1.62 WHIP in 25 1/3 innings) is scheduled to start Game Four of the series in Down East, with Carolina hoping to avoid a fourth straight loss.
Wisconsin Pre-Game Media Notes
Final: Wisconsin 3, Quad Cities 1
Box Score / Game Log

Via the Timber Rattlers' website, rainout details: Woodruff Sharp in Rehab Start as Rattlers Win

Youtube highlights from Wisconsin's exceptional media team: 
Wisconsin was the sole full season winner on this night, getting significant help from three Major League rehabbers, giving the Timber Rattlers a 2-1 series lead at home against Quad Cities.

Rehabber #1 Brandon Woodruff cruised through the first four innings, retiring the first 12 batters he faced. Perhaps he tired a bit in the fifth inning, giving up a home run, walk and single, but he'll definitely be pleased with the five-inning, one run, seven strikeout effort.
Rehabber #2 Mike Brosseau opened the scoring in the fourth inning by singling and scoring on a sacrifice fly. Then Darrien Miller, in his second game back from an extended layoff, smacked his fourth homer of the season to bring home Tristan Peters (who'd singled) and give Wisconsin a 3-0 lead.
Rehabber #3 Trevor Gott pitched a clean sixth inning and RHP Christian Tripp a clean seventh inning before Tripp ran into trouble (double, walk) to start the eighth inning. RHP James Meeker picked him up, getting a sacrifice bunt out (thank you opposing manager), strikeout and line out to right field to maintain the 3-1 Wisconsin advantage.

Meeker then covered the ninth inning as well for the two-inning save, his fourth save of the year.

There were no stolen base attempts and the teams combined to go 0-for-14 with runners in scoring position.
Performances of Note:
Mike Brosseau – 2-4, double
Darrien Miller – 1-3, HR, 2 RBIs
Zavier Warren – 1-3, double
Joe Gray Jr. – 1-3, RBI, SF
Wes Clarke – 1-3, walk
Brandon Woodruff (Win) – 5 IP, 1 R, 2 H, 1 BB, 7 Ks
Trevor Gott – 1 IP, 0 R, 0 H, 0 BB, 1 K
Christian Tripp – 1 IP, 0 R, 1 H, 1 BB, 0 K
James Meeker (Save) – 2 IP, 0 R, 1 H, 0 BB, 1 K
AUDIO via the Rattler Radio Postgame Podcast: "The Timber Rattlers closed out the first half of the season with a 3-1 win over the Quad Cities River Bandits. Brandon Woodruff, Trevor Gott, and Mike Brosseau all contributed on rehab assignments from the Milwaukee Brewers. Chris Mehring & Kyle Lobner discuss the game and make way for Woodruff meeting the local media after his five inning start. Then, Darrien Miller, James Meeker, & Joe Ayrault join the fun."
Friday's outlook: RHP Justin Jarvis looks to continue his excellent run of form (2.38 ERA in last 45 1/3 innings with 57 strikeouts) and give Wisconsin a 3-1 series lead over Quad Cities.
Biloxi Pre-Game Media Notes
Final: Pensacola 10, Biloxi 6
Box Score / Game Log

Via the Shuckers' website, game details: Wahoos Top Shuckers 10-6

Biloxi needed to sweep Pensacola 6-0 this week to steal the first half division title, but couldn't grab a third straight win against the tough opponent. Again, don't blame the starting pitcher though, as RHP Victor Castaneda was his usual exceptional self in his first game back from injury. Unfortunately, he could only go three scoreless, one-hit, four-K, zero-walk innings though, as he works himself back to full strength.

The Shuckers bats were dormant most of the game, in particular over the first four innings as they registered zero hits over that span in the 0-0 game. This enabled Pensacola to grab a fifth inning 2-0 lead via two hits and a walk off reliever RHP Justin Bullock. The Blue Wahoo advantage then grew to 5-0 through three hits, a hit batsman and a passed ball in the sixth inning.

DH/C Jakson Reetz did his best to give Biloxi chances to stay in the game, delivering an inning-opening double in the fifth inning, then a two-out, two-run single to cut the deficit to 5-2 in the sixth inning.
The last big Biloxi chance came down 5-2, with two-on, one-out in the bottom of the eighth inning, but unfortunately Pensacola was able to get the inning ending ground ball double play.

RHP J.T. Hintzen will want to forget his five-run, six-hit ninth inning, which ballooned the deficit to 10-2.

On the bright side, Cam Devanney doubled in his final at-bat to extend his hitting streak to a Biloxi-record 16 games. This was part of a four-run, five-hit final inning to make the final score look more respectable.
Jakson Reetz – 3-4, double, 2 RBIs
Noah Campbell – 2-5, double, RBI
Cam Devanney – 1-4, double
Yeison Coca – 1-4, RBI
Terence Doston – 1-4, RBI
Victor Castaneda – 3 IP, 0 R, 1 H, 0 BB, 4 Ks
Justin Bullock (Loss) – 3 IP, 5 R (4 ER), 5 H, 1 BB, 1 K
Taylor Floyd – 1 IP, 0 R, 1 H, 0 BB, 2 Ks
Friday's outlook: RHP TJ Shook (3.50 ERA in 61 2/3 innings of High-A/AA ball) looks for his third victory with Biloxi, which would give the team a 3-1 series lead over Pensacola.
Nashville Pre-Game Media Notes
Final: Gwinnett 4, Nashville 1
Box Score / Game Log

Via the Sounds' website, game details: Gwinnett's Late Homer Clips Sounds 

For the third time, I say "Don't blame the starting pitcher." In this one, RHP Caleb Boushley was fabulous once again, conceding just one run over five innings of work.

Corey Ray is showing some nice resiliency in spite of recently being outrighted off of the Brewers' 40-man roster, throwing out a runner at third base in the top half of the second inning, then homering (fourth of the year) to tie the game 1-1 in the bottom half.
The tight 1-1 game was opened up in the seventh inning, as RHP Alec Bettinger yielded a single and two-run homer for a 3-1 deficit.

Nashville's offense rarely threatened against Gwinnett's terrific pitching, going 0-for-2 with runners in scoring position.
Performances of Note:
Corey Ray – 1-4, HR, RBI
Weston Wilson – 1-3
Caleb Boushley – 5 IP, 1 R, 5 H, 1 BB, 3 Ks
Jandel Gustave – 1 IP, 0 R, 0 H, 0 BB, 1 K
Alec Bettinger (Loss) – 3 IP, 3 R, 3 H, 2 BB, 3 Ks
Friday's outlook: RHP Dylan File (4.50 ERA, 1.28 WHIP, 7.2 K/9 in 60 innings) looks for a victory in his 14th game of the year (11th start) to even up Nashville's series at home against Gwinnett 2-2.
ARIZONA COMPLEX LEAGUE

Final: ACL Angels 5, ACL Brewers Blue 0
Box Score / Game Log

The Blue team fell to 3-10 on the season, producing more errors (4) than hits (3) in squandering a solid start from 19-year old RHP Jared Albir (3.14 ERA in 14 1/3 innings this year).

Three of the four Crew pitchers were effective here.
24-year old RHP Leoni De La Cruz (1.50 ERA in 6 innings) would like a promotion to Carolina, please. He entered a two-on, one-out situation in the sixth inning, ending the threat by inducing a double play ground out. He then worked around an error for a clean seventh inning.

20-year old RHP Anthony Perez made a successful stateside debut after his recent promotion from the DSL.

Only 87 degrees and overcast, must have been a welcome change.
All three Brewer hits were singles, 0-for-3 with RISP.

21-year-old switch-hitting OF Larry Ernesto made his 2022 debut, getting called out on strikes in the bottom of the 1st, and then was replaced defensively in left field immediately. Planned one-inning re-introduction? Remarkably, this is already Ernesto's fifth year in the system (2020 counts). Since signing for $1.7 million in June of 2017, Ernesto has posted a .605 OPS in 119 games, with a nearly 38% strikeout rate in 426 at-bats.
Performances of Note:
Quinton Low – 1-3, HBP
Jared Albir (Loss) – 5 1/3 IP, 2 R (1 ER), 5 H, 1 BB, 1 WP, 2 Ks
Leoni De La Cruz – 1 2/3 IP, 0 R, 0 H, 0 BB, 2 Ks
Final: ACL Brewers Gold 14, ACL Rangers 3
Box Score / Game Log

Much better day for the Golden Boys who improved their record to 8-5 with a nice 14-run, 13-hit, 8-walk, 2-HBP barrage in this road contest, 101 degrees in Surprise, 87 in Maryvale.

18-year old INF Jadher Areinamo (.804 season OPS) produced four of the team's ten RBIs in the game, as he makes his case for an opportunity in Low-A Carolina in the near future.

19-year old INF Jose Caballero (.444/.529/.519 after 27 at-bats, only three Ks) singled and scored on a wild pitch to grab a first inning 1-0 lead, before Areinamo restored the lead at 3-2 with a two-out, two-RBI single in the second inning.

18-year old SS Gregory Barrios, signed for $1 million in January 2021 (not to be confused with shortstop Johan Barrios, signed for $1.385 million in January 2022), reached base all five trips, two singles and three walks. OK, yes, we will confuse them often - both from Venezuela, but apparently not related. Gregory is a switch-hitter.

With three singles, left-handed swinging OF Luis Castillo pushed his OPS to 1.193 after 45 at-bats.

You'll see in the box score the lopsided result allowed for a bit of bench-clearing with some substitutions late.  However, one of the sub-outs was corner infielder Jesus Parra, playing first base in this game, who exited after being hit by a pitch in the 6th.

Only one earned run allowed among the four Gold pitchers, do not mean to slight them here, be sure to check the box and log as you see fit. 24-year-old indy ball signing Ryan Middendorf is doing exactly what players in that profile need to – dominate from the start. Thursday marked his second outing since signing out of the Frontier League.

Others performed well as you might imagine given the score.
Performances of Note:
Luis Castillo – 3-5
Jadher Areinamo – 2-5, double, 4 RBIs
Gregory Barrios – 2-2, 3 walks, RBI
Eduarh Colina – 2-4, walk, RBI
Jose Caballero – 1-3, walk, SF, 2 RBIs
Diego Larez – 1-3, double, walk, HBP
Jesus Parra – 1-3, double, HBP
Trevor Tietz (Win) – 1 1/3 IP, 0 R, 0 H, 0 BB, 2Ks
Final: DSL Tigers #1 Squad 6, DSL Brewers #1 Squad 1, seven innings as scheduled
Box Score / Game Log

The DSL Brewers1 squad fell to 3-11 on the season, colleting one run on four hits, though managed to walk seven times while leaving nine men on base.

Tigers put a 3-1 game out-of-reach with a three-spot in their final at-bat in the 6th.

All eleven combined hits in this game were singles, Brewers mustering four knocks only, though they reached eight times by walk or HBP. 

Second-year catcher Edgardo Ordonez, a left-handed bat (love those LH bats behind the plate) posted an .867 OPS last summer in 84 at-bats, and the 18-year-old Venezuelan native reached base twice here to move his early 2022 OPS to .900. One to watch.

We'll give 18-year-old 6'3" Dominican rookie RHP Leonardo Rivera a shoutout for stranding two inherited runners by fanning the only man he faced. Rivera had struggled in his three prior appearances.

The Brewers nearly tied the game in the fourth inning on INF Jose Pena's RBI single, but OF Duncan Garcia was gunned down at home and then exited the game early. Instead, the 2-1 deficit was as close as they could get.

OF Luis Lara (.928) and C Edgardo Ordonez (.900 OPS) each collected one hit, while 1B Arnys Rodriguez (.842 OPS) managed a walk.
Performances of Note:
Jose Pena – 1-2, walk, RBI
Edgardo Ordonez – 1-3, walk
Final: DSL Brewers #2 Squad 6, DSL Giants Black 3, seven innings as scheduled
Box Score / Game Log

Their victory lifted the Brewers2 club back to an even record of 7-7.

Giants committed five errors, though the Crew earned all but one of their runs regardless. Minus a passed ball, Crew #2 played clean defense.

C Eric Martinez doubled, the lone extra-base hit among the seven Crew knocks. It was a busy day for Martinez, he had an RBI single in the 3rd and would later in that frame steal home as part of a double steal.

The Brewers scored once in the 1st, twice in the 2nd, thrice in the 3rd.

INF Demetrio Nadal gave the team a first inning 1-0 lead by singling and scoring on an error, with INF Erick Reyes repeating the single-and-score-on-error procedure in the second inning before Martinez doubled and scored on a sacrifice fly for a 3-0 advantage.

Brewers2 opened the game up at 6-1 with the three-run third inning on RBI singles by Martinez and INF Edgardo Reyes, plus Martinez' aforementioned steal of home.

Things nearly came apart in the sixth inning for RHP Darling Solano, who gave up a double and two walks to start the frame, but he struck out three of the next four batters to escape with a 6-3 lead and earn the win.

Although Brewers2 went just 2-for-13 with runners in scoring position (stranding seven runners in the game), Giants Black were thankfully more futile in this regard (0-for-9, stranding 11 runners in the game).

OF Irving Iguales (.943 season OPS) collected one hit, though INF Juan Baez (.862 season OPS) went 0-for-4 (but with zero strikeouts).

As always, we invite you to check out the inning-by-inning game logs we link to. MiLB.com makes the logs easy to digest, and especially at the complex level, the logs will provide additional insights during your Link Report routine.

No intention of purposely not focusing a great deal on the complex league pitching today – nothing stood out as overpowering of note. The day's efforts ranged from middling to solid.
Performances of Note:
Eric Martinez – 2-3, double, RBI, SB
Edgardo Reyes – 1-2, HBP, RBI, SB
Francisco Nina – 1-2, walk, SB
Reminton Batista – 1-3, walk
We hope that you enjoy the Minor League Link Report. Good luck in Friday's seven games (including the DSL squads battling each other this morning)!
Organizational Scoreboard including starting pitcher info, game times, MiLB TV links, and box scores

Arizona Complex League Scoreboard

Dominican Summer League ScoreboardLinks for affiliate audio

Standings and sortable stat pages

Current Milwaukee Brewers Organization Batting Stats and Depth

Current Milwaukee Brewers Organization Pitching Stats and Depth
Think you could write a story like this? Brewer Fanatic wants you to develop your voice, find an audience, and we'll pay you to do it. Just fill out this form.
MORE FROM BREWER FANATIC
— Latest Brewers coverage from our writers
— Recent Brewers discussion in our forums
— Follow Brewer Fanatic via Twitter, Facebook or email