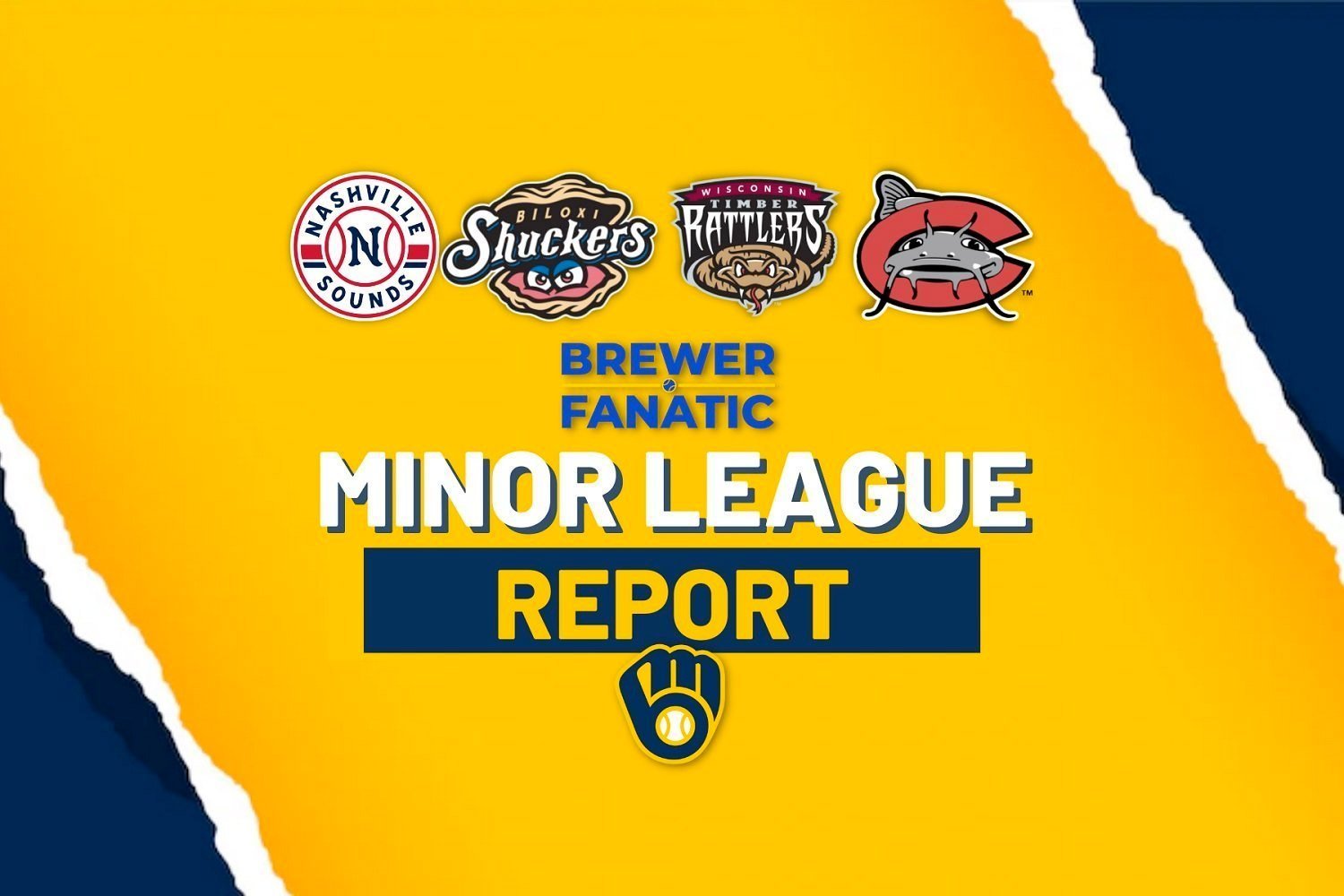 Image courtesy of BrewerFanatic
From the start, the Brewers made it clear they loved, loved, loved, LHP Robert Gasser. The immediate bump to AA Biloxi. The very-rapid promotion again to AAA Nashville. They have been rewarded as Gasser now leads all of AAA in K's, but it's so much more than that. Gasser looks the part, he talks the part - if you haven't yet, make your way to Page 8 of the Sounds' latest Ballpark Program Magazine, and let Gasser share much of his story. The Brewers will always be the losers of the Josh Hader trade, yet they may very well end up thrilled with it. Baseball, folks, baseball...
 
---

TRANSACTIONS:

- LHP Ethan Small placed on AAA Nashville's 7-day inured list
- RHP Johan Zapata assigned to DSL Brewers-2 from DSL Brewers-1
 
---

Final: Norfolk (Orioles) 5, Nashville 3, 11 innings, 

Via the Sounds' site, we encourage readers to review each of the affiliate write-ups as part of your season-long Link Report routine:
Tides Outlast Sounds in 11 Innings - Robert Gasser strikes out nine as Nashville falls 5-3 in extras
Box Score / Game Log

Here's the Sounds' Twitter Media page for a sprinkle of highlights.

Can't get enough -
In four games since returning to Nashville, Keston Hiura is 2-for-15 (one HR), two BB, six K.

So much for that one-hit-a-game streak for Brice Turang, positive details in the game summary you just read.

The trade deadline consumes much of the MLB media scene in terms of projections, Twitter, fan base discussion, so it's natural to wonder, even if it's just in minor (sometimes very minor) thoughts - 
Does Tyler Naquin have another opt-out date coming up? He could help some team.
Is Mike Brosseau's 40-man roster spot in danger? There seems to be replication of his missing talents elsewhere in the organization. It hasn't been his year at any level.
The Brewers' AAA catching depth is ridiculous, not in terms of any kind of real upside, but in pretty much guaranteed backup respectability and defensive prowess galore.
RHP Reese Olson would be a fine trade chip (oops).
 
---

Final: Biloxi 11, Chattanooga (Reds) 8

Via the Shuckers' site:
Shuckers Pound out 11 Runs, 14 Hits in 11-8 Win over Chattanooga - All nine players in the lineup reach base, eight of the nine tally a hit in Saturday night win
Box Score / Game Log

Tyler Black's .433 OBP (again, for those in the balcony - .433 OBP) - is partly fueled by nine HBP's. Given the flukish nature of Black's two 2022 significant injuries, we'd appreciate a little less of that, Southern League pitchers (and you, too, Tyler).

Has there been a more clear case in recent years of a player who should be immediately brought to the big league Brewers from AA than Black? That designated hitter spot is calling. And yes, there is fringe content on the current 40-man, there always is a way.

As for this wild game, I'll let the detailed game summary linked above, the crooked-number-filled box score and game log, plus all the calls via Voice of the Shuckers Javik Blake within the team's Media Feed, do most of the talking, but this is such a bizarre Southern League season. Oh no, the "sticky balls" (say goodbye to them after Sunday's game) are the cause of an insane number of strikeouts! Oh no, the league is seeing big offensive numbers across the board like no other season! Well, what is it? Veteran fans remember when the humid heavy Southern League air suppressed numbers for even the Prince Fielder's of the world year in and year out, where Corey Hart (and we love you, Corey Hart) won the 2003 League MVP with 13 HR's and an .807 OPS. It's a truly bizarro AA world down south these days.

I love the random insights made within our nightly discussion on the Minor League Forum here, such as Freddy Zamora now popping up at second base. There's also a separate thread with insights into injury situations across the chain, very insightful (oh, no, Harold Chirino).
---

Final: Wisconsin 8, Lansing (Athletics) 5 

Via the Timber Rattlers' site:
Gray Powers Rattlers Past Lansing - Second two-homer, six-RBI game of the season for Wisconsin outfielder
Pre-Game Media Notes (Download Link) via the team's Virtual Press Box

Box Score / Game Log

Currently "Fang's" Udder Tuggers jersey is bidding higher than Jacob Misiorowski's, though not as high as Eric Brown, Jr.'s. Love you Fang, but wow...everyone keep an eye on the bidding clock for this evening.

In his age 21 season, RHP Edwin Jimenez manages to impress even when allowing four runs. Fights through six innings, doesn't walk a batter, WHIP holds even at 1.04. Kudos, RHP Ryan Brady, on three strong frames for the win.

When all is said and done, OF Joe Gray, Jr. is going to go down as such an enigma (yes, mystery wrapped in a riddle"). Hi, Elaine Benes - but wow, that phrase goes back to Winston Churchill about the Soviet Union in 1939! Anyway, you could compile a lengthy Joe Gray career highlight package and tempt any other organization in baseball. Mix in the early-career pneumonia with extreme weight loss complications, the eye surgery re-do, the long droughts at the plate, and more. It's been a whacked-out journey for what is clearly a player with talent. The Brewers control Gray's rights for 2024,

Hard to believe the T-Rats production staff finds ways to improve on their work every time out:
---

Final: Lynchburg (Indians) 5, Carolina 1
Perez Hits Solo Blast in 5-1 Loss to Hillcats - The Hillcats earned a series-clinching victory while stifling the Carolina offense
Box Score / Game Log

We want so badly to believe in you, Hedbert, we do:
Check out Hedbert's April and May splits vs. June. The early hole (and all of 2022, for that matter) was dug so very deep that Perez will need to maintain his June pace to sharpen all our eyes and buoy our spirits. But at the very minimum, there's a good chance he'll be available for locals in Appleton to see in person late this summer and certainly in 2024.

Mudcats bats were pretty much dominated in this one, so we'll move on there.

Good work by 23-year-old long man RHP Tyler Wehrle, saving the staff after a second consecutive rough start by 20-year-old Alexander Vallecillo. Wehrle stranded two of Vallecillo's baserunners.
 
---

Final: ACL Guardians 8, ACL Brewers 7

Box Score / Game Log

This was a walk-off defeat for the 9-6 A-Crew. With one out in the bottom of the 9th in Goodyear, it was a line-drive single followed by a hit batter and then another line drive single, all against 21-year-old 3rd-year RHP Anthony Perez.

Fantastic middle-relief work from 20-year-old RHP Cristofher Carrasco, who not only tossed 3.1 scoreless, but stranded two runners for starting RHP Brailin Rodriguez. It's been a very, very rough three-outing start to 2023 for Rodriguez, who missed all of 2022, That's too bad, as toward the end of the 2021 season Rodriguez became the first pitcher to play for a Brewers A-ball team during his age-18 season in at least 15 years (hat-tip on that note to @CheeseheadInQC). 

The Maryvale Gang walked eight times, reached twice on HBPs, and had seven hits, including three doubles, but the damage came early, as the good guys were up 7-6 after just three innings. So, by now in the daily Link Report going, you know you need to minimally review the game log for those first three innings. One Guardians' pitcher contributed three balks and three wild pitches to the Crew's early cause.

Two Brewers had multi-hit games - 19-year-old RF Reece Walling, the LH high school bat who signed as an undrafted free agent (that's a rarity). Walling had one of the doubles.

18-year-old 2nd-year Venezuelan third baseman Johan Barrios singled twice. Barrios was a January 2022 $1,385,000 signing who has underwhelmed, but it's early. Despite being listed at 6'1", 180, Barrios has only seven XBH's (no HR's), in 157 pro AB's (16 BB, 45 K). This is Barrios' first stateside season, having debuted in the DSL.
 
---

Final: DSL Brewers #1 Squad 5, DSL Brewers #2 Squad 1, seven innings as scheduled

Box Score / Game Log

The Uno's now sport a record of 10-5, Team Dos now 7-8

The game was scoreless through four innings, as 18-year-old rookie Dominican RHP Esmir Suarez has now made consecutive strong five-inning starts for Brewers #1 (10 IP, 7 H, 2 ER, 1 BB, 8 K). For Brewers #2, the start went to 17-year-old Nicaraguan RHP Ranwell Smith, a second-year pro despite the youth. Smith limited the damage to two runs in the 5th despite allowing seven hits and two walks. Smith was assisted by fellow 17-year-old RHP Johan Zapata from the D.R., who stranded two one-out inherited runners (new dugout for Zapata, see Transactions at the beginning of this report).

However, Zapata did himself no favors, and was charged with two of the three runs Brewers #1 scored in the final frame. Zapata walked three and plunked 1B Ludwin Tejada during his outing, the only HBP of the game, always something to keep an eye on during this "friendly" rivalry. Last thing anyone would want to see is some sort of intra-organization injury via an HBP.

For Team #1, we saw the professional mound debut of switch-hitting corner OF/DH, 17-year-old Venezuelan native Argenis Aparicio. Aparicio had played in eight games already, .507 OPS through 26 AB's. Aparicio allowed a single while fanning one in a scoreless inning. It'll be interesting to see which path (or both) he follows.

It's been a lovely pro debut season for top $$ signee, 17-year-old Yophery Rodriguez. Showing wonderful patience, Rodriguez (single and two walks here), is now 13-for-47 with 20 (!) walks and ten K's, for a .277/.500/.404 line, three doubles and a HR among the 13 hits.

This was cleverly cited as "Brewer on Brewer" crime in our nightly forum thread. It's not known if Team Uno is also honoring the cheesehead tradition. This was the after-effect of Team Dos' lone run.
---

Despite what you see at the schedule link below as of this early AM post time (pretty funny actually with the dual photos), RHP Jason Alexander is not starting both the Biloxi and Nashville games on his rehab. The rookie kids are off on Sunday, as is the norm. Thanks for visiting with us, and here's to a fine Sunday for all!

Organizational Scoreboard including starting pitcher info, game times, MiLB TV links, and box scores
Current Milwaukee Brewers Organization Batting Stats and Depth
Current Milwaukee Brewers Organization Pitching Stats and Depth
 
Think you could write a story like this? Brewer Fanatic wants you to develop your voice, find an audience, and we'll pay you to do it. Just fill out this form.
MORE FROM BREWER FANATIC
— Latest Brewers coverage from our writers
— Recent Brewers discussion in our forums
— Follow Brewer Fanatic via Twitter, Facebook or email
2