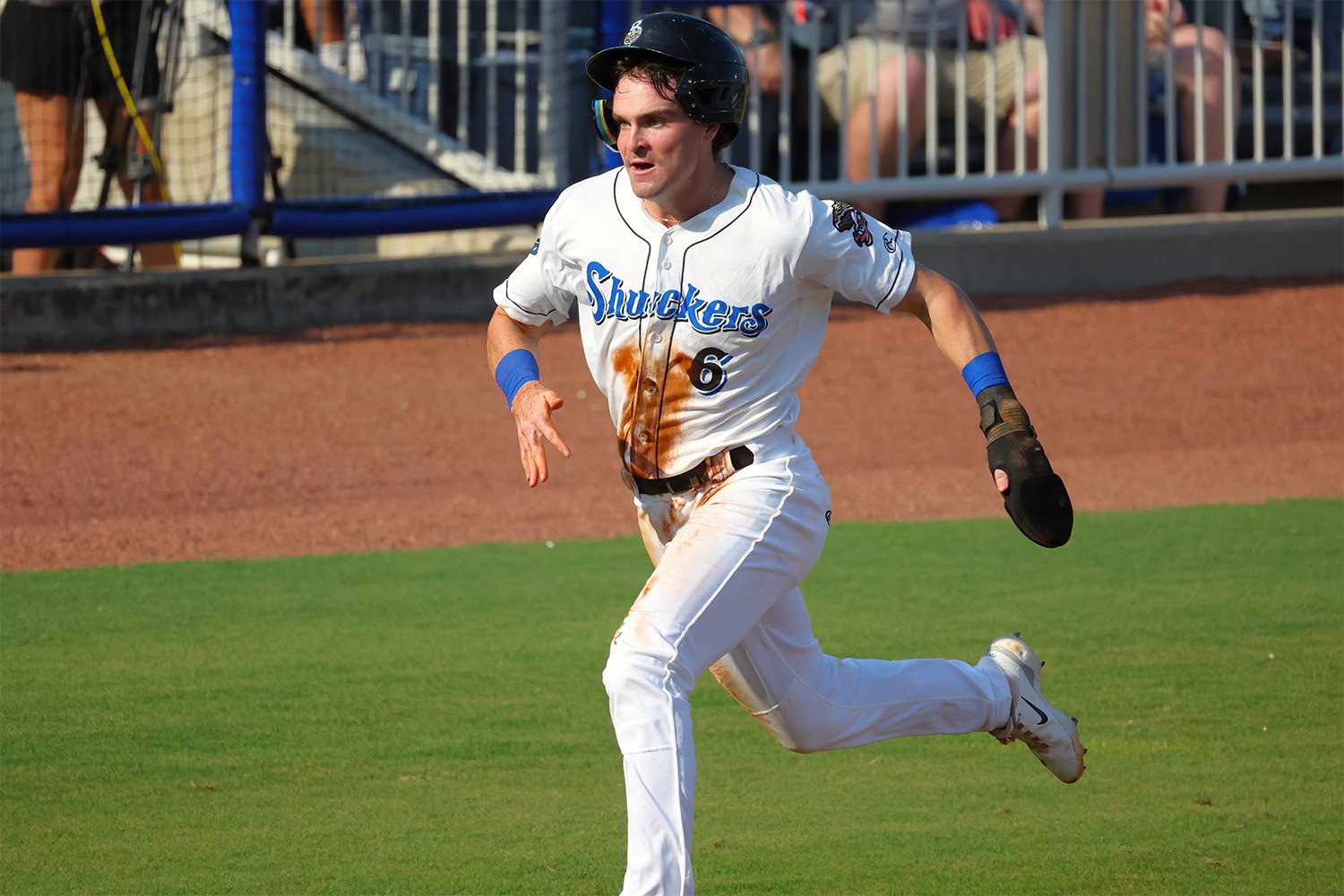 Image courtesy of Biloxi Shuckers - Tyler Black
For the week, Nashville, Biloxi and Wisconsin each tied their home series 3-3, while Carolina lost its home series 4-1.
Transactions:
Game Action:

Nashville Pre-Game Media Notes
Final: Nashville 3, Norfolk 2
Box Score / Game Log

Via the Sounds' website, game details, and we encourage readers to review the affiliate write-up as part of their Link Report routine: Sounds Cap First Half With Win Over Tides

Rehabbing RHP Jason Alexander (4 2/3 IP, 1 R (0 ER), 4 H, 0 BB, 3 Ks) re-discovered his early 2022 form and 2B Josh VanMeter (1-for-1, HR, 2 walks, HBP, RBI) homered while reaching base four times, leading Nashville to a chippy win over Norfolk in a game which saw three ejections. 
You'll find more video highlights at the Nashville Sounds Twitter feed.
Sounds' Extras:
Next week's outlook: Nashville (39-36) travels to face Cardinals' affiliate Memphis (40-34), with all full season affiliate series running from Wednesday-Monday this time around.
Biloxi Pre-Game Media Notes
Final: Chattanooga 10, Biloxi 6
Box Score / Game Log

Via the Shuckers' website, game details: Tyler Black Reaches 40 Stolen Bases in Shuckers Loss to Lookouts

The Lookouts jumped on starting RHP Christian Mejias (2 IP, 5 R, 3 H, 2 BB, 1 HBP, 1 K) with four runs in the 1st inning and remained relentless thereafter, scoring five more runs off of RHP TJ Shook (4 IP, 3 R, 4 H, 2 BB, 1 HBP, 4 Ks) and LHP Nick Bennett (1 IP, 2 R, 3 H, 0 BB, 2 Ks).

Biloxi didn't wilt, however, scoring in each of the first three innings and narrowing the game to 7-6 with a C Jeferson Quero (1-for-3, HR, walk, RBI) moonshot over the lights in the bottom of the 5th inning, his 10th of the year. 
Again, you'll see a lot more video highlights at Biloxi's Twitter feed.
Shuckers' Extras:
Next week's outlook: After an extra day off on Tuesday, Biloxi (34-35) hosts Braves' affiliate Mississippi (33-35).
Wisconsin Pre-Game Media Notes
Final: Wisconsin 12, Lansing 4
Box Score / Game Log

Via the Rattlers' website, game details: Offense Pounds Sixteen Hits to Beat Lugnuts 12-4

As always with Timber Rattler home games, take some time to enjoy detailed video highlights and the post-game podcast.

Starting his second game of the week, RHP Jacob Misiorowski (2 2/3 IP, 2 R, 4 H, 4 BB, 5 Ks) uncharacteristically struggled, conceding two doubles, two singles and four walks (including the final three batters, each after running counts full), but that strikeout capability to escape threats is something special.

Thankfully, the Wisconsin offense picked him up with four runs in each of the 2nd and 3rd innings as the team built an 8-2 lead and never looked back.
Timber Rattlers' Extras:
Next week's outlook: Wisconsin (28-39) hits the road to take on Royals' affiliate Quad Cities (32-37), with the series commencing on Wednesday.
Carolina Pre-Game Media Notes
Final: Lynchburg 3, Carolina 1
Box Score / Game Log

Via the Mudcats' website, game details: Lara Homers in 3-1 Series Finale Loss to Lynchburg

The final score was close, but the Hillcats really dominated in terms of opportunities, going 2-for-18 with runners in scoring position versus just 0-for-3 for Carolina, who appear to need an offensive infusion.

Lynchburg led 3-0 after three innings.

18-year old center fielder Luis Lara (2-for-4, HR, RBI) appeared to be the team's best hope for clawing back into the game thereafter, striking out on a pitch timer violation with a runner aboard in the 3rd inning, homering to lead off the 6th inning and singling to bring the potential game-tying run to the plate in the bottom of the 8th inning. 
Mudcats' Extras:
Next week's outlook: Carolina (34-32) stays in North Carolina, heading to Kinston to take on Wednesday to take on Rangers' affiliate Down East (39-25).
We hope that you enjoy the Minor League Link Report. Good luck in the three Rookie level games on each of Monday and Tuesday, with full season affiliates resuming action on Wednesday, June 28.

Organizational Scoreboard including starting pitcher info, game times, MiLB TV links, and box scores
Current Milwaukee Brewers Organization Batting Stats and Depth
Current Milwaukee Brewers Organization Pitching Stats and Depth