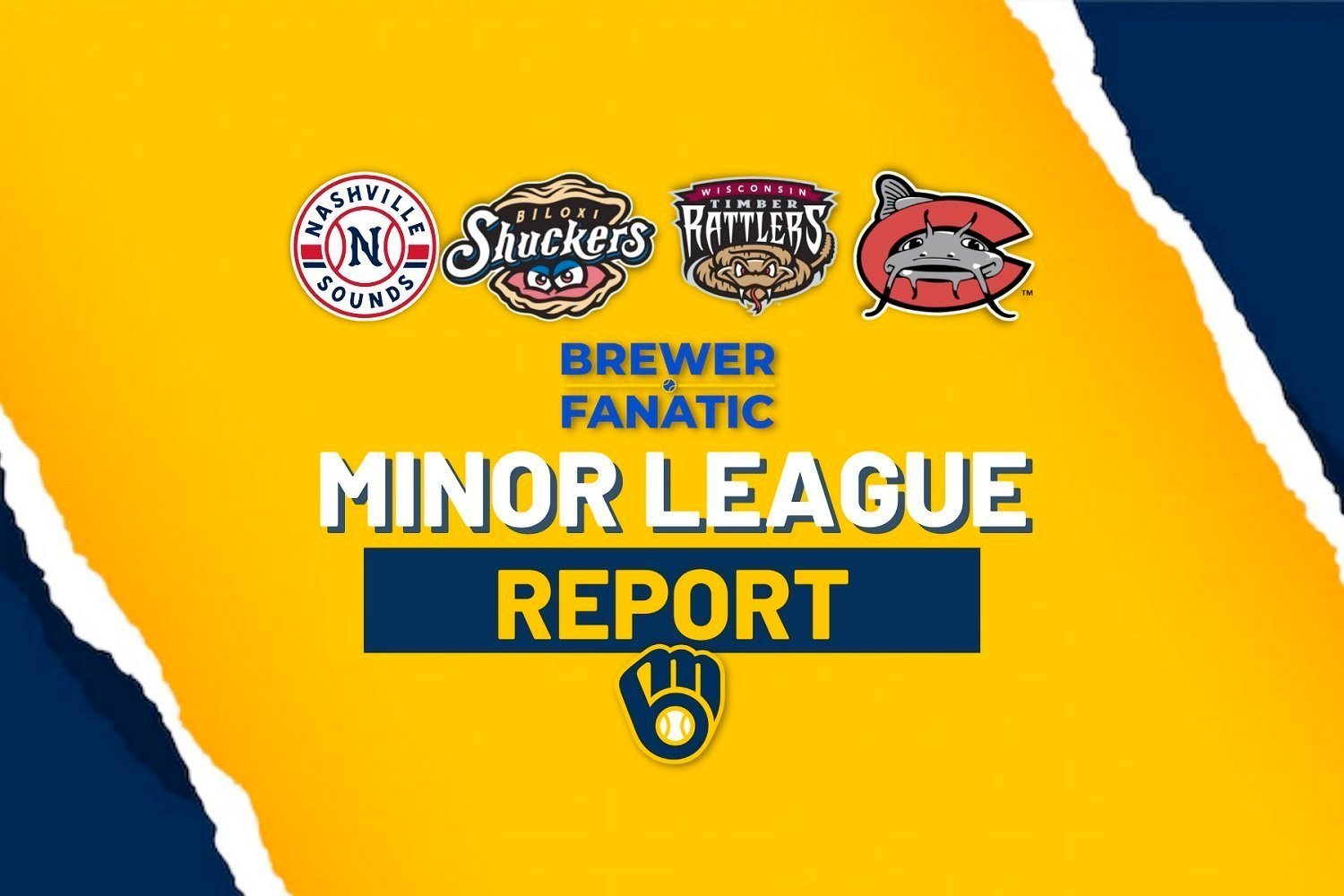 Image courtesy of BrewerFanatic
Transactions:
Brewers RHP Peter Strzelecki optioned to Nashville.
RHP Trevor Gott and INF Mike Brosseau returned to Milwaukee from Wisconsin.
***
Nashville Pre-Game Media Notes
Final: Nashville 2, Gwinnett (Braves) 1
Box Score / Game Log
Via the Sounds' site, game details, and we encourage readers to review each of the affiliate write-ups as part of their Link Report routine:

Small Leads Vihuelas de Nashville to Victory - Nashville starter Ethan Small strikes out season high in 2-1 win
Small, Hobie Harris and Luke Barker needed to be near-perfect as the Sounds did not have an at-bat with a runner in scoring position all game. So yes, thank you, David Dahl -
It's going to be pretty darn interesting how the big-league Brewers end up shaking out the three-catcher situation - first game in a Sounds uniform for Pedro Severino:
Ethan Small's game logs - you have to go back six starts to May 24th for the last time Small had a truly positive result.
***

Biloxi Pre-Game Media Notes via the Shuckers' Virtual Press Box    
Final: Pensacola (Marlins) 8, Biloxi 7
Box Score / Game Log 

Via the Shuckers' site, game details, please review: 

Late Rally Comes Just Short In 8-7 Loss to Wahoos - Valerio, Devanney & Coca All Record Multi-Hit Efforts
Despite five walks, starting LHP Brandon Knarr limited the damage, so it was left to normally reliable relievers Luis Contreras and Harold Chirino, but each faltered. Both had recently come off relatively brief injured list stays (this was not the first outing back for either).
Originally given the day off, Joey Wiemer was called to pinch-hit in a big spot in the 9th, down 8-6, runners on 2nd and 3rd, no one out. Wiemer was called out on strikes, and though another run came around on Yeison Coca's single, the rally came up just short.
Coming off a combined six hits in games of June 16th and 17th, we haven't seen 2B/3B Gabe Holt on the field since.
Noah Campbell reached base twice more, this was noted prior to Friday's game: 
Just back from Nashville, Nick Kahle goes oppo. Kahle has only 17 at-bats on the season, acting primarily as the bullpen catchers at both locales while healthy on the rosters, must be frustrating -
Here's a reminder that Felix Valerio does not turn 22 years old until December. No concerns at all about a .262/.326/.454 line, 22 of 60 hits for extra bases. As you've probably noted via game summary and box score, a 4-for-5 night:
***
Wisconsin Pre-Game Media Notes via their all-encompassing Virtual Press Box
Final: Wisconsin 5, Quad Cities (Royals) 3
Box Score / Game Log
Via the Timber Rattlers' site, game details, please review:
Wisconsin Wins Fourth Straight with 5-3 Victory - Gray homers twice & Kelly strikes out nine for Rattlers against Quad Cities
Joe Gray teases us with torrid runs, and hopefully this one can sustain, well, certainly not at a pace of three XBH's each game, but just a consistent solid stretch, even if it has fewer spectacular moments.
Tyler Black made his fourth start at third base this season (28 starts at second base, 11 in center field).
Other than the 4.27 BB/9, every other number, ratio, etc. in 22-year-old Antoine Kelly's 2022 stat line is absolutely glorious. Hope you folks in Appleton have enjoyed his stay, it may not last much longer.
***
Carolina Pre-Game Media Notes (unavailable)
Final: Down East (Rangers) 5, Carolina 0
Box Score / Game Log

Via the Mudcats' site, details, please review:

Mudcats Held to One Hit in 5-0 Loss in Kinston 

In this terrible and rudely timed offensive funk of five games, the Mudcats have scored four total runs on just 20 hits, no effort weaker than Saturday's.
So, on that dour note, time to speculate, and this should be fun:

Is Appleton about to have a Jackson Chourio welcoming party? Click to see what our forum poster @ARobsBrewCrew picked up on while the rest of us simply saw Chourio (and shortstop Eduardo Garcia) absent from Saturday's Mudcats lineup.
Let's see, Mudcats first half playoff run is complete (and sadly fell short).
The Timber Rattlers' homestand continues into next week (home debuts are fun).
So yeah, let's run with it because it's exciting as all heck! (While reminding you we have nothing else to base this on, other than a Chourio callup at this point makes complete sense. A bit less confident on the Garcia vibe, but that'd be fine, also.) 

***

Final: ACL Brewers Gold 12, ACL Brewers Blue 8, seven innings as scheduled
Box Score / Game Log

The 9-6 team defeats the 3-12 squad.

The losing Blue squad scored eight runs on only three hits, as Gold pitchers walked seven and Gold committed three errors, so that doesn't shine brightly on either side. Coaches frown.
It was 12-1 headed to the final inning, when Blue scored seven unearned runs - in fact, their one earlier run was unearned as well.
Check out the dueling stat lines for the two starters, quite the dichotomy. Kudos to 19-year-old 2nd year RHP Jeison Pena on four perfect innings with five K's.
Plenty for you to peruse from the offensive side within the box.

***

Final: DSL Brewers #1 Squad 4, DSL Phillies Red 3, seven innings as scheduled
Box Score / Game Log

Pizzeria Uno sponsored the #1 celebration as the team we had just pointed out yesterday was last in the 49-team standings moves to 4-12 with this win.
Infielder Gery Holguin has split his time at SS, 3B, 2B, and he cracked his 2nd home run here. By the way, Holguin (.732 OPS) is still 16 years old.

First pro home run for $1.23 million shortstop Jhonny Severino, the 17-year-old switch-hitter who has struggled in the early going.

***

Final: DSL Tigers #2 Squad 9, DSL Brewers #2 Squad 0, seven innings as scheduled
Box Score / Game Log

Starting LHP Anthony Flores, 17, couldn't escape the first inning, but defense and the feeble bats also to blame as the #2 club drops back to .500 at 8-8.

Click above as you dare.
***
Sunday Funday for all the rookie kids as they enjoy a day off. Nashville and Biloxi provide evening action if you so wish to check things out after the Chi-Chi Gonzalez-led Crew take the series from Toronto. 

Enjoy your day, I am off to our local town beach awaiting word on Mr. Chourio. If it's a false alarm, oh well...

Organizational Scoreboard including starting pitcher info, game times, MiLB TV links, and box scores

Standings and sortable stat pages

Current Milwaukee Brewers Organization Batting Stats and Depth

Current Milwaukee Brewers Organization Pitching Stats and Depth

 
Think you could write a story like this? Brewer Fanatic wants you to develop your voice, find an audience, and we'll pay you to do it. Just fill out this form.
MORE FROM BREWER FANATIC
— Latest Brewers coverage from our writers
— Recent Brewers discussion in our forums
— Follow Brewer Fanatic via Twitter, Facebook or email
2