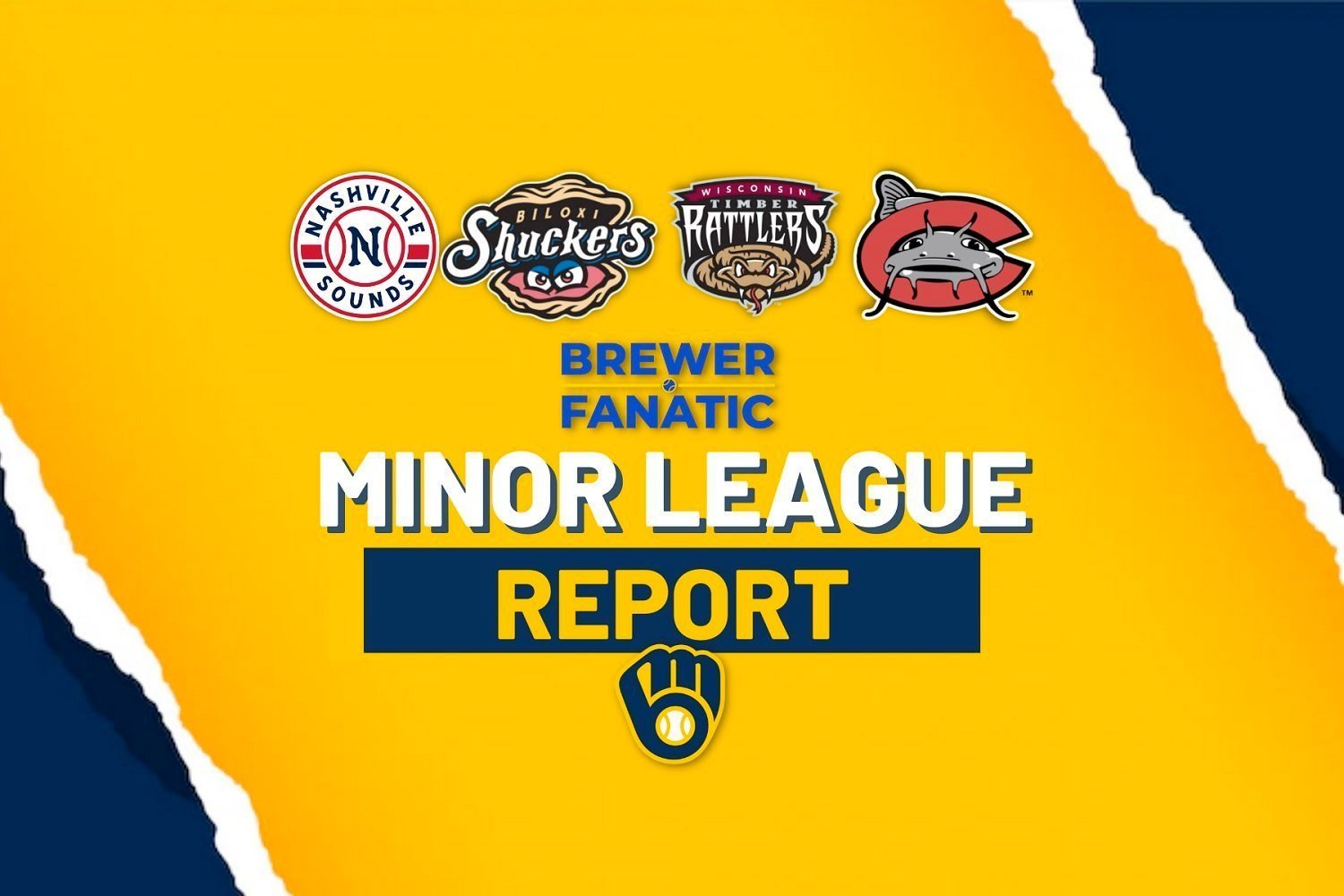 Image courtesy of Brewer Fanatic
Transactions: 
OF Hendry Mendez was assigned to the ACL Brewers to begin a rehab assignment
OF Luis Castillo was assigned to the ACL Brewers to begin a rehab assignment
C/1B Tayden Hall was assigned to the ACL Brewers to begin a rehab assignment
INF Beyker Pastran was released by the ACL Brewers
Highlights from the Week that Was:
The accolades and the recognition keeps pouring in for INF Tyler Black - and, rightfully so. 
Let's skip down to Zebulon and recognize two very worthy young men for their ongoing stellar play - INF Gregory Barrios and OF Luis Laras, respectively:
The future is indeed very very bright and filled with intrigue within the ongoing DSL pipeline.
---
Final: ACL Dodgers 4, ACL Brewers 1
Box Score/Game Log

I don't know about you but I'm just about sick and tired of our DSL and ACL squads losing to the Dodgers. Yeesh! That's now five straight losses to the Dodgers clubs by my watch. This was actually a 1-1 game headed into the top of the seventh frame when talented young lefty Anferrny Reyes, gave up a long ball and then appears to have lost all control. The game logs read: HR, ground out, walk, wild pitch, wild pitch, walk, wild pitch, walk, pitching change. Yikes.
Of the young men sent on rehab (listed above), it would appear, at face value, C/1B Tayden Hall had a nice first outing - 1-for-1, 1 BB, 0 K. INF Dylan O'Rae continues to build and build after a sluggish start - 2-for-3, 1 BB, 0 K, 1 SB (13th SB overall). The lone remaining offensive highlight is the ongoing superb output of C Edgardo Ordonez. He hit his first long ball of his ACL season tonight and finished with a 1-for-1, 2 BB, 1 HR final line. Ordonez pushed his season OPS to the 1.114 mark in the process - yet another catcher to track. This is a lefty bat at the catcher position we would be wise to continue monitoring given his very solid consecutive years in the DSL.
On the pitching side, RHP Yorman Galindez deserved better after 4 IP, 2 H, 1 R (unearned), 3 BB, 4 K. And, we can thank RHP Gerson Caladzilla for cleaning up Reyes' mess and giving his squad an opportunity to attempt a comeback - 2 2/3 IP, 2 H, 0 BB, 2 K, 0 ER. The ACL Crew fall to 9-7 - they have lost five straight games by a combined nine runs. 
---
Final: DSL Braves 10, DSL Brewers #1 2
Box Score/Game Log

The DSL Cerveceros Uno did manage to 'jump' out to a 1-0 lead in the first frame. And, well, it was pretty much all downhill from there. 17-year old high-priced 2023 International Free Agent signing SS Kevin Ereu was back atop the lineup after missing the past two weeks. He led off the game with a two-bagger and ultimately scored on a wild pitch. Hence, that early 1-0 lead.
However, when you glean a basic box score and see the Cerveceros Dos were 0-for-6 with RISP to the Braves 7-for-22 mark you can quite simply make the conclusion: this wasn't their day. Looking deeper, we see four errors committed by the young Uno. We see the pitchers - Venezuelan RHP Anthony Flores the worst for wear - allowed 16 H, 6 BB, 6 K, and 8-of-10 ER. One word applies here: shellacking. After Ereu, offensive highlights included aspiring German catcher Yannic Walther's two walks and INF Joan Gutierrez's SB. That pretty much sums it up, folks.
---
Final: DSL Phillies White 9, DSL Brewers #2 7
Box Score/Game Log
The Cerveceros Dos led this contest 3-0 heading into the sixth inning. That quickly changed. RHP Bryan Rivera had a stellar outing going until that fateful inning - his final line of 5 1/3 IP, 5 H, 1 BB, 1 HR, 4 ER, 6 K tells a different story, sadly. Four of the five hits came in his sixth and final inning - including a two-run homer. It simply wasn't to be.
The DSL Dos showed some fight, however - they fought back immediately when they scored three tying runs of their own in the bottom half of the same inning.
Unfortunately, the Brewers #2 were outscored 3-1 in the final three frames. Ultimately, the young men will likely look to their 4-for-13 mark with RISP as the deciding factor. After scoring their seventh run, and trailing 9-7, in the bottom of the eighth the Dos had men on first and second base with two down. C Erik Martinez struck out for the third time and the threat was over. That was the last scoring opportunity the young men had as they finished their ninth inning with three consecutive ground outs.

OF Ramon Moreno continues to catch my eye with his ongoing healthy BB:K ratio and 4-of-10 hits being XBH's. He hit his second long ball of his 2023 season and plated three runs in the process. There are several intriguing and ongoing offensive storylines for the young Brewers Dos, however - check the box score. The young ballers fall to two games under 0.500 at 7-9 overall. 
 
---

In order to give every MiLB affiliate an opportunity for a July 3rd or July 4th Fireworks Night attendance boon, the next usual six-game series are delayed by one day to a Wednesday-thru-Monday schedule. As such, we'll have only another three rookie complex games on Tuesday.

Organizational Scoreboard including starting pitcher info, game times, MiLB TV links, and box scores
Current Milwaukee Brewers Organization Batting Stats and Depth
Current Milwaukee Brewers Organization Pitching Stats and Depth
Think you could write a story like this? Brewer Fanatic wants you to develop your voice, find an audience, and we'll pay you to do it. Just fill out this form.
MORE FROM BREWER FANATIC
— Latest Brewers coverage from our writers
— Recent Brewers discussion in our forums
— Follow Brewer Fanatic via Twitter, Facebook or email