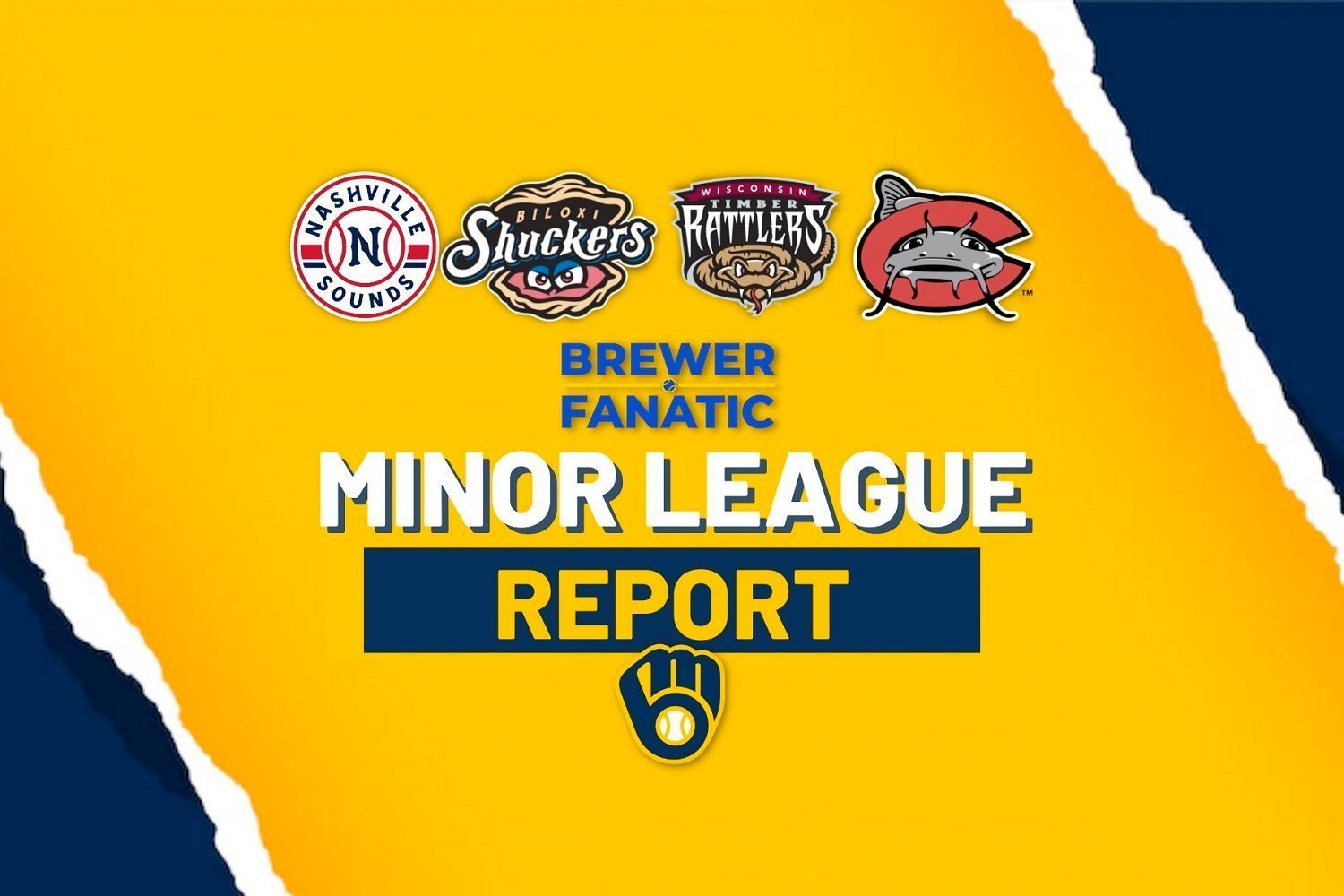 Image courtesy of Brewer Fanatic
Transactions:
LHP Justin Wilson was sent on a rehab outing with the ACL Brewers
RHP Jesus Rivero was assigned to the Carolina Mudcats from the ACL Brewers 
** Special thanks to @wiguy94who shared this regarding Rivero's promotion:
---
Final: ACL Reds 17, ACL Brewers 12
Box Score/Game Log

In a portent of things to come, the ACL Crew were giving back every run scored in the early going. A 1-0 early lead was immediately 1-1. A 2-1 deficit was tied immediately 2-2 in the following frame only to be squandered in that same inning when LHP Osbriel Mogollon came on in relief and struggled finding the plate and conceded three runs of his own. It's been that kind of run for the ACL Crew of late. Going a tad further discussing Mogollon - one of the surprising darlings of the Brewers 2022 DSL season - we see his 2023 jump to the ACL has had its challenges. A three run, three walk, blow-up initial inning of work tonight will do no favors for his WHIP or his BB:K ratio. And, sadly, it got worse from there as Mogollon was hit hard to start his second inning of work. In total, his final line was 1 IP, 5 H, 3 BB, 0 K, 6 ER. There was ample reason for continued optimism before tonights uncharacteristic output so we'll just have to continue monitoring his outings ahead. 

Rehabbing LHP Justin Wilson appears to have pitched well in his inning of work - hey a rare pitching highlight! Aside from allowing a one-out solo home run, he K'd the side swinging. Hopefully he can keep building up his arm as he works his way toward higher level rehab outings down the road. Wilson could very much be a wild card in the Brewers bullpen depth chart.  
In a game that featured 26 total runs by the fifth inning, there are bound to be some offensive highlights. You are best served to scan the box score. Highlights include rehabbing OF Hendry Mendez and his 4-for-4, 1 R, 1 RBI line. Surging INF Dylan O'Rae finished another fine evening with a 2-for-4, 1 2B, 1 R, 1 RBI, 1 BB, and 1 K line while grabbing his 14th stolen base as well. And, rehabbing OF Luis Castillo went 2-for-3, 1 R, 2 RBI, and 1 BB. All good things. We greatly thank INF/OF Miguel Briceno for his scoreless inning of work on the hill. That's right, the lone scoreless outing came from the hand of a field player. The ACL Crew have now lost six straight and fall to 9-8 overall - 1/2 game back of the now first place 9-7 Reds.
---
Final: DSL Dodgers Mega 13, DSL Brewers #1 7
Box Score/Game Log

The Brewers Uno actually led this game 7-6 heading into the ninth and final frame. And, well, it pretty much all fell apart at the hands of 16-year-old Nicaraguan RHP Saul Sanchez and 17-year-old Dominican RHP Oliver Camilo. Walks, wild pitches, singles, and a three-run homer for good measure. And, to be absolutely fair to these young arms, one has to wonder what might have been had INF Gery Holguin (who had a break-out game at the plate) not committed a throwing error to start the frame. 

Before that mini meltdown, however, the Brewers Uno had been playing a highly competitive game. They held a 3-1 lead after the fifth frame. They reclaimed a 6-4 lead in the bottom of the sixth. It was a see-saw affair before the top blew off. Like his cohort on the Brewers #2 (discussed below) RHP Jesus Flores, one can't but lament 17-year-old Nicaraguan RHP Enniel Cortez wasn't dealt a better hand. Cortez appears to have been superb - 4 IP, 3 H, 1 BB, 1 ER, 6 K. Cortez definitely remains one to watch moving forward - 4 GS, 18 2/3 IP, 16 H, 2 HB, 2 BB, 22 K, 5 ER. An extremely intriguing young arm.
Offensively, the Brewers Uno were quite productive with the lumber (12 total hits) but, they lacked the execution - 4-for-14 with RISP. Circling back to Holguin, I couldn't have put it better than @damuelle who once again added flavor to our game thread:
Quote

It's break-out day for 17-year old INF Gery Holguin, who smacked a 3-run homer in the 6th inning to give DSL Brewers-1 a 6-4 lead over Dodgers Mega, then tripled in a run in the 8th inning to grab another lead at 7-6, part of reaching base 4 times today (HR, triple, single, walk).

Holguin received the 4th-highest signing bonus in our 2022 class, though it didn't break the bank at $450,000. Downshifted to playing 3B/1B this year (after getting 40% of his innings at SS last year, the rest at 3B/2B) and batting 9th today, let's hope this is the start of something amazing.
Also of note within the box score, OF Yophery Rodriguez and his 2-for-4, 2 R, 1 RBI, 1 3B, 1 BB, 2 K. He continues to flirt with a meaningful break-out of extended production. INF Luiyin Alastre was the lone remaining multi-hit batter with a 2-for-3, 2 R, 1 BB performance. 
With the loss, the DSL Brewers #1 fell to 10-7 overall and remain in second place. They trail the first place Dodgers Bautista by seven games in the DSL North League.
---
Final: DSL Dodgers Bautista 8, DSL Brewers #2 4
Box Score/Game Log
Let's flip the script. Unlike the late Brewers Uno lead above, the Brewers Dos were trailing 8-0 heading into the eighth frame. After plating three runs with two outs, the Dos still had runners on second and third before C Estefano Lozano struck out to end the threat. A lone OF Christopher Vazquez solo shot in the ninth (his third of 2023) was the last gasp of a failed comeback bid. The Dos fell to three games under 0.500 at 7-10.
Speaking of Vazquez, our cohort @damuelle again adeptly pointed out: at 17 years of age he certainly isn't getting the lion's share of playing time, but, you'd be hard pressed to find a more opportunistic bat amongst the DSL Cerveceros outfielders. In just 18 total trips to the plate, Vazquez has six XBH's - 3 2B and 3 HR. That's a wily 0.400 BA and 1.700 OPS. I'd personally love to see this young man get some more opportunity.
The final score was a real shame for starting pitcher, 18-year-old Venezuelan RHP Jesus Flores, who appears to have dealt some very fine work in 4 IP, 1 H, 0 BB, 1 R (unearned), 7 K. This was far and away, Flores' best outing of 2023 and it came against, perhaps, the most worthy DSL foe of 2023. We certainly hope for more outings like this in the games ahead. Of the eight total runs allowed by the greater pitching staff, only three were earned - the young Brewers Dos committed five errors on the day. That's not going to help your cause on most nights and it certainly did little to boost the outcome favorably today.
There are encouraging signs within Brewers Dos offensive box score - I encourage you to take a look. This certainly feels like a game where sloppy defense allowed a very good team just enough opportunities to surge to an insurmountable lead. Hopefully, the young Brewers Dos will fare better their next time on the diamond.
---
We are back to our full slate of evening affiliated games. We'll have five games total on tap as the ACL Crew will look to stop their ongoing skid versus the ACL Reds once again. I don't know about you, but starting the week 0-6 has me looking forward to a victory. I'm going with the unexpected: RHP Cameron Wagoner is going to shutdown Quad Cities with his best outing of 2023. We can only go up from here. As always, thanks for reading and thanks for supporting Brewers Minor League baseball.
Organizational Scoreboard including starting pitcher info, game times, MiLB TV links, and box scores
Current Milwaukee Brewers Organization Batting Stats and Depth
Current Milwaukee Brewers Organization Pitching Stats and Depth
Think you could write a story like this? Brewer Fanatic wants you to develop your voice, find an audience, and we'll pay you to do it. Just fill out this form.
MORE FROM BREWER FANATIC
— Latest Brewers coverage from our writers
— Recent Brewers discussion in our forums
— Follow Brewer Fanatic via Twitter, Facebook or email