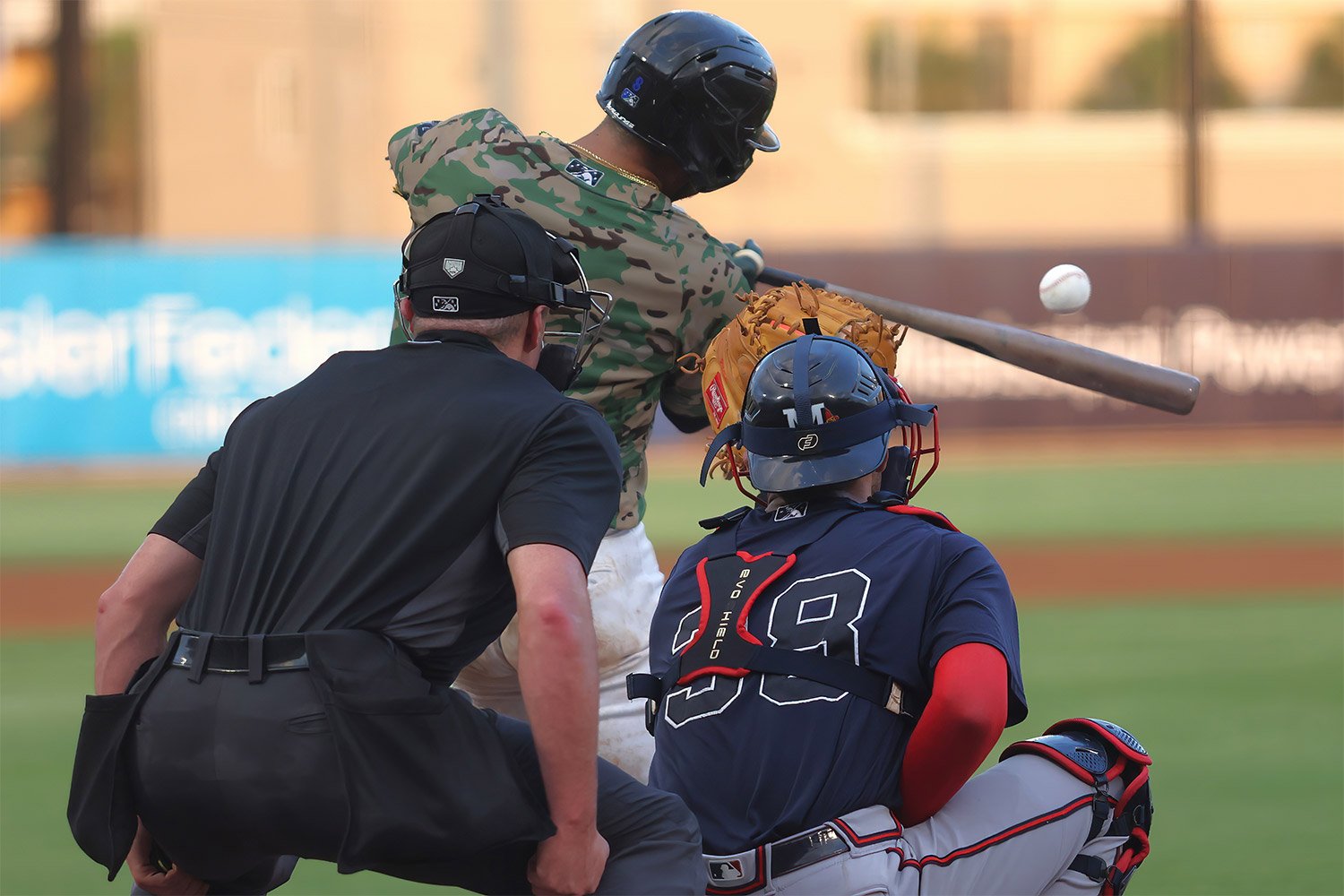 Image courtesy of Biloxi Shuckers
Game Balls:
Transactions:
If you are a frequent visitor to our 'Minor League Transactions' thread, you would have noticed Jim was ahead of a couple of these official transactions. In our articles, we lean conservative as we typically wait for the official announcements should some strange snafu slow or delay the process. Regardless, congratulations are in order:
The Brewers signed RHP

 Pablo Marcelus

 

and assigned him to the DSL Brewers 2 - he is presently listed on the Restricted List, however
---
Final:  Nasvhville 12, Memphis (Cardinals) 4
Box Score / Game Log

Game Notes 

Via the Sounds' site, game details, please visit and review:

Sounds Drop a Dozen on Memphis

The Sounds returned to Memphis' AutoZone Park to begin their second half right where they started their game number one of the 2023 season. And, let's just say it: it always feels great to beat a Cardinals anything. Yes indeed. RHP Caleb Boushley again demonstrated he is hitting his stride after a sluggish start to his season: 5 IP, 5 H, 1 BB, 2 ER, 4 K, 1 HR. The collective Sounds pitching staff gave up only two free passes on the evening. LHP Clayton Andrews, as he does, provided the steady hand in those crucial middle innings and remains one my favorite pitchers anywhere at any level that, inexplicably, nobody talks about. 
Three Quick Strikes:
1) We'll ignore the weak throw earlier in the inning to 3B that allowed the hitter to also reach scoring position after a line drive single to shallow left center field. What OF Sal Frelick did in this play, as far as I'm concerned, sealed the game and shut down any notions of a comeback. The Sounds grabbed back both runs in the following frame. LHP Alex Claudio then shut it down. It's not every day you see a 405 foot double play of this quality:
Just epic top-tier stuff right there. 
2) INF Abraham Toro demonstrated his value in 2023 in his recent call-up to the Brewers. Well, toss in emergency work at 1B into his bag of tricks. Obviously, Toro is not a serious 1B candidate but the Sounds are currently showcasing the organizational lack of depth at the position as they rotate infielders and catchers to that first base on a daily basis right now since INF Jon Singleton's unfortunate free agency departure. And, say what you want, Toro made some fantastic stabs on challenging scoops tonight. He also ripped a double to deep right center and smashed a line drive grand slam down the right field line. Maybe he's a 1B afterall?!??
3) RHP Thyago Vieira's first month of work was as shutdown as it gets. He was phenomenal. However, he continues to get rocked throughout the month of June. I've seen him get hit hard and often in nearly every outing he's taken the hill. Tonight, sadly, it was no different. If it wasn't for OF Sal Frelick's unbelievable catch at the CF fence, he was likely looking at least a four run inning. It's tricky to say where his season goes from here but it is currently not pretty and he's suddenly a likely candidate for the 'Development List'.
---
Final:  Biloxi 9, Mississippi (Braves) 3
Box Score / Game Log

(There were No Game Notes officially posted by the game's ending)

Via the Shuckers' site, game details, please visit and review:

Shuckers Blast Three Home Runs in 9-3 Win Over M-Braves
It was 100 F on the field in Biloxi. This is a different type of heat than the ACL - believe you me, I've lived it. RHP Carlos F. Rodriguez has just started heavily implementing his plus change-up over his past two starts with these tacked Southern League balls - for very good impact, to boot - and MLB is going to remove them by July 13th. I can only imagine how impactful this all has been for every pitcher in the Southern League. Both Rodriguez's early K's came on solid off-speed work. The home plate umpire was heavily restricting the outer half of the plate and, as such, you'll see three free passes through the first two frames. But every pitch tells a story - I don't begrudge Rodriguez one bit with the tight zone and the disciplined Braves approach. All in all Rodriguez was pulled before he finished the 5th inning after giving up a lead-off single and then a double after his seventh punch out. He became just the second pitcher in the Southern League to reach 90 K's after going 4 2/3 IP, 3 H, 3 BB, 2 ER, 7 K. 

Please visit the Shuckers Twitter page for various highlights of long balls HERE - you'll find INF Tyler Black's rocket, Quero's first opposite field blast, and Zamora's two-run jack. Alright, I'll throw you a bone. Here's a tailing bases-clearing double off the bat of super-utility man extraordinaire, Noah Campbell. Key insurance runs here:
Three Quick Strikes:
1) Is INF Freddy Zamora now a candidate to play the Shucker's everyday 2B? It's a worthwhile question, though it's obviously much too early to tell. After pointing out his continued baffling throws and nonchalant mistakes at shortstop lately, he has now played the last three games at the 2B position and he's looked quite comfortable in doing so. If nothing else, it's an unexpected wrinkle to his season. He continues to show an improved approach at the dish, to boot - 1-for-2, 2 R, 2 RBI, 2 BB, 1 HR. 
2) LHP Russ Smith continues to experience very erratic outings. It's a baffling and frustrating ongoing ordeal - I can only imagine how he is feeling as he finds his way. The one thing that really sticks out to me when I watch the present version of Smith pitch is I don't really see a strikeout or go to pitch. That could prove problematic as his career progresses. For now, however, it's an adventure in nearly every at bat as he looks to understand his mix and how to best attack hitters. I still see very similar release point inconsistencies - not as pronounced as they were in 2022 but they are still there. His final line of 1 2/3 IP, 2 H, 1 ER, 2 BB, 2 K while picking up the win does not speak to what I saw: a pitcher struggling to find any semblance of consistency. The grind continues. And with that, hopefully improvements and progress.
3) OF Lamar Sparks continues to be one of my favorite watches in the system regardless of the up-and-down results. He plays extremely hard. He plays aggressively. He swings like a madman - and, unfortunately, that is likely what is holding him back as the bat has lagged after a torrid start. Regardless, he truly has an absolute accurate cannon from every outfield spot. We saw possibly the throw of the year earlier in the first half of the season from right field. Unfortunately, there isn't a highlight to exemplify his one-hop throw at home plate tonight. It should be apparent to the Southern League by now: run on Sparks at your own peril. He grabbed a crucial OF Assist from LF to end the ongoing Braves threat versus LHP Russ Smith. It was a key play in a key spot. The Shuckers bats took over from there. 
---
Final:  Wisconsin 11, Quad Cities (Royals) 4
Box Score / Game Log

Game Notes

Via the T-Rats' site, game details, please visit and review:

Doston, Rattlers Dump river Bandits
As predicted last night, RHP Cameron Wagoner was very sharp to begin his outing in Quad Cities - I just share the intuitions, folks ?. The slider was really sharp finding the outer half with regularity. It's important to remember with Wagoner's ongoing improvements atop the hill, he had only received two runs of support over his past four outings. That's a tough pill to swallow for any hurler. Well, that all changed in the top of the third frame when it was clear the T-Rats had made an investment with the baseball gods: eight runs plated and I don't know if a single ball was hit harder than 85-90 mph. By the time Wagoner came onto the mound for his half of the third inning it was practically a different ball game. Unfortunately, the T-Rats defense left their collective memory in the dugout. You'll notice Wagoner only lasted 2 2/3 IP. This was due to an elevated pitch count in an inning where his defense left him out to dry thrice - three truly poor errors. He deserved better given he was pitching with purpose. We will not dive into the errors - trust me, they were very weak. 
Three Quick Strikes:
1) I don't know if I've seen a more confusing flurry of runs plated in a High-A contest to date than I saw in the 12-run third inning. So many weakly hit balls finding holes for both team. Four errors in the inning. Pitchers hung out to dry by the baseball gods and their defenses. The quality of play improved from there but it was really a rough inning. I hope the quality of play improves as the series progresses. It's lovely to come away with a victory after so many oddities and snafus.
2) I didn't see anything anomalous during C Matt Wood's Sacrifice Fly to center field during the eight-run third inning, but he was immediately replaced by C Alex Wood in the bottom half. We'll have to keep an eye on this situation moving forward.
3) Several of us have discussed this in recent game threads, but the T-Rats truly do seem poised for a second half break-out. They battled extremely hard in their recent road trip to Michigan and they seem to be coming into form just as the second half begins. Consider this: it is only a three-game win streak for the young Rattlers, but they've scored 33 runs on 31 hits. Their season record is now at 8-games below 0.500. They begin their second half playoff push at 1-0.
---
Final:  Down East (Rangers) 2, Carolina 0 
Box Score / Game Log

Game Notes  

Via the Mudcats' site, game details, please visit and review:

Mudcats Held to Two Hits in 2-0 Loss to Wood Ducks
There isn't really much to discuss in this one. As we now know, Down East has their home games on media lockdowns and this Box Score and Game Log reads like a tightly wrapped sleeper. The Mudcats lost again to their ongoing nemesis as the Wood Ducks continue to have their number for the most part.

One of the bigger takeaways in this one is an improved outing from RHP Patricio Aquino - 5 IP, 2 H, 2 BB, 2 R (unearned), and 5 K - who had scuffled a bit in recent starts. That's a very nice day of work. Additionally, RHP Yujanyer Herrera had his best outing in some time going 3 IP, 1 H, 0 BB, 3 K. No walks. No wild pitches. No hit batters. This was a much needed fantastic three innings of work for Herrera. The Wood Ducks threw just 107 pitches and only three Mudcats reached base. I will say, the one additional thing that sticks out to me is both runs appeared to have plated after another throwing error from Luke Adams at 3B. He's had several of those of late and it is currently a mild concern. 
---
Final:  ACL Reds 11, ACL Brewers 9  
Box Score / Game Log
This is absolutely one of those classic tough ACL losses. The young ACL Crew showed fight in a back-and-forth battle between the upstart ACL Reds - their second consecutive knock versus this clearly talented young Reds squad. After trailing 6-0 by the third inning of a seven-inning affair, the Crew managed to plate seven runs over the next two innings to tie it all up. Several notable offensive performances are worth mentioning given the 11-to-9 lead in total hits. I'll highlight a few but do look through the entire box score:
OF Hendry Mendez: 2-for-4, 2 R, 2 RBI, 2 2B

1B Tayden Hall: 3-for-3, 1 R, 2 RBI, 1 2B

OF Duncan Garcia: 2-for-4,

 1R
In a game where the young Crew battled back and maximized a 6-for-11 mark with RISP, we can look to the combined 11 walks amongst the trio of young arms. No walks were more damaging than young RHP Cristofher Carrasco's two walks with two outs in the seventh and final inning. We also see four wild pitches, a passed ball, and nine successful steals against the staff and the arm of C Satchell Norman. By the looks of it, when you dive deeper, it would have been an improbable victory if they had pulled it out. 
---
It's a new half to the Affiliated seasons - can RHP Stiven Cruz turn it around after a disastrous first half? Tune in tomorrow night for game two at Quad Cities. RHP Justin Jarvis will also get the nod in Biloxi. The young ACL Crew will get a much needed rest but the DSL Cerveceros are back at it in the early hours. Tune in early and tune in often! As always, thanks for reading and thank you for supporting Brewers Minor League baseball.
Organizational Scoreboard including starting pitcher info, game times, MiLB TV links, and box scores

Current Milwaukee Brewers Organization Batting Stats and Depth

Current Milwaukee Brewers Organization Pitching Stats and Depth
Think you could write a story like this? Brewer Fanatic wants you to develop your voice, find an audience, and we'll pay you to do it. Just fill out this form.
MORE FROM BREWER FANATIC
— Latest Brewers coverage from our writers
— Recent Brewers discussion in our forums
— Follow Brewer Fanatic via Twitter, Facebook or email
1