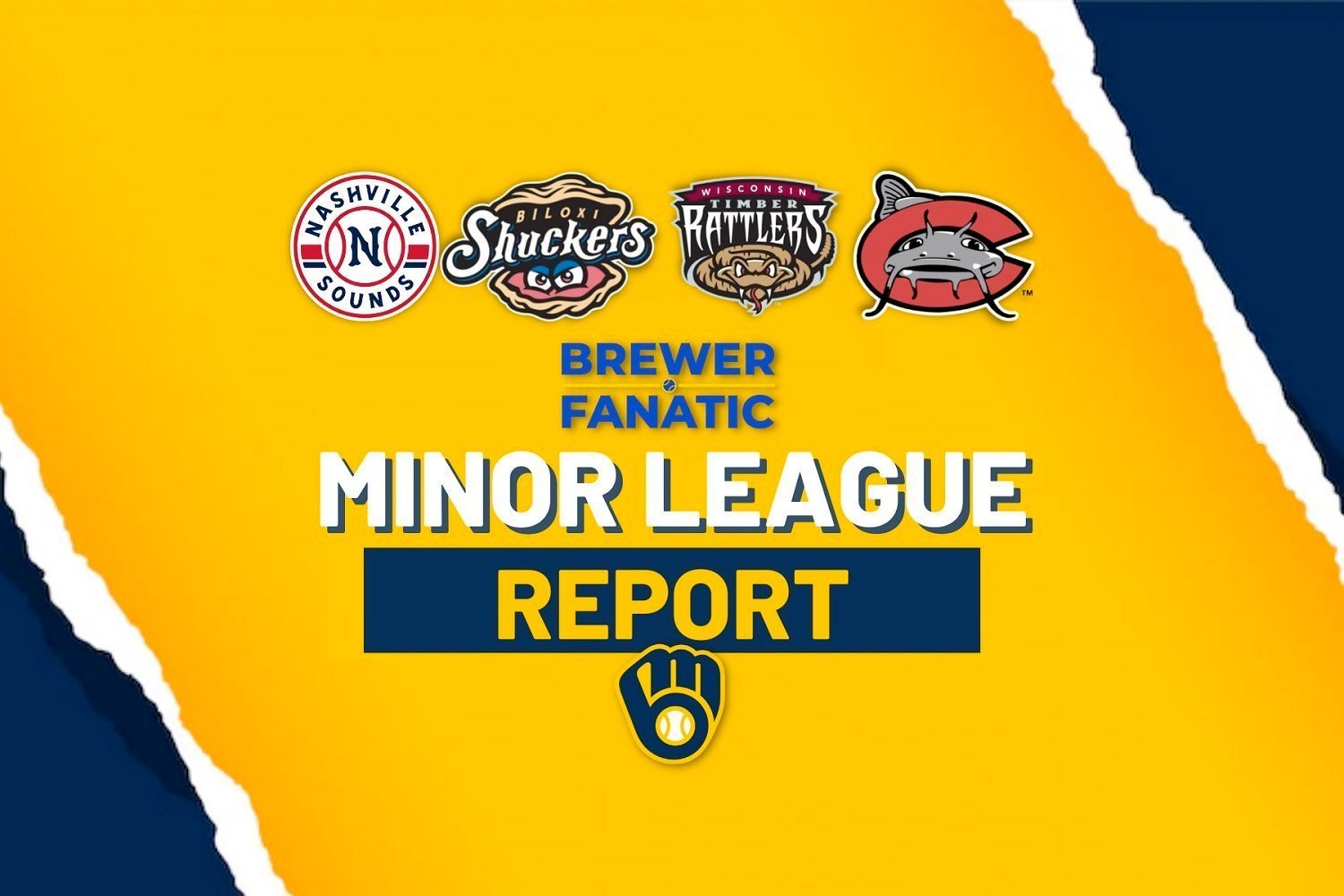 Image courtesy of BrewerFanatic
TRANSACTIONS:
LHP

 

Clayton Andrews' Nashville Sounds contract was selected by the Milwaukee Brewers
RHP

 

J.B. Bukauskas

 

was recalled by the Milwaukee Brewers from the Nashville Sounds
C Payton Henry reinstated from the Nashville suspended list (mini-brawl against Norfolk last Sunday)
RHP Johan Zapata assigned to DSL Brewers 1 from DSL Brewers 2
 
---

Final: Nashville 7, Memphis (Cardinals) 5

Via the Sounds' site, we encourage readers to review each of the affiliate write-ups as part of your season-long Link Report routine:
Sounds Clip Redbirds in Memphis - Two-Out Hitting Leads Nashville to Fourth Straight Win
Box Score / Game Log

Things are good in Nashville despite the big-league roster churn. Manager Rick Sweet is so much more than "folksy". He's legendary in status for navigating the tumult of AAA clubhouse emotions and roster challenges. Year in and year out, we're treated to more than our fair share of Sounds' victories and the organization avoids the drama (or at least suppresses it) thanks to Sweet's steady hand. His Sunday pre-game interviews with Voice of the Sounds Jeff Hem are a must listen (we link to them each week via Jeff's blog archives) in our Sounds-specific thread on our Minor League Forum. You'll find two recent interviews here.

We were fortunate to stumble upon this one pitch from Robert Gasser, the lone Sounds-centric video on the interwebs this AM. Gasser threw 91 pitches over 5.2 innings, walking only one with the eight K's. He allowed just four hits, two of those home runs - if you wish to see where those pitches missed to the Redbirds' (Cardinals') 1B Luken Baker, look here and here. Home runs have not been an issue for the Brewers' prized southpaw, now just seven in 80 innings.

Back-to-back games with errors at short for Cam Devanney, and his 7th inning fielding miscue led to three unearned runs that tied the game at 5-5, JC Mejia the mound victim. Devanney can handle short in an ultra-utility role, but we've seen his best work at third base.

How does Tyrone Taylor work his way back into the Brewers plans after this rehab stint? It's not for Blake Perkins' sake. Raimel Tapia? It's an awkward decision given Taylor's lack of minor league options.

Days off for Sal Frelick and Keston Hiura.
 
---

Final: Mississippi (Braves) 11, Biloxi 5

Via the Shuckers' site:
Shuckers Drop Slugfest To M-Braves, 11-5 - Teams combine for 27 hits and seven home runs at MGM Park
Box Score / Game Log

Here's something that will surprise many of you. Recently promoted to AA, RHP Max Lazar is due to become a minor league free agent at season's end. That despite Lazar turning 24 years old just a month ago. It'll happen when you're a youthful high school pick, who lost the 2020/2021 seasons to Covid and Tommy John surgery. Perhaps the Brewers entice him to come back for an 8th season with the organization in 2024, otherwise Lazar will be a popular target across baseball for a minor league deal elsewhere.

In his AA debut here, Lazar entered with the score already 9-4 Braves (rough going for RH starter Tobias Myers), so the pressure factor was low. Lazar allowed only one hit and no runs over 2.1 innings, though he did walk three (four K's).

Day off for Tyler Black.

Three true outcomes? At .212/.368/.407, Wes Clarke's 2023 line nearly mirrors that of his career marks since his debut in 2021. This is who he is. He's been behind the plate for 16 games this year, 32 at first base. Strong dude:
Despite the lopsided loss, with the Shuckers the lone home series this weekend, we're short on video elsewhere so here's another - power isn't what enticed the Brewers to pick up Isaac Collins in the minor league phase of Rule 5 last December. The soon-to-be 26-year-old is listed at 5'7", and it's his INF/OF versatility that brought the Crew to him. This poke was his 6th in 480 AA at-bats, and as the game summary noted, his first with Biloxi.
Jeferson Quero singled and walked twice as the DH, and Jackson Chourio was 1-for-5 with a K. I imagine those two names are the first ones you box-score clickers check out.
 
---

Final:  Quad Cities (Royals) 5, Wisconsin 4

Via the Timber Rattlers' site:
Bandits Steal a Win from Wisconsin - Quad Cities scores two runs in ninth for 5-4 win
Pre-Game Media Notes (Download Link) via the team's Virtual Press Box

Box Score / Game Log

We don't have to tell you twice what a craftsman Voice of the Rattlers Chris Mehring is behind the microphone and in his game summaries. Make sure you read the one linked above, which includes this text:

"(Eric) Brown ranged over from short to field the ball and step on second for the force play to end the game. However, the ball glanced off the heel of Brown's glove and deflected towards first base. There was no play anywhere and the tying and winning runs scored to give the River Bandits the walkoff win."

I heard Chris' call, and he does such a great job at conveying his disappointment in the result and the loss yet maintaining his professionalism throughout. 

The Quad Cities video production online is non-existent (outside of the MiLB TV feed that subscribers can access). To see this critical play, go to the 03:52:40 time stamp at the subscriber link here.

Now please visit what I and a few others with eyes on the game typed as it all happened here.

There is a distinct reason Chris did not include any injury details on Brown in his game summary. He doesn't know, none of us know! But Brown was tended to in the right-field bullpen area for what seemed to be 10-15 minutes or so after the game as his teammates waited in their dugout before retreating to the clubhouse.

Will Brown at minimum miss Sunday's game? Is this going to be a day-to-day situation (which, ironically his recent thumb injury was for three weeks, no injured list stint). Or, hope not, will this be a major setback for the 2022 1st rounder? But at least now you have some background on this. The electric Brown had singled twice, walked and stolen his 27th and 28th bases in this game. Be OK, Eric.

What becomes of this roster? Eduardo Garcia left Friday's game as we detailed yesterday with a leg injury, so the left-side of the infield is now absent. Jose Acosta has played 12 games at shortstop in his career, but there's no one else for that spot. Acosta was acquired by the Brewers via trade with Texas May 30th of last year. This feels like one of those situations where the organization has to make a similar quick acquisition from outside the system.
 
---

Final: Carolina 3, Down East (Rangers) 2 
Sibrian Homers as Mudcats Snap Losing Streak - Pitchers Will Childers, Quinton Low and Miguel Guerrero combined to allow just three hits in the losing streak snapping victory
Box Score / Game Log

Congrats to RHP Will Childers on his first big league win, nice start. A reminder that Childers is the son of Matt and nephew of Jason as you look back on the late 90's - early 2000's Childers Brewers' bloodlines.

Baseball America staff had eyes of RHP/1B Quinton Low for this one:
Rooting for all the Muddies here, but it's still hard to squint and see candidates for immediate promotion to Wisconsin to address the roster needs at High-A.
 
---

Final: ACL Reds 11, ACL Brewers 10

Box Score / Game Log

Not only did the Maryvale Crew score five runs in the top of the 9th, they had the tying run on 2nd base with no outs! Then look for what sadly happened via the game log.
How crowded is this roster? Seventeen position plyers saw action, yet five more remained on the bench (Tayden Hall played and is on rehab from Carolina). The pitching staff is much more condensed at only 13, which doesn't count rehabbing LHP Justin Wilson or yet-to-debut former position player Alberis Ferrer. Look for some of the more impressive DSL pitchers to get opportunities at stateside action.

Two 19-year-old 6'3" Dominican-born pitchers, RHP Henrison Mota and LHP Anfernny Reyes, combined for four innings of scoreless ball with eight K's among all the madness elsewhere. The 1st and 9th innings were not as successful, as the box score will show you.

I did not dig deep enough into the log to hazard a guess if any of the eight substitutions were cause for concern, but there's no mention of injury delays.

Infielder Juan Baez, who just turned 18 years old last week, but is in his 2nd season and first stateside, is already 9-for10 is SB attempts (was 17-for-23 on the island last summer).
 
---

Final: DSL Dodgers Mega 9, DSL Brewers #1 Squad 7, ten innings (scheduled for seven)

Box Score / Game Log

It was a ghostrunner-palooza, surely the managers were pleased (or perhaps not) with the unplanned extra work over three bonus innings.

Check out the linescore within the box score - talk about matching efforts!
In the 10th, a Dodger double and subsequent wild pitches plated the final two runs of the game, as all three Brewer batters struck out swinging to end it.

Feel free to utilize the game log link to see how all six half-innings in the tail end of the game transpired.

What to make of Venezuelan rookie corner OF Brian Sanchez? LH bat, listed at 6'3", 170, turns 19 on the 4th of July. We keep waiting for the small sample bubble to burst, as it remains a tiny 43 plate appearances, but my goodness, .387/.535/.581 (1.116 OPS). Sanchez doubled, singled and walked in this one.

17-year-old infielder Gery Holguin (all four INF spots in brief career) played in 53 games in his age-16 season last summer. Sixteen games into 2023, his OPS sits at .804 (vs. .585 in 2022). A double and two singles Saturday padded his numbers to that .804 mark.

This was corner OF Argenis Aparicio's 2nd mound stint as he is being allowed to two-way it for now. Like his first effort, he tossed a scoreless inning and has yet to walk a batter (two K's).
 
---

Final: DSL Dodgers Bautista 8, DSL Brewers #2 Squad 6, seven innings as scheduled

Box Score / Game Log

A 20-0 record! Like seriously, 20-0! It's not like the other Dodgers' entry in the league, is chump change at 13-7.

Brewers Dos scored three runs in the top of the final inning to make the final score more respectable. The tying runs were on base, 1st and second with just one out, before a popout and strikeout ended hopes. Made the Bautista Boys sweat, though!

Starting on June 10th when the season "rivalries" began, the two Brewer teams have lost to the two LA clubs each and every time, all eleven contests.

Second-year RHP Justin Caceres of Nicaragua was the most effective of the three Cerveceros pitchers, two perfect innings, three K's.

Regular notable box score filler-upper Filippo Di Turi is hoping for as many future Link Report mentions (1.3 million) as he has dollars. At this pace, he may make that quota. As the DH here, Di Turi singled three times and drove in two.

Catcher Eric Martinez clubbed his 3rd HR, pulled to left, but also committed his 4th error (throw).
 
---

As for Sunday's schedule, all the rookie clubs are off, as is the norm. Except for a noon Central start for Carolina (at Down East with no video/audio regardless), the other full-season affiliates are playing later in the afternoon and evening than usual, so some firework displays are likely in the mix. Have a Katy Perry day, everyone, be safe!

Organizational Scoreboard including starting pitcher info, game times, MiLB TV links, and box scores
Current Milwaukee Brewers Organization Batting Stats and Depth
Current Milwaukee Brewers Organization Pitching Stats and Depth
 
Think you could write a story like this? Brewer Fanatic wants you to develop your voice, find an audience, and we'll pay you to do it. Just fill out this form.
MORE FROM BREWER FANATIC
— Latest Brewers coverage from our writers
— Recent Brewers discussion in our forums
— Follow Brewer Fanatic via Twitter, Facebook or email
1