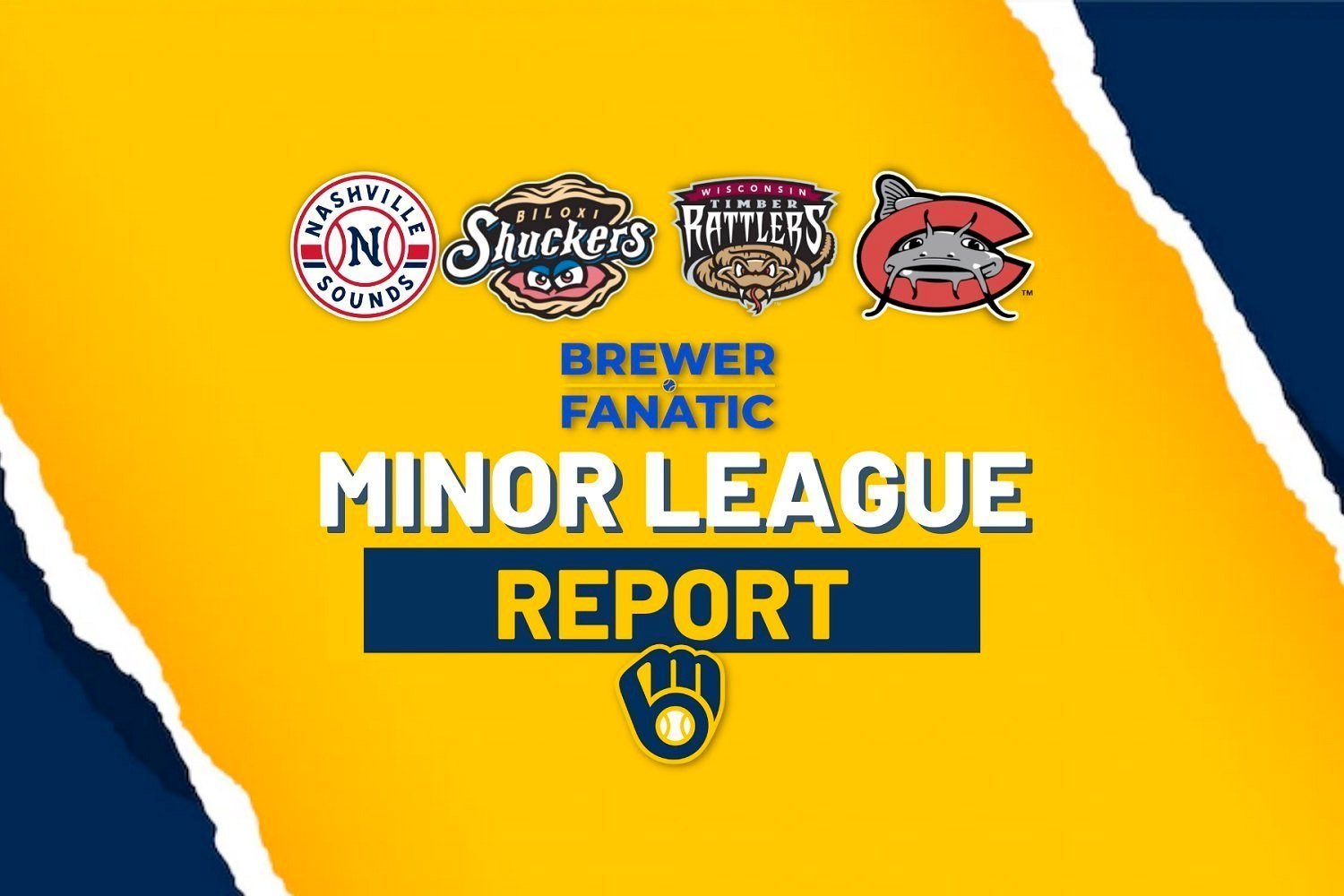 Image courtesy of BrewerFanatic
TRANSACTIONS:
LHP

 

Robert Gasser of AAA Nashville suspended for the one (hit-by-)pitch he threw to start Friday's game - a reminder what started things:
Technically not official as of today, but:
 
---

Final: DSL Brewers #1 Squad 5, DSL Tampa Bay 4, ten innings 

Box Score / Game Log

Tampa does have two entries, like most teams, in the Dominican Summer League, one is called "DSL Tampa Bay", the other "DSL Rays". About as clever as #1 and #2, we suppose.

Team Uno led 4-0 after seven innings as 18-year-old southpaw Anthony Flores tossed five no-hit frames, walking two and fanning eight. Yee-hah! The 2nd-year Venezuelan signed for $50,000, started seven of 11 games last summer, and has been the starting pitcher for each of his six outings in 2023. Check out Flores' game log here and you'll see that four of his outings combined translate into 18 innings of five-hit, one-run ball. There were two stumbles in June to offset those numbers, but this is an arm we could see stateside soon.

17-year-old top dollar 2023 signing OF Yophery Rodriguez is killing it, reaching base three more times, including a triple, .945 OPS through 113 plate appearances (27 BB, 15 K)!

Speaking of killing it, much-less heralded (as in none), rookie RF Brian Sanchez doubled, singled and walked. In only 13 games, he's at .405/.536/.595 (1.131 OPS). Guessing we'll see his name in more starting lineups moving forward, the 6'3" LH bat was in the cleanup spot here.

The go-ahead run scored on a sacrifice fly in the top of the extra inning, please utilize the game log link above to see how the 10th went as well as a rough four-run Tampa 8th to tie things up.
 
---

Final: DSL Brewers #2 Squad 6, DSL Nationals 4 

Box Score / Game Log

Washington does indeed have just the one DSL entry.

The 7th inning in which the Nats scored three times to grab a 4-2 lead, answered quickly in the bottom of the inning by a four-run Team Dos push, is worth your game log review.

Another sweet Monday effort by a starting pitcher? Sign us up!

Recently-turned 18-year-old RHP Bryan Rivera, a native of Nicaragua ($27,500 bonus), has started 17 of his 19 games over the two summers thus far. That's always a signal from Brewers management that they see potential in the repertoire of a youngster. Five innings here, the only hit allowed a solo home run (1 BB, 1 HBP, 8 K). Like Anthony Flores in the game detailed above, Rivera is now working on back-to-back excellent outings (his game log).
A reminder that the Brewers have always prioritized their international bonus pool on position players, but certainly there are signals some hidden gems have been unearthed. But that career path is so long! We'll keep watching.

As for that 7th inning rally, to the rescue, leadoff 3B Demetrio Nadal, three-run bomb for the lead. With an OK but middling .692 OPS in 2022, the now 19-year-old has only struck out twice (!) in 41 2023 AB's, line now .341/.451/.610 (1.061 OPS) in the let's-be-patient still small sample. Nadal signed in July of 2021 but didn't debut on the island until the following summer. He's played the hot corner primarily, but like so many others, has seen action elsewhere in the infield as well as a bit of left field.
 
---

Just like Monday, the only action on Tuesday will be in the perfect Dominican weather. My buddy @Joseph Zarrwill detail it for us. Enjoy the All-Star Game tonight, make us proud, Corbin!

Organizational Scoreboard including starting pitcher info, game times, MiLB TV links, and box scores
Current Milwaukee Brewers Organization Batting Stats and Depth
Current Milwaukee Brewers Organization Pitching Stats and Depth
Think you could write a story like this? Brewer Fanatic wants you to develop your voice, find an audience, and we'll pay you to do it. Just fill out this form.
MORE FROM BREWER FANATIC
— Latest Brewers coverage from our writers
— Recent Brewers discussion in our forums
— Follow Brewer Fanatic via Twitter, Facebook or email