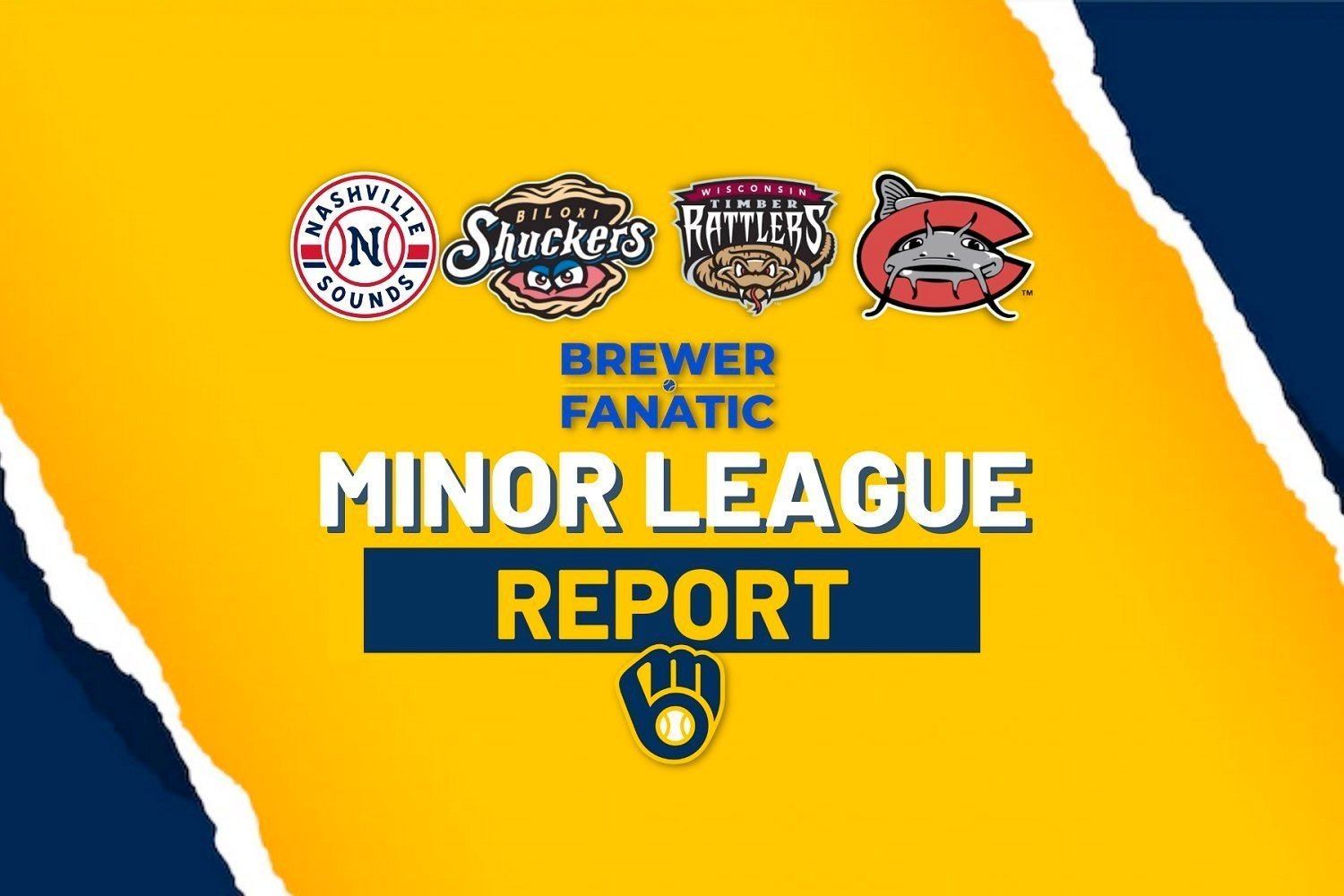 Image courtesy of Brewer Fanatic
Transactions: (Including Monday 7/11)
Best of luck to OF David Dahl as he looks to latch on to a MLB club. It was a true pleasure watching him play the outfield for the Nashville Sounds. 
Just in: Angel Perdomo pitched one inning of one hit, two strikeout work in his first rehab assignment. Additionally, LHP, and recently promoted, Justin King has been placed on the 7-Day IL by the Wisconsin Timber Rattlers.
---
The DSL Brewers 1 and Brewers 2 faced each other yet again and our very own @damuelle was all over the coverage: HERE 
Quote

Final: DSL Brewers2 5, DSL Brewers1 3
Box Score / Game Log

The win improves DSL Brewers2's record to 15-12, while dropping Brewers1 to 10-14.

This was a solid game, pitting two impressive 18-year old starting LHPs against each other in Anfernny Reyes (0.94 ERA in 28 2/3 innings) and Osbriel Mogollon (0.98 ERA in 18 1/3 innings).

With these two terrific youngsters on the mound, it's unsurprising that the game was scoreless into the 6th inning, with Brewers1 actually no-hit by Reyes through four innings. Together, Reyes and Mogollon covered 8 2/3 innings, allowing no earned runs (Reyes – 5 1/3 IP, 1 R (0 ER), 2 H, 3 BB, 5 Ks; Mogollon – 3 1/3 IP, 0 R, 4 H, 3 BB, 3 Ks).

From the line, you can see that Mogollon faced some traffic, actually giving up two infield singles and a walk to start the game, but that initial bad luck was offset by a runner being thrown out on the bases. He added a strikeout and infield pop out to end that threat.

18-year old left-handed hitting 1B Yeison Perez (2-for-4 with 2 RBIs and a walk; 1.255 season OPS in 66 plate appearances) opened the scoring for Brewers2 in the 6th inning by hitting his 7th homer of the year, a 2-run blast.

Perez's teammate 17-year old INF Johan Barrios (2-for-3, 2 walks) reached base four times in his second game back from an extended absence.

Brewers1 had the tying run on base in each of the 6th, 7th, 8th and 9th innings, but couldn't get the key hit(s), being out-hit by Brewers2 10-5 in the game. As an example of the highs and lows that these games tend to bring, Brewers1 OF Duncan Garcia (1-for-4; .766 season OPS) tripled in the 8th inning with his team down 3-2 at the time, only to be picked off base to end the inning

In Other Major Prospects Watch, Luis Lara went 0-for-4 (but didn't strike out and stole a base) and Jhonny Severino went 1-for-4 with a stolen base.

C Edgardo Ordonez (0-for-1; .872 season OPS) exited in the bottom of the 5th inning, but hopefully this was a planned sharing of catching duties on the day.
Mentioned within the quoted summary above, lefty Osbriel Mogollon (an early season favorite in our daily Minor League Game Threads) was featured on the Brewers Player Development Twitter Page yesterday: 
There's a little 'young Andy Otero' vibe going on here with Osbriel. It will be interesting to see how he develops and grows!
***
ACL Cubs 11, ACL Brewers 9
Box Score/Game Log
With the score 11-9 Cubs in the top of the seventh, I had to remind myself: the ACL Cubbies had a nine-run first inning! What was, perhaps, even more surprising: RHP Ryan Middendorf conceded runs - two of them (!) - losing grip of a brief tie game in the sixth inning. Yet, he still did ACL Ryan Middendorf things: 2 ip, 4 hits, 2 er, 5 k's. We'll look past this minor blemish: he belongs in Low-A. Let's see what he can do, please.
The Brewers Gold missed out on their key bases loaded no out opportunity in the top of the seventh and final inning - a three-pitch strikeout, a first pitch pop-up to second base, and a three-pitch strikeout ended the chance and the game. Yuck!
This being said, let's honor the fine work in the ninth spot of the batting order and the lead-off spot - Diego Larez and Jadher Areinamo , respectively. Larez went 1-for-1 with two runs, one rbi, and three walks improving his OPS to 0.760 in the process. Areinamo was hitless in an 0-for-2 evening but also drew three free passes, plated a run, and grabbed a rbi.
ACL Guardians 5, ACL Brewers Blue 3
Box Score/Game Log
A fine night at the plate for OF Eduarqui Fernandez batting clean-up and going 2-for-4 with two runs, one rbi, and his fourth home run. It would appear the five ACL Brewers Blue errors were their demise: of the five Guardians runs that crossed the dish only one was earned. That's not going to win many ball games. A successful rehab return for LHP Angel Perdomo and two-way 2021 13th round draft pick RHP Quinton Low remains un-scored upon in his seven complete innings of relief work. 
---
Carolina Pre-Game Notes  

Final: Delmarva (Orioles) 7, Carolina 3
Box Score / Game Log                            
Via the Mudcats' site, game details, please visit and review:
Chirinos Homers in 7-3 Loss to Delmarva - The Loss Was Carolina's Sixth Straight, Matching Their Longest Losing Streak of the Season
Coming off five straight losses to close the series in Kannapolis, the Mudcats were back at Zebulon's Five County Stadium in hopes of a rebound performance. Taking the mound for Carolina was RHP Miguel Segura . In a season where he has now walked more batters than he has struck out (52bb:51k), the men on base continued to set the tone for this particular start - 5 ip, 7 hits, 3 bb, 4 runs, 3 earned. Segura will see his already 1.60 WHIP rise slightly after tonight's outing. 
Leading 2-1 heading into the fifth inning, Segura gave up a first pitch home run and the game was tied 2-2. Two more runs would plate that inning - via a walk, single, wild pitch, and double in consecutive at bats - and the Mudcats trailed the remainder of the game and ultimately lose their fifth straight 7-3.
Three Key Observations:
(1) It isn't often Jackson Chourio is highlighted for a negative reason, but on a team with erratic offense the Mudcats overly rely on his bat. Tonight, unfortunately, was a night that will send Chourio back to the proverbial drawing board: 0-for-4 with three strikeouts. 
(2) In a season filled with only brief spurts of excellence, Hedbert Perez has mainly been an afterthought. Coming into this game, the young outfielder had gone 4-for-28 (0.143 BA) with a couple walks over his past eight games. Struggles like these have put Perez lower in the batting order, unfortunately. Batting sixth tonight, Perez went 3-for-4 with his 14th double and eighth stolen base, but, ultimately, the bottom of the order were incapable of taking advantage.
The main issue to date, as I've seen it, is Perez rarely walks - 93 k's: 19 bb's - and, as a result his OBP has really taken a hit (0.274). Lots to improve in the second half. Let's hope we see it.
It wasn't all dry desert behind Perez. Jesus Chirinos managed a solo shot early: 
(3) Let's do a mini deep dive as to why I continue to be quite bullish on catcher Jeferson Quero (BF's #8 prospect). We know he is young, he has the frame and body-type and athleticism to catch your attention but with his recent surge at the plate (1-for-3, 2 runs tonight batting in the three-hole) his defensive numbers really start to add punctuation.
Quero, at age 19, is second in all of Minor League baseball with 30 caught steals. Tonight, he picked a runner off third base - I've seen him grab runners at first throughout the season and he's had several other near misses. He trusts his eyes, he's quick to his feet, and he has a cannon. Do not sleep on what is perhaps our most intriguing catching prospect in the system. Apologies, Jakson Reetz ...the Hype Train has more than one track! 
---
Wisconsin Pre-Game Media Notes      
West Michigan (Tigers) 1, Wisconsin 0
Box Score/Game Log                          
Via the Timber Rattlers' site, game details, please visit and review:
Whitecaps Beat Rattlers 1-0 - Holton's RBI Single in Bottom of the Ninth Beats Wisconsin
It was clear early, despite my conspiratorial trade suggestions in the Minor League Game Thread ?, the plan for LHP Antoine Kelly was quick work and then rest up for an upcoming Sunday opportunity in the MLB All-Star Futures game. Kelly was dealing early and often. Robbed of one strikeout on a pitch that must have caught too much Middle, he went three complete innings when all was said and done. Zero hits. 44 pitches. One walk and two strikeouts. Much to the pleasure of the Whitecaps' announcers, he was shelved and made way for RHP Joey Matulovich.
Three Key Observations:
(1) Tristan Peters came off a 7-for-24 series in South Bend and grabbed a single through the short stop and second base gap early in this one. He finished 1-for-4 on the evening. As noted by the Whitecaps' announcers, Tristan has been solid all year long; plays excellent defense; and has some speed on the base paths. He is absolutely a key reason the Timber Rattlers have had so much success in 2022 and with Carlos Rodriguez shelved for the season they are going to continue needing his consistent presence.
(2) Hats off to Malutovich for his three complete innings of scoreless middle relief. Filling in for Kelly and his brief 'no hitter', Matulovich only surrendered a couple hits, did not walk a batter, and struck three men out. With Cam Robinson and Kent Hasler in Double-A, the T-Rats are going to need more outings like this.
(3) He doesn't get mentioned often in our reports, but that isn't for lack of solid and meaningful production. Jose Acosta was acquired via trade with the Texas Rangers in late May and has been a solid and steady contributor at second base for the Timber Rattlers. After a 2-for-3 evening batting seventh, Acosta is batting 9-for-28 in eight games of action in July with a double, a home run, four walks, and four rbi's. He is fulfilling his role as a contributor lower in the order. It's a pleasant and unexpected surprise.
---
Final:  Biloxi 1 , Tennessee (Cubs) 1  - POSTPONED: Top of the Fifth, Gabe Holt on first base, nobody out...play will resume 7/13
Box Score / Game Log    

Via the Shuckers' site, game details, please visit and review:
Biloxi and Tennessee Suspended in the Fifth  - Game Will Resume Wednesday 4:30pm CST
This one was a battle of two solo shots - Biloxi's came from now Double-A HOF candidate, Andruw Monasterio . With Jakson Reetz promoted to Triple-A Nashville, the Shuckers better hope the red hot Monasterio remains with their ball club given Joey Wiemer 's ongoing woes. After tonight's first inning homer (his fourth since his re-assignment), he extended his hit streak to seven games: 
His batting average is now up to a ripe 0.412 and his OPS well over 1.000 in 51 Double-A AB's. He's a one-man wrecking crew in Biloxi. Briefly, kudos are also in order for TJ Shook who worked around a solo home run himself while surrendering only one more hit and two walks while striking out three batters over four complete innings.
---
Nashville Pre-Game Media Notes     
Final:  Memphis (Cardinals) 2, Nashville 1
Box Score / Game Log                  

Via the Sounds' site, game details, please visit and review:
Redbirds Clip Sounds in Series Opener - Sounds Lead Redbirds by 5.5 Games in International League West Division
Cardinals' LHP Steven Matz most likely saw his last rehab outing before heading to the big club and he dominated the Sounds bats on a beautiful muggy evening in Nashville. In 4 1/3 complete innings of two-hit, two walk, seven strikeout work, Matz gave way to the Redbirds' bullpen who held on - avoiding any chance at a Sounds comeback when Weston Wilson popped out weakly to first base with the bases juiced and two down in the bottom of the eighth. This game was filled with a lot of strikeouts and a lot of walks for Sounds batters. Ultimately, they couldn't get the big hit when they needed it. 
Three Key Observations:
(1) In a juxtaposition of what it's like to head down to Double-A versus what it's like to head up to Triple-A, we have the parallel and ongoing cases of the above-mentioned Monasterio and the recently Triple-A promoted Jackson Reetz. How about heading up a level and facing a veteran MLB pitcher, Mr. Reetz? How about doing so while playing left field in a new ballpark? Such was the case in his first action for Nashville in 2022. Reetz ultimately finished 0-for-3 with a strikeout, ground out, fly out and took a key full count HBP off his left elbow (ouch!) giving the Sounds a chance to walk in their first run of the evening. All told, this was a decent night of getting his feet wet for the up-and-comer. 
(2) It was apparent early and often: neither ball club was all too enthused with home plate umpire, Matt Winter. I tend to agree with both ball clubs. The zone was quite mysterious - balls below the knees were strikes and balls. Balls off the outside stripe were balls and strikes. There were simply way too many questionable calls and way too many batters left befuddled and complaining walking back to the dugout. Hopefully, it was just an off night. I can still hear the faint chirping echoing forth from each dugout. 
(3) We've talked about the Sounds bullpen all year and why change now? After starter RHP Dylan File conceded two runs (the only Redbirds runs of the evening) during a prolonged 26 pitch second inning, he was pulled and the impeccable Sounds bullpen work began. Seven complete shutout innings adds another feather into an already plumage-laden bullpen cap. I'll highlight the bounce back 1 1/3 shutdown two strikeout innings of work from Lucas Erceg and the flawless eighth inning two strikeout work from consistently overlooked RHP Matt Hardy. Hardy doesn't wow you with size or stature but he certainly delivers results and a beautiful mullet. Further hats off to him for getting his first strikeout after Weston Wilson biffed a fly ball just inside the dugout - it's a play Weston should have made and, thankfully, Hardy didn't flinch. That drop was emblematic of Wilson's 0-for-4 two strikeout night.
---
Think you could write a story like this? Brewer Fanatic wants you to develop your voice, find an audience, and we'll pay you to do it. Just fill out this form.
MORE FROM BREWER FANATIC
— Latest Brewers coverage from our writers
— Recent Brewers discussion in our forums
— Follow Brewer Fanatic via Twitter, Facebook or email
1