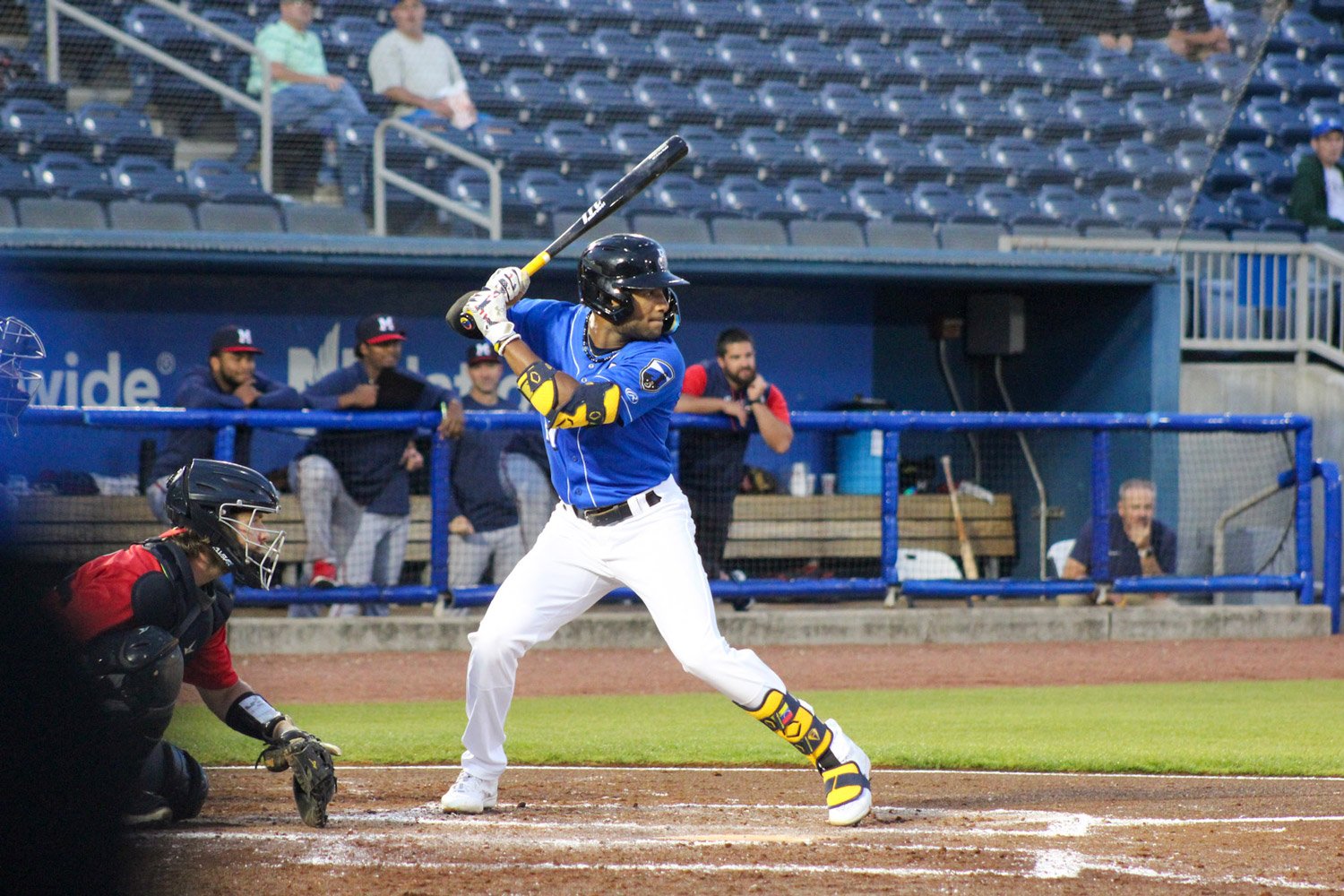 Image courtesy of Biloxi Shuckers
In their rare 3-game series, Biloxi (2-1) was the sole winner. Wisconsin and Carolina dropped their series 2-1 each, while Nashville was swept 3-0 in Louisville.
Transactions:
Of the above six injured players, only Knarr (12 IP) and Chirino (14 IP) have actually played this season, while Mejia last played in June 2022.
Game Action:

Nashville Pre-Game Media Notes
Final: Louisville 8, Nashville 5 (final in 10 innings)
Box Score / Game Log

Via the Sounds' website, game details, and we encourage readers to review the affiliate write-up as part of their Link Report routine: Sounds Swept By Bats With Ten-Inning Loss

As much as we love our aspiring minor leaguers, if we have to split a 6-game MLB/AAA series with the Reds, we'll still take the 3-0 Major League sweep over Cincinnati even if it means Nashville drops a 3-0 sweep at Louisville.

The Sounds battled back to tie in the 4th inning and grab leads in each of the 5th and 10th innings, but were unable to secure victory. Each team scored their ghost runner on a sacrifice fly (despite Nashville not collecting a hit or walk in the 10th inning), but the Bats got the 2-out, 3-run homer off LHP Darrell Thompson to win it.
Sounds' Extras:
Next week's outlook: The Sounds (48-40) return home to play Marlins' affiliate Jacksonville (40-49). RHP Justin Jarvis (3.65 ERA, 1.34 WHIP, 10.7 K/9 in 79 IP this year) will make his 2nd start in AAA ball on Tuesday.
Biloxi Pre-Game Media Notes
Final: Biloxi 7, Rocket City 3
Box Score / Game Log

Via the Shuckers' website, game details: Shuckers Explode for 16 Hits, Seven Runs to Take Series Over Rocket City

If you want results, 19-year old center fielder Jackson Chourio (3-for-5, RBI) will give you results: first inning line drive single, third inning line drive RBI single, fourth inning single to left field, extending his multi-hit game streak to four games.

But we're also excited about 25-year old RHP TJ Shook (5 IP, 1 R, 3 H, 1 BB, 4 Ks), delivering his second terrific start in three appearances, of course sandwiched around an 8-run (7 earned), 2 1/3 IP atrocity that we're blaming on short rest.

As the sole home game amongst the group, you'll have to get all of your video highlights from this Biloxi game, which thankfully was a win. Within, you'll find a particularly good view of Chourio catching a line drive against the wall in center field to help his starting pitcher out. 
Shuckers' Extras:
Next week's outlook: The Shuckers (41-43) hit the road to play Rays' affiliate Montgomery (43-40).
Wisconsin Pre-Game Media Notes
Final: Peoria 13, Wisconsin 8
Box Score / Game Log

Via the Rattlers' website, game details: Peoria Outslugs Wisconsin in Series Finale

21-year old starting RHP Edwin Jimenez (3 IP, 7 R, 9 H, 3 BB, 0 Ks, 1 WP) is going through a rough patch, as the hurler hadn't allowed more than two earned runs in any of his first 12 games (each between 3 and 6 innings), but he's now allowed three or more in each of his last five contests.

However, his teammates nearly picked him up, scoring five unanswered runs to knot the score at 7-7 by the 6th inning, before Peoria poured it on late.
Timber Rattlers' Extras:
Next week's outlook: Wisconsin (35-47) heads to Dayton (42-42) to play the Reds' affiliate there. RHP Stiven Cruz (6.39 ERA, 1.61 WHIP, 7.7 K/9 in 62 IP) is the scheduled starter for Tuesday's opener.
Carolina Pre-Game Media Notes
Final: Myrtle Beach 8, Carolina 0
Box Score / Game Log

Via the Mudcats' website, game details: Carolina Held to One Hit in 8-0 Loss to Pelicans

This series finale was a beat-down in all respects, with only two highlights for the Mudcats:
As to the rest of the game, RHP Will Childers got the start and was only down 2-0 with two outs in the bottom of the 4th inning, before the wheels fell off (wild pitch, single, single, walk). RHP Jose Chavez also didn't acquit himself well in relief (HBP, balk, 3-run homer) in that 6-run frame.
Next week's outlook: The Mudcats (41-39) host White Sox affiliate Kannapolis (45-38).
We hope that you enjoy the Minor League Link Report. Catch your breath after that amazing Brewers sweep of the Reds, while checking in on our Rookie level teams playing on Monday (two DSL games at 10:00am central time, ACL Brewers at 8:00pm).

Organizational Scoreboard including starting pitcher info, game times, MiLB TV links, and box scores
Current Milwaukee Brewers Organization Batting Stats and Depth
Current Milwaukee Brewers Organization Pitching Stats and Depth
3