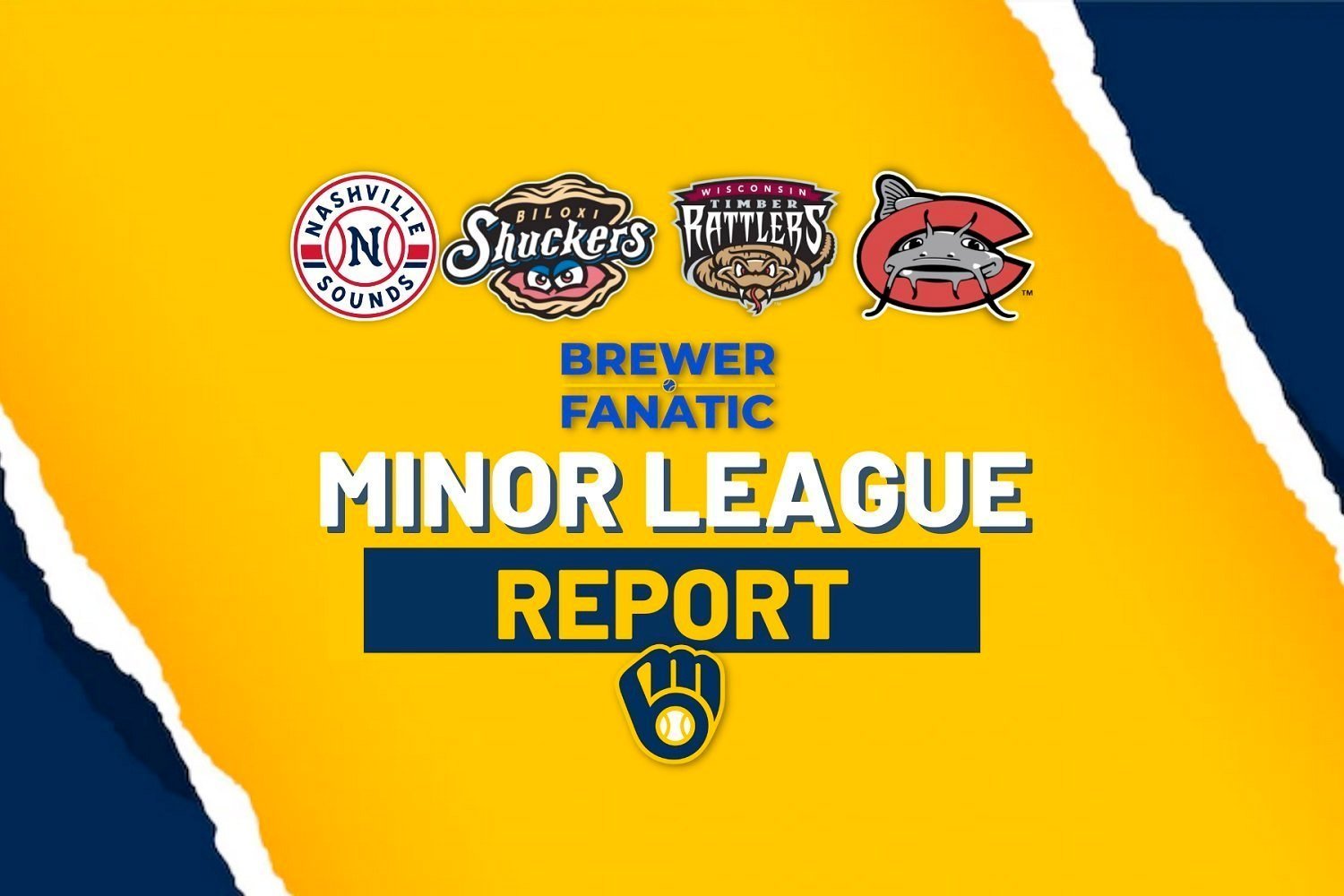 Image courtesy of BrewerFanatic
Transactions: 

OF Tyrone Taylor assigned to Nashville this weekend for his concussion rehab stint. (Taylor was 0-for-4, one K on Saturday.)

OF Matt Lipka was acquired from the Washington Nationals for cash considerations. This is the second consecutive season the Brewers have done this, as cash was sent to the Diamondbacks in late June 2021 for Lipka's services. Lipka then enjoyed a nice run in Nashville last summer.
Thus far in 2022, the 30-year-old Lipka had struggled at AAA Rochester, with a .577 OPS through 104 at-bats. Prior to this deal, the Brewers' last trade with the Nationals was for a AAA depth southpaw in July of last summer. Only 12 months ago, so you remember who, right? Answer is at the link

Finally on the transaction front, Milwaukee is making use of the final vestiges of their January 2022 international signing bonus pool, signing a RHP and CF, both 17-years-old, detailed here. It is not believed either signing involved significant dollars at this point in the process.

***

Nashville Pre-Game Media Notes
Final: Memphis (Cardinals) 10, Nashville 0
Box Score / Game Log

Via the Sounds' site, game details, and we encourage readers to review each of the affiliate write-ups as part of their Link Report routine:

Sounds Break First Horizon Park Attendance Record - A record 12,409 fans came out for Star Wars Night on Saturday

You know the game didn't go well when everything in the game summary headline is about the Nashville fan base (which kudos to them, as the following there is excellent).

But there are tidbits within the report (Pablo Reyes, Lucas Erceg), so don't be scared off of clicking by the final score.

For fans of the legendary Olympic "Miracle on Ice", the starting pitchers were Herb and Brooks. Hey, remember when RHP Aaron Brooks was a member of Milwaukee's 40-man roster? Brooks was traded to Oakland for cash after his August 2018 DFA, never appearing at the big-league level for the Crew, and has carved out quite the journeyman career, including two recent seasons in Korea.

Nashville had three doubles among its six hits (Reyes, Brice Turang, Weston Wilson), but didn't draw a single walk. RHP Luis Perdomo allowed two hits and a run in his latest inning of injury rehab work.

Those Cardinals teams -- having guys ejected in the 8th inning, up 10-0. You do you, Redbirds. Hey, something for the massive crowd to cheer on this night.

***

Biloxi Pre-Game Media Notes via the Shuckers' Virtual Press Box

Final: Tennessee (Cubs) 4, Biloxi 3
Box Score / Game Log

Via the Shuckers' site, game details, please review: 

Late Rally Falls a Run Short in Shuckers' Defeat - Mitchell Drives in Two More for Biloxi

We indicated yesterday we'd limit commentary and just let this latest Garrett Mitchell run ride, so as not to jinx it. It's working!
Remember when Khris Davis would hit exactly .248 every year during his power binge years with Oakland? Check out RHP Victor Castaneda's year-to-year WHIP, in fact compare his batting average against, WHIP, ground ball ratio and more between this season and last. Castaneda only walked one here - that's been an issue prior - but given his stuff, the Brewers surely were hoping for better development at this point from the soon-to-be 24-year-old native of Mexico. Castaneda's line here was aided by the stranding of two inherited runners by RHP Harold Chirino with just one out in the 6th.

Cam Devanney, playing third base in this one, walked (OPS now .828), but he's been so valuable all season and got some press up north this morning -
***
Wisconsin Pre-Game Media Notes via their all-encompassing Virtual Press Box
Final: West Michigan (Tigers) 3, Wisconsin 1
Box Score / Game Log
Via the Timber Rattlers' site, game details, please review:
Rattlers Fall 3-1 to Whitecaps - Warren's homer is Wisconsin's only run

Darn, all three opponent base hits came in the fateful first inning.

Justin Jarvis got through seven innings on 101 pitches; he has made big strides in 2022 after a rough April and should be a mainstay of the Biloxi rotation next season, when he'll be just 23 years old.

Keep in mind this was a road game, but regardless, the local media shines the light on an excellent catch by Arbert Cipion in right field, and we watch Tristan Peters have a potential "fair pole" home run snatched away within this highlight package:

A bit of a homecoming for Zavier Warren in this series, so his home run must have been rewarding, even in the loss. He was quoted in this article earlier in the week, expressing his appreciation: 

LMCU Ballpark plays Central Michigan University's fight song at Whitecaps game

***

Carolina Pre-Game Media Notes

Final: Carolina 10, Delmarva (Orioles) 2
Box Score / Game Log

Via the Mudcats' site, details, please review:

Los Pescados Rally for Six in the Eighth in 10-2 Victory - Jeferson Quero went 2-for-3 with a go-ahead single in the second and a two-run double in the eighth
 

OK, finally a win to celebrate and an emphatic one at that! "Chourio?! We don't need no stinkin' Chourio!"

We'll jump all the way to the six-run 8th as Hendry Mendez cracked an RBI ground-rule double. From earlier this week, Baseball America's Josh Norris (Jackson Chourio's biggest fan), now has his sights set on Mendez:
This is a joyous double-highlight tweet - both Jeferson Quero (DH'ing here) and Eduardo Garcia are featured. Folks, if you know Carolina's ballpark and the high wall in center, you recognize that Garcia's blast is an absolute bomb - young man has strength for days.
The mound work here was excellent, and if Dominican-born RHP Alexander Cornielle can reign in the walks as he did in this one (zero), the sky's the limit for him. Cornielle doesn't turn 21 until next month.

Thanks, Mudcats, for this game, we needed it, and yes, the Los Pescados jerseys are sweet!

***

Final: ACL Brewers Blue 9, ACL Brewers Gold 1, seven innings as scheduled
Box Score / Game Log

Blue Man Group moves to 12-18 with the win, while the Golden Youngies fall back to .500 at 15-15.

Congrats to 18-year-old second baseman Jonatan Guzman on his first pro home run. The Dominican native is debuting this summer in Maryvale. Guzman was part of the prized 2021 Chourio-Mendez, etc. international class but unlike Jackson, Hendry and others, did not play in 2021.

I often check these HR "first's" in the game log to see if any were of the inside-the-park variety. Hey, at Maryvale, you never know. This one was pulled to left over the fence off of RHP Kevin Briceno, who we had recently highlighted after his own promotion from the Dominican Complex League (it'll always be the DSL to us). Briceno was charged with four runs against in 3.1 innings in his first U.S. appearance, though he did not walk a batter, which is par for the course for him.

Switch-hitting 19-year-old Curacao native Jamal Zalm connected on his first stateside home run and 2nd pro blast (also off Briceno). It seems Zalm has settled into a corner outfield role as of late, rather than his utility infield beginnings.

As you'll see in the box score, three others homered in this one.

Right fielder Eduarqui Fernandez was ejected arguing a called third strike with his team up 7-1 in the 5th inning - who says there's no passion in these inter-organizational games?

6'8" LHP Angel Perdomo retired all three he faced in his latest rehab appearance, fanning one. With Luis Perdomo rehabbing at Nashville, Angel Perdomo here, and 20-year-old RHP Michael Perdomo also pitching in this game. I'm all Perdomo'd out.

As noted above, the Maryvale kids are now idle until Thursday.

***
Final: DSL Angels 6, DSL Brewers #1 Squad 5
Box Score / Game Log

Crew #1 scored three in the 7th to inch to within one and had men on 1st and 2nd with one out when the rally fizzled after an Angels pitching change. The team dropped to 11-17 on the season.

Hey, another first career home run to acknowledge, as 18-year-old RF Duncan Garcia pulled a drive to left field leading off that 7th inning. Garcia had two of the four hits on the day for his club.

***
Final: DSL Tigers #2 Squad 8, DSL Brewers #2 Squad 6
Box Score / Game Log

Crew #2 (17-13) squandered a 6-4 9th inning lead here. (No, Josh Hader was not getting side work in...)

In the fateful inning, RHP Waldin Rodriguez entered the game, hit a batter, was not ejected, but immediately pulled (injured)? RHP Stanley Encarnacion entered and took the loss.

Getting work in? Brewers utilized eight pitchers, but it wasn't a bullpen game, as 18-year-old starting RHP Daniel Corniel, a Venezuelan native, tossed five scoreless, and allowed only two baserunners (double, single), in what was clearly the best outing of his rookie season.

Brewers were 7-of-8 in stolen base attempts. We'll send you for a box score review again for the two Crew #2 home runs.

Plenty of pitching changes, but three hours, 50 minutes? Not the first time we've noticed this on the island, where pitch clocks are likely not in vogue yet.

Back to action Monday for both island clubs.

***
The four full-season clubs have early afternoon start times Sunday, and the Shuckers and Timber Rattlers will be extra-anxious to head home after two full weeks on the road.

Enjoy your summer Sunday, everyone!

Organizational Scoreboard including starting pitcher info, game times, MiLB TV links, and box scores

Standings and sortable stat pages

Current Milwaukee Brewers Organization Batting Stats and Depth

Current Milwaukee Brewers Organization Pitching Stats and Depth
Think you could write a story like this? Brewer Fanatic wants you to develop your voice, find an audience, and we'll pay you to do it. Just fill out this form.
MORE FROM BREWER FANATIC
— Latest Brewers coverage from our writers
— Recent Brewers discussion in our forums
— Follow Brewer Fanatic via Twitter, Facebook or email
4