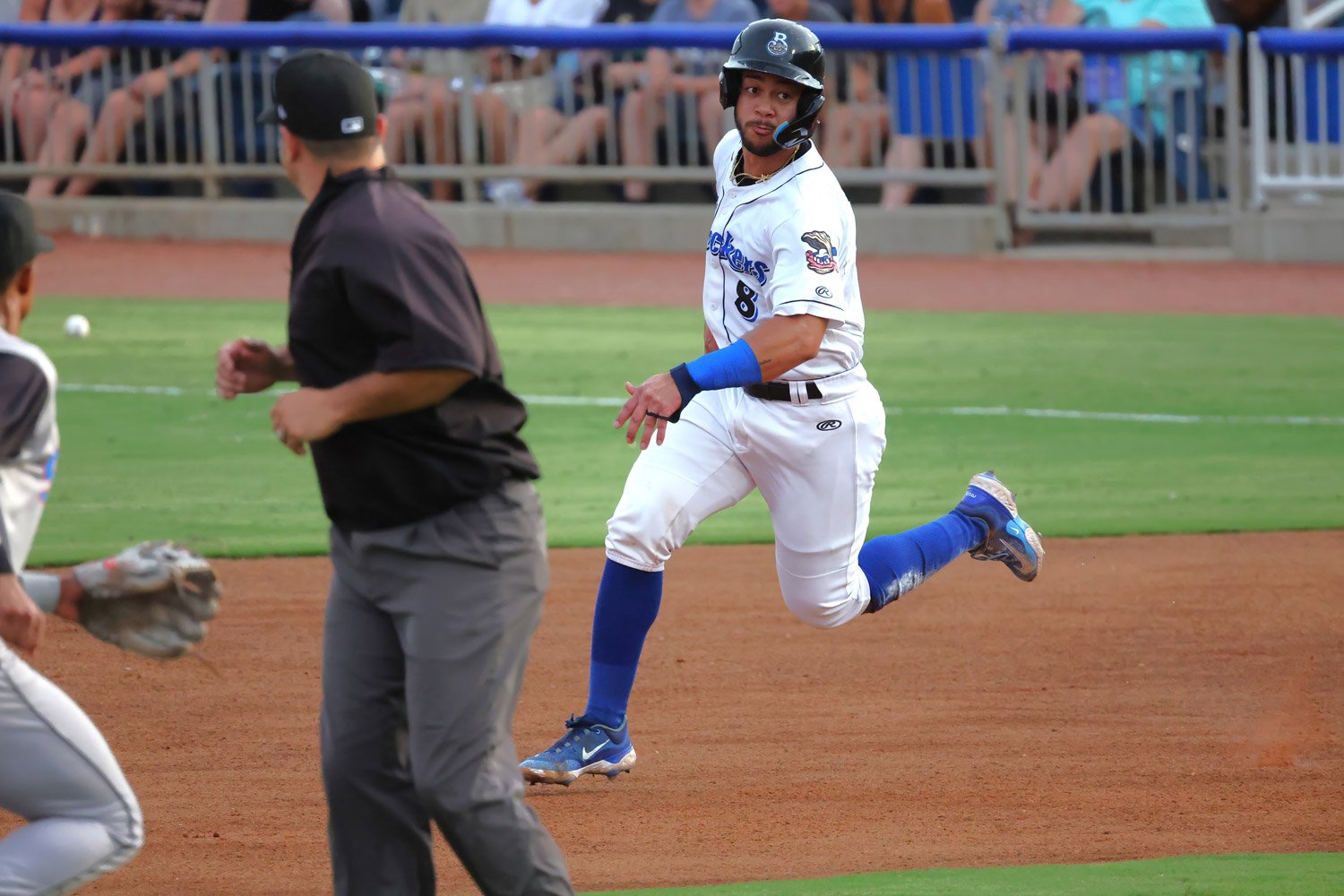 Image courtesy of Brewer Fanatic
Game Balls:
Honorable Mentions: the entire Mudcats line-up ? Seriously, just go take a peak at that ridiculously loaded 18-hit box score. It was also nice to see INF Isaac Collins reward my kind words last evening with more kind work at the dish: 2-for-4, 2 2B, 2 RBI, 1 R - OPS now up to 0.864 on the season. Don't sleep on this young man.
Transactions:
---
Final:  Nashville  5, Jacksonville (Marlins) 3
Box Score / Game Log

Game Notes 

Via the Sounds' site, game details, please visit and review: 

Hiura Smacks Four Hits as Sounds Snap Losing Skid

The Sounds trailed 3-0 early after a series of singles surrounding a free pass in the second frame. But, other than that inning, RHP Caleb Boushley successfully worked around eight hits and said free pass: 5 IP, 8 H, 1 BB, 3 ER, 4 K. Another workmanlike outing for the now entrenched Sounds starter in his second year with the club. Boushley doesn't wow you with electric stuff, per se, but he is very dependable and has now pitched at least five innings in each of his last eight starts dating to June 1st. He is a much needed stabilizing force - especially now that LHP Thomas Pannone is no longer in the starting rotation. After tonight's victory, the Sounds both ended their four game losing streak post-All Star break and moved to 9-7 in the second half - two games back of both Iowa and St. Paul.

Three Quick Strikes:
1) They struggled mightily last night with RISP but they lost the contest. Tonight, they managed to take the lead late and hold it. BUT, this certainly wasn't because they were RISP savants. Entering the eighth frame, the Sounds were sitting 3-for-14 with RISP and clinging to a 5-3 lead. This is how they finished. This is obviously not a sustainable pace but it will be something to track as this series progresses. 
2) These two men poked 7-of-10 Nashville hits on the evening:
Oddly, in a game with 21 combined hits between the two squads the only XBH was an INF Abraham Toro double. That's 20 blue collar singles adorning our screens. 
3) When you are only poking one bag knocks, it pays to have your bullpen revert to its prior shutdown form. The combined scoreless 4 IP (2 H, 2 BB, 6 K) amongst RHP Pedro Fernandez, LHP Justin Wilson, RHP Pete Strzelecki, and LHP Clayton Andrews was a much-needed sight for these weary eyes. Wilson and Strzelecki, in particular, really stood out - both had their Big League form atop the hill tonight. Strzelecki's 12 pitch, 10 strike, 1-2-3 2 K outing was extremely refreshing considering how he landed and skidded when re-assigned to the Sounds bullpen. Wilson features a four-seamer, a cutter, and a curveball by my eyes. Deceptive tailing movement at as the cutter approaches the dish. The four-seamer was touching 95 mph. The curve seemed a 'keep you honest' pitch. Most impressive was his location - he was dotting the outer stripe pitch after pitch. Nothing up. Nothing meaty. It's plain to see, even after TJ surgery, he knows how to execute.
---
Final:  Montgomery (Rays) 9, Biloxi 8
Box Score / Game Log 

Game Notes  

Via the Shuckers' site, game details, please visit and review:

Shuckers Fall to Biscuits, 9-8, on Walk-Off Single

Having jumped out to a 7-0 lead, RHP James Meeker was initially done in by a INF Freddy Zamora error that was casually not scored an error allowing the first run to eventually cross the dish. Those types of mistakes are far too common for the ultra-talented and smooth shortstop - a source of constant frustration for someone like me who views these Shuckers games. I digress. Meeker was solid if unspectacular throughout the early part of his outing - the primary damage came via a two out, three run long ball just over the wall in right center field. However, the hits came aplenty as the outing progressed and those knocks definitely came back to haunt him - 5 IP, 11 H, 1 K, 0 BB, 6 ER, 1 HR. It's important to remember, Meeker has only just taken this starting role and made a run of it of late (all 4 GS have come in Meeker's last four outings) - he was a bullpen arm for the better part of a year for the Brewers organization. The strikeouts are down in these extended displays as the lead-off hurler. It's a significant adjustment and a work in progress. And, as I'll allude to below, it's also a significant loss to the bullpen staff.

Three Quick Strikes:
1) Seven of the first eight Shuckers runs came in the opening frame. Quite a way to start an evening! The inning started with the effective display from blue-chippers INF Tyler Black, OF Jackson Chourio, and C Jeferson Quero. That's quite a trio for any pitcher to face. Black ripped what looked like a single into right center but, as he does, he motored it into a double. He then played a savvy game of cat-and-mouse with a hard hit Chourio grounder toward the hole past second base obstructing the shortstop and allowing Chourio to reach 1B. Quero then walked to load the bases from there. Then it was a series of gaffes by the Biscuits pitcher (wild pitch) and both corner outfielders that allowed runners to score and advance. This does nothing to take away from timely hits by Zamora and Collins.
Taking advantage of these situations is the Achilles heel of any baseball team. The Shuckers succeeded and then some in the first frame. After the first frame, actually, they had scored 27 runs in their last 18 innings played ?. It's fair to now point out: they've scored one run over their last 8 innings played. Baseball. A game of sample sizes.
2) I'm going to be the one to say it: INF Tyler Black is improving at third base. It's still a work in progress but he is definitely getting better and it is discernible as he completes more innings. What sticks out more than anything to my eyes is he absolutely has the arm to man the hot corner - it's a bit of a cannon. He is beginning to make more challenging plays as well. It's not all roses, by any measure, but I see enough progress there to understand why the Brewers made the shift and are sticking with it. Many fans have wondered why he hasn't been promoted sooner. I would opine: to continue giving Black daily work at 3B. He needs the experience and exposure if this is the plan moving forward. The bat will play any day and anywhere - it's already an MLB bat - 2-for-4, 2 R, 1 BB, 1 K, 1 SB.
3) The ongoing dilemma manager Mike Guerrero is facing with his talented Shuckers, as I see it, is the ongoing inconsistencies and unknowns within the bullpen stables. On any given night, it certainly feels, the bullpen is liable to give up crucial tying or losing runs. Tonight, it was the combination of RHP Ryan Middendorf and LHP Nick Bennett who allowed the tying and losing runs. This isn't to single them out in any way. Rather it is to share: this is an ongoing trend. IF the Shuckers are to make a meaningful run in the second half of their season, they will absolutely need better bullpen efforts. As it stands, of late, the only bullpen arms consistently performing are the recently-promoted RHP Ryan Brady and the tentatively effective RHP Cam Robinson. Beyond that, on any given night as a fan of this team, I have no idea what I'm going to witness.
---
Final:  Wisconsin 8, Dayton (Reds) 5
Box Score / Game Log 

Game Notes 

Via the T-Rats' site, game details, please visit and review:

Rattlers Drop Dragons 8-5

RHP Cameron Wagoner was effective with his breaking ball early as he got the Dragons lead-off batter striking out swinging on a hammer curve down and in to start his outing. He used a similar hammer curve to strike out the fourth batter he faced in the first frame stranding a runner on second base in the process - a really nice pitch that hooked inside on a lefty. If this was the version of Wagoner we were working with, I was ready. It was the best I've seen Wagoner through 4 IP -3 H, 0 BB, 6 K, 0 R. He definitely came apart just a wee bit to start the fifth inning when he gave up a huge two-run homer over the wall in right field on a hanging dead center 80 mph change-up. This came after walking the first batter on five pitches. A credit to him is due, most definitely, as he dug deep after a mound visit and exited the inning without further damage getting a routine grounder to Metzinger shifted into the shortstop dirt and then striking out the next batter on yet another fantastic curve ball. All told, Wagoner finished a line of 5 IP, 5 H, 1 BB, 8 K, 1 HR. Other than the brief loss of his stuff to start the fifth frame, this was quite easily the best Wagoner outing of 2023. You love to see it. I am jonesing for more as Wagoner is starting to execute more consistently - something he absolutely struggled with throughout the first months of 2023.

Three Quick Strikes:
1) C Darrien Miller continues to experience ongoing SB issues when he mans the back stop. If the pitchers delivery is anything remotely of the off-speed variety, those throws to second base tend to arrive several steps too late. Honestly, the ball appears to hang in the air struggling to pick up steam on its way to the second base bag. 3 SB in 3 SBA on the evening - none of them particularly close. Miller is now just 16-for-77 in SBA for his 2023 season. That is a meager 20.77 CS%. All this being said, I'm going to be honest: those 16 CS were quite a bit higher than I anticipated. Progress is being made, albeit small, from previous season. And, let me call a spade a spade: this is also a 1.73% higher than the current CS% of Brewers' William Contreras ?. 
2) INF Jose Acosta is the Doston of the T-Rats infield. He isn't the touted prospect many of these young men are, but everything he does when manning 2B is smooth and easy. I don't take this for granted. He seems to always make the smart play. His glove is sure and his hands and scoops are clean. It's a pleasure to watch a player who is comfortable with who he is and, to boot,  has the propensity for key hits. I'm a big fan and his increased PT is one of the silver linings of the unfortunate injuries to INF's Eduardo Garcia and Eric Brown Jr. He finished 2-for-5 (2 2B) for the evening.
3) What a pitching pipeline we have seen come the Timber Rattlers way from Carolina in 2023. First it was RHP Edwin Jimenez (despite his recent struggles he hit the ground running), then it was RHP Jacob Misiorowski (purportedly now in Double-A Biloxi) and now we have the shutdown bullpen duo of RHP Shane Smith and RHP Tanner Shears among others. Shears has taken the closer role, it would appear, from first half stalwart RHP Brannon Jordan (now on the 7-Day IL). And, as we know from his time with the Mudcats, RHP Shane Smith can certainly fill that role when called upon as he was tonight. We know Smith is entirely unafraid to challenge hitters with his heater - unabashedly so. But, tonight, it was his hammer curve that impressed the most. It was truly nasty during both K's in his successful inning of work. Big things ahead for both of these young men. 
---
Final:  Carolina 13, Kannapolis (White Sox) 2
Box Score / Game Log 

Game Notes 

Via the Mudcats' site, game details, please visit and review:

Carolina Crushes Cannon Ballers 13-2

Now, this is a way to get the day started after a brief weather delay. 18 hits for the Mudcats to the Cannon Ballers 4. A real shellacking in every sense of the word. RHP Quinton Low began his work with consecutive 2-2 punch outs. He then gave up a solo shot and a single before C Jose Sibrian threw out the would be base stealer at second base - Sibrian is now 17-of-49 on the season throwing out runners; a healthy 34.69 CS%. Low wasn't the shut down dominant version we've seen several times in 2023 - 3 IP, 2 H, 3 BB, 3 K, 2 ER, 1 HR. However, this was definitely the most complete and impactful outing we've seen from young RHP Yujanyer Herrera: 5 IP, 2 H, 2 BB, 1 HBP, 7 K, 0 R. He picked up his third win of 2023 for his efforts moving to 3-4 on his season. The Mudcats moved to 10-9 in the second half of their Carolina League season and 43-39 overall. They are just 1/2 game back of first place Delmarva as of Wednesday morning.

Three Quick Strikes:
1) INF Jadher Areinamo continues to show why he was sent to High-A Wisconsin early in the 2022 season from the ACL. As he continues to showcase March was an anomaly, he is now bringing the XBH game into his mix. Given he is already an elite defender at multiple positions, the 0.568 SLG% in July and 1.006 OPS in 44 July AB's is absolutely noteworthy. This remains a young man who has completely flown under the radar in 2023 because of his slow start and his lack of walks but I will point out to you dear readers: he is only striking out at a 10.87% clip. I suggest you toss out his anomalous 54 AB's in March. Start there. See what you find. He is playing extremely confident and fantastic baseball. This young man is a player in every sense of the word:
2) INF Luke Adams just continues to demand notice for the Mudcats. After today's performance (2-for-4, 3 R, 2 RBI, 1 BB, 1 K, 1 2B, 1 HR), he now leads or is tied atop the following offensive categories for the Mudcats: HR, RBI, R, SB. The early-season pop-up woes appear to be falling further behind him as he is making more and more line drive contact. Today, we saw him rocket a 107 mph 437 foot blast over the wall in left field. Athletic gifts for days:
3) I've noted Areinamo and Adams above, but, really, this was a total team effort. Six Mudcats had multiple-hit games at the plate - Sibrian and Areinamo had three hits apiece and INF Gregory Barrios was 4-for-5. This was a massive offensive outburst. And, after mentioning 1B Jesus Chrinos just yesterday - how he appears to get hot near his birthday (July 27th) - he went ahead and hit his second long ball in two days. He finished 2-for-4 and is beginning to demonstrate an uncanny resemblance to his 2022 season. Let's hope he gets red hot from here and helps the Mudcats win this second half!
 
---
ACL Athletics 9, ACL Brewers 5
Box Score / Game Log

The first thing that popped off the box score, for me at least, was lead-off specialist INF Dylan O'Rae's 0-for-4, 1 K performance. I had to check the last time I saw him with an 'O-fer'. Oh, that's right: he had reached base in all 22 games of his ACL season before tonight's doughnut. What a run he's been on. Let's start another. INF Juan Baez (who else, really?!) went 2-for-3, 1 RBI, 1 R, 1 3B. He grabbed his 30th RBI of his ACL season and he sent the OPS north to 1.029. Just an unreal season at the dish for the young man. Also of note, OF Miguel Briceno was moved up in the batting order (from my vantage point this may be the highest he's batted in 2023 in his small but growing sample size?) to the second spot. He rewarded the coaching staff with a 1-for-3, 2 R, 1 BB evening. This was a classic abbreviated 7-inning ACL contest in the back fields of Arizona, however, so the ACL Brewers had limited opportunity to claw back into this one after first falling behind by a run in the fourth frame. We see both RHP Yorman Galindez (3 IP, 4 H, 3 BB, 5 ER, 3 K) and RHP Henrison Mota (3 IP, 4 H, 4 BB, 4 ER, 6 K) struggled with men on base throughout their innings of work. The ACL Crew fell back to two games under 0.500 at 14-16. Despite their recent scufflings, the Crew are still alone in second place just a mere 2 1/2 GB of the ACL Reds. Lotta ballgame left.
---
That is a wrap for me and my Minor League reports for this week. By reporting duties next week, I will have turned a ripe ol' 45 years of age. I have seen many a Brewers and Brewers Minor League baseball game in my lifetime. They just never grow old - even if I inevitably do. I give great thanks to these young men who entertain me on a nightly basis - their pursuit of their dreams is truly my enjoyment. 

You will se an eight game slate of Minor League tilts tomorrow. The DSL Brewers Dos will play two early morning contests as they look to complete their July 17th game versus the DSL Guardians Blue before facing them again shortly thereafter. The DSL Brewers Uno will look to keep their torrid recent winning pace going against the DSL Braves. Highlights on the mound elsewhere in the system: RHP Jason Alexander's continued work for Nashville as he tries to work his way back to consideration for the Brewers, RHP Patricio Aquino brings his tantalizing mix to the hill for the Mudcats, and RHP Alexander Cornielle looks to find better end result given he's actually pitched quite well overall despite what misleading stats might say.  As always, thanks for reading and thanks for supporting Brewers Minor League baseball.
Think you could write a story like this? Brewer Fanatic wants you to develop your voice, find an audience, and we'll pay you to do it. Just fill out this form.
MORE FROM BREWER FANATIC
— Latest Brewers coverage from our writers
— Recent Brewers discussion in our forums
— Follow Brewer Fanatic via Twitter, Facebook or email