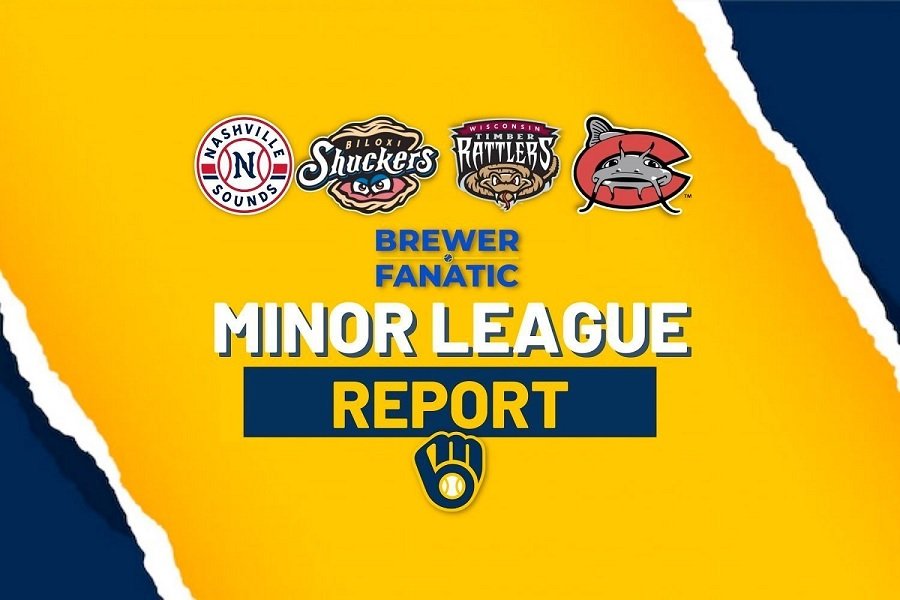 After having the spotlight to themselves for a few days, the Brewers' two Dominican short season clubs were joined in action by the two Arizona short season clubs on Thursday.

Outfielders Jace Avina and Eduarqui Fernandez (combined 6-for-9, 2 HR, 2 doubles, 3 RBIs) led ACL Brewers Blue to a 9-3 lead, which the squad barely held on to in a 9-8 victory over ACL Athletics.

ACL Brewers Gold produced nine hits, but only two runs in a 10-2 loss to ACL Guardians.

DSL Brewers-1 raced out to a 6-0 lead in the 1st inning, then conceded 11 unanswered runs before being suspended by rain down 11-6 in the 3rd inning against DSL Tigers-1.

DSL Brewers-2's pitchers struggled for control, issuing eight walks in their five-inning loss to DSL Cardinals by a score of 4-2.
Transactions:
LHP Jacob Brustoski assigned to ACL Brewers Gold from Low-A Carolina

As feared, injured 2B/CF Tyler Black is done for the season, but thankfully should be fine for 2023, per this WTMJ interview with VP of Domestic Scouting Tod Johnson which colleague @Maas_Haas noted
Game Action:

ARIZONA COMPLEX LEAGUE

Final: ACL Brewers Blue 9, ACL Athletics 8
Box Score / Game Log

ACL Brewers Blue improves to 13-18 on the season.

19-year-old OF Jace Avina (2-for-4, HR, HBP, RBI) hit his sixth home run of 2022 to tie the game 1-1 in the bottom of the first inning. His season OPS is up to .991 in 105 plate appearances.

20-year-old OF Eduarqui Fernandez continues to let his bat do the talking, hitting a home run (5th of the year) and two doubles as he went 4-for-5 to raise his season OPS to .852 in 117 plate appearances. The downside remains his 48 strikeouts (vs. 11 walks). He also has four stolen bases this year and hasn't been caught.

Fernandez doubled in a run for a 2-1 lead in the 1st inning, singled and scored in the 3rd inning (4-1 scoreline), hit a solo homer in the 5th inning (6-2 advantage) and doubled again in the 8th inning.

18-year-old SS Daniel Guilarte has been in a mini-slump, but still managed an RBI double in the 8th inning. He went 1-for-5 on the day with three strikeouts, but retains a solid .345 average and .838 OPS on the season.

19-year-old 2B Alexander Perez (1-for-3, triple, RBI; .837 season OPS) tripled in a run in the 4th inning, but departed the game in the 6th inning. Let's hope this was a planned exit / sharing of playing time, but we'll have to wait and see when Perez is back in action.

19-year-old starting RHP Jared Albir (5.70 season ERA) struck out six batters as he fought his way through traffic (4 IP, 2 ER, 7 H, 1 BB, 6 Ks).

Fellow 19-year-old RHP Jesus Rivero (9.19 season ERA) deservedly earned the victory with three shutout innings (3 IP, 0 R, 0 H, 0 BB, 2 HBP, 4 Ks).

24-year-old LHP Leoni De La Cruz managed to earn a save without retiring a batter at the plate. He entered after the Athletics scored five runs in the 9th inning to cut the lead to 9-8 with two outs and the tying run on second base. De La Cruz walked the only batter he faced, but 17-year-old C Felipe Valderrama threw out the lead runner trying to steal third base to the end the game.
Final: ACL Guardians 10, ACL Brewers Gold 2
Box Score / Game Log

The loss drops ACL Brewers Gold to 15-16 this year.

After not yielding an earned run over 15 1/3 innings, 19-year-old RHP Gerson Calzadilla (4 IP, 5 R, 7 H, 2 BB, 1 WP, 2 Ks) ran into trouble with two outs in the 2nd inning, giving up five consecutive hits to fall behind 5-0.

The Men in Gold produced nine hits, but hit into two double plays and had a runner thrown out trying to stretch a single.

19-year-old 3B Miguel Briceno continues to enjoy life since his promotion to Arizona, going 3-for-3 with a walk in this game. His 1.056 OPS (32 plate appearances) in Arizona is amazing, but so is his .591 BABIP. He's 18-for-44 (DSL and ACL) on the season, with 14 singles and 4 doubles.

18-year-old OF Luis Castillo (1-for-3, walk) continues his mini-slump, but still managed to reach base twice to keep solid season numbers: .303 average, .927 OPS.

18-year-old SS Gregory Barrios reached base three times (2-for-3, walk) to raise his season average to .278 and OPS to .668.

18-year-old 2B Jadher Areinamo (0-for-4) had a rare off game, but retains a .324 average and .902 OPS.
DOMINICAN SUMMER LEAGUE

Suspended: DSL Tigers 11, DSL Brewers1 6 (rain delay in 3rd inning)
Box Score / Game Log

DSL Brewers-1's six-run 1st inning lead evaporated quickly as the team yielded 11 runs on nine hits, eight walks and a hit batsman in just 2 1/3 innings of work. The squad now trails 11-6 with one out and a runner on third base.

Before the suspension for lightning, OF Duncan Garcia (.755 season OPS) hit a double and walked in his two plate appearances, while C Edgardo Ordonez (.866 season OPS) and DH/OF Luis Lara (.841 season OPS) each grabbed a base hit as they try to regain their early season form.

17-year old C/1B Ludwin Tejada hasn't gotten much playing time this season, but went 2-for-2 with 2 RBIs here to raise his season OPS to .924 in 35 plate appearances.

19-year old OF/IF Luis Watter has struggled (.555 season OPS), but hit an RBI double, walked and had an outfield assist in this abbreviated contest.
Final: DSL Cardinals 4, DSL Brewers2 2 (final in 5 innings)
Box Score / Game Log
 
The loss drops DSL Brewers2 to 18-16 in 2022.

18-year-old starting RHP Daurys Mora (2 IP, 0 R, 2 H, 0 BB, 1 HBP, 2 Ks) saw his first action since June 27, pitching two scoreless innings.

Relievers issued eight walks in the 3rd and 4th innings as the team fell into a 4-0 hole.

However, presumably with rain threatening, the Brewers hit four consecutive singles to start off the bottom of the 5th inning, cutting the deficit to 4-1 with the potential game-tying on first base, nobody out and Mr. Consistent SS Juan Baez up at the plate.

Unfortunately, 17-year-old Baez (0-for-3 in this game; .302 season average; 759 season OPS) hit into a ground ball double play and the Cardinals ultimately escaped the inning with a 4-2 advantage. The game was called and declared final in the top of the 6th inning.

Neither 18-year-old 1B/OF Yeison Perez (0-for-1, walk; season OPS 1.090) nor 18-year-old C Brayan Oropeza (0-for-2; season OPS .926) managed a hit in this game, but 17-year-old OF Francisco Nina had a nice day (2-for-2; season OPS .747).
We hope that you enjoy the Minor League Link Report. All levels (AAA through DSL) are back in action on Friday. Enjoy!
Arizona Complex League Scoreboard
Dominican Summer League Scoreboard
Standings and sortable stat pages
Current Milwaukee Brewers Organization Batting Stats and Depth
Current Milwaukee Brewers Organization Pitching Stats and Depth 
Think you could write a story like this? Brewer Fanatic wants you to develop your voice, find an audience, and we'll pay you to do it. Just fill out this form.
MORE FROM BREWER FANATIC
— Latest Brewers coverage from our writers
— Recent Brewers discussion in our forums
— Follow Brewer Fanatic via Twitter, Facebook or email