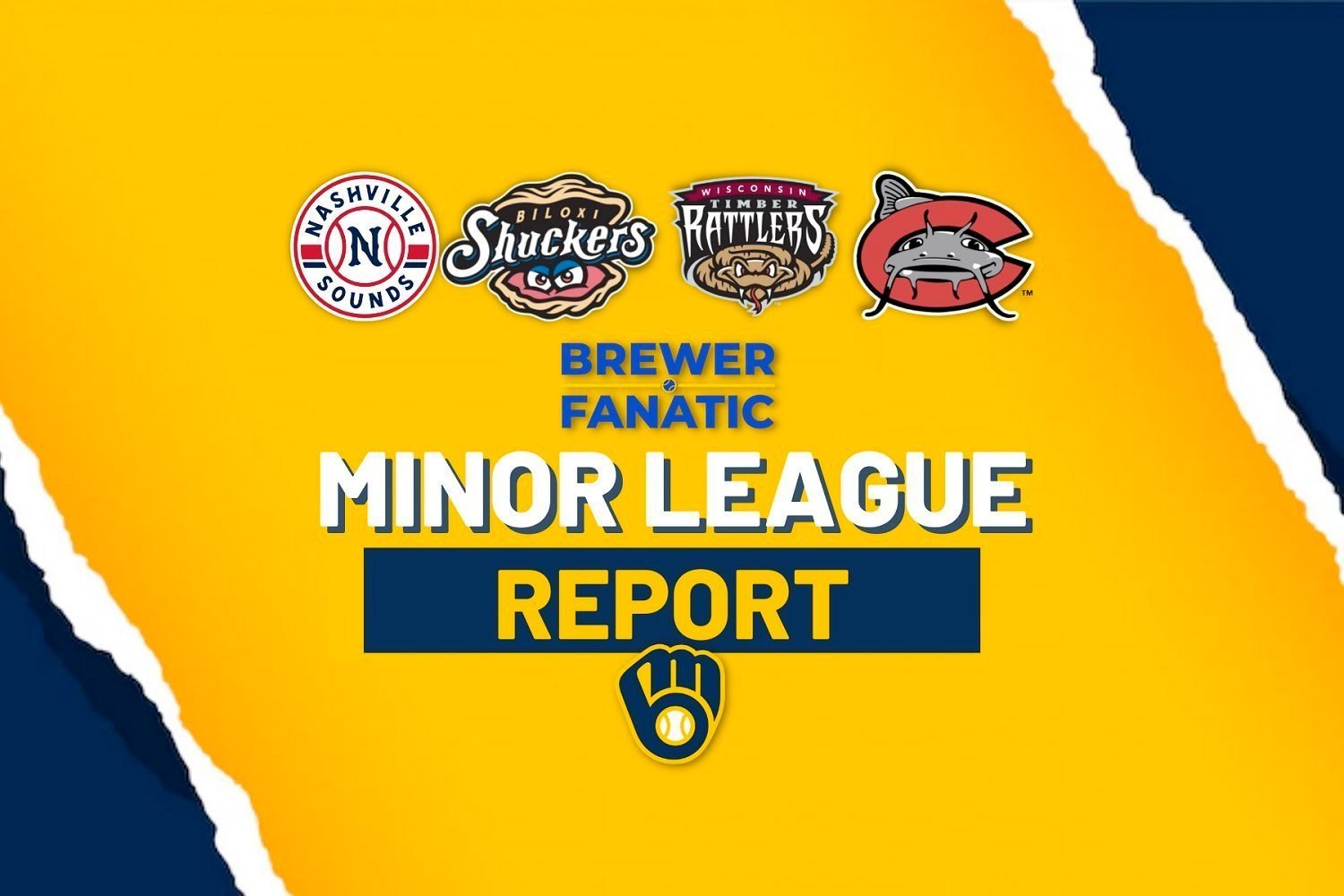 Image courtesy of BrewerFanatic
For the week, Carolina (5-1) and Biloxi (4-2) were each victorious in their series, while Nashville and Wisconsin started fast but stumbled down the stretch to end even at 3-3 on the week.
Transactions:
LHP Adam Seminaris transferred to Biloxi's 60-day injured list from 7-day injured list
Game Action:

Nashville Pre-Game Media Notes
Final: Jacksonville 9, Nashville 5
Box Score / Game Log

Via the Sounds' website, game details, and we encourage readers to review the affiliate write-up as part of their Link Report routine: Sounds Doomed by Early Outburst in Loss

Early RBIs from 3B Abraham Toro (1-for-4, double, walk, RBI) and 1B Keston Hiura (0-for-1, walk, HBP, SF, RBI) weren't enough to settle 23-year old starting RHP Justin Jarvis' (2 1/3 IP, 7 R (6 ER), 5 H, 5 BB, 2 Ks) nerves, as he was roughed up for the second time in three AAA starts thus far.

Nashville nearly made a game of it for 7,379 home fans on RBI doubles from C Brian Navaretto (1-for-3, double, walk, RBI) and DH/C Alex Jackson (1-for-4, double, 2 RBIs) which brought them back to within 9-5, but Toro was gunned down at home on that Jackson double in the bottom of the 5th inning. Perhaps Toro was unable to read the third base coach's "Go! No Stop! Sign" due to OF Monte Harrison's nonchalant jaunt home from second base. 
Sounds' Extras:
Prioritizing player development, the Sounds didn't pull the plug early enough on Jarvis, who saw a difficult first two innings (3 runs, 2 hits, 4 walks) balloon into a nightmare third frame (four of first five batters reached base, each ultimately scoring), with RHP Luis Contreras equally unable to stem the tide until the Sounds trailed 9-2.
Nashville's bullpen shut out Jacksonville over the final six innings, with LHPs Justin Wilson, Darrell Thompson, Clayton Andrews and Ethan Small combining on the final 4 2/3 IP.
Frustration boiled over for Nashville in the bottom of the 7th inning, with Manager Rick Sweet and INF Patrick Dorrian (on the bench) ejected for arguing about an attempted ball/strike challenge during Jackson's strikeout with two men on and one out.
As per the game report linked above, Toro has a 10-game hitting streak with a 1.312 OPS during this stretch. Could the switch-hitting infielder's hot bat have made a difference for the Brewers against the Braves? Alas, we'll never know. 
Next week's outlook: The Sounds (51-43) head out to play Orioles' affiliate Norfolk (60-34) this week.
Biloxi Pre-Game Media Notes
Final: Montgomery 8, Biloxi 7
Box Score / Game Log

Via the Shuckers' website, game details: Late Shuckers Rally Beat by Biscuits Walk-Off in Series Finale

Through 80 pitches, starting RHP Tobias Myers was cruising to one of his best outings of the year (5 2/3 IP, 2 ER, 3 H, 1 BB, 8 Ks) and Biloxi led 4-2, but the next 19 pitches sent the game sideways: 8-pitch walk, 2-run homer, 7-pitch walk.

With the game tied 4-4, the Shuckers bullpen then conceded three more runs over the next two innings, before center fielder Jackson Chourio (2-for-5, double, 3 RBIs, SB) nearly got them all back with one swing in the top of the 9th inning. 
Shuckers' Extras:
Along with Chourio, each of 1B Zavier Warren, OF Carlos D. Rodriguez and left fielder Tristen Lutz collected two hits on a 10-hit day for the club. Lutz started the 9th inning rally with an infield single and Warren tied the game at 7-7 with an RBI groundout.
It's interesting that RHP Ryan Brady was charged with the loss. Of course, he did allow the game-ending double on an 0-2 pitch with two outs in the bottom of the 9th inning, but he'd also inherited one baserunner from RHP Max Lazar (2 IP, 2 ER). That runner was swapped out on a Junior Caminero ground ball force out, with Caminero ultimately scoring the winning run.
19-year old Chourio now leads the 8-team Southern League in hits with 94 and also has 28 stolen bases in 32 attempts.
20-year old C Jeferson Quero sat out for the second straight game after leaving Friday's game early. We've no news beyond that and hope he returns to action during next week's series.
Next week's outlook: The Shuckers (45-45) return home to face White Sox affiliate Birmingham (33-56), with RHP James Meeker the expected opening game starter on Tuesday.
Wisconsin Pre-Game Media Notes
Final: Dayton 6, Wisconsin 5
Box Score / Game Log

Via the Rattlers' website, game details: Road Trip Finale is a Walkoff Loss

Wisconsin grabbed leads in the 1st, 2nd and 9th innings, but couldn't quite hold on, as the Dragons made their 7,738 fans happy with a walk-off victory to even the series at 3-3.

Long balls from C Darrien Miller (solo shot for 2-1 lead), 3B Ben Metzinger (2-run blast to knot game at 4-4) and left fielder Je'Von Ward (solo homer in 9th inning for 5-4 advantage), along with stellar middle relief from RHPs Sam Gardner and Shane Smith (combined five scoreless innings) weren't enough to pull through on this day.
Timber Rattlers' Extras:
RHP Tanner Shears started strong with a pop out and strikeout to commence the bottom of the 9th inning, before conceding a game-tying homer on an 0-1 pitch, then walking two batters and allowing a walk-off single to center field.
The Timber Rattlers' three home runs constituted the majority of their five total hits in the game. 2B Jose Acosta and right fielder Hendry Mendez collected the other two – both singles, with Acosta also walking.
The 2023 season has been a struggle for 21-year old RHP Stiven Cruz (3 IP, 4 R, 4 H, 0 BB, 2 Ks; season ERA 6.78), but he was nonetheless sent out for his second start in six days, somewhat unsurprisingly conceding runs in each of his three innings of work. He was limited to 45 pitches this time out and will hopefully get better results on more typical rest in his next outing. 
Next week's outlook: Wisconsin (38-50) returns home to take on Twins' affiliate Cedar Rapids (56-34).
Carolina Pre-Game Media Notes
Final: Kannapolis 17, Carolina 7
Box Score / Game Log

Via the Mudcats' website, game details: Win Streak Ends at Five Straight in 17-7 Loss

Looking at the final score, you might be surprised to know that Carolina led 2-0 after one inning and 5-4 through five innings. But that's baseball and a torched bullpen for you.

After losing the first five games of the series to the Mudcats, Kannapolis put their frustration to constructive use by cracking 19 hits, including three homers, a triple and two doubles. By contrast, Carolina's offense produced a respectable 11 hits, although only one went for extra bases (DH/OF Jace Avina double).
Mudcats' Extras:
Starting RHP Will Childers kept that season ERA of 6.67 up unfortunately, allowing 4 runs and 6 hits in four innings of work. But that was a better performance than the bullpen of Tyler Wehrle, Jose Chavez, Yerlin Rodriguez and Jeferson Figueroa, who conceded 13 runs (all earned) on 12 hits.
Avina's (3-for-5, 3 RBIs) offensive surge continued with RBI singles in the 1st and 5th innings, then an RBI double in the 9th inning. He also stole his ninth base in ten attempts.
3B Luke Adams (1-for-2, walk, 2 HBPs, RBI) also did his part in reaching base four times, although two came in more painful fashion. SS Daniel Guilarte and 2B Jadher Areinamo each singled twice, with Areinamo collecting two RBIs. 
Next week's outlook: The Mudcats (46-40) hit the road to face Royals' affiliate Columbia (48-41) this week.
We hope that you enjoy the Minor League Link Report. On Monday, the DSL clubs are both in action at 10:00am CST, the Brewers host the Reds in their pivotal 3-game series (starting at 7:10 CST) and the ACL Brewers play late at 8:00pm CST.

Organizational Scoreboard including starting pitcher info, game times, MiLB TV links, and box scores
Current Milwaukee Brewers Organization Batting Stats and Depth
Current Milwaukee Brewers Organization Pitching Stats and Depth
Think you could write a story like this? Brewer Fanatic wants you to develop your voice, find an audience, and we'll pay you to do it. Just fill out this form.
MORE FROM BREWER FANATIC
— Latest Brewers coverage from our writers
— Recent Brewers discussion in our forums
— Follow Brewer Fanatic via Twitter, Facebook or email
2