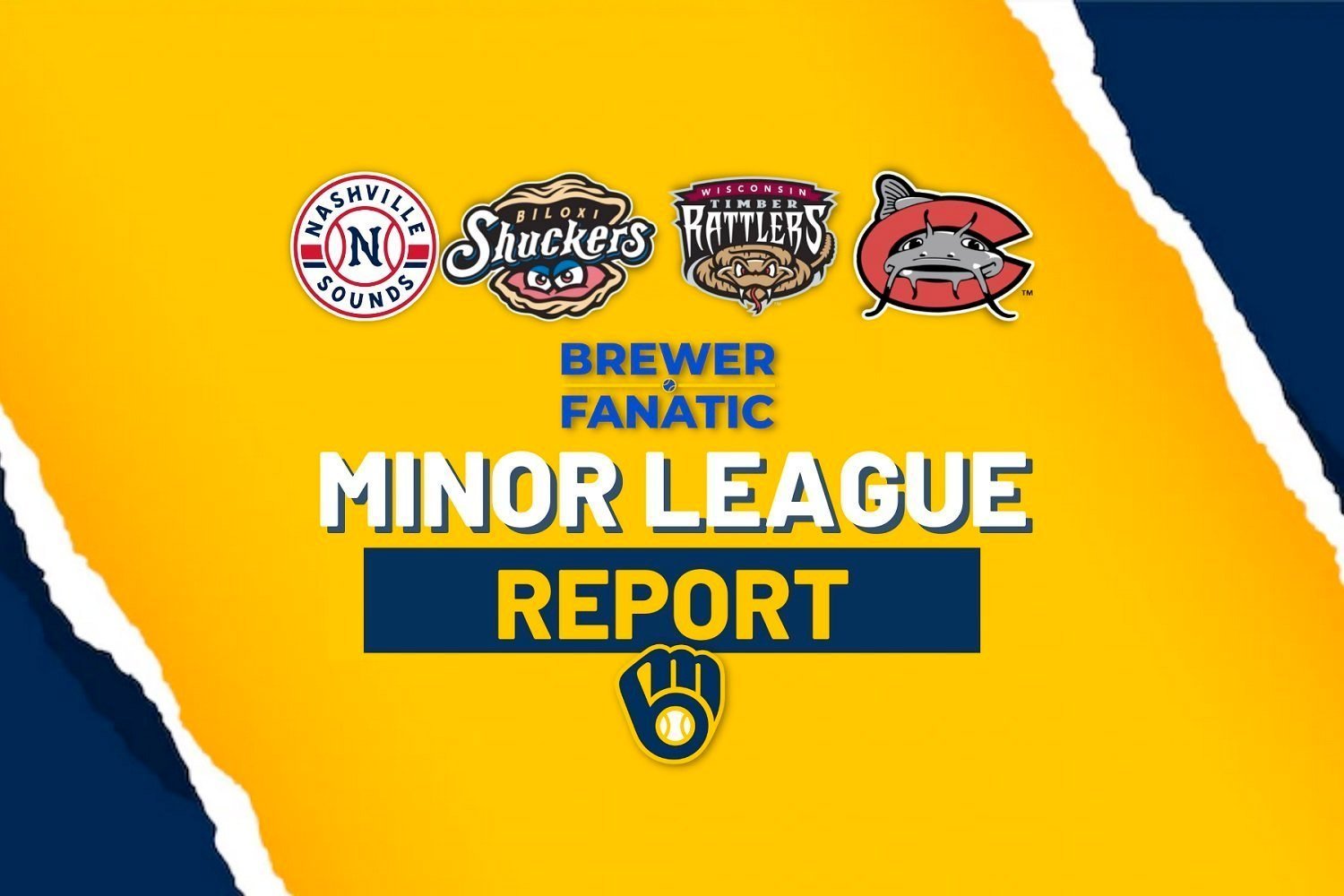 Image courtesy of BrewerFanatic
Before we visit the results of the three rookie-level games, feel free to catch up with all kinds of prospect audio/media:

Nashville Pre-Game Audio from last week

Biloxi's Pre-Game Interview Page Rolls On

First baseman Ernesto Martinez is Kyle Lobner's latest profile and guest via "T-Rats Talk"

AUDIO via the "Pack the Brew" Podcast (Apple Podcast): Interview with Brewers 10th round RHP Morris Austin out of Houston Christian University (go to the 27:25 minute mark), Spotify link here
 
---

TRANSACTIONS:

- RHP Jason Alexander outrighted to AAA Nashville (where he was already playing) from MLB 40-man roster 
- INF Alexander Perez was assigned to the ACL Brewers from the Carolina Mudcats
- 3B Brock Wilken (1st round pick) assigned to ACL Brewers
- 3B Mike Boeve (2nd round pick) assigned to ACL Brewers
- C Alejandro Rodriguez (undrafted free agent) assigned to ACL Brewers
 
---
Final: ACL Brewers 11, ACL Guardians 7, seven innings as scheduled

Box Score / Game Log

2023 first round draft pick 21-year old 3B Brock Wilken made his organizational debut, DH-ing for the A-Crew.
Facing 24-year old RHP JT Ginn (who's rehabbing, normally playing in AA ball), Wilken managed an infield single to second base in his first pro at-bat (must have squirted into right field, save that ball!). In the 2nd inning, Wilken pulled a sacrifice fly to left field. He then walked against a 19-year-old RHP before being replaced mid-game. So, after one game, a 1.000 AVG and 1.667 OPS, that'll work!

Three youngsters who have excelled all season starred here as well.

Leading off, middle infielder Dylan O'Rae (playing second base), drove in five. For those of you who immediately clicked on the box score link above, it was for sure O'Rae's line that grabbed your eye, a double and a sacrifice fly part of his 3-for-4 day. O'Rae was the 102nd pick overall last summer (3rd round out of a Canada high school). In 127 plate appearances this season, the LH-hitting O'Rae has reached in nearly half (.488 OBP!).

In the three-hole, infielder Juan Baez was on base four times himself, he's managed a .423 OBP despite only drawing three walks (one of which was in this game). Is a .450 BABIP sustainable? So far, it is for the RH-swinging Dominican native. All three hits were singles here, but Baez has been whacking XBH's galore, slugging .597.

Starting RHP Manuel Rodriguez has been a revelation despite the fact he won't even turn 18 years old for two weeks. We don't get pitch counts from rookie-level box scores, but Rodriguez was allowed to work 5.2 innings (no walks helps), striking out six in an effective effort. The native of Mexico is carrying a 1.01 WHIP through 28.2 innings, with the only blemish having allowed five long balls in the Arizona air (two in this game). Just the fact that the Brewers brought him stateside in his age 17 season speaks volumes.

The game was 11-3 Brewers until the bottom of the final frame, when an Athletics grand slam tightened things up.
 
---

Final: DSL Brewers #1 Squad 9, DSL Giants Black 8, ten innings

Box Score / Game Log

Is following a Gameday from the Dominican live exhilarating? If so, this one certainly qualified as edge-of-your-seat.

Hosting the Giants, watch a 4-3 lead disappear in the top of the 9th as two runs scored. It could have been much worse, as Team Uno coaxed a 4-6-3 double play to end the frame down just one.

The Cerveceros then loaded the bases with just one out in the bottom of the 9th, although they could only score the tying run on a sacrifice fly from LF Brian Sanchez (DH'ing here) and his .940 OPS.

The Giants would score three runs without a single base hit in the 10th (trust me, visit the game log). 

Not to be dis-spirited, stay within that same game log as the first two Brewers made outs without even advancing the ghost runner. Then a walk and HBP loaded the bases, and fortunately stud top 2023 international signing CF Yophery Rodriguez was due up, and he pulled a three-run double to right field to tie the game. A throwing error by the A's second baseman sent the throngs home happy as the Crew celebrated.

Rodriguez has walked more than he has struck out while posting a .280/.436/.492 line. He turns 18 in December, and may be the next player that age to take the Jackson Chourio / Luis Lara path to Carolina next spring.

German catcher Yannic Walther has been solid, singling three times in this one. 

18-year-old 2nd year Venezuelan LH starter Anthony Flores fanned eight in 4.2 innings, 39 K's in 28.2 IP in 2023.

Team Uno now 21-14.
 
---

Final: DSL Guardians Red 8, DSL Brewers #2 Squad 7, ten innings

Box Score / Game Log

More entertainment (despite the loss...)

Down 7-3 entering the top of the 9th, Team Dos plated four to tie the game. An error by the Cleveland CF helped, but it was still a worthwhile rally (three singles, three walks within). The Guardians stranded runners on 2nd and 3rd in their scoreless 9th.

A two-out lineout to short ended the ghost runner 10th for Milwaukee's club, no run scoring. The game was lost by three walks (one intentional), so it was indeed a "walk"-off loss.

Not fair - given the loss on his record, LHP David Dominguez did not allow an earned run in 3.1 innings, but season-long control issues did lead to the final run plating.

Yet another stat-filled line for INF/OF Demetrio Nadal, playing LF here. Sporting a 1.100 OPS, Nadal was on base four times (two singles, two HBP's), and stole three bases in four attempts (20-for-23 in attempts this season). Exciting indeed...

Team Dos falls to 13-22.
 
---

It's back to a full slate on Tuesday, the Sounds and Mudcats hit the road, while the Shuckers and Timber Rattlers return home. LHP Nate Peterson, up from Carolina, will make his Wisconsin debut. Enjoy your Tuesday!

Organizational Scoreboard including starting pitcher info, game times, MiLB TV links, and box scores
Current Milwaukee Brewers Organization Batting Stats and Depth
Current Milwaukee Brewers Organization Pitching Stats and Depth



 
Think you could write a story like this? Brewer Fanatic wants you to develop your voice, find an audience, and we'll pay you to do it. Just fill out this form.
MORE FROM BREWER FANATIC
— Latest Brewers coverage from our writers
— Recent Brewers discussion in our forums
— Follow Brewer Fanatic via Twitter, Facebook or email
2